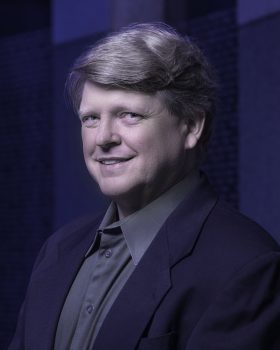 Dr. Charles E. Gannon's award-winning Caine Riordan/Terran Republic hard SF novels have all been national best-sellers, and include 3 finalists for the Nebula, 2 for the Dragon Award, and a Compton Crook winner. The fifth, Marque of Caine, is forthcoming in January 2019. His epic fantasy series, The Broken World, is forthcoming from Baen Books. He collaborates with Eric Flint in the NYT and WSJ best-selling Ring of Fire  series, and has worked in the Starfire, Honorverse, Man-Kzin, and War World universes. His other novels and short fiction straddle the divide between hard SF and technothrillers and have appeared through various imprints and in various magazines. Much of this work includes collaborations in the Starfire, Honorverse, Man-Kzin, and War World universes. He also worked extensively in game design and writing, as well as being a scriptwriter and producer in New York City, where his clients included the United Nations, the World Health Organization, and PBS.  Other credits include many short fiction publications, game design/writing, and scriptwriter/producer in New York City.
A Distinguished Professor of English and Fulbright Senior Specialist, his book, Rumors of War and Infernal Machines, won the 2006 American Library Association Choice Award for Outstanding Book. He is a recipient of five Fulbright Fellowships and Travel Grants and has been a subject matter expert both for national media venues such as NPR and the Discovery Channel, as well as for various intelligence and defense agencies, including the Pentagon, Air Force, Army, Marines, Navy (CNO/SSG and ONR), NATO, DARPA, NRO, DHS, NASA, and several other organizations with which he signed NDAs.
Charles, I'll start out by asking you about the wizard behind the curtain. Caine's Mutiny is exceedingly complex. What tools do you use to keep track of the characters, the various species' techno-sociological idiosyncrasies, and the story's multiple plot lines?
Well, I certainly depend upon spreadsheets. Without them, I could not keep track of the most complex, but easily missed, challenge of writing in the Caine Riordan series: the timeline. Even leaving out the protagonist, if you consider the number of major characters engaging in activities at great remove from each other, and not at the same moment in time, there are certainly a lot of moving pieces to keep track of. Making sure that they are not in two places at once, or in the wrong place at the wrong time, does require a little bit of calendar work.
I'm fortunate enough to have fans and readers who come forward to help with various other challenges. My friend and fellow 1632 author Rick Boatwright massaged a whole bunch of my notes into something like an integrated writer's reference for the Consolidated Terran Republic. Another astounding project was undertaken by Mark Gutis, who created an alphabetical compendium of the entire series and the unusual places people and objects populate it.
But a lot of the tracking involves old-fashioned memory, particularly when it comes to how various plots and motivations evolve over the course of the series.
As I read, I found myself increasingly fascinated by the behavior of the exosapient, Hkh'Rkh. For example, one character, Yaargraukh, felt "his eyes retract behind their protective folds, then under their bony ridges," to represent misgivings over something he had been told, and later "clacked one set of opposable digits, releasing his adjutant from the submissive posture". Are these entirely products of your imagination, or did you draw upon real world human or animal behavioral parallels?
The exosapients of the Caine Riordan books are products of observationally informed imagination. I'll unpack that: while I don't usually take something directly from terrestrial examples, I let the constants of animal and human behavior inform various  exosapient actions and traits. For example, consider the way creatures signal threat/aggression, or the expression of amusement, and you might find some likely parallels. Possibly even inevitabilities. Some examples:
In the case of threat and aggression, it is difficult to imagine a creature which would do so by curling up into an unnoticeable ball. That is not an arbitrary behavior. It transcends speciate differences because it is the creature's practical attempt to remain undetected by physically limiting visual signature. Attempting to appear smaller, less noticeable, and vulnerable is arguably one of the most certain and clear ways to signal a desire to avoid rather than engage in conflict. Conversely, therefore, aggression displays in almost every terrestrial species involve one or more of the following features: an attempt to make oneself seem larger, loud noise, violent movements, posture that is clearly preparatory to a strike, and the baring of teeth.
The latter is a particularly rich source of potential confusion, since logically therefore, a human smile would appear to be a threat display. Many other species presume that is exactly what it is until it is explained to be almost the opposite: a reflex that indicates amusement.
The expression of amusement in another species is also something I derive from a basic observational constant: that the experience of amusement usually depends upon surprise. Specifically, amusement arises when a being says or does something that is not expected, or is in some way contrary to logically productive activity. The typical human response to this is what we call laughter. Fundamentally, it is a spasmodic muscular reflex. To put it another way, laughter may follow from a very complex series of revelations, reversals, and surprises which are all cognitive, but the signifying reaction—laughter—is involuntary: a muscular reaction to the stimulus we call amusement.
How does this impact my creation of amusement reactions in other species? It tells me that if an exosapient is capable of the same kind of amusement that a human is, surprise is once again integral and inherent to that experience. Consequently, the exosapient's expression of amusement will also be involuntary, not voluntary, and therefore will reflect an uncontrolled and/or spasmodic property in its physical expression of amusement.
The Arat Kur also display a curious set of relational posturing and dominant/subservient interchanges between an officer and its inferiors. Would you care to elaborate on how you developed their hierarchical thinking and attendant behavior? It appears you have more than a little earthside anthropological education to aid in your depiction of this species.
Most of my developmental processes are informed by an interdisciplinary approach (anthropology is one of many). In the case of the Arat Kur, their hierarchy and social patterns actually evolve out of their dawn of intelligence origins. Starting out as subterranean, they had huge resource limitations when it came to protein. Consequently, they became trappers. That started as an accident, resulting from opportunistic finds of dead animals that had fallen into pits. That led the Arat Kur to take the natural step of seeing if there wasn't some way to encourage those accidents to become a little more frequent.
The logical impact on their population was profound growth. The more successful they became at wielding their new skills and tools, the more profound that population growth became. In short order, they had completely obliterated whatever modest subterranean competition they had. That left their potential growth unchecked.
This is a moment when zoology and animal behavior plays at least as large a role as anthropology. Any social creature with an independent consciousness cannot afford to have unchecked population growth. The consequences are well known to us and reprise the grim roles assigned to the four Horsemen of the Apocalypse. However, the Arat Kur also realized that their profound population growth also provided them with innumerable opportunities to expand their resource base and dominate their environment.
So how does one avoid the disastrous consequences of population growth while retaining the benefits of it?
The answer is the same one we observe in a considerable number of human societies: preprogrammed and even rigid hierarchical organization. The larger the society becomes, the more control it requires in order to keep it from melting down in response to internal stresses, or crumbling under its own incorrectly balanced weight. That is the origin of the seeming rigidity of the Arat Kur, who are physically and temperamentally far more suited to a highly regimented social order than human beings are. As evinced in the novel, Trial by Fire, they have little tendency towards internecine strife. What has not yet been shown is how their means of reproduction are completely detached from territorial or property control. As such, they find communal coexistence, even in a clearly defined and somewhat rigid hierarchy, far more amenable than humans ever could. Indeed, in the same way that the Arat Kur are comforted by enclosed rather than open spaces, they take comfort and pride in the identity that comes from the role and caste that define them as individuals.
How did you become involved with SIGMA and what can you tell us about the advisory role you play with intelligence and defense agencies?
Oddly, I became involved with Sigma before Sigma even existed per se. When I was conducting research for my dissertation on speculative fiction, I contacted Jerry Pournelle to ask some questions about his work with the Citizens Advisory Council and their/his book Mutual Assured Survival. That became the start of our friendship. That was in the mid-90s.
About 12 years later, I had reason to revisit the entire topic of the influence and  exchange that existed between writers of hard military science fiction and defense agencies and contractors. By this time, Sigma existed, largely having grown up out of a number of core participants from the CAC. My friend and fellow science fiction author Bud Sparhawk was on Sigma, so I asked him if he could contact Sigma's organizer and chief cat-herder, Arlan Andrews, with the view to my interviewing some of the members. A few weeks passed. I figured that I was going to be turned down, but in fact, when the reply finally came back, it was to invite me to become a member of Sigma myself. So you might say, I became the topic of my own research.
Since then, both under the aegis of Sigma or independently, I have been a consultant or workshop participant at most of the major three- and four-letter defense and intel agencies inside or just outside the DC beltway. At this point, the only armed service I have not worked with the Coast Guard.
My role is mostly to provide the kind of blue sky and braintrust speculation that such organizations are really not equipped to initiate internally. These days, it's rare to find any defense or intelligence agency committed to in-house technology projections that reach out more than five years or so. Most are now down to an even closer horizon  than that. The exception has been the Pentagon's Office of Net Assessment, which is a direct report to the SecDef. Their mandate is essentially deep future speculation/projection, so I've been involved with over half a dozen of their in-house projects, either inside the five-sided squirrel cage itself, or those that are facilitated by external organizations like MITRE.
In a 2015 interview with Brad R. Torgerson, you listed a number of research sources you used to project the cost of exploring interstellar space, stating you kept your figures on the conservative side until 2040, which you declared "a reasonable fulcrum point." Why that year in particular?
I think there's a little misunderstanding about what I was saying in that particular response to Brad. Although I was using the decade by decade economics projection spreadsheet to look at space spending, that really was not the sole or even primary focus of the larger exercise. And certainly it's not as though there's any built-in presumption that any nation was looking to allocate resources to interstellar travel throughout all the years leading up to the Caine Riordan series (2105 start). Quite the contrary.
Rather, what I was doing was projecting world population and DGP growth according to CIA World Factbook and Almanac stats, using what's called a Kondratief Wave effect to built in period variation in growth, rather than (highly dubious) straight-line modeling. Using what were standard budgeting benchmarks from the 1990s, I then projected forward the dollar amount of each decade's total GDP output that was earmarked for space. The change after the 2040s occurs because of linked social and technological changes: specifically, advances in power generation, drive efficiency, and permanent orbital / lunar construction sites. Together, these factors made the cost of more ambitious projects lower, in the same way that any developed infrastructure makes bigger follow-on initiatives not only more possible but more economical. Ultimately, in the Caine Riordan series, when events conspired to prove that supra-luminal travel is in fact an engineering possibility (in the mid-2080s), that told me how much economic progression and investment in space had already accrued. That, in turn, gave me a legitimate starting place from which to project how much budget was available to devote to the achievement of the drive itself. It also reduced the cost of building the ship which would be furnished with the drive, since prior achievements reduced the total expenditures required. In other words, a lot of subsystems were available off the shelf, rather than requiring special new construction and research.
Do you have an ETA for the Broken Worlds trilogy? Can you provide teasers, e.g. is it set on this world or another al la Middle Earth? Anything else about it?
I can't tell you the actual publication date of the Broken Worlds trilogy with any authority, I can tell you that I should be writing the first book by this fall. I suspect that it will be slated for publication sometime in 2020, but that is pure guesswork. The series is not set on this world, although readers will immediately detect some tantalizing echoes and resonances of Earth from various periods and locations. Those are quite intentional within the informed reality of that world. In other words, if you see parallels to Earth cultures, that is not because I am simply plugging in some easily accessible (and tired) terrestrial tropes. They are there for a reason. And that reason is part of the genre-subverting core of this trilogy.
The world on which this trilogy begins, known as Arrdanc, is indeed a broken world. However, almost none of the inhabitants are cognizant of the contradictions which exist all around them and under their feet. The story focuses on the protagonist, Druadaen, who, by dint of chance and birth, stumbles across these cracks in the apparently seamless and well integrated social and physical reality in which he lives.
How did your collaborations with Eric Flint and Steve White come to be?
I want to start by saying that I cannot imagine being more fortunate in a pair of collaborators than having the pleasure to work with Eric Flint and Steve White. Both partnerships developed from earlier acquaintances that rapidly became friendships.
In the case of Steve White, we began meeting over bourbons at conventions in the tidewater region, where I listened to his laments about his then-collaborator's inability to complete the Starfire novel that ultimately became Extremis. It was mostly rewritten from the ground up. It was a great experience and the first novel I ever wrote.
At roughly the same time, I met Eric on a panel at Lunacon and wrote him a novella which he accepted immediately even though he wasn't sure where he could use it. Before I had a chance to really do anything more, he, too needed someone to jump in on a novel. And on pretty short notice. That novel became Papal Stakes and I have since completed two other novels in the Ring of Fire series.
Are there any other projects in the works that you're free to discuss? Any future collaborations, perhaps?
The sixth and seventh novels of the Caine Riordan series are already contracted, and Toni Weisskopf has accepted the outlines for novels eight and nine. She has also accepted two more novels in the Consolidated Terran Republic universe which feature other major characters as protagonists. One, Misbegotten, is mostly centered on Riordan's son, Connor, and is the story of his development as a young naval officer in the midst of Earth's transition to a more integrated set of armed forces. And if you know anything about my books, you know that that will not be an easy or pleasant transition. At all. There's one other character in the book that I don't want to give away here, because that would just be way too big a spoiler.
The other book in that universe is titled Triage and will be a collaboration with Eric Flint, who's now going to be playing in my sandbox for a change! Keep an eye out for the Ktor villains you love to hate!
I can't reveal a sekrit projekt that I am in the process of finishing for another very well known series. I can say that it's  a considerable stylistic departure for me, told in first person.
After writing the Eddie Cantrell sequel this summer, Eric and I will embark upon what may be the most epic single project in the ring of fire Universe to date. Tentatively slated for writing next year, it is essentially what you might call the world at war. Without giving away any outcomes, the series is currently at a major historical tipping point. That point is defined by whether or not the Ottomans continue their advance, are held fast in a durable stalemate, or are driven back from Austria and the Balkans. Suffice it to say, that when readers get to the end of this book (or two-book dyad), they will have a lot more answers to that question.
There is another Ring of Fire book that I am now completing with Robert Waters entitled 1637: Calabar's War. It is set in South America and the Caribbean. The title character is in fact drawn from a fairly famous (and in some people's view, notorious), historical figure from Brazilian history.
In the very near future, the first anthology set in the Caine Riordan universe will be coming out through Eric Flint's Ring of Fire Press. The anthology is titled Lost Signals and is mostly written by fellow professionals who also happened to be fans of the series, many of whom approached me about doing such a project years ago. For a variety of reasons, Toni Weisskopf and I decided that this project was probably not right for Baen, since its very structure would probably make brick and mortar stores like Barnes & Noble's gaze askance at it. Not to give too much away, it's called Lost Signals because the overarching conceit is that there are a variety of news stories presented as brief bits of IINS wire copy. Then, each piece of fiction shows the real truth behind each piece of wire copy. Those are the invisible truths that gives the book its title: Lost Signals.
You just returned from New York's Heliosphere, a new event in the Greater New York area, where you were the Guest of Honor. Will you tell us a little bit about it and what you discussed with attendees?
Heliosphere was an absolute blast. I was there for its first iteration in 2017 as a special guest. I guess I didn't repel anybody that strongly, because they reached out again and made Eric Flint and I the guests of honor for 2018.
It's an extremely well-run convention, not too big, but growing consistently. It is also where we held this year's 1632 Minicon, an annual event that enables fans of the series to gather with the major authors of the universe and to ask them questions and get glimpses of coming events that have not been revealed elsewhere.
I would recommend anybody who can get to the con to go. Heliosphere is a great weekend.
If your followers care to conduct a face-to-face with you, where can they find you over the remainder of this year?
My activities for the rest of the year include Balticon on Memorial Day weekend, then Fyrecon in Utah, where I have been invited as a master guest. What that means is that I teach extended seminars on practical writing topics. Fyrecon is primarily a gathering of  hopeful, journeymen, or more advanced professionals, first and foremost. And I am honored to have been asked to be one of the master presenters.
After that I share the guest of honor spot with my old friend and gaming companion Jane Lindskold at Congregate in South Carolina.
Next on my roster is Libertycon, where I am one of the guests of honor, this time by dint of being the master of ceremonies. I look forward to getting together with the many friends and readers that I am fortunate to see there every year.
Then it is on to being one of the Guests at Dragoncon, which is always a huge amount of fun and a complete madhouse.
Finally, my last solid commitment for the year is at  the ever-excellent and reading-focused DC area con, Capclave.
To give my site's visitors a better feeling for Charles Gannon, the man (as opposed to Charles Gannon, the author), would you care to share something about your home life?
My home life is a very rich one but often so hectic that it's hard to get the writing done on schedule. I have four children ranging in age from 11 to 21. Inasmuch as my wife works in an executive position well away from our home, I'm almost always the guy on the other end of the phone when any given domestic wrinkle or crisis comes through. But I wouldn't give it up for the world.
Thank you, Charles, for taking time out of your schedule to share with us. Before I present my site's visitors with an excerpt from Caine's Mutiny, followed by the links where they may follow you and purchase a copy, I'd like to conclude with a traditional Lightning Round. In as few words as possible, please answer the following:
 My best friend would tell you I'm a: brother from another mother.
The one thing I cannot do without is: time to write.
The one thing I would change about my life: increase the time available in which I can write.
My biggest peeve is: People who ostensibly take pride in being part of our Democratic Republic and then don't stop to examine evidence and claims carefully, and/or who forget that if there is no courtesy in discourse, soon there will be no discourse left at all. At that point, people tend to start shooting—or worse.
The person(s) I'm most satisfied with is/are: my children.
Excerpt: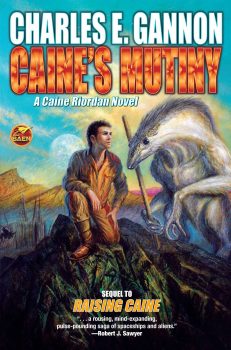 Riordan stood. "Sergeant Fanny, secure both the mouth of the cave and your present six. I'll be there in two minutes."
"You, sir? Coming out here?"
Riordan felt all three pairs of eyes on the bridge upon him. "I say again, I will be joining you. Hold the creepers in position, out of sight. I want two of the personnel you have covering the cave to swap out their lethals for suppressive rounds. Low juice feed, high rate of fire. And gas grenades for your tubes. If possible, we are going to keep this from turning into bloodshed. Keep me updated. Riordan out."
"Sir—" started Sleeman and Solsohn.
"No time," Caine interrupted. "And no time to equip a Know-It-All rig."
"Even so, sir, protocol in this situation—"
"Does not encompass the variables here. Of which, one is paramount." He was already at the ready locker just beyond the valve to the bridge. "Who here speaks Hkhi?"
Silence.
Riordan grabbed a duty suit already fitted with a ballistic liner. "I speak about four hundred words. That's probably at least three hundred ninety-nine more than they've heard from a human so far. So if there's a chance to talk our way out of a fight, this is the moment. Once blood is spilled, it becomes an Honor issue. Finding a way back to a parley would be difficult and highly unlikely."
"Yeah, I heard about that crap," Karam muttered. "Scuttlebutt is that once Honor is involved, they become bushido bear-aardvarks beating their horse chests and making much ado about nothing."
Caine pulled a CoBro 8mm liquimix rifle out of the ready-rack. "It's life and death to them, Karam. Talking to them, rather than shooting at them, in the next five minutes could mean the difference between getting our people out of here peacefully, or going to war. But if if comes to shooting, I'm going to need to know if our suppressives will work, Dr. Sleeman."
"Right. I'll get on the research. With the eye that's not watching the sensors."
"Commodore," Duncan murmured. "Protocol says you must be wearing an armor shell—a cuirass, at least—before you—"
"Major, you are correct to quote the regs. I am exercising commander's privilege to disregard due to extenuating circumstances. And if those circumstances become more extenuating than we hope, you are in charge of Pullerin the event of my—my prolonged absence. You will also inform Major Rulaine that he is brevetted to lieutenant colonel and to carry on as the mission CO." Riordan grabbed a helmet, moved toward the ventral bay.
Duncan cleared his throat. "Good luck. Sir."
"You save that luck, Major. This situation is well in hand," Riordan lied with a smile, then resumed his short jog to the bay.
***
Through the combo goggles, Turkh'saar didn't look different from any other biogenic world. The outlines of the plant life were so repetitive in form as to be interchangeable and there was no color, not even of the corrected variety. Since the atmosphere on Turkh'saar was an unknown as far as humans were concerned, Riordan was running with a sealed helmet, the filtration set on maximum. The fact that other humans had already been operating here didn't prove much. For all he knew, they were using filter masks. But, glancing at the Huey again, Caine was coming to doubt that more and more.
The rest of the team showed up as blue triangles on his HUD display, located just ahead, three aiming into the cave, three aiming outward, one hunkered down in the center. Riordan headed for that central triangle, overrode the voice-activation of his tac-set, made sure the external speaker was on. "Coming in on your six," he said quietly.
The external audio pick ups crackled as Fanny responded. "We see you, Commodore." If he noticed that Caine was not armored to protocol, he didn't say anything.
Riordan crouched low as he approached, staying well out of the threat-cone defined by the cave mouth. He took a knee next to where Fanny was keeping his attention divided between the two fire teams. "Sitrep, Top."
"No movement in the cave, sir, but when our audio pickups are on max gain, we get what sound like voices."
"Human or Hkh'Rkh?"
"Too faint to say. This cave probably goes back a way. Forty meters, probably more. No further thermals, but we can see inside the first ten meters or so: abandoned sentry posts, noncombat load dumped all over the place. Everyone left in a hurry. Funny they didn't take these two helicopters."
"Not if they heard Puller. They probably figured us for Hkh'Rkh and that we'd shoot them out of the sky the moment they took off. What have the creepers found?"
"Solid rock in there, sir. If I send them in further, we'll lose line of sight and have to resort to broadcast. And that might not be much better. Creepercam shows us what look like some sharp switchbacks. That'll baffle-block the hell out of their weak broadcast units."
Riordan wasn't about to try a blind advance into a cave for which he had no ground plan. "Top, who's your best with comms and remote ops?"
"Lance Corporal Somers, sir. Head and shoulders above the rest."
"Okay. When we go in, she's going to keep one creeper advancing so that it remains just within LoS of our point man. I don't want to send them an automated greeting card in advance, but I'm not about to charge in there blind, either."
"And if they tweak to the creeper?"
"Then we'll have already closed to within ten meters or so."
"That could get messy, sir. Hand grenades?"
"That's our last recourse, Top. I'm here to talk to the Hkh'Rkh, not splatter them."
You can follow Charles Gannon on his website: http://charlesegannon.com
You can purchase a copy of Caine's Mutiny here: https://www.amazon.com/Caines-Mutiny-Riordan-Charles-Gannon/dp/148148317X
SaveSave
SaveSave
SaveSave
SaveSave
SaveSave
SaveSave
SaveSave
SaveSave
SaveSave