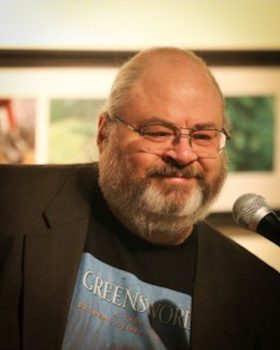 Donald J. Bingle is the author of six books (The Love-Haight Case Files (with Jean Rabe); Wet Work, his most recent; Net Impact; GREENSWORD; Frame Shop; and Forced Conversion) and about fifty shorter stories in the science fiction, thriller, horror, fantasy, mystery, steampunk, romance, comedy, and memoir genres. He was the world's top-ranked player of classic role-playing game tournaments for the last fifteen years of the last century. He once received a surprise package in the mail with a lapel pin thanking him for his "contributions to time travel research." He says he'll really have to get around to doing that research some day soon. He is a full member of the Science Fiction & Fantasy Writers of America, Horror Writers Association, International Thriller Writers, International Association of Media Tie-In Writers, and Origins Game Fair Library.
Here is his description of Wet Work, the title we'll be focusing on today:
Dick Thornby is not Hollywood's idea of a spy. In his rough and tumble job there are no tailored Italian suits, no bimbos eager to please, and no massive underground fortresses built by evil overlords seeking world domination—just an endless series of sinister threats to the safety and security of the billions of mundane citizens of the planet. Sure, Dick's tough and he knows a few tricks to help him get out of a tight spot, even if his boss accuses him of over-reliance on an abundance of explosives. But he's also got a mortgage, a wife upset by his frequent absences on "business" trips, and an increasingly alienated teen-age son who spends way too much time playing in gaming worlds on the computer.
After taking personal revenge on the criminal behind both his son's injuries and the continued disintegration of his marriage, Dick Thornby is teamed with Acacia ("Ace") Zyreb, a young, female agent from the East European office of the Subsidiary, to deal with the mystery behind coordinated hacking of the braking systems of several car models.
Doing his best to maintain his vows to his wife, Dick struggles to deal with the inexperience and provocative attitude of Ace on her first non-European mission. Their somewhat combative investigation takes a left turn by uncovering a much more sinister threat to the world and to Dick's family. He's willing to risk his job, his partner, and his life to eliminate the threat, but the clock is ticking.
What do you want readers to know about your book?
It's the second book in my spy thriller series and I'll do a third if sales warrant it.
Aside from the plot, is there a story behind it?
When I was first approached about doing the initial book in my spy thriller series by Gold Eagle, I wanted to do something a bit different than the James Bond or Jason Bourne type thing, so I made my spy a guy with a wife and a kid and a mortgage, where his family didn't know he was a spy. Next, I wanted him to be dealing with cutting edge stuff and cybercrime was a way to do that. In researching the topic, I found there is some really weird stuff on the internet that I could both debunk and incorporate at the same time. Similar themes carry through in the latest adventure.
Why is your writing different from other authors in this genre?
My spy loves his wife, worries about his kid, relies too heavily on explosives, and cares about collateral damage.
What was your path to publication?
Gold Eagle cancelled the series I wrote my first spy thriller for before it was scheduled for release, so I got the rights back and a small press publisher put out Net Impact. For the second, I decided to self-publish via a Kickstarter. I'd done two previous Kickstarters before, one for Familiar Spirits, an anthology of ghost stories I edited, and one for Frame Shop, my mystery thriller about murder in a suburban writers' group.
What are you working on now?
Teleplay for The Love-Haight Case Files, about lawyers representing the rights of supernatural creatures in a magic-filled San Francisco. I'm also doing some research for Flash Drive, the potential third book in my spy thriller series.
What else have you written?
Forced Conversion (near future military scifi), GREENSWORD (darkly comedic eco-thriller about global warming), Net Impact (the first spy thriller in my series), Frame Shop (murder in a suburban writers' group), and (with Jean Rabe) The Love-Haight Case Files (urban fantasy with a legal thriller twist). I've also written screenplays and about fifty short stories in the thriller, horror, science fiction, fantasy, steampunk, romance, comedy, and memoir genres. And I've written a bunch of material and adventures for roleplaying games, like Dungeons & Dragons.
Are there any awards or honors you'd like to share?
The Love-Haight Case Files won three Silver Falchions at Killer Nashville. And, I was the world's top-ranked player of classic roleplaying game tournaments for the last fifteen years of the last century.
Do you create an outline before you write?
No. I know where I'm starting, where I'm going, and two or three places/scenes I want to include along the way, but rarely have more than one or two pages of character notes or phrases before I start, along with some research articles. For me, outlining too much would take away the fun parts of writing—the parts where I get excited by figuring out exactly what happens next—and make it tedious work.
Why do you write?
To be read. It's hard to make substantial money writing, but it is worthwhile to know someone else is enjoying your story.
How do you overcome writer's block?
Writer's block is a symptom of other problems, primarily not controlling your plot and characters with deliberation. If you have written your way into a corner and don't know how to move forward, you probably need to go back and fix something earlier on to make the plot work.
At this stage in your career, what is your greatest challenge?
Marketing. I'm too old to sit around waiting for traditional publishing to take a year or three to consider and put out a book, so I rely on myself and smaller, faster presses, but that makes it easy for the public to lump you in with amateurs who don't edit their work and have no experience writing.
Describe a typical day.
On the average day I don't write. The whole "write every day" advice works for some people, but not for others. I write infrequently, but I write very fast when I do write. Probably that's because I respond well to deadlines and because in the intervals between writing stints, I'm researching and thinking about what comes next.
What is your greatest life lesson?
Try not to think too much about the past; nothing ever changes there.
Who are some of your favorite authors?
Robert J. Sawyer; any combination of Niven, Barnes, and Pournelle (more than any of the three solo); Ken Grimwood; John Gardner.
Thank you for taking time to share with us. Before I present an excerpt from Wet Work, followed by links to where our visitors can follow you online and purchase it, I'd like to conclude with a traditional Lightning Round. In as few words as possible, please answer the following:
My best friend would tell you… I'm a control freak.
The one thing I cannot do without is… competition.
The one thing I would change about my life: Not doing that time travel research I received an award for. Must get to that.
My biggest peeve is… badly used, inaccurate idioms. NO ONE drank the Kool-Aid at Jonestown. It was Flavor-Ade.
The thing I'm most satisfied with is… the future, because I can still make it what I want if I try.
Do you have a parting thought you would like to leave us with? Don't write for free and don't steal books. Both disrespect the work and the author.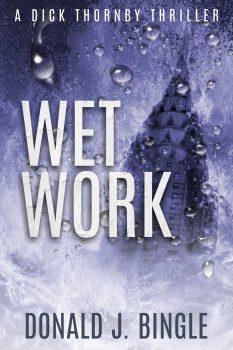 Excerpt:
Prologue
Jerry hated his wife's car. He loved the hybrid's gas mileage, and he didn't mind saving the planet for future generations, but he was six foot two and husky. Squeezing behind the wheel practically let him steer with his beer belly.
Worse yet, his claustrophobia was heightened by a smoke-belching stream of growling Mack trucks hemming him in as they hauled gravel down the double black diamond sloped street  plummeting to the intersection at the entrance to the Joliet bridge. The rusting, Erector Set style span crossed both the shallows of the Des Plaines River and, on the near side, the darker, deeper Sanitary & Ship Canal. With traffic moving, Jerry felt like he was running with the bulls at Pamplona as powerful behemoths thundered about him. When stopped for a red light, like now, he felt like a surfer caught in the break as he paddled out, praying a monstrous wave wouldn't crash down from above and pulverize him.
So Jerry kept his eyes glued to the rear view mirror … just in case.
Today his watchful paranoia paid off. A fully-loaded dump truck crested the hill with the momentum of a tsunami, threatening to obliterate him like one of the splattered moths littering his windshield.
Damn.
Jerry manhandled the wheel hard left as he checked for oncoming traffic, then punched the accelerator to escape being rear-ended to death.
The subcompact whined like an overstressed golf cart, inching to the left until the gas motor kicked in, then trembled into stuttering acceleration. Jerry stared at the mirror, watching as gravel flew off the looming truck's payload and skittered across the roof of its cab. The unshaven driver inside braked hard, his eyes wide, a lit cigarette falling out of his surprised mouth, as his body lurched forward from the attempted emergency stop.
It was going to be close, closer than Jerry's morning shave with the quadruple blade razor the kids got him for Father's Day.
Jerry wasn't a religious guy, so no prayers whispered forth as he watched his ignominious death approaching, his grim reaper laying black rubber on the pavement and churning out white smoke as worn tires tried to overcome the momentum of tons of loose, shifting rock. Instead, a stream of invectives flowed from Jerry's lips as he imagined the huge tires of the gargantuan machine rolling atop his wife's mouse of a car and stomping it down, greasy, bloody, and flat. He was going to die a stupid, needless, painful death simply because his wife traded days for the neighborhood carpool to school.
He hoped she would feel guilty about it at his funeral.
Closed casket, of course.
But, then … then the crappy automatic transmission shifted up. Jerry leaned forward instinctively, as if that could possibly save him. As he swerved farther into the open lane on the left, the truck driver jinked right toward the curb and the empty sidewalk, each action incrementally slowing the rate at which the gap between the vehicles was shrinking.
Maybe, just maybe …
Suddenly, the hybrid farted forward, as if it had just seen what was about to happen via its reverse view camera. Jerry kept his foot on the floor—he didn't want to take any chances. He couldn't do the math to figure the angles and vectors, but his big, fat gut told him he was going to make it. His pursed lips turned up into a tight smile. But when he looked ahead he saw a lumbering garbage truck turning into the oncoming lane from Canal Street, which fronted the dark, murky waters of the commercial canal.
Jerry had snatched his life from the jaws of defeat only to thrust it into the jaws of a Browning-Ferris Industries garbage truck. He kept the steering wheel hard to the left, hoping to jump the opposite curb to the far sidewalk. With any luck he could stop before he reached the corner and t-boned the big, green machine with "BFI" blazoned on its side. He twitched his foot up and to the left, then stomped down on the brake as hard as he had flattened the accelerator only moments, yet an eternity, before.
Nothing happened.
Nothing fucking happened.
If you'd like to follow Donald, you can do so here:
Website:         www.donaldjbingle.com
FaceBook:      https://www.facebook.com/donaldjbingle
Twitter:          https://twitter.com/donaldjbingle
Goodreads:    https://www.goodreads.com/author/show/2779581.Donald_J_Bingle
You can purchase Wet Work here:
Amazon:        http://a.co/1qni4lH
Nook:             https://www.barnesandnoble.com/w/wet-work-donald-j-bingle/1128291702?ean=2940159029973
Kobo:              https://www.kobo.com/us/en/ebook/wet-work-5
PRINT:           http://a.co/2il1eWS
SaveSaveSaveSaveSaveSaveSaveSaveSaveSaveSaveSave
SaveSave
SaveSave
SaveSave
SaveSave
SaveSave