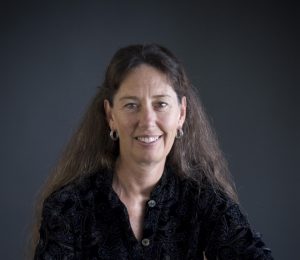 Today's featured guest is WordFire Press author, Liz Colter. Due to a varied work background, Liz has harnessed, hitched, and worked draft horses, and worked in medicine, canoe expeditioning, and as a roller-skating waitress. She also knows more about concrete than you might suspect. Liz has followed her heart through a wide variety of careers, including farming with a team of draft horses, and working as a field paramedic, Outward Bound instructor, athletic trainer, and roller-skating waitress, among other curious choices. She also knows more about concrete than you might suspect. Her novels written under the name L. D. Colter explore contemporary and dark fantasy, and ones written as L. Deni Colter venture into epic fantasy realms. She's an active SFWA member with multiple short story publications, and her debut novel, A Borrowed Hell, was the winner of the 2018 Colorado Book Award for Science Fiction/Fantasy.  I asked her about her recent epic fantasy novel, The Halfblood War, and she cited its underlying premise:
A sweeping story of love and war, prejudice and acceptance…

Tirren, heir to the ruler of Thiery, has raised his half-Elven son in a land that hates and fears the Elves, but his son's struggle for acceptance is only one source of Tirren's pain. The other is his unfading desire for Yslaaran, the Elven woman who eighteen years ago captured him in a spell, seduced him, and vanished. She returned only once more—to hand him his infant son.
When a neighboring ruler attacks the land of Thiery, Tirren rides to battle with his half-breed son at his side. Learning of the war, Yslaaran fears the conflict will unravel her long-laid plans for the boy. If she doesn't interfere, he could die before his time, but if she reveals her hand by meddling, her own people could rise up against the humans they despise and trap the land between two deadly enemies.
The fate of two races hang in the balance, but only Yslaaran knows that both humans and Elves risk a future more devastating than war.
What do you want readers to know about your book?
This is a classic, Western European-based fantasy, like the ones I grew up reading and enjoying. While I love the new directions epic fantasy is taking, and while I may write something in the future that's more of a departure as far as setting and culture, for this novel I poured into it everything I've loved over decades of reading epic fantasy. It's a stand-alone novel, but packed with terrifying and powerful elves, romance and war, and the halfblood offspring of humans and elves who are caught in the middle of the conflicts.
Aside from the plot, is there a story behind it?
I've always loved the old stories and ballads of capricious fae: the fairy queen who abducted Thomas the Rhymer, or the one who wooed Tam Lin away from his mortal lover (according to scholars, both may be the same story but separated and changed by a few centuries). I also love the Celtic stories of the light and dark fae courts, and creatures so bound to their natures that they can hardly be judged by mortal standards of morals and behavior.
What are you working on now?
I write epic fantasy as L. Deni Colter but also contemporary/dark fantasy as L. D. Colter. Currently, L. D. Colter is neck-deep in a challenging set of books—a loosely-connected series of contemporary fantasies about gods from various cultures. Meanwhile, L. Deni Colter is planning a set of epic fantasy books about a court executioner.
What else have you written?
I'm thrilled to announce that my novel, While Gods Sleep (written as L. D. Colter) has also just released. The cover quote by Walter Jon Williams describes it as "The pleasures of Greek mythology mixed with the dark undercurrents of contemporary fantasy." My debut novel, A Borrowed Hell (contemporary fantasy from L. D. Colter) was published by Digital Fiction Publishing at the beginning of 2018.
Are there any awards or honors you'd like to share?
A Borrowed Hell was the 2018 winner of the Colorado Book Award for Science Fiction/Fantasy from Colorado Humanities, and in 2014 I was selected as a winner in the international Writers of the Future contest for my short story "The Clouds in Her Eyes."
Excerpt from The Halfblood War: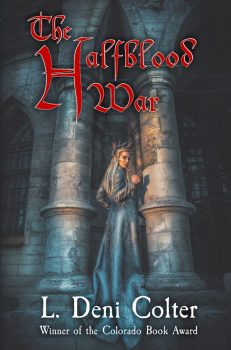 Chapter 1
"It's too soon to risk it," Erimar said.
Tirren stood, anticipating the rest of the objections his father would raise. It was an old argument but past time to revisit it. He paced to the library's hearth and leaned an elbow on the fireplace mantle. "We've held off an extra year already. What will more waiting accomplish? It won't alter my son's heritage." The heavy, gray stone of Thiery Hold seeped cold into his arm, despite the fire. Outside, a chilly, spring rain pelted the leaded windows with a sound like small pebbles hitting the thick glass.
"He would have more time to mature," Erimar insisted.
"He's seventeen," Tirren said, striding back to the middle of the room, his volume increasing, "a year into his manhood." Escalating this would accomplish nothing. He took a breath and began again. "The more we emphasize his differences, the harder we make this for him. Chayan has enough to overcome already. He has to be ready to be Beodan by the time he's twenty, to be Bealdor when you and I are gone."
"Gods, Tirren! Don't you think I've thought of that every day since that woman brought him to us?"
That woman. Erimar had never once referred to Chayan's mother by name.
Tirren had intentionally steered the conversation away from Yslaaran, as much for his own sake as to avoid his father's bitterness, yet even the harsh and impersonal invocation of her triggered memories: His first sight of her through the open gate of the Hold eighteen years ago, as she stood at the edge of the woods that Winterfest night. A woman, nearly of a height with him, wearing a single, flowing gown that had shimmered in the dark like opals, so different from the layered, high-cut dresses of Heshan women. Her thick, red hair loose, spilling down her back to her hips. He asked if she was well, titling her "Iden," as her graceful elegance bespoke a highborn woman. He hadn't realized at the time how much he debased her.
Tirren dragged himself from the memories. "I'm sure you've thought of her daily." He didn't bite back the resentment that seeped into his words. Unfair of him, he knew, to criticize his father's objections to her when he'd never reconciled his own conflict at loving the woman who stole his will and his seed for reasons he'd never understood. Leaving him with the complications of Chayan's heritage heavy on his shoulders.
Their ancestors watched the argument even now, from tapestries covering the stone walls of the library. Men paused forever in the bloody battles that had won Thiery in the Conflicts, and paved the way for it to become the wealthiest of the four regions comprising their country of Hesh. Tirren's father would have continued the family's strong line, but his wife's frail body had given them only one child. And Tirren had failed more grandly still; one bastard child, born to the Elven woman who abducted and seduced him eighteen years ago. A halfblood heir for a land that hated and feared the Elves.
"Don't twist my meaning, Tirren. You know I love Chayan. I've raised him as my grandson despite his blood and his illegitimacy. But to let him travel the region, see the people, meet with the councils. We have no way to know the effect it will have."
"We'll never know if we keep him prisoner in the Hold."
"Prisoner?" His father snorted. "Chayan has never been kept in the Hold and you know it. I'm saying we can't let our plans outrun our caution." His father stared into the fire. "The two of you are all I have," he said, quietly.
In nearly twenty years since Tirren's mother died, his father had never remarried, pinning his hopes on his son instead. Tirren had failed him there as well. He had been twenty-two the last time he saw Yslaaran, that following Winterfest eve, when she brought Chayan to him as an infant. At thirty-nine, he still couldn't bear the thought of another woman. His obsession with her was wrong, and guilt plagued him for it, but year after year the feelings refused to fade.
"I know we are," he said at last. "And I know the part I've played in that."
BOOK LINKS:
Amazon: https://www.amazon.com/gp/product/B07FZ7496L/
Barnes and Noble (paperback): https://www.barnesandnoble.com/w/the-halfblood-war-l-deni-colter/1129191339?ean=9781614756620
Barnes and Noble (Nook): https://www.barnesandnoble.com/w/the-halfblood-war-l-deni-colter/1129191339?ean=2940161670965
Kobo: https://www.kobo.com/us/en/ebook/the-halfblood-war
Author website: https://www.lizcolter.com/
Newsletter signup: https://mailchi.mp/bc969529fd5b/4tnr6lc28f_ldcolter