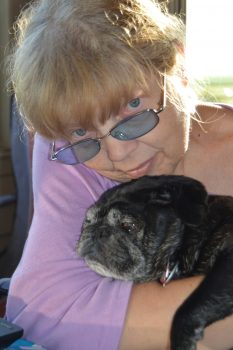 Words on a page can be hollow or moving, flat or intriguing, woven into a masterpiece, or thoughtlessly scribbled onto paper for the sole sake of profit. However those twenty six letters are arranged, they can either end up as the stuff of fine novels or, too commonly these days, hackneyed pulp fiction. What a joy it was, then, to stumble onto the pages of The Bone Shroud, the latest novel by this week's guest author, Jean Rabe, in which the world she creates is at once mesmerizing and haunting. In this, my website's one hundredth post, I invite you to join me as I delve into her long and notable career, as well her mastery of the craft of fine writing.
This is how Jean describes herself:
I'm a writer, indefatigable tennis ball tosser, avid reader, board game geek, dog-belly scratcher, glass-fuser, and lousy gardener.
The Bone Shroud is my 37th novel. I'm working on 38 and 39 now. I write a lot, short stories, too—more than a hundred in all sorts of genres. And I write in old, comfortable clothes with either raggedy sandals or well-worn slippers. At the moment, I'm writing on my back porch—living in a tiny town in central Illinois. There are train tracks practically surrounding me, providing music to work by. I love warm weather, which is why I'm on my porch.
I studied journalism at Northern Illinois University many years ago, intending to be a crusading reporter… which I was for nearly a decade. Then I got itchy feet and went to work for TSR, Inc., the original producers of the Dungeons & Dragons game. I wrote several novels based on D&D worlds, and then wanted something new. My feet were itching again. I went freelance, fantasy and science fiction novels, game materials, edited magazines, ran writing workshops, and acquired dogs. I love dogs. And somewhere in there I wrote a true crime book with F. Lee Bailey.
Now it's all about mysteries. I suppose I needed something new again. I always read mysteries, figured it was past time that I wrote them. I have two Piper Blackwell "uncozy cozies" out, and my suspense-thriller, The Bone Shroud. Nested in my computer are a lot more mystery plots … including one with The Bone Shroud's protagonist. I'm going to be writing mysteries for a long while if the fates are benevolent.
I asked Jean to describe the book and she gave me this:
Irem Madigan's wedding trip to Rome turns into a desperate search for historical relics, and a struggle to stay ahead of a killer. Irem, an archivist at the Chicago Field Museum, flies to Italy to be the "best man" in her brother's wedding. He's marrying an archaeologist who lures Irem into a centuries-old mystery.
In Rome's belly, Irem discovers secrets, alliances, and is teased by a potentially world-shocking discovery. Her family ties and her sensibilities are tested, and she can't seem to keep her eyes off what could be a life-changing prize.
Unfortunately, there are other players in the game, and some of them are playing deadly. Can she survive and uncover the ancient secrets?
"Strong characters, shady dealings, ruthless villains, a beautiful setting, an ancient mystery—The Bone Shroud has 'em all. Don't miss it!"
New York Times bestselling Richard Baker, author of Valiant Dust
 "Jean Rabe uses her mastery of flowing prose to immerse you in a world of archaeological intrigue. From the art world to the underworld, keep your mind sharp as the bread crumbs she leaves are there to find if you read with your eyes wide open. With an intrigue reminiscent of Michael Crichton, I expect you'll like this book as much as I did."
Internationally bestselling author Craig Martelle
"Intrigue, romance, and danger amid the relics of Rome's storied past, with compelling characters and building tension that will keep you turning pages!"
Gail Z. Martin, bestselling author of Vendetta
The Bone Shroud's opening scene reminded me of a personal experience in Italy when, travelling at night by train, I made the mistake of sleeping without locking the compartment door. My travelling companion, eventually ex-wife, watched helpless as a man wearing what she described, back in 1976, as a two thousand dollar suit, chloroformed me then parsed through our luggage. The term the conductor taught me later was il furto when I attempted un robo in Spanish. Did any real life events help fuel this story? If so, please elaborate.
"Back in the day" I used to be a news reporter, often covering police. I'd written a few articles about purse-snatchers and pickpockets, and decided I would include such a scene in one of my novels. It took a while for me to get around to that, but it seemed like the perfect opening for The Bone Shroud. I wanted a beginning that had a little action to it, would make the reader curious about the character, and at the end of that scene would reveal that she had a kick-ass quality. Along the way, I got to describe an Italian street going by in a blur. And now, after hearing your story about your train trip, I'm mulling over how I can use a scene like that… In Irem's backstory, I talk about a mugging in the Chicago subway. I was mugged once in the Chicago subway, and I never went down into a subway again. Shudder. Bad times, good fiction fodder, eh?
Your chapters are short, a technique that authors like Dan Brown use to propel the reader forward. Was this deliberate, or did it evolve of its own accord?
My short chapters are deliberate, and are entirely the result of attending a panel years ago at a gaming convention. Often gaming, sci-fi, and fantasy conventions have writer tracks, with all manner of seminars. At the Origins Game Fair in Columbus, OH, I sat in on a Michael Stackpole seminar. Mike is known for Star Wars novels as well as his own sci-fi works. He said he'd read a study that claimed a reader was more likely to finish a novel if the chapters were 2,500 to 3,000 words long. At the time, the chapters in my fantasy novels averaged 5,000 to 6,000 words. Intrigued, I figured I'd give it a try. I don't know if it made a difference in whether my readers finished my novels, but it made a big difference in my writing. In the very next novel that I wrote—and I kept my chapters to 2,500 to 3,000 words—I had an insignificant rewrite. In fact, my editor said he only had a few suggestions and that my style had somehow overnight remarkably improved. I kept to those short chapters after that, and in many cases my editors ask for no rewrites. My storytelling is sleeker, the plot more focused. Win-win-win.
You appear to admire linguistic skills, as do I. You have an apparent understanding of both Italian and Latin. Might I ask how many languages you speak, regardless of the degree of fluency?
I studied Latin, which provides a little background into other languages. I love the intricacies of languages, though I've never studied anything beyond Latin… and Egyptian hieroglyphics—I took a course in that. I also know American Sign Language and some Amslan. But I know people who are fluent in languages… Italian, French, Spanish, German, Finnish, Japanese, and I rely on them. I love to smatter different languages into my fiction, and I make sure I get it right because my friends are so kind as to check it for me. The man I studied Egyptian from is Italian, an archaeologist, and an Egyptologist. He was a lot of help with The Bone Shroud.
Your story takes the reader under the centuries old city of Rome. How much time have you spent studying archaeology? Have you visited any digs, especially Roman ones?
I visited digs in Illinois and Wisconsin, and incorporated a Wisconsin dig into an earlier book. Archeology intrigues me, and it was fantasy and sci-fi author Andre Norton who really got me into it. We'd have engaging conversations about new discoveries and digs around the world, and she'd share some of her books and magazines. She was particularly interested in the digs in the Middle East. I wrote a novel with her, Dragon Mage, that we set in ancient Mesopotamia. I read some archaeology books about the setting before I started work. I'd also taken some archaeology courses in college, and entertained pursuing it as a career, but decided on journalism, with an emphasis in geology and geography—of all things. As a coincidence, I was in my basement book room yesterday, looking for a military battles dictionary (for a short story), and I ran across two big books on underwater archaeology, one pertaining to WWII ships. Now I've got that topic twisting in my brain, needing to work it into a plot somehow. Yeah, I brought the books upstairs. I can see one of them right now out of the corner of my eye.
I enjoy the path you paint, weaving dialogue and thoughts throughout the exposition. It reflects the way our thoughts and perceptions intertwine with our experiences. Somehow through all of it you manage to move the reader forward without slowing the pace. Which authors have inspired or influenced your writing?
Oh, I have soooooooooo many authors who have and continue to inspire me:
Andre Norton, because I had the fortune of collaborating with her. She'd always stir my imagination with her "what if" and "what if" and "then what ifs."
Gene Wolfe, another sci-fi author. He is a master stylist who layers multiple meanings into his prose. You have to read one of his books twice to truly appreciate it.
Ed McBain. I discovered the 87th Precinct when I was looking for a book at the airport to occupy me for a long flight. Then I went looking for all of his books and corresponded with him via email. He told me he started writing sci-fi and it didn't fit him. A buddy sent me McBain's only sci-fi novel, one of my treasures.
George R. R. Martin, but not for his Game of Thrones novels. The first book of his I read (when I met George at a convention in Louisville, KY), was Fevre Dream. It's about vampires on a riverboat. The writing was butter that melted off the page. I decided I needed to write fiction instead of writing for a newspaper.
Michael Connelly: I love Harry Bosch. He moves a story seemingly effortlessly, and his protagonist never grows stale. Plus, he gets the police work right. A former police reporter, that's a real big deal to me.
William Blake. I studied him in an English Lit course in college. Then I kept reading him on my own. He made me… makes me… think.
You wrote a series of fantasy novels with Andre Norton. How did that collaboration come to be and how would you describe the experience? I ask because writing, to me, is a highly personal affair, and I tend to find this sort of approach difficult to consider.
Writing with Andre happened accidentally. I edited a fantasy anthology for DAW Books, and they gave me an Andre story to include. All the other authors had provided recent bios, but I had none for Andre. I was told they'd come up with a "stock bio," but I didn't want to turn over the project missing that piece. So I found her phone number (remember, I'd worked as a news reporter, I know how to find people), called, and she answered. Andre was delighted that someone wanted a new bio, and she was quick to email me. Then she emailed me a few more times, and we struck up a friendship. I have a file folder filled with letters she wrote me. We later edited an anthology together.
Her agent approached her about doing a sequel to Quag Keep, the first Dungeons & Dragons-inspired novel, and she was getting up there in years and didn't want to write a whole book. She told the agent "only Jean" could write this book with her, as she knew I played Dungeons & Dragons and had written for the company. So I outlined the book, Return to Quag Keep, got her approval, and started writing. We called often, chatting, retooled the villain, and had a grand time. She was disappointed at first that I wanted to kill off one of the characters, but I convinced her. I have this "thing." I kill characters.
In the end, after I'd sent her the manuscript, I was watching the Green Bay Packers and Chicago Bears on Monday Night Football. She called me and said (and I will remember this always): "Jean, you are an amazing writer." The football game faded into the background and I did the Snoopy dance.
I went on to write Dragon Mage, and I finished her final novel, one she'd started and just couldn't physically continue… she was 92… A Taste of Magic. She taught me how to ask: what if and what if and then what if?
How awesome was that?
What prompted you to break away from fantasy and turn to writing thrillers?
I've always read thrillers and mysteries. That's mostly what fill my bookcases. I just thought it was time I wrote some. I had a taste of it, as I'd penned some Rogue Angel novels for Gold Eagle… modern-day adventure with a little supernatural bent. I had these mystery plots twirling away in my brain, and I just decided to go for it. Not easy switching genres, as all the contacts I had in the sci-fi and fantasy community couldn't help me in the mystery field. I had to start over. The first mystery I wrote took second place in the Claymore Awards at Killer Nashville. The judges said I should be writing mysteries.
I'm really enjoying it. I find mysteries more difficult to write, challenging, refreshing. I have soooooooooo many ideas still churning. I'm having a hard time finishing your questions because I want to get back to my mystery book-in-progress, The Dead of Summer.
I laud your 2013 decision to step down from your position as the editor of SFWA's Bulletin and I suspect it took a great deal of courage. Some argue it sparked the ensuing firestorm, but it seems to this outsider to have been merely one catalytic event among many. Three questions follow:
Would you care to comment on your thoughts leading up to it?
How did your move either enhance or diminish your friendships in the author community?
Would you care to comment on the organization's response to the issue, both initially and over the course of the ensuing years?
Ahhhhhhhh… interesting times. There was a lot involved with the SFWA issue. I won't go into all of it, lots of politics and such. People decided to be offended at magazine covers and at columns. Opinion columns. It taught me that writers need to be very careful about their topics and sentences and views.
I see people on Facebook today being offended by this and that, people banding together and complaining and getting people removed from convention guest lists and ousted as panelists. I see people being dragged through the mud because of something they said or wrote… or were perceived to have said or wrote.
Political correctness is so political. And freedom of speech… is it really free?
I resigned because I didn't want to argue, didn't want to be defensive, and I didn't want to be involved in something that was so polarizing and where people I respected were being tossed under a bus that was driven by their peers.
I'm proud that I was able to put the magazine back on schedule after it consistently came out late. I'm proud that it didn't miss a deadline under my watch and that I was able to get the writers paid.
I made some good friendships, and I kept the friendships that I treasured. I don't know if I'm diminished in the author community; that's up to the community.
I know that I like the mystery community much better. Fewer eggshells to walk on. I know that I'm doing well, and that I'm happy.
This brings me back to The Bone Shroud in which you tackle the issue of same sex marriage. Now that you've stepped away from fantasy, are you enjoying the opportunity to touch on social issues in a way fantasy did not permit?
I used to often touch on social issues in my fantasy works. In particular, books I wrote for Wizards of the Coast—the Goblin Nation trilogy—let me play with levels of society, discrimination, injustice… all cloaked with goblin and hobgoblin characters. That trilogy was about how vicious segments of society could be to each other. At the end, I let hope rise. (Literally, I had a character whose name translated into Hope.)
But you've more room for social issues and inclusivity in real-world mysteries. I want to be inclusive in my fiction, so in The Bone Shroud I opted for a strong female character of Turkish-Irish parentage, a gay brother and his Italian fiancé; and I touched on age-different relationships.
My friends are straight, gay, young, old, students, professionals, retirees, dirt-poor, and quite affluent. I draw from all of them to inspire my characters. In my Piper Blackwell novels, I touch on race, social disparity, and the "ruralness" of small town life.
What's life like for Jean Rabe these days?
Busy. I've always been a workaholic. I'm not good at relaxing. So I write and edit, and take breaks to play with dogs. When I'm working on one book, I'm thinking about the next. Sometimes, like now, I'm working on two books. One for the morning, one for the afternoon. Short stories? I've got two I promised; those get the weekends. Well, I still game. This weekend it's Axis & Allies. In the evenings, if I'm watching TV, I have a notebook in front of me so I can sketch out characters, scenes, start book outlines. My husband is correct; I cannot relax.
Thank you, Jean, for taking the time to share with us. Before I present an excerpt from The Bone Shroud, followed by your social links and links to your book, I always conclude my interviews with a Lightning Round because of the unexpected insights it permits. In as few words as possible, please answer the following:
My best friend would tell you I'm a: kind soul
The one thing I cannot do without is: dogs
The one thing I would change about my life is: not moving out of Wisconsin
My biggest peeve is: prejudice
The thing I'm most satisfied with is: dogs… always dogs. I measure my life in dog years—the number of dogs who have shared their years with me.
Do you have a parting thought you would like to leave us with?
I hope people will try my mystery books. Many of my fantasy fans have bought them—and said they were surprised that they liked mysteries. I want to stay in this genre because it's harder work for me and because I have all these stories I want to tell in so many different settings. I'll never have enough days on the earth to tell all the stories; but I hope to tell the good ones. I've been a reader since age five, and a writer since age seven. I was first published at twelve. I can't imagine doing anything else. Just tell good stories. Life is too short not to do what makes you happy and satisfied.
I guess my parting thought is: do what makes you smile, adopt a dog or three, and don't judge; let fictional characters do that.
Excerpt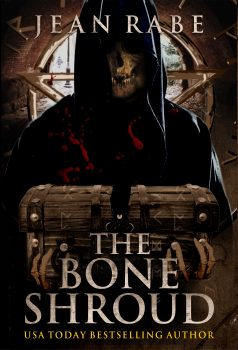 Irem was surprised to see car headlights and traffic signals holding off the night. Time had melted in the tunnels.
It had rained recently, adding a thin layer of freshness to the air that was otherwise heavy with the big city smells of car exhaust and too many people. Business lights reflected in wide, shallow puddles, the mirror image of a nearby fluorescent sign looking like wiggling pink and green snakes that extended from her feet.
Her legs ached from the climb, and she resolved to enroll at a gym when she returned to Chicago … pursuing something other than hapkido, which held acrimonious memories. But, for now, she'd exercise her ever-present curiosity.
"Benito, what did Santiago mean 'if we don't all end up dead'? I didn't want to ask him when he'd said it." But I should have. It had niggled at her brain for hours. Irem had plenty more questions—those all relating to the Roman underground, the bone tapestry and why it couldn't be used as a map any longer, who'd been buried in it. She intended to answer at least some of those on her own later with a thorough Google search on her iPhone. "Is Santiago worried the underground is going to cave in? Or is it the tapestry? Does he think it's cursed? Does he think pursuing—"
"Neinte." Benito shook his head.
"Then what is he worried about?"
"The bone shroud is not cursed, Irem. That's the stuff of fantasy fiction. The deaths of the restorer and her husband were unfortunate to be certain, the museum intern to drugs and alcohol. Sfortunato. Unfortunate."
Intern? A third death? Levent hadn't mentioned that.
"No curse. I am not superstitious, and neither are the Garcias. If Santiago is worried about the tunnels giving way, he would not be digging with me. He has the fears of a young archaeologist new to the dark parts of this field. That is all."
Benito stopped and stared at the sidewalk, let out a long breath.
"Dark parts." Irem wasn't willing to let the question drop. Her curiosity pushed her to pursue it. "Dark parts? Of archaeology?"
"Mi scusi," a man said, brushing by them and wrapping his long rain slicker in close. "Sono di fretta." He said something else, softer, lost in the giggle of a sequined woman passing by.
"Non è un problema," Benito called after him.
The sequined woman giggled again and blew a kiss to an elderly man leaning against a post, then pointed a finger at Benito and winked. Irem guessed she was a hooker.
"So what did Santiago mean—"
"Archaeology is—" Benito ground the ball of his foot against the pavement. "Brutale. Cutthroat, Irem. I had to think of the English word. Cutthroat is a good word. In some circles the competition for finds is not unlike divers racing to discover a sunken ship full of treasure. I think that is an apt analogy." Benito directed her south and around a white-haired woman with a walker, a man with a cane following. "Santiago worries that if someone discovers what we do, who we work to uncover, they will try to steal our find. His concern is not unfounded."
 Buy links:
Amazon          https://www.amazon.com/Bone-Shroud-Jean-Rabe-ebook/dp/B07B6S5F7Y/
and                  https://www.amazon.com/Bone-Shroud-Jean-Erlene-Rabe/dp/1732003602/
 You can follow Jean here:
Amazon author page:           https://www.amazon.com/Jean-Rabe/e/B00J1QR5U2/ref=ntt_dp_epwbk_1
Website:         www.jeanrabe.com
Newsletter You can subscribe here:http://jeanrabe.us14.list-manage1.com/subscribe?u=89364515308e8b5e7ffdf6892&id=9404531a4b
Twitter:          @JEANR
Facebook:      https://www.facebook.com/jean.rabe.1
SaveSave