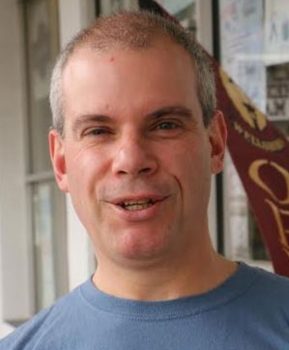 It's been a while since I've found a self-published author who interests me. Almost always, I interview authors from traditional publishing houses. It was with pleasant surprise, then, when I stumbled onto a novella that drew me in instantly with a premise that was both original and amusing, then learned it was a self-published work.
Its author, Kevin Coolidge, resides in Wellsboro, just a short hike from the Pennsylvania Grand Canyon. When he's not writing, you can find him at From My Shelf Books & Gifts, an independent bookstore he runs with his wife, and two friendly bookstore cats, Huck and Finn. He's currently the author of eight children's books, and one almost grown-up novella, Operation Ragnarok, the one I'll be talking about today.
The book's premise:
We are all just killing time, until time eventually kills us. We go through life knowing death is waiting, but not knowing what comes next. I don't have to wonder any more, because I died.
Operation Ragnarok is a fantastical adventure with comedic elements about a group of gamers going through a mid-life crisis. Instead of the proverbial little red corvette, they decide to steal a Viking longship from a museum, and accidentally release an ancient evil. It's a story of friendship, sacrifice, and unleashing Hel on Earth…
Operation Ragnarok: think Night at the Museum meets The Big Bang Theory with a touch of Stand by Me vibe. Great for those who love mythology, gaming, and geek culture, but none of these needed to enjoy this fast-paced tale. If you've ever rolled the dice, though, you need this book.
What do you want readers to know about your book?
My book is about a group of middle-aged gamers stealing a Viking longship. A copy of Operation Ragnarok is onboard a real Viking longship, The Draken Harald Harfarge. It's a modern Viking longship that has crossed the Atlantic and toured the United States, sailing through the Great Lakes and along the East Coast. I was able to board the ship at Oswego, New York. I decided it was in good hands, and so I didn't try to steal it.
Aside from the plot, is there a story behind it?
I got the idea from an article about a museum in Denmark that will build you a genuine Viking longship. I wished I had the funds for such a ship. I thought to myself, a real Viking would steal… I mean pilfer… such a ship.
Why is your writing different from other authors in this genre?
The fantasy genre can take itself pretty seriously. I wrote Operation Ragnarok to be fun. I'm serious about my writing, but the writing doesn't always have to be serious, and it's short! I love George Martin's, Game of Thrones, but it's a commitment.
What was your path to publication?
I had a great idea for a movie about friends, Vikings, and the end of the world. So, I wrote it, but then what?  What do you do once you write a screenplay? Well, unless you are connected or incredibly lucky, not much.
After letting the script sit in my desk drawer, I decided to novelize my own screenplay and seek an agent. It ended up being a novella, and writers without a large body of work seldom manage to get novellas published.
So, I ran a successful Kickstarter campaign and published it with the help of my supporters. An artist friend did the cover art, I changed the name from The Vikings to Operation Ragnarok, and I was ready.
What are you working on now? I'm working on the follow-up to Operation Ragnarok which is named Code Name Cthulhu. I'm also working on my eighth Totally Ninja Raccoon book, which is part of my children's series.
What else have you written?
I've written a picture book of how my first cat came to live with me, called Hobo Finds a Home. I grew up a dog person. So, people always ask how I ended up with a cat. I've written seven books in my children's series, the Totally Ninja Raccoons.
Are there any awards or honors you'd like to share?
My Totally Ninja Raccoons have been "Story Monster Approved." The award is for books both approved by adults and the children they are meant for.
What is your writing routine?
I work at the bookstore during the day, and seldom have time to write at work. I close the store with my wife, go home, eat supper, and then come back to the store to write. It's quiet. I'm surrounded by books, and our store cats. A writer needs a cat. I guess you can have a dog, but the stipulation is that you're an outdoor writer. I usually write a scene or chapter, and then need to let the book breathe and see where it goes next.
Do you create an outline before you write?
My method is to write an outline with sample dialogue, and scenes, and then re-write adding scenes and more descriptions. I don't always follow it, but I find I get the most writing done when I do this.
How do you overcome writer's block?
The best way I have found is to just write, even if it's crap and I'm unhappy with it. I always expand and cut during revisions. I find I mostly add than cut.
At this stage in your career, what is your greatest challenge?
I think my biggest challenge is getting to the next level. My children's series is becoming known and loved locally, but it's a pretty rural area. I need to break out of my hometown.
Do you have another job outside of writing?
I own a bookstore with my wife. I work there as a bookseller and book buyer. I also have started giving presentations to schools as an author, and believe me, talking about writing is a different skill set than writing.
Do you have any pet projects?
I'm working on a children's picture book called Molly, the Dog with Diabetes. It's for all the people and animals in my life with diabetes.
If you could do anything differently, what would it be?
I'd have started writing earlier. I started in 5th grade, and wrote off and on during high school, but didn't write much through my 20s. I didn't start writing in earnest until my mid 30s with a book review column for my local paper.
What are some of your favorite authors?
Joe Haldeman, John Scalzi, Patrick Rothfuss, Robert Heinlein. I grew up on classic science fiction, and still read a lot of the genre. My latest children's book, The Totally Ninja Raccoons Meet the Little Green Men, has a first contact scenario.
Thanks, Kevin, for sharing your thoughts with us. Before I share an excerpt you're your novella, as well as your social and book buy links, I'd like to conclude with a Lightning Round. Please answer in as few words as possible:
My best friend would tell you I'm a… funny guy
The one thing I cannot do without is… reading material
The one thing I would change about my life… my bank account
My biggest peeve is… small talk
The thing I'm most satisfied with is… my haircut
Do you have a parting thought you would like to leave us with?
I believe we're all natural storytellers. It's how we connect to the world and each other. If you feel you have a book or a song in you, then do it, even if you only share with friends or family.
Operation Ragnarok excerpt: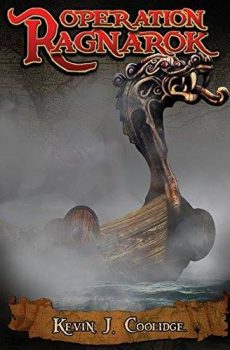 We are all just killing time until time eventually kills us. Today I celebrated my forty-sixth birthday. Yippee, I'm one day closer to death. It's a little morbid, but it's true. No one gets out alive. Death awaits us all. What comes after? I've spent many a night thinking about just that.
Should I expect the white, fluffy clouds and the Pearly Gates of the endless jokes and cartoons? Is a pleasant Afterlife only available to those of the Judeo-Christian faith? Will there be virgins? Does it matter? Is sex even allowed in Heaven?
There are so many hang-ups about doing the deed on the Earthly plain that I can't imagine the situation improving once I shuffle off this mortal coil. What types of intercourse would be acceptable? Would it be missionary only? Is a hummer out of the question? What about breasts? Heaven doesn't sound so great of there aren't boobs. I'm not sure I'm interested if I never see a nice pair of sweater puppies again. What's the point?
People keep yakking about the definition of traditional marriage and whether it's a sin for two people of the same gender to tie the knot. I don't know, and I couldn't care less. I only know I'd end up getting screwed, lose half my stuff, and pay alimony, regardless of whom I married.
I was forced to attend Sunday school, and the only lesson I took away was that I should avoid apples and serpents, which brings up another point. How about meat? My doctor told me to cut down on the amount of saturated fats, and eat more fruits and vegetables. Of course I'd have to eat more fruit and veggies if I cut down on meat! I'd have to fill the empty void of my stomach with something—like beer—since there wasn't enough protein and fat to fill it.
Is there beer in heaven? If Jesus could perform the miracle of water into wine, then there damn well better be an ice cold beer waiting for me. Yup, if I can't get a nice T-bone steak done medium well with a greasy side of curly fries and a cold brew, then I'm not sure about the whole concept of "paradise."
I guess you could say I've thought about it a little bit. Who hasn't? When my friend Tom, the preacher, says our loved ones are in a better place, are they really? Everyone agrees, because we want it to be true. I want it to be true, but is it?
We go through life knowing death is waiting, but not knowing what comes after. We pretend that one day we'll march up to Saint Peter, stroll through those Pearly Gates, pick up a harp, and commence to be bored shitless for eternity. Our final reward awaits, whatever it is, but sometimes it's not as far in the future as you want. Death doesn't wait. Now I don't have to wonder any more, because I died.
***
The sages say, a journey of a thousand miles begins with a single step. Mine started with just a single click. This is an epic tale full of danger, adventure, friends, a wolf the size of a bull moose, and fear—lots and lots of fear—and it all started on my living room couch.
My name is Kevin, and I'm an English teacher. I love teaching. I love molding young minds, inspiring hope, igniting imaginations, and fostering a love of learning. I love helping kids learn to think for themselves. Of course, it isn't always like that. In fact, it seldom is. I strive to generate passion. I often fail.
Teaching is frustrating as hell. I should be working on my novel, or reading, but after a long week of wrestling with bureaucrats, listening to poor excuses from students, and struggling to be politically correct, I'm exhausted.
I don't remember not being able to read. I've always loved it, and I love stories in all their forms. I enjoy a good movie. Cracking a cold beer and catching an old flick helps me to relax after my interaction with the public school system. I mean, I love my job, and treasure my students, but sometimes the bureaucracy causes me to forget that.
So, this story began as I was power-lounging on the couch my ex left after the divorce. She didn't want it. It's ugly, huge, and heavy. It's one of those sleeper sofas, and uncomfortable as hell, but I didn't have to move it again. I had just finished a scrumptious dinner of Salisbury steak, courtesy of Chef Hungry Man.
Those of you who'd like to follow Kevin online can do so here:
https://www.goread.com/author/kcool1969/
https://www.facebook.com/The-Valhalla-Project-1778840839006497/
https://www.facebook.com/The-Totally-Ninja-Raccoons-304166750003748/
You can purchase his books here:
https://www.goodreads.com/book/show/31362738
SaveSave