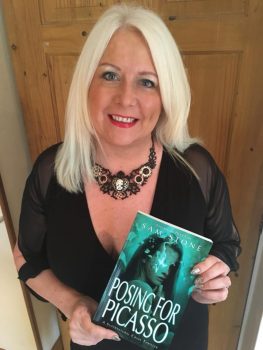 Award winning genre writer Sam Stone began writing at age eleven after reading her first adult fiction book, The Collector by John Fowles. Her love of horror fiction began soon afterwards when she stayed up late one night with her sister to watch Christopher Lee in the classic Hammer film, Dracula. Since then she's been a huge fan of vampire movies and novels old and new.
Sam's writing has appeared in many anthologies for poetry and prose. Her first novel was the fulfilment of a lifelong dream. Like all good authors she drew on her own knowledge and passions to write it. The novel won the Silver Award for Best Horror Novel in ForeWord Magazine's book of the year awards in 2007.
In September 2008 the novel was re-edited and republished by The House of Murky Depths as Killing Kiss. Sequels, Futile Flame and Demon Dance went on to become finalists in the same awards for 2009/2010. Both novels were later Shortlisted for The British Fantasy Society Awards for Best Novel and Demon Dance won the award for Best Novel in 2011. Sam also won Best Short Fiction for her story Fool's Gold which first appeared in the NewCon Press Anthology The Bitten Word.
In 2011 Sam was commissioned by Reeltime Pictures to write a monologue for their talking heads style Doctor Who spin-off, White Witch of Devil's End. She was also co-script editor with David J Howe. White Witch, starring Damaris Hayman, was released on DVD to much critical acclaim in November 2017 by Koch Media as part of boxset called The Daemons of Devil's End. Sam also edited and wrote a story in the novelisation inspired by the drama for Telos Publishing also called The Daemons of Devil's End.
Other works include official Sherlock Holmes stories for Constable and Robinson and Titan. Sam also wrote a Dorian Gray story for Big Finish's successful series, The Confessions of Dorian Gray.
Sam was commissioned by Telos to write several sequels to her hugely successful steampunk novella Zombies at Tiffany's. The audio rights to Zombies At Tiffany's were subsequently bought by Spokenworld Audio and were made available for download in Halloween 2013. In January 2015 the first novel of her new post-apocalyptic trilogy, Jinx Town – Book 1:The Jinx Chronicles, was published by Telos and was been followed by Book 2: Jinx Magic in 2016. The third and final book in the trilogy, Jinx Bound is planned for release sometime in 2018.
The rights for Sam's latest novel, Posing For Picasso, were acquired by Kevin J. Anderson and Rebecca Moesta's publishing house, Wordfire Press, in 2016. The book was released in January 2018 and is a crime supernatural thriller. Four top crime writers have given endorsements for this standalone novel, including Peter James who says that it is "A powerful mix of the supernatural and police investigation".
An eclectic and skilled writer Sam also has a BA (Hons) in English and Writing for Performance and an MA in Creative Writing, which means that she is often invited to talk about writing in schools, colleges and universities in the UK. Sam is also frequently invited to appear as a guest at literary events, conventions and Comic Cons in the UK, USA and Canada.
Sam describes Posing for Picasso as follows:
It was Annabel, and something was wrong with the features … He thought he saw a triangle, not an irregular jigsaw shape after all. And it was missing from her face. As if a sharp pastry cutter mould had been stamped through her skull.
Someone is killing young girls in New York. Horrific murders where the bodies are being mutilated and parts harvested for unknown reasons. Detective Jake Chandler has a mystery on his hands, and even though there seems to be a connection to the Russian artist Avgustin Juniper, Juniper himself seems innocent and as confused as everyone else as to what is happening.
So why is Juniper painting all the murdered women, and what is stalking the artist? Something wants to return … something which was also known to Pablo Picasso … and only Chandler can stop it.
What do you want readers to know about your book?
Posing For Picasso is a book that feels as though it is a long time in the making. I first had the idea for this story in 2013. I love art and artists and the premise I originally came up with for this story was based around Picasso's unique style – Crystal Cubism. Picasso was a brilliant artist, capable of realist art as well as the stylist work he later became famous for. I wanted to explore why his style might have changed. And the idea came to me that perhaps his model actually looked like that and he really painted what he saw. From there I developed a story set in modern times, with a back story of Picasso's experiences.
Aside from the plot, is there a story behind it?
The theme of this novel is very much about loss—the loss of a loved one, the loss of one's self through obsession, and the loss of immortality. Through this we have underlining explorations of morality in which our protagonists have to make choices to sacrifice themselves or someone else. There's also an element of an artist being driven to create their art… having something "riding on their back" so to speak and pushing them to create, even though they themselves might have no memory of the actual creation process. This theme was in part inspired by a visit to see Clive Barker's home in Los Angeles where we saw some of his incredible paintings and sculptures and heard stories of Clive's amazing work ethic and his drive to create. I take inspiration from all over the place when planning and writing my books…
Why is your writing different from other authors in this genre?
I believe that all writers are different. We all bring our own unique experiences to any subject matter. I like to try different genes and mix and merge them whenever it feels right. I also always have an underlining point I'm trying to make in a story—whether the reader is aware of it or not, I know it's there. I'm also not afraid to tackle dark issues, and I often have a cast of characters that are central and important to the story, not just one main person.
What was your path to publication?
I wrote my first novel, Killing Kiss, as my Master's Degree dissertation. I was working as a high school English Teacher in the UK but I had since my early teens, always wanted to be a novelist. When I had completed the book and obtained my Masters, I didn't know what to do with this shiny complete body of work that I was very proud of, and so, knowing nothing about the industry, I ended up going down the self publishing route. Then the book was submitted to ForeWord Magazine's Book of the Year Awards and I won the Silver Award for best horror novel. From there, I signed my first three book deal with an independent publisher. It was a roundabout route to being published, but it all turned out well in the end!
What are you working on now?
I'm currently working on my first straight thriller. There will be no supernatural elements at all in this.
Are there any awards or honors you'd like to share?
As mentioned earlier I won the Silver BOTYA Award with ForeWord Magazine. I was also the first women in 31 years to win the British Fantasy Award for Best Novel in 2011, as well as Best Short Story that year too. The best "award" though is when people buy and appreciate my work!
What is your writing routine?
I very much treat my work as a job (but I'm fortunate in that I love it!). I wake up in the morning, have a cup of tea and I'm straight to work. I write all day, breaking for meals until about 4-5pm depending on how it's going. I think I'm somewhat unique in that I can write an average of 5-6,000 words a day when I'm writing a novel. This is because I'm a fast typist (I work straight onto my laptop) but also because I don't get hung up on tweaking. I just write and aim to finish, knowing that the finished novel will then be easier to edit and improve afterwards.
Do you create an outline before you write?
I wrote outlines for the first two books in my Jinx Trilogy—Jinx Town, Jinx Magic—and in some ways it made it easier to write the novels. However mostly I like to fly by the seat of my pants and just write. Especially with thrillers. However I do plot them all in my head. I'm always working because even when I'm not writing I'm thinking about the plot and the twists and turns I want in it. I always know the end of my books as I'm writing the opening—just not always the route by which we'll get there. This to me makes the journey more fun, and less predictable. Often when I plot who will be the bad guy in a mystery I'm writing I often don't decide until the end who it is. I hate predictable endings!
What life experiences inspire or enrich your work?
My childhood plays a great part in a lot of things I write because it wasn't a very happy one. I think the darkness in my writing comes mostly from my beginnings. As a child I spent a lot of time alone, reading to keep the outside world out. My imagination began there: I'd daydream better times. Nowadays, travel, people, food and especially my husband David, and my daughter Linzi, all inspires me. One of the lovely aspects of being a writer is that I can go to conventions and meet amazing people. It sometimes feels like a dream, and at others that this is normal. But it is enriching and I feel privilged to be in this position because I love people and I'm very sociable.
Would you care to share something about your home life?
I am married to David J. Howe—my soul mate—and we've been together for 10 years. I have a grown up daughter who no longer lives at home. She's a beautiful girl and is a singer/songwriter called Linzi Gold. She seems to have inherited my storytelling gene as many of her songs tell tales. Check out her album at www.linzigold.com! We have two bengal cats called Leeloo and Skye and I'm well on my way to becoming a crazy cat lady.
What is your greatest life lesson?
I learnt to stand up for myself.
What makes you laugh?
Toilet Humour!
Who are some of your favorite authors?
I love Anne Rice, Stephen King, Mary Higgins-Clark, Sidney Sheldon, Dean Koontz. Peter James, Paul Finch.
Thank you, Sam, for spending time with us. Before I share a Posing For Picasso excerpt, followed by your social media and book buy links, I'd like to conclude with a Lightning Round.
My best friend would tell you I'm: amiable.
The one thing I cannot do without is: My laptop.
The one thing I would change about my life: More financial security perhaps …
My biggest peeve is: Terrible drivers!
Do you have a parting thought you would like to leave us with?
I hope everyone enjoys Posing For Picasso… it's something of a departure for me as supernatural crime isn't something I've dabbled in before… But initial reader feedback has been excellent!
A stifled sound, almost a cry, came from the bedroom. Juniper froze, startled, but also because he was unsure what he had heard. Maybe Annabel had turned off the radio beside the bed. Maybe it was the groan of the shower as the stop button was pressed. This old building often emitted sounds that Juniper had learned to live with but that sound, he couldn't quite place.
Juniper put the paint brush down on the table beside his easel. Then he walked down the narrow corridor, past the empty, dark bathroom and opened the door to the bedroom.
The bed was empty. Annabel was on the balcony outside, or at least that was what he thought. There was a shape there, strangely dulled, not illuminated at all in the street lights.
"I'm back!" he called.
The shape moved. Juniper knew that eyes watched him. The hair on his arms and the back of his neck stood up.
"I hope you missed me …" Avgustin said. His voice was soft, teasing.
A prickle of anxiety crept along his spine as Annabel didn't answer. A peculiar lethargy consumed his limbs. He stopped in the middle of the room as overwhelming tiredness swept over him. His eyes dulled, as though he was wearing sunglasses in the dark, but he could still make out a second shape. And this one he knew without doubt really was Annabel. Juniper blinked. He forced his arm to move, rubbed a softly clenched fist into one of his eyes. There was a blur, a flurry of movement and then a dull thud: a sound that would replay over and over in his head.
The tiredness began to leave him. It was as though some miasma had enclosed his body, but now the fog was clearing. Juniper crossed the threshold onto the balcony. The whole space was lit up now, not only by the streetlight below, but also by the side light on his wall outside.
There was no one there.
He experienced a sense of confusion and then the sounds of hysteria floated up to him as though he were waking from a drug induced sleep.
He staggered to the railing, every step forced the paralysis farther away, and his eyes cast downwards, into the street below.
It was hard to make sense of what he saw at first. A weird shape in a robe. A twisted body—arms and legs at painful angles. And a face turned upwards that was somehow incomplete.
Four stories up, Juniper could not make out all of the detail and so he later told himself that his hysterical mind had created this bizarre image. It was as though something was gone—like a jigsaw puzzle awaiting its final piece. A part that had been lost. No! Stolen.
But it wasn't a puzzle that lay below him. It was Annabel, and something was wrong with the features that had inspired him. He thought he saw a triangle, not an irregular jigsaw shape after all. And it was missing from her face. As if a sharp pastry cutter mold had been stamped through her features.
"Annabel!" he screamed.
Below a man looked up and shouted. Juniper didn't understand his words. They did not make any sense at all because what the man was saying was wrong. Impossible.
"It was him!" shouted the man. "He threw her over."
Darkness swamped his vision again. Tears seeped like black rain. Juniper was blind. His heart a cold mass that hurt beyond endurance but still somehow continued to pump blood through his icy veins. He slumped to the ground and he stayed there until the uniformed police arrived to take him away.
Those of you who would like to follow Sam online can do so here:
Website: www.sam-stone.com
Facebook: https://www.facebook.com/samstonereal
Twitter: https://twitter.com/SamStoneReal
You can purchase Posing For Picasso here:
Amazon US: https://www.amazon.com/Posing-Picasso-Sam-Stone/dp/1614756228/
Amazon UK: https://www.amazon.co.uk/Posing-Picasso-Sam-Stone/dp/1614756228/
SaveSave