Summer is almost upon us and I thought a nice way to begin the season, as we all crawl out of our cubby holes, is to introduce you to YA author, Andrea Buginsky. Andrea and I made each other's acquaintance this year through best-selling author, Melissa Foster's author group on Facebook. Throughout winter's darker months, through its chill and the snows it had brought, Andrea remained an upbeat online presence. This is something about her background: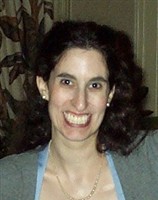 Andrea Buginsky is a freelance writer living with a congenital heart defect. She has enjoyed writing since she was a kid. When she went to college, she decided to turn it into a career, and earned her BA in Journalism. She has been freelance writing for several years now.
Andrea has always wanted to write a book, and decided she wanted to write for children. She loves fantasy movies like "The Lord of the Rings" and "Harry Potter," so she decided to try her hand at writing one of her own.
Andrea's first publication is "The Chosen," a middle-grade fantasy she worked on for about three years. It was published by Solstice Publishing on December 14, 2010. The second book in THE CHOSEN series, "Nature's Unbalance," was published on July 17, 2012.
Andrea is currently writing a new series, NEW AVALON, a YA fantasy. Book 1, DESTINY, is now available. She is currently writing the second, FATE.
Andrea has also published , "My Open Heart," an autobiography about growing up with heart disease. Her hope is that it will give encouragement to young adults growing up with heart disease, or other chronic illnesses, as well as parents of children growing up with heart disease.
Andrea lives in the Kansas City, KS area. She grew up in Florida, but is originally from NJ.
What are you currently working on, Andrea?
Book 2 of the New Avalon series.
Why have you chosen your particular genre?
I love fantasy, and often live in a fantasy world myself. I love to have the ability to come up with things that are completely out of this world and have them work in my stories.
You are one of those authors who managed to get taken on by a traditional publisher, but you have since self-published. Can you tell us a bit about that journey?
When I started writing books, it took me some time to figure out that YA fantasy was my niche. My first book was The Chosen. I queried it to different publishers and agents, but got several rejections. During an online writing conference, I had the chance to pitch it to some smaller publishers, and one offered me a contract. It was my first home. When my contract expired, I decided to take it on my own and self-publish it. I had just self-published my fourth book, and wanted to do the same with my other three. Now I have three books available on Amazon, with a fourth, fifth and sixth on the way.
Destiny is book one in the New Avalon series and Fateis Book 2.  Have you written any others?
My first book is The Chosen, about a group of warriors sent off by the queen of their world to save it. I have since written two more books in the series, which will be published sometime this year, and am working on the fourth one. I've also written My Open Heart, my autobiography about growing up with heart disease.
While My Open Heart clearly targets a specific audience, there are hundreds, if not thousands of fantasy novels. Why should teenagers be drawn to your fantasy books?
Because they want to read about an unlikely hero that faces normal teenage problems like they do.
What life experiences or careers inspire or enrich your writing?
I think just life itself, and how hard it can be sometimes. But overcoming the hard parts is what makes the stories come to life. My heroes persevere, just like I do.
What is your dream job?
I have it, although I would love to have the energy to sit at my desk all day, every day, and carve out 100s of pages a day.
What motivates or inspires you (not necessarily as regards your writing)?
Seeing people do good things. We hear way too much bad news about school shootings and other horrible incidents in the world. I love it when I hear a great humanitarian story about someone doing something simply out of the kindness of their heart.
What is your greatest life lesson?
To never give up your dreams.
Who are a few of your favorite authors?
J.K. Rowling, Rick Riordan, Danielle Steel, Nicholas Sparks
Do you have a favorite quote?
"I felt sorry for myself because I had no shoes until I saw the man who had no feet."
It is often hard to realize how truly blessed we are and to accept our own circumstances. Before I share a bit of your writing with our visitors, let's try a few Lightning Round questions.
The one thing I cannot do without is:
My TV
In one or two words, what is your defining trait?
Kindness
Hard copy or ebook?
ebook
Vice? Virtue?
Chocolate. Honesty.
Favorite book:
Harry Potter
Favorite movie:
Dirty Dancing
Do you have a parting thought you would like to leave us with?
Reach for the stars, and make your dreams come true.
For those of you who would like a taste of Andrea's writing, here is the premise of Destiny: New Avalon, book 1 (September 9, 2013), followed by a very brief excerpt.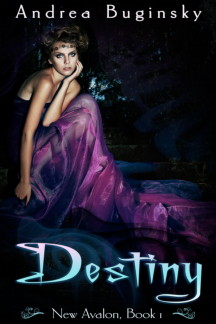 Constantly teased and taunted by the popular girls, Elena Baxter desperately wants to fit in. On her sweet sixteenth, she receives two shocking gifts: telekinesis and the surprising truth about her heritage. With high hopes that things will be different now, Elena returns to school to find that nothing has changed. Only this time her hurt feelings and frustration boil into something even she cannot understand.
When her powers explode, chaos ensues and she learns that her new ability is greater than she ever desired. As she learns to control her powers, Elena discovers there's so much more to her heritage than she ever imagined.
Excerpt:
As she yelled, things around her felt funny, and she realized she heard screaming. She looked around, and was startled to see everyone staring at her, horrified. She took a deep breath, and realized what had happened. She let her emotions get away from her, and her powers erupted.
The only words she could think of to describe the scene around her were total chaos.  Every locker had burst open, and the entire contents – books, folders, papers, pictures, mirrors, backpacks – had come flying out. The posters on the walls were scattered everywhere. Most of the students and teachers were picking themselves up off the floor. Elena knew her powers had gotten totally out of hand, and she made everything around her fly out of control, literally.
She heard footsteps walking toward her, the only sound in the hall. She looked up and saw her counselor, Mrs. Adams, walking toward her. She gently took Elena by the shoulder and guided her to her office. She looked back and saw Barb and the other Bimbettes staring at her, as well as everyone else in the hall.
To read more about Andrea, please visit her website.
Social Media Links
Fbook: https://www.facebook.com/#!/Andrea.Buginsky.Author
Twitter: @andreabuginsky
Google+ https://plus.google.com/#117234398007434496419/posts
Pinterest: https://pinterest.com/andipandi10/
Website/Blog: http://www.andreabuginsky.com/