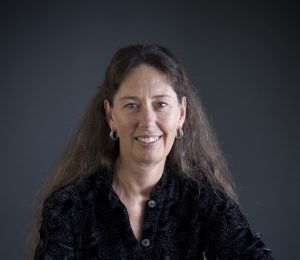 Today's featured guest is Digital Fiction Publishing's author, Liz Colter. Due to a varied work background, Liz has harnessed, hitched, and worked draft horses, and worked in medicine, canoe expeditioning, and as a roller-skating waitress. She also knows more about concrete than you might suspect. Liz is a 2014 winner of the international Writers of the Future contest and has multiple short story publications to her credit spanning a wide range of science fiction and fantasy sub-genres. Her novels, written under the name L. D. Colter, explore contemporary fantasy and dark/weird/magic realism, and ones written as L. Deni Colter venture into the epic fantasy realms she grew up reading and loving. I asked her about her adult contemporary fantasy, A Borrowed Hell, and she cited its underlying premise:
Lost in a barren alternative world, July Davish has two options: Confront his hellish past or be trapped there forever.
Fate has dealt July a lifetime of nothings; no happy childhood, no lasting relationships, and now, no job. His mantra of perseverance has gotten him through it all, but faced with losing his home, he finally sets foot on the same road of self-destruction the rest of his family followed.
An accident changes everything. When two colliding cars send him diving from a San Diego sidewalk toward safety, he lands somewhere far from safe—in a bizarrely deserted version of San Francisco. Though he wakes in his own reality, he continues to pass out, dragged back to that strange world each time. July is willing to do anything to end his world-hopping, right up until he learns the price: reliving a past he's tried his whole life to forget. He's not sure his sanity can take it. Not even to get back to his own world, a woman he's falling in love with, and a life he finally cares about.
What do you want readers to know about your book?
A Borrowed Hell is my debut novel, a contemporary fantasy for adults with heavy literary themes. Think Neil Gaiman's American Gods meets Philip K Dick's The Adjustment Team (the story on which the movie The Adjustment Bureau was based).
Aside from the plot, is there a story behind it?
Nothing specific. I love tortured hero stories (don't we all?) and set out to write one. I've written four novels and many short stories, but this book ended up having the most real characters I've ever written. For me, it feels like July and Val could walk out of the novel and show up on my street.
Why is your writing different from other authors in this genre?
The book ended up having much stronger literary themes than I expected when I set out. I think that succeeding more than I expected to in accomplishing my tortured hero storyline and creating realistic characters, I ended up with a novel that feels a little slipstream between fantasy and literary.
What was your path to publication?
A bit convoluted. I think the slipstream aspect of this book coupled with an unusual length (longer than a short novel, but slightly under standard length), on top of being a debut novel, made this a hard-sell as a large press title. It did well in open calls and contests, but I decided to submit it to a newer small press that opened, and it was picked up by them and published in March, 2017. Unfortunately, the press changed its publishing model and closed to outside authors in October. Happily, Digital Fiction Publishing picked it up right away, and so the second edition, shiny new cover and all, was released in ebook at the end of 2017 and the paperback has just become available.
What are you working on now?
Currently, I'm neck-deep in a challenging set of books—a loosely-connected series of contemporary fantasies about gods from various cultures. The first one (Greek mythology based) is being shopped, the second (based on Maya religion and myths) is very nearly in final draft, and the third is in the planning stages.
What else have you written?
I'm thrilled to announce that my epic fantasy novel, The Halfblood War, has recently been acquired by WordFire Press. The novel is in pre-production at this time, and should be coming out sometime this year. It's a stand-alone novel that contains everything I love most about epic high fantasy: terrifying and powerful fae, romance, and war.
In addition to my four novels, I've also written many short stories. I have a published works page at my website with links to many of them. The newest one coming out will be in the WordFire Press anthology Undercurrents: An Anthology of What Lies Beneath.
Are there any awards or honors you'd like to share?
I had the honor of being selected as a winner in the international Writers of the Future contest in 2014 for a short story I wrote, and am currently an active SFWA member. I'm also flattered that, though nominations for the award have not yet been announced, A Borrowed Hell has been suggested to the Nebula Recommended Reading List.
What is your writing routine?
Daily. As close to full-time as possible. I was able to give up my day job when my elderly mother moved in with my husband and me, which she did, in part, for me to have more writing time since I was already making professional sales. A win-win for us both. There are commitments associated with that and with, well, life in general, but I look at writing as a job and I'm pretty much butt-in-chair all day, every day when I have unscheduled time.
Do you create an outline before you write? 
I'm a dyed-in-the-wool pantser. Outlining just isn't a tool that's in my writer's toolbox. Maybe I'll acquire it someday, but I doubt it. On the other hand, I've never seen pantsing and plotting as black and white options. Both approaches have big gray areas for most writers. Even the people who outline in the thousands of words have to let go of the outline at some point and wing it, or the book would be nothing but an outline. In the same way, most pantsers have some level of plotting going on, even if it's at a scene-by-scene level as they get there. For me, I begin with atmosphere (dark, humorous, gothic, whatever), then get an idea of the main character, sometimes a theme early on, and then an opening. While all that's coalescing in my head, a sense of the story arc usually comes to me with some idea of where the story will end. At that point I start writing. In fact, at that point I have to start writing because the words of the opening start coming to me.
How do you overcome writer's block?
I don't believe in insurmountable writer's block. Yes, there are days where it's hard to get going and days where the ideas feel like they just won't come. When it's just a day that the words aren't coming to me easily and I want to keep procrastinating, it's usually just a matter of buckling down to it. I need to turn the internet off and turn my voice recognition program on. Once I start dictating and forcing words to happen, all of a sudden that dam breaks and it starts to flow and I have 1000 new words. The harder problem is when the struggle goes on for multiple days in a row or a couple of weeks at a time. If I hit a long stretch of trouble, it usually means I've taken a left turn in my story when I should have gone right. I go back to my reverse outline (the list of scenes I've already written) and try and analyze what's not working or where the story went off the rails. Usually I'll see the problem and have to do some rewriting before I move forward again. If I can't see it, then sometimes a beta reader can. I find a word goal per day when I'm writing new material is invaluable. I don't let myself stop for the day until I reach that goal.
What life experiences inspire or enrich your work?
I'm actually glad I started writing later in life because I feel that my life experiences in general, and some of the more specific and unusual things I've done in particular, definitely enhance my writing. I have a pretty rich background to mine from including some of the things listed in my bio, like Outward Bound instructor, field paramedic (I worked a year and a half of my five years in downtown San Diego), firefighter intern, concrete dispatcher, athletic trainer, draft horse farmer, and ten years of waitressing. Even though I rarely write directly about any of those things, I can draw on the diverse knowledge base it gives me in things like medicine, sports from a sideline perspective, horses and harness, first responder protocols in a variety of agencies, and outdoor travel and camping.
Would you care to share something about your home life?
I love that my husband and I both enjoy rural living. I'm someone that can't get too much quiet (as long as there's at least one other person in my life) and can happily stay on our bit of acreage days at a time with no desire to leave. It's a lifestyle very conducive to writing.
What motivates or inspires you (not necessarily as regards your writing)?
I've always been a very self-motivated, goal-oriented person. It's why I've had such a variety of careers. Learning a new thing that fascinates me will also motivate and inspire me to work insanely hard to achieve that learning/skill.
What are some of your favorite authors?
Reading Neil Gaiman, Tim Powers, and China Mieville in particular in the past decade probably inspired the single biggest change in my writing since I began writing more than 15 years ago. Discovering their work was eye-opening, and was the inspiration that lead me to leap from writing epic fantasy into literary-leaning magic realism and weird. I cut my teeth in my teens and twenties on Kurt Vonnegut, Gene Wolfe, John Crowley, and Ursula Le Guin. Immersing myself again in magic realism, contemporary fantasy, and literary genre writers has definitely influenced the direction I want to take with my own writing.
Thank you, Liz, for taking time to share with us. Before I give our visitors a sample from A Borrowed Hell and links to your book and social accounts, I'd like to finish with a Lightning Round. In as few words as possible, please answer the following:
My best friend would tell you I'm: Not a night owl
The one thing I cannot do without is: Dogs
The one thing I would change about my life: Lose the sugar addiction.
My biggest peeve is: Flies. Commercials. Or coat hangers sticking together. Maybe cooking. No, wait – phone solicitation! Okay – being interrupted when I finally hit my writing groove for the day.
A Borrowed Hell Excerpt: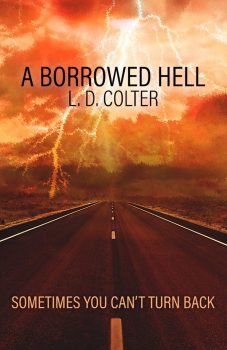 "He's here," a woman said.
July opened his eyes.
The first thing he saw were buildings jutting high into the foggy sky, forming a tall, jagged skyline that matched nothing on the San Diego coastline. He sat with his back against a rough, brick wall. Across the street rose the unmistakable pyramid shape of the Transamerica building in San Francisco's financial district. July's mind struggled with the incongruity. He should be five hundred miles to the south, squashed like a bug under a three-thousand pound Prius. The last thing he'd seen before opening his eyes here had been a close-up of the car in mid-roll.
Maybe he was dead. The thought was too uncomfortable to contemplate.
A man squatted next to him. Smudges of dirt stood out in grey-brown streaks against his dark skin. He wore faded green fatigues — the jungle kind that had preceded the desert kind — and an olive green T-shirt covered with dirt and holes. His hair lay flat against his head in small, tight plaits, and a single, bone-colored bead decorated the end of each braid.
"Hey there," he said. His smile was genuine, wide, and natural. It was the smile of someone at ease with himself and his surroundings. July found it reassuring in this place where nothing else was.
"How did I get here?"
The man shrugged. July looked to the woman standing behind the man. She shrugged.
Woman may have been a stretch; she looked more a girl, ultra-thin and waifish. Her worn blue jeans sported gaudy sequins at the frayed hems, and her long T-shirt emphasized her skinny legs. Dish-water blonde hair hung lank on either side of her face. Her eyes held a hunted look.
"I don't understand," July said.
"Then best to just move on," the man said, standing and stretching. "Come on."
He and the young woman turned from July and began walking. July pushed to his feet, still finding no pain or injuries. He looked the other direction, down the length of the empty business district. Empty. The wrongness he had been feeling crystallized. Not only was he in the wrong city, but the city itself was wrong. Other than the two people walking away from him, there was not a car or a person in sight.
The pair receded at a steady pace. Panic prodded July to jog after them. He wanted to believe this was a dream but couldn't, everything here felt too visceral. The man and the young woman walked side-by-side taking up the center of the sidewalk; July caught up to them and walked behind.
The silence of the city hung heavy around him, the slap of shoes on concrete loud in the unnatural quiet. It brought to mind old Twilight Zone episodes of people thrown into muted, artificial environments, but everything around him confirmed the reality of his surroundings. He could feel the breeze ebb and gust against his skin, heard the rustle of a candy wrapper crunch underfoot. He saw low clouds drifting above, and smelled warm brick, paved road, and the odor of the two unwashed people in front of him.
"Where is everybody?"
The young woman looked back at him without answering. The man answered without looking back. "They're around."
A dozen questions formed in July's mind but none of them made sense. He let the silence take him. Chinatown lay empty and quiet only a couple of blocks to his left and Telegraph Hill just ahead. The Embarcadero must be to the right. They were walking through perhaps the most quintessential square mile in the city; places that would normally be some of his favorite to visit. They climbed steadily for twenty minutes or so until they reached Pioneer Park, where a tall, whitewashed cylinder dominated the grassy knoll. A sign near the parking lot announced it was Coit Tower. It looked like a lighthouse had gotten lost and wandered into the park for a rest. He found it as eerie as the rest of the deserted city.
Those who would like to follow Liz online or purchase her book can do so through the following links:
Amazon Book Buy Link:     https://www.amazon.com/Borrowed-Hell-L-D-Colter-ebook/dp/B078FZRX51
Social Media Links:
Website:                     http://lizcolter.com/
Twitter:                      @1lcolt
Facebook:                  https://www.facebook.com/LDColter/
Newsletter Signup:  http://ow.ly/owre303brf7
SaveSave