Today's guest and I share a brief history dating back to early 2014. I met T.M. Franklin at Page 2 Books in Burien, Washington in February of that year at my very first book signing. Leland Artra of the Fantasy Sci-fi Fantasy News Network (#FSFNNet) had organized the event and several genre authors turned out. I liked her from the start. She is as open and engaging as the books she writes and I hope you grow to share my opinion.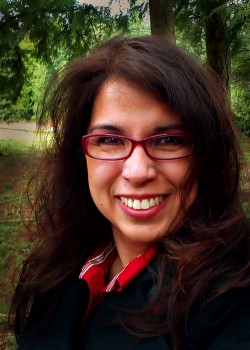 T.M. Franklin writes stories of adventure, romance, and a little magic. A former TV news producer, she decided making stuff up was more fun than reporting the facts. Her first published novel, MORE, was born during National Novel Writing month, a challenge to write a novel in thirty days. MORE was well-received, being selected as a finalist in the 2013 Kindle Book Review Best Indie Book Awards, as well as winning the Suspense/Thriller division of the Blogger Book Fair Reader's Choice Awards. She's since written three additional novels and several best-selling short stories… and there's always more on the way.
She describes MORE, the first volume of her eponymous series, as follows:
Ava Michaels used to think she was special. As a child, she fantasized about having magical powers… making things happen. But Ava grew up and eventually accepted the fact that her childish dreams were just that, and maybe a normal life wasn't so bad after all.
Now a young college student, Ava meets Caleb Foster, a brilliant and mysterious man who's supposed to help her pass Physics, but in reality has another mission in mind. What he shows Ava challenges her view of the world, shaking it to its very core. Because Caleb isn't quite what he seems. In fact, he's not entirely human, and he's not the only one.
Together, the duo faces a threat from an ancient race bound to protect humans, but only after protecting their own secrets—secrets they fear Ava may expose. Fighting to survive, Ava soon learns she's not actually normal… she's not even just special.
She's a little bit more.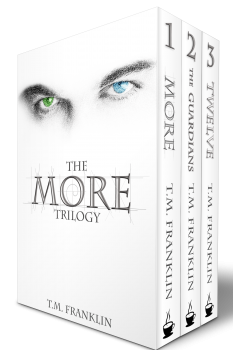 Even though we've led our readers into this visit with a summary of MORE, one that characterizes the series, I'd like you to tell us about your most recent release.
My most recent full-length release is TWELVE, the third book in the MORE Trilogy. It's an adventure about a girl who discovers she's more than a little bit special—and there's a group of people who see her as a pretty big threat. In TWELVE, we finally get the answers about who exactly she is, and where she fits into this strange, new world she's discovered.
What was the biggest challenge you faced writing this book and how did you overcome it?
The biggest challenge was tying up all of the plot points and keeping track of the HUGE cast of characters in TWELVE. We have good guys and bad guys, Race and Guardians and TWELVE and humans… and they all have an important part to play. It was important to me that the story satisfy readers who'd enjoyed the first two stories. I really didn't want to disappoint them.
As far as overcoming it, it was just sitting down and getting the words out—telling the story I set out to tell, and plenty of discussion with my editors who've worked on the trilogy along the way. We all had the same goal in mind, so that really helped.
What other novels have you written?
In addition to the three books in the MORE Trilogy, and a few short stories, I've written a light, YA romance called How to Get Ainsley Bishop to Fall in Love with You. It's about a quirky boy who makes lists for everything he does. He's not part of the in crowd, and he's okay with that because he believes he has a lot to offer. So he sets out to win the heart of Ainsley Bishop, and of course he makes a list to do it.
Have there been any awards, productions, videos or anything else of interest associated with your work?
MORE was a finalist in the Kindle Book Reviews Best Indie Book Awards and won the Blogger Book Fair Reader's Choice Awards in the Suspense/Thriller category.
What else are you working on?
I'm currently working on several projects. The next one will be a serial branching out from my short story, Window—which told the story of a girl who got visions of the past, present, and possible future through the picture window in her house. I've had several readers ask for more of this story, and I'm working on it.
Are there any occupational hazards to being a novelist?
Caffeine addiction.
Hah! You can say that again. How many people have you done away with over the course of your career?
Fictional people? I think maybe half a dozen? Real people—none yet.
I hope you're not working on it. That said, have you ever dispatched someone in a book and then regretted it?
Nope, although I have been known to agonize over it in some cases.
What is the single most powerful challenge when it comes to writing a novel?
Balancing the story you want to tell with the story that readers want.
Would you care to share something about your home life?
I'm happily married and have two grown boys—the youngest of which is starting college in the fall, so I'll soon be an empty-nester. Well, except for my crazy dog, that is.
What motivates or inspires you?
Everything! Music, nature, books, movies, talking with people—inspiration is all around us!
What has been your greatest success in life?
My kids.
What do you consider your biggest failure?
I don't really consider failures as failures. They've all led to where I am today and I'm pretty happy now, so I wouldn't change a thing.
What a nice outlook on life! Since MORE sets the stage for your trilogy and draws the reader in, I'd like to share an excerpt. However, before I do, I'd like to finish this interview with a Lightning Round. Please answer the following in as few words as possible:
My best friend would tell you I'm: a …goofball.
The one thing I cannot do without is: family.
The one thing I would change about my life: work more efficiently.
My biggest peeve is: arrogance.
The thing I'm most satisfied with is: my life. I'm happy!
How wonderful you can say that!
 I'm reading MORE as you read and I'm eager to share it with my visitors. Ms. Franklin's works are deceiving easy reads—something young readers will appreciate and adult readers will enjoy—and she knows how to intersperse action with moments of quietude, all the while insinuating tension to keep the pages turning.
 Chapter 4
A man—a huge man—stood before her, mouth twisted in rage. He towered over her, at least six and a half feet tall, his shoulders wide, and arms banded with muscle. Shaved close to his head, his dark hair shadowed his skull, and his intimidating appearance was only enhanced by the jagged scar running down the right side of his face, from forehead to chin. He didn't wear a coat, only a tight, black shirt and fatigues, black boots on his feet, and a wide leather belt with a mean-looking gun holstered at his hip.
It couldn't be. But it was.
It was him. The man from her nightmares.
Ava scrambled back, but he reached out in a flash, gripping her upper arms and lifting her up so her toes barely brushed the ground. One hand slid to her throat, and he held her easily, pulling her closer to his frightening face.
"Please," she begged, the word catching as she fought to breathe.
The man's glare tightened, and Ava stared in morbid fascination at his mismatched eyes—blue and green—odd and vividly terrifying. She struggled, reaching for her pepper spray, only to have it slip from her fingers as she kicked out at the man.
He responded by laughing humorlessly, flipping her around and banding one arm around her torso. His grip was like iron, and she could barely breathe.
"Please," she said again, dizziness closing in. "I can't," she gasped.
A press of metal to her temple transformed her fearful trembles into horrified shudders. She had no doubt. She was going to die. Her eyelids fluttered shut in defeat as he cocked the gun, the loud click echoing off the trees.
Then, a flash of black, a gust of wind, and suddenly she could breathe again. The man's grip loosened, but he didn't release her.
"Damn you," he growled. "Stay out of this!"
Ava pushed him, her efforts in vain, as he hitched her up in response, tucking her under his arm like a bag of groceries. She kicked her legs, flailing desperately as the man spun about, pointing his gun into the darkness.
"Show yourself, you coward!"
The same flash of black, another blast of wind, and Ava fell to the ground, her head cracking on the concrete. She curled onto her side, moaning, lifting a hand to the back of her head, and squinting in shock at the blood that came away, streaking across her trembling palm.
Low grunts and the crack of bone on flesh floated on the air toward her, muzzy with her disorientation. She tried to focus, but could only make out two dark figures exchanging blows. Ava tried to sit up, but collapsed back onto the icy ground, overcome by a shock of dizziness and nausea.
Suddenly, the two dark beings seemed to meld into one, and in the next moment, she felt herself floating. She blinked; a face took form above her briefly, the features cast in shadow.
"Do I… do I know you?" she mumbled, fighting for consciousness.
"I've got you," a low voice replied, and Ava nodded as a cool palm stroked her forehead, and the darkness consumed her.
If you would like to follow T. M. Franklin, or purchase her books, these links will help you:
 Facebook:      http://www.facebook.com/TMFranklinAuthor
Twitter:          https://twitter.com/TM_Franklin
Email:                        TMFranklinAuthor@gmail.com
 Amazon U.S. – TinyURL.com/MORETrilogy
Amazon UK – TinyURL.com/MORETrilogyUK
Amazon Canada – TinyURL.com/MORETrilogyCA
Amazon Australia – TinyURL.com/MORETrilogyAU
Barnes & Noble – TinyURL.com/MOREBandN
iTunes – TinyURL.com/MOREiTunes
Kobo – TinyURL.com/MOREkobo
TWCS – TinyURL.com/MOREtwcs