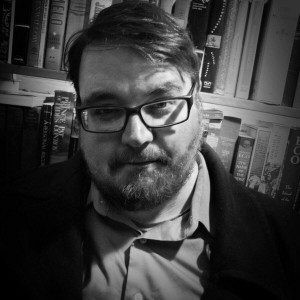 Today, I have the pleasure of having MP McVey as my guest. Mr. McVey is a member of the Facebook group, Fantasy Sci-fi News Network, #FSFNNet. I find this fantasy author's take on the genre refreshing because while so many modern works routinely make use of more recent mythological paradigms, his debut novel, Plod On, Sleepless Giant, incorporates some of the world's more primitive societies' core concepts. When I asked him to discuss it, he told me the following:
The world is not as it seems …
At the center of our world lives an elephant. Ancient and alone, he's chained to a great wooden wheel—turning our rock as it glides through space. But what would happen if he were to stop? What would become of all we know and love on the surface?
All that stands between Earth and its downfall is a sole Watcher—beings tasked with guarding all in creation. Sent on a fool's mission, he must gather humans from the surface that somehow play a role in our world's destruction.
But from one mistake, a decision is made … an opportunity taken. When insurmountable forces align against humanity, it seems all will be lost. Can it be stopped in time? Can wrongs be righted? Can we be saved?
My most recent book—and also my first—is a contemporary fantasy called Plod On, Sleepless Giant. It's a story of love and suspense, set in the shadow of the eternal struggle between good and evil. We get to meet the great elephant, Temelephas, whom lives at the center of our world. He was created as an insensitive automaton … never to remember or feel anything, only to walk in his circle and spin our planet.
Over time, Temelephas learns to remember and begins to feel strange emotions that he doesn't know how to deal with. It is then that he realizes how lonely and empty his life truly is, and these thoughts slowly lead him to stop his important walk, and stopping the world from turning. And basically the story is about trying to fix the things that have been broken and righting the wrongs.
What was the biggest challenge you faced writing this book and how did you overcome it?
My biggest challenge was not really knowing how to write a book to begin with. I had written many, many stories over time and had started writing previous books, but never finishing. A story is a story, it's as simple as that. I thought writing a novel would be the same, only longer … I couldn't have been more wrong.
The pacing was a big thing for me. A story has to be told fast; there isn't a tremendous amount of time to develop characters or weave an intricate plotline. So the story is told pretty straight forward. But with books you have more room for a deeper story and more complex characters. There's more wiggle room for pomp and flair.
What else are you working on?
Right now I'm finishing up my second novel, which is a more straight forward fantasy. Plod On, Sleepless Giant was a contemporary fantasy set in Columbus, Ohio … my current work takes place in a world that is completely made up. It's more in the vein of sword and sorcery, quest, or heroic fantasy (I'm never good at classifying my writing). At the moment I am calling it Through the Wicked Wood, but that could change at any moment.
I don't want to get too much into it, but I combine some humor and romance in there to round it out—it feels a bit like a fairytale for adults. The characters are all flawed, as is the world they live in … but most of them mean well. My favorite is a character named Eizel Mamzer, a tricky fellow with a snazzy suit and top hat.
Tell us about your path to publication.
It was certainly not your typical journey, though my road to publication started out like so many others. I had finished my book and had edited it so much that I hated the sight of it. I queried some agents and painfully waited to see any sign of hope, but only got rejections and condolences.
I started thinking more and more about self-publishing, having heard some success stories from many different sources. Not that self-publishing makes a writer rich or anything, but it certainly gets your book out there and gets the writer some exposure. So I began to read up on the process—the do's and don'ts of the whole thing, and tips to help along the road.
So there I was at work(I work at a gas station), pouring over my manuscript as I once more tore it apart with a red pen, when a customer came in and asked what it was I was doing. I told her about the book and we chatted a bit, and she told me about how her husband had written a few books as well.
She left and I didn't think much about it, just went about my night. A few days later her husband came down to talk to me about the book, and we chatted about writing and life. It was one of those conversations that you know you will remember forever.
He asked to read it, so I sent him a copy via email. Some time went by and he called me at work, excited about my book. He told me he wanted to publish it and that was how it happened.
Have you ever dispatched someone in a book and then regretted it?
I have never killed off a character and regretted it, but I have written myself into a corner with nowhere to go. I ended up abandoning the book all together when I realized the only way out was mass murder of main characters. It was the first book I attempted to write and it came on fast. It's not much of a loss … it was pretty terrible.
Learning to write comes write a plethora of such lessons. Let's explore that theme a bit further. If you were going to commit the perfect murder, how would you go about it?
This is such a great question, and I hadn't given it much thought until I thought about what my answer might be. I think the most important part would be getting away with it, so the method of the actual killing wouldn't be as important as the disposal of the body and any evidence. So I would probably poison my victim—leaving no actual "crime scene". Then I would most likely dismember the remains and dispose of them in a creative way that I won't divulge. I might actually use the method of disposal in a book someday.
I sincerely hope not! Returning, to the real world, what motivates or inspires you?
Inspiration comes from many different places, I think. Sometimes it's a fragment of a conversation that sets my mind spinning on an idea or something I read. The idea for Plod On, Sleepless Giant actually came to me in a dream—it would be nice if that happened every night, but it doesn't. I also find inspiration right here in Columbus, Ohio … the people here are amazingly resilient and funny.
As far as motivation, it's always the story that drives me forward. Sometimes it's hard to write because I can sense the story becoming a bit drab and dragging in places. A lot of writers push through this and churn out words daily—which is the key—but sometimes I need to see it as a yield sign or one that warns of an icy bridge ahead.
Do you have another job outside of writing?
I do. I work in a gas station. It's a family owned business(not my own) and my bosses Gary and Tracy are very supportive of my endeavors in writing.
Describe a typical day.
I work until late at night, so normally I don't get to bed until about one in the morning. So I wake up around 9 am, and I plan to start writing at about ten. On good days I'll write until about noon, then eat some lunch and get ready for work. On weekends I kind of just write when I can. It's hard to schedule out due to running errands.
Before I let our visitors sample an excerpt from your book, let's close with a Lightning Round. Please answer the following in as few words as possible.
My best friend would tell you I'm a …
They'd more than likely say "goofball".
The one thing I cannot do without is …
Sadly, Netflix.
The one thing I would change about my life:
I guess I would make it so money wasn't as important, or at least wasn't an issue for me. Then I wouldn't have to work so much or stress out about bills, which would give me a bigger, calmer path in writing.
Thank you for taking time to share with us. Here, then, is a sample from Plod On, Sleepless Giant: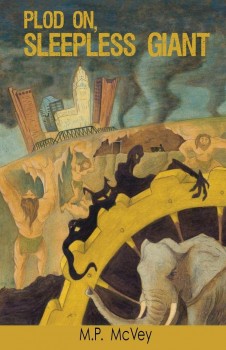 The center of Earth shook and rumbled with the sounds of creaking wood and grinding metal, tumbling through the dark. The din swept through caverns, accompanied by the boom, boom, boom of steady, heavy steps. It would have driven any man crazy, this racket that crept through the darkness, but it was comforting to the one who had to listen. It was a noise he had always known, a sound that was born with him. He was the reason for the noise.
For all time he had walked his circle; his large, gray feet beating a pattern into the dirt. Round and round he went, his weight pushing the large, wooden wheel to which he was bound. He groaned from time to time … long, soulful bellows from his wrinkled trunk.
His ancient head swayed with the thudding beat of his steps, his long immortal ears hanging tiredly at his sides. He would walk until the end of time. He didn't want to, but he was compelled to. It was his purpose … and without purpose, what would be left?
So he walked.
He could feel their eyes upon him, those that watched him, those that kept him in this existence … those who gave him purpose. Their stares penetrated the thick hide of his neck, burrowed into his spine and peeked in to his brain, listening in on his every thought. That's how they watched him, how they knew when he was unhappy.
They were in his mind every second of forever, and he came to expect their presence there. After a while he lost track of his Watchers all together, as if they were just another part of him. Life would not have been the same without them.
The Watchers always knew that, sooner or later, the great elephant called Temelephas would work through whatever unhappiness it was that settled in his large heart. After all, he had been walking since the beginning of everything and knew of nothing to which he could compare his sorrow.
Walk, walk, walk, through the darkness he would stomp; his feet pounding his life into the earth. Around he went, his sweaty, tangled hair flowing down around his neck. "Round and round she goes, where she stops … nobody knows."
If you'd like to learn more about MP McVey and his writing, here are some useful links:
 Twitter:         @mpmcvey
Blog:              www.mpmcvey.wordpress.com
Site:                www.temelephas.com
Book trailer: www.youtube.com/watch?v=tKMbJytW7Lk