This week's guest, Mike Resnick, is one of science fiction's undisputed titans. He's won 5 Hugo awards and holds the record for 37 nominations. He's won a Nebula Award, 10 HOmer Awards with 24 nominations, as well as too many other US and foreign awards to mention here. Wikipedia credits him with 66 novels—Mike claims 76 and he can prove it— and 26 short story collections. He has edited 41 anthologies, written 10 non-fiction books and 261 pieces of short fiction. He wrote the plot for "The Fiend from the Forgotten City," a 1974 Conan the Barbarian comic, and with his wife, Carol Resnick, has co-edited Resnick's Library of Worldwide Adventure: 5 non-fiction collections of travel tales from various authors. That series was preceded by 9 books in Resnick's Library of African Adventure that he edited on his own. If all this wasn't enough, he's sold a short story collection to Russia, edited an anthology for Italy, has sold 8 short fiction pieces abroad, and 8 novellas as stand-alone novels overseas, all in addition to what I've noted above. And the list keeps growing.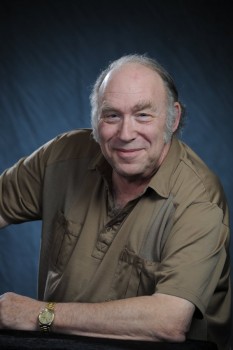 I had the pleasure to meet Mike Resnick—he'll tell you right away "Mister" is some other guy—this past August, in Spokane, Washington at the WordFire Press WorldCon book launch party for the re-release of his novel, The Outpost, first published in 2001 by Tor Books. I'm not sure what I expected, perhaps an unapproachable celebrity, but to my delight I discovered that Mike is an all-around nice guy. He's warm, generous and immediately welcoming, not the least bit distant. When I told him about The Write Stuff, and asked if I could feature him, to my surprise and accruing respect, not to mention gratitude, he immediately agreed. After telling me how he'd like to introduce me to his daughter, the award-winning sci-fi author, Laura Resnick, for an interview, he looked across the room and said, "There's Nancy Kress. Come. Let me introduce you to her."
Mike, Despite your monumental legacy, I am emphatically not going to ask the tired, old question: where do your stories come from? All authors know that the stories choose us. Instead, as one of many who have produced only a handful of works, I am compelled to ask, how do you keep your writing fresh?
I think the true answer to that is that I simply love writing. I suppose the more acceptable answer is that I alternate serious fiction with humorous fiction with non-fiction, and that two or three times during a novel I'll take a few nights off (my typical working day is 10:00 PM to 5:00 AM, when no one rings the phone or knocks on the door) and write a short story, then go back to the novel totally refreshed.
I think it's a given that heroes are often not as either legend or society portrays them. The Outpost's premise suggests that, when modesty does not prevail, they may not even be as heroic as they perceive themselves. Why is this?
If you didn't see them perform their heroic deeds, there's every likelihood that they were exaggerating or fantasizing. And most people who are capable of one or two acts of daredevil heroism are not capable of constantly repeating those acts. Which is okay. I'd rather read about Conan or the Gray Lensman than live next door to them.
As our visitors will see, by the excerpt at the end of our conversation, The Outpost is a tongue-in-cheek yarn and dry humor pervades it. Other writers might have chosen scathing criticism in telling the same tale. You obviously believe wit and irony are more effective tools. Why so?
Probably because I don't hate or resent the heroes of our space operas, nor am I contemptuous of them. I find them kind of endearing, symbols of my long-ago youth. And because I am both fond of them and totally disbelieve most of what they're supposedly capable of, I find humor is the best way to deal with them. (My bibliographer tells me that I've sold something like 130 humorous stories, more even than my late friend Bob Sheckley, who was the king of all SF humorists.)
A career such as yours has many turning points, some striven for, others that blind-side the recipient. Would you care to provide two or three of the more pivotal ones?
Santiago was my first national and international bestseller; it's the book that put me on the map. Kirinyaga has picked up 67 major and minor awards and nominations to date, and enhanced my prestige in every country I sell to (29 at last count). "Seven Views of Olduvai Gorge" has won more awards all over the world – here, Spain, Japan, Croatia, France – than anything else I've written, and just sold to its 24th market.
You certainly deserve the wide-spread recognition.
I'd like to look back to the time before you began writing sci-fi. Most of your followers are unaware of your early writing career. A friend of yours, whom I met at WorldCon, whose name I am embarrassed to say I do not remember, said he knew you back in those old Chicago days and told me about some of your earliest writing efforts: "adult" novels. How did you make the break from those into more serious work?
A lot of us served our apprenticeships in the "adult" field—me, Bob Silverberg, Barry Malzberg, maybe a dozen other science fiction writers, a couple of mystery Grandmasters (Laurence Block and Donald E. Westlake)—a bunch more. It was a place where you could make a lot of money while you were learning how to write.
There came a time, 200+ four-day novels into my career, that I decided if I wrote one more 96-hour novel or one more 6-hour screenplay, my brain would turn to putty and run out my ears. We were breeding and exhibiting collies at the time—we had 23 champions between 1968 and 1982, almost all of them named after science fiction books or characters—and I figured, well, if Carol and I can take care of a dozen or so happy, healthy collies and I can still grind out this multitude of books, maybe we should invest in a kennel. Clearly it was the one other thing we could do without re-training. So we spent a year looking all over the country, and finally bought the nation's second-biggest luxury boarding and grooming kennel in Cincinnati. We bought it in 1976, hired and trained a staff of 20, and by 1980 it was practically running itself, and I began writing what I wanted to write, and at a reasonable speed. (Well, reasonable for me or Silverberg or Malzberg; fast for anyone who hadn't come out of the same field.)
When the writing out-earned the kennel five years in a row, we sold the kennel in 1993, but elected to remain in Cincinnati.
Now that should amaze some of our visitors.
My wife, Toni, acts as the first set of eyes for my books, so I was pleased to learn that your own wife, writer Carol Resnick, who co-authored two of your movie scripts, has contributed to many of yours. Would you care to expand on her contributions?
She was Carol Cain until we married in 1961; she's been Carol Resnick ever since, and that's the only name she uses. The only writing she's signed her name to is a couple of screenplays we co-authored. She's also co-edited a line of true-adventure reprints with me.
I discuss every idea with her before I sit down to write, and she's my first reader and my line editor. When she says it's ready to go, it sells 100% of the time.
If there is such a thing, describe a typical day.
I wake up at about 3:00 in the afternoon, go downstairs to my office (the house was built to our specs back in 1986; 4000 square feet, but with only two bedrooms…plus two libraries, a large office, and a greenhouse). I check my e-mail, answer what has to be answered immediately, and then, somewhere between 4:30 and 6:00 PM we drive out to one of our usual restaurants for dinner (well, it's a dinner menu, but it's my breakfast). We come home, watch the news (which we've recorded while we were out), I do any editing or proofreading I have to do, and I read submissions to Galaxy's Edge, which I edit. I check e-mail again—I do a lot of business overseas, and they're just waking up and getting to their offices between 8:00 PM and midnight here. About 10:00 PM I'll sit down and start writing. Usually I'll take a break about 1:00 AM, and as often as not we'll drive out to Applebee's or IHOP or similar for a snack. Back by 2:00, and write til just about sunrise. I go to bed about 6:00, read my Nook for maybe an hour, and then go to sleep until midafternoon the next day. I know it doesn't sound wildly exciting, but it is wildly satisfying.
What inspires you, not necessarily as pertains to your writing?
Helping new writers, collaborating with them to get them into print, buying from them for my anthologies and/or for Galaxy's Edge. Over the years I've "adopted" maybe 20 of them. (Maureen McHugh calls them "Mike's Writer Children".) I should add, with fatherly pride, that my real child, Laura, has won awards in romance, travel writing, and science fiction (the Campbell) and probably outsells me these days.
Which authors do you enjoy, sci-fi and otherwise?
In science fiction: C. L. Moore, Bob Sheckley, and Barry Malzberg are probably my three personal favorite. Elsewhere: Damon Runyon, Joe Heller, Nikos Kazantzakis, Raymond Chandler, Ross H. Spencer, Sara Gruen, Steven Suskin, a bunch more.
I always conclude my interviews with what I call a Lightning Round, since the responses often yield unexpected insights. Before I share an excerpt from The Outpost, in as few words as possible, please complete the following:
My best friend would tell you I'm… dependable.
The person I'm most proud of is… Laura.
The one thing I cannot do without is… Carol.
The one thing I would do over is… watch my blood sugar. (I went blind in one eye back in 2003 due to diabetes. I see just fine with just my left eye, but I'd like to know I had a spare in case I needed it.)
The thing that always makes me laugh, right down to my gut, is… listening to self-important fools pontificate at conventions or workshops.
That response makes me laugh! Thank you so much for sharing your time with us. I've been an avid follower for years and I suspect more than a few of today's visitors are as well.
 At the bottom of this page, right after this excerpt, visitors will find a few links to Mike's books and website.
 From The Outpost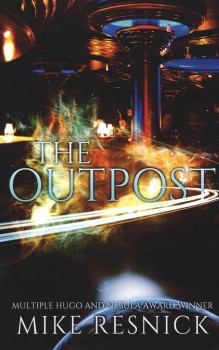 Now, you people don't know me, so you don't know that I ain't much given to exaggeration, but take my word for it: the Dragon Queen was the most beautiful female I had ever seen in a lifetime of admiring female critters of almost every race and species.
Her hair shone like spun gold. Her eyes were the blue of the clearest lagoon. Her lips were a brilliant red, and moist as all get-out. And one look told me that if she was a typical Dragon Queen, then Dragon Queens made Pirate Queens look like schoolgirls from the neck down.
She'd been poured into a skin-tight metallic dress. She had breasts that just out-and-out defied gravity, and the tiniest waist, and smooth, silken thighs, and I tried real hard not to pay much attention to the fact that she was toting even more weapons than I tended to carry myself.
"Have you got a stiff neck?" she asked after a couple of moments in a voice that was a little bit harsher than I expected from someone that beautiful.
Well, that wasn't quite where I was stiff, if you catch my delicate and subtle meaning, but I assured her that my neck was just fine.
"Then look at my face," she commanded.
I did so, and suddenly spotted something I'd missed the first time around, which was that she was wearing a golden tiara, and smack-dab in the middle of it was the biggest, most perfect ruby I'd ever seen.
"Miss Dragon Queen, ma'am," I said, "I hope it don't embarrass you, but I have to declare that you are unquestionably the most beautiful woman I have seen in all my wanderings across the length and breadth of the galaxy, to say nothing of its height and depth."
"You may call me Zenobia," she said, and now her voice was more like a purr than a snarl.
That didn't surprise me none, because I'd met eleven Pirate Queens in my day, and eight of them were called Zenobia, and I figured that if you were an exquisitely-built young woman possessed of unbridled lust and an overwhelming desire to conquer the galaxy, Zenobia was the name that just naturally appealed to you.
"It's a name fit for a Dragon Queen," I assured her.
She stared at me through half-lowered eyelids. "You interest me, Catastrophe Baker," she said. Suddenly she snapped to attention, which produced an effect most men would pay good money to see. "But first, to business. You stole thirty pounds of my plutonium. I want it back."
"What does a pretty little thing like you need with enough plutonium to blow up half dozen star systems?" I asked.
She smiled. "I plan to blow up half a dozen star systems," she said.
"Just for the hell of it?" I asked, because you never knew what Pirate Queens might do when they felt irritable, and I figured Dragon Queens weren't much different.
"There are six warlords out here on the Rim. As my first step in the conquest of the galaxy, I plan to assimilate their empires."
"Well, why didn't you say so in the first place?" I said. "Hell, assimilating empires is something I've always had a hankering to do. I think we should become partners."
"You're hardly in a position to make demands!" she snapped.
I held up my hands. "You mean these things?" I asked, indicating the manacles. "I just let them put 'em on me so I could meet you. There ain't never been a chain that could hold Catastrophe Baker."
And so saying, I flexed my muscles and gave one mighty yank, and the manacles came apart. Four or five of her bodyguards—did I forget to tell you she had a small army of bodyguards?—jumped me, but I just leaned down, straightened up, and sent 'em flying in all directions.
She stared at me, wide-eyed, and I could tell that she was torn between yelling "Off with his head!" and "Off with his clothes!"
"I may have even more uses for you than I thought at first glance," she said at last.
"Then we're partners?"
"Why not?" she said with a shrug that went a lot farther and lasted a lot longer than your standard shrug.
"Well, if we're partners," I continued, "I'd sure be interested in knowing why you're a Dragon Queen rather than a Pirate Queen."
"And so you shall, Catastrophe Baker," she said, walking over and taking me by the hand. She smelled good enough to eat. "Come with me."
Website:         www.mikeresnick.com
You may join his Listserv through his website.
Facebook:                              https://www.facebook.com/mike.resnick1
Amazon POD & ebook buy links:
http://www.amazon.com/s/ref=nb_sb_ss_i_1_12
B&N POD & ebook buy links:
http://www.barnesandnoble.com/s/Mike+Resnick?_requestid=168160