This week, I am pleased to feature a talented creator of both non-fiction and fiction works alike. In theory, I could have met Anne on several occasions while I lived in Santa Fe, but fate conspired against it. Whether I marked the date of a book signing incorrectly or weather made the roads impassable, we never connected and I've been the poorer for it. I have met a few of her friends, even interviewed one—Lisa Lenard-Cook—this past January. And while each one attests to Anne's open personality, I've only had the pleasure of her acquaintance through social media. In addition to her non-fiction works, she has chosen to continue in her revered father's footsteps.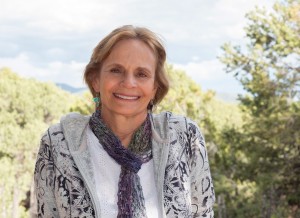 Anne Hillerman is the author of the New York Times best-selling Spider Woman's Daughter and Rock with Wings. Her stories continue the popular Joe Leaphorn/Jim Chee mysteries series created by her father, Tony Hillerman. She is currently at work on the third book, again featuring officer Bernadette Maneulito as a crime solver. Anne's novels have been honored with the Spur from Western Writers of America and the New Mexico-Arizona book award for best mystery and best book of the year. Before writing fiction, Anne wrote several non-fiction books including Tony Hillerman's Landscape: On the Road with Chee and Leaphorn.
Anne is a founding director of the Tony Hillerman Writers Conference held annually in Santa Fe. She began her writing career as a newspaper reporter, and continues in journalism as restaurant critic for the Albuquerque Journal. A New Mexican since the age of three, she lives and works in Santa Fe with her husband, photographer Don Strel.
This is how she describes Rock With Wings:
Navajo Tribal cops Jim Chee and Bernadette Manuelito, and their mentor, the legendary Lieutenant Joe Leaphorn, investigate two perplexing cases in this exciting Southwestern mystery from the New York Times bestselling author of Spider Woman's Daughter.
Doing a good deed for a relative offers the perfect opportunity for Sergeant Jim Chee and his wife, Officer Bernie Manuelito, to get away from the daily grind of police work. But two cases will call them back from their short vacation and separate them—one near Shiprock, and the other at iconic Monument Valley.
Chee follows a series of seemingly random and cryptic clues that lead to a missing woman, a coldblooded thug, and a mysterious mound of dirt and rocks that could be a gravesite. Bernie has her hands full managing the fallout from a drug bust gone wrong, uncovering the origins of a fire in the middle of nowhere, and looking into an ambitious solar energy development with long-ranging consequences for Navajo land.
Under the guidance of their mentor, retired Lieutenant Joe Leaphorn, Bernie and Chee will navigate unexpected obstacles and confront the greatest challenge yet to their skills, commitment, and courage.
Please tell us more about it.
This new mystery featuring Bernadette Manuelito, Jim Chee, and their mentor, Lt. Joe Leaphorn, is set in Monument Valley and the country near the little Navajo town of Ship Rock, N.M. The book is structured as two parallel stories with separate crimes taking Chee and Bernie in different directions. Among the elements included are movie making, a mysterious car fire, a tight-lipped suspect with a trunk full of dirt and a questionable grave that might or might not be just a movie prop.
This newest release, as well as Spider Woman's Daughter, which preceded it, continue a thread begun by your father. What was the biggest challenge you faced following in his footsteps and how did you overcome it?
The biggest challenge was and still is living up to the expectations of the fans Tony Hillerman's work garnered during his 30 years of writing the Navajo mystery series. He created and brought to life  Joe Leaphorn and Jim Chee. Many have enjoyed Dad's books through several re-readings and I knew they had high standards for anyone who would presume to continue these stories.
I overcame my hesitation by writing the best books I possibly could. Because Dad had never used Bernadette Manuelito as a crime solver, and because he had gradually been developing her into a more major character, I decided that telling the stories from her point of view would give me a way to continue the mysteries while giving the series a new voice.
Please list your other works for our visitors.
Spider Woman's Daughter (novel) and Tony Hillerman's Landscape (non-fiction), both published by HarperCollins.  Ride the Wind  USA to Africa  (Rio Grande Publishing) about a ballooning adventure.  I also two wrote two non-fiction books Gardens of Santa Fe and Santa Fe Flavors, both published by GibbsSmith Publishers and unfortunately out of print. I also wrote several travel guides, now outdated, and a book of solar energy projects for children.
Have there been any awards, productions, videos or anything else of interest associated with either of your recent novels?
Yes, Spider Woman's Daughter was honored with the Spur Award and the New Mexico Book Award.  Tony Hillerman's Landscape was honored with the Mountains & Plains Booksellers Association Award. The Library of Congress created a video of me speaking there last summer for the National Book Festival.  Here's a video interview in connection with the release of Rock with Wings: http://reportfromsantafe.com/episodes/view/304/anne-hillerman-author-rock-with-wings/
What are you working on now and do you have an ETA for its release?
I am at work on the third novel in the new series, not yet named. My deadline for manuscript submission is January, 2016. Wish me luck!
I do! I'm pushing back an identical deadline to March, so I understand the pressure you face. That aside, do you find there are occupational hazards to being a novelist as opposed being to a non-fiction writer?
No, but I have been surprised at the popularity of my new series, and am very thankful to my Dad's fans. As a nonfiction writer, I was happy but basically unknown. With fiction,  I'm getting the opportunity to balance my need for quiet time to write with my need to be a promoter and respond to generous invitations to come and talk about my Dad and my books. It's different!
Tell us about your new series's path to publication.
My non-fiction book about Tony Hillerman and the places he loved came out almost a year to the day after my father died. During the book tour for that book, so many people told me they missed the characters and asked if Dad had another unpublished manuscript to continue the saga. He didn't, but I realized that I missed the characters my father created as much or even more than his fans. So, I figured I would try writing one and see what happened. After I got my mother's blessing, I contacted Dad's long-time editor at Harpercollins to see if there might be any legal problems, copyright issues, etc. with my writing a novel using Dad's characters. She said no, and added that she'd be glad to take a look at whatever I came up with. I wrote the book, she looked at it, liked it, gave me a bunch of good ideas on how to make it better, and offered me a contract for two books. Then, because of the wonderful fan response, Harpercollins offered me a three book contract following the publication of Spider Woman's Daughter. I'm now at work on the first book of that package.
In the publishing world, it's nice to have some security. Do you have another job outside of writing?
Yes, I am the co-founder of the Tony Hillerman Writers' Conference, held each November in Santa Fe http://wordharvest.com/hillerman-writers-conference/  I serve on the boards of Western Writers of America and New Mexico Press Women. I'm also a wife, mom, sister and niece.
What motivates or inspires you?
A road trip, especially to somewhere in our expansive southwest, always inspires me. I love live music from opera to bluegrass.  I enjoy working in the garden where you can see things change and grow.
How do you pick yourself up in the face of adversity?
Sleep usually helps along with prayer and a conversation with a friend. A brisk walk or a sweaty trip to the gym are good, too.
Who has been your greatest inspiration?
My Dad and my Mom inspired me with their passion for good books and good writing and their enormous kindness and generosity. I miss them every day, but I am grateful for the lessons they taught me.
Thank you for spending time with us. Before we read a sample from Rock With Wings, with your permission I'd like to try a Lightning Round. In as few words as possible, please complete the following:
My best friend would tell you I'm a… complicated person.
The one thing I cannot do without is: space.
The one thing I would change about my life: A few more years with my parents.
My biggest peeve is: People who criticize a book without reading it.
Boy! Do I know that one, but I'll save it for another time. Instead, let's enjoy the following excerpt from Rock with Wings (P 274).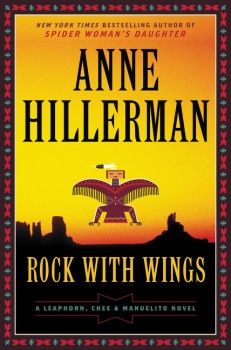 Officer Bernadette Manuelito has been assigned to give a talk to the Farmington Rotary.
Bernie parked in the restaurant lot, noticing that it was nearly full. She picked up her backpack, double-checking to make sure her notes were there. She put on a bit of lipstick, squared her shoulders, and walked in to the room where the meeting would be. She felt as almost as unsettled as when she'd met Chee's relatives for the first time.
The sixty-something woman at the door in the gray business suit introduced herself as the program director and the person Bernie had talked to on the phone. "We're so glad you could join us. You're younger than I expected. Have you met our president?"
"No, ma'am." Younger than expected? That didn't sound like a good thing….
(The excerpt picks up with Bernie's talk.)
"Ladies and gentlemen,  yá'át'ééh. Good afternoon. Thank you for inviting me here today. And for the free lunch." A few of the attendees chuckled. Good.
"This is the first time I've been asked to speak on behalf of our department." She looked up from her notes. "I thought I would start by explaining that if you want to be on patrol with the Navajo Nation police, you have to enjoy driving. Each officer who works on our force is responsible for about seventy square miles of reservation land. That's about twice the area of Grand Rapid, Michigan. Or think of it this way: the whole country of Liechtenstein is only sixty- two square miles."
People in the audience smiled. She relaxed a little, looked at her notes for the next point she wanted to make, and kept talking. "In the rest of rural America, there are about three officers for a thousand civilians. Out here, when our department is fully staffed, there might be two of us for that same population. But I'm not complaining. I love my job, and I like to stay busy."
For those who would like to read more of her work, you can find Anne's books at:
http://www.collectedworksbookstore.com/anne-hillerman
To keep up with Anne online:
Website:          http://www.annehillerman.com
Facebook:        https://www.facebook.com/anne.hillerman