While many of my interviewees are known to me, I stumbled upon this week's guest on the Internet—on Twitter, to be precise. I suppose it was his his tag line that grabbed me. "Author of eight best-selling crime fiction novels set in Asia. 'He's Michael Connelly with steamed rice,' says The Bangkok Post." Curiously, I found, he is virtually unknown on his home turf, so I decided to look him up. Wikipedia describes him as "an American novelist and screen writer. He is known as one of the best-selling English-language authors in Asia." http://bit.ly/1Faq2mv I hope what follows will pique your curiosity enough to investigate his work. He describes himself as follows: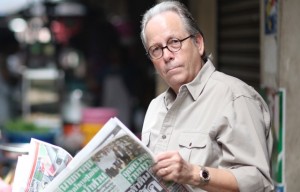 Jake Needham is the author of eight popular international crime novels. He is a lawyer by education and has held a number of significant positions in both the public and private sectors where he took part in a lengthy list of international operations he has absolutely no intention of telling you about. He became a screenwriter following a series of accidents and coincidences too ridiculous to be believed and started writing crime novels when he realized how little he really liked movies and television.
Mr. Needham has lived and worked in Hong Kong, Singapore, and Bangkok for the last twenty-five years. He, his wife, and their two sons now divide their time between homes in Thailand and the United States. You can read excerpts from all Jake Needham's novels as well as his "Letters from Asia" at his web site: www.JakeNeedham.com.
His published works are as follows:
The Big Mango, Marshall Cavendish Ltd, 400 pages. ISBN 978-9814276603 (2011)
The Ambassador's Wife (Inspector Tay novel #1), Marshall Cavendish Trade, 364 pages. ISBN 978-9814328173 (2011)
Laundry Man (Jack Shepherd novel # 1), Marshall Cavendish, 352 pages. ISBN 978-9814361279 (2012)
Killing Plato (Jack Shepherd novel # 2), Marshall Cavendish, 352 pages. ISBN 978-9814361262 (2012)
A World of Trouble (Jack Shepherd novel # 3), Marshall Cavendish International (Asia) Pte Ltd, 356 pages. ISBN 978-9814361514 (2012)
The Umbrella Man (Inspector Tay novel #2), Half Penny, 382 pages. ISBN 978-6167611198 (2013)
Needham, Jake. The King of Macau (Jack Shepherd novel # 4), Half Penny Ltd, 342 pages. ISBN 978-6163359087 (2014)
Needham, Jake. "The Dead American" (Inspector Tay novel #3), Half Penny Ltd, 305 pages, ISBN 978-6167611228 (2014)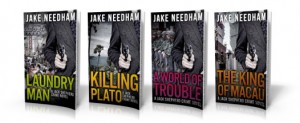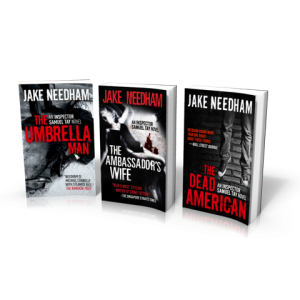 I asked him to provide a summary of his most recent release and he described it this way:
They steer a tight ship in squeaky-clean Singapore. No dissent, no opposition, no criticism. It's like an entire country run by Walt Disney. Disneyland with the death penalty, somebody once called it.
A young American software engineer hangs himself in his Singapore apartment. At least that's what the police say happened. Emma Lazar, a writer for the Wall Street Journal, thinks otherwise. She thinks Tyler Bartlett was murdered to keep him quiet, and the Singapore police are covering it up.
Emma Lazar asks Inspector Samuel Tay to help her investigate the young man's death. Tay is a senior inspector in the elite Special Investigation Section of Singapore CID. He's pretty much the best investigator the Singapore police have, but Tay's father was an American and from him Tay inherited a strong streak of American individualism that has made him an outsider in relentlessly regulated and tightly wound little Singapore. That's mostly why Tay has been placed on leave. Tay shot a man and everyone knows it was self-defense, but Tay's enemies have seized on the incident and are trying to get rid of him once and for all.
Tay really doesn't want to get involved in helping Emma Lazar with her story. It certainly won't help him get his job back to challenge the government's official narrative about the death of Tyler Bartlett. But the writer's determination tickles his curiosity, and…well, the truth is he's bored and she's beautiful. So he does it anyway.
Learning that Tyler Bartlett's death was no suicide is easy enough for Tay. What is far more difficult is finding out what the young man knew that made him worth killing. When Tay realizes both his superiors on the police force and the faceless men of the Internal Security Department are working behind the scenes to keep him from finding out, he becomes more determined than ever to discover what, and who, is behind Tyler Bartlett's murder.
Of course, there's a problem there. If Tay does find out, doesn't that make him worth killing, too?
Will you please tell us about it?
The third book in my Inspector Samuel Tay series, The Dead American, was released at the beginning of this year. Sam is a cop in the elite Special Investigations Section of Singapore CID, but he's also something of a reluctant policeman. He's a little overweight, a little lonely, a little cranky, and he smokes far too much. The whole truth is he can't even remember why he became a police detective in the first place, but he hasn't quit. Because he's very, very good at what he does.
What was the biggest challenge you faced writing this book and how did you overcome it?
None, really. If you're going to write a novel, you just sit down and write the damn thing. Why make it any harder than it already is by agonizing over it?
What other novels have you written?
The Inspector Tay series is up to three books now: The Dead American, The Umbrella Man, and The Ambassador's Wife. My other series character is Jack Shepherd, an American lawyer who took a job in Bangkok on something of a whim and has lived in Asia ever since. So far there are four books in that series: The King Of Macau, A World Of Trouble, Killing Plato, and Laundry Man.
My stand-alone novel is called The Big Mango, and it's the only one of my books for which the film rights have sold. Maybe there's a message for me in that…
What else are you working on?
Right now I'm in the final stages of editing the fourth book in the Inspector Tay series. It will be out this fall and is called The Girl In The Window.
After that will come the fifth book in the Jack Shepherd series. It's scheduled for the middle of 2016 and is called Don't Get Caught.
Tell us about your path to publication.
Very, very weird.
I had practiced law for a couple of decades, doing mostly international corporate work, and I found myself involved in a complicated corporate merger. To get the deal closed, I had to buy a piece out of the transaction myself because no one else wanted it. That was a very modest little Hollywood production company that was making cable TV movies.
Since I was stuck with the company, I did my best to make it profitable, and I tried to focus it more tightly on what I thought it could do well. To accomplish that, I dashed off an outline of the kind of movies I wanted the company to try to make and a copy of that outline accidentally got sent to one of the cable TV networks the company worked with. Several weeks later, that network called up and asked me to make it for them.
Make what? I asked them. The movie you wrote that treatment for, they said. And that, girls and boys, is how I became a screenwriter.
I wrote screenplays for quite a few years for American television after that, but eventually I came to realize how little I actually liked American television. That was what goaded me into trying to figure out how to write novels instead. My first book was The Big Mango and, without thinking very much about it, I gave it to a regional publisher in Asia because they liked it and wanted to publish it. Although The Big Mango was only distributed in half a dozen countries where almost no one spoke English, and it was only available in English, it still sold well over 100,000 copies and eventually became something of a cult book among foreigners living in and visiting Asia. That was when I figured I'd better start taking this novel writing thing seriously, and I guess it's worked out pretty well for me.
What is the single most powerful challenge when it comes to writing a novel?
I really hate to hear writers moaning about how painful and wrenching it is to write a novel. Look, we all chose this profession. If somebody finds the demands of it are too much for them, I recommend they go out and sell real estate or something. But for God's sake stop telling everybody how difficult it is to write.
You show up every day and you do the job. That's all there is to it. You write 2000 words a day for sixty straight days and you end up with a respectable first draft. It's hard work. John Gregory Dunne called writing a novel "manual labor of the mind, like laying pipe." My experience is that a lot of people who talk a lot about writing and whine about its challenges simply don't have the stomach for actually doing it.
I agree. The old saw is that most people who say they would like to write a novel really mean they would like to have written one. Is there anything you want to make sure potential readers know?
Both as a reader and a writer my test of a novel is its credibility. Does it feel real, at least real enough to pull me in and hold me for 300 pages or so? I work very, very hard to get the details in my books right, and nothing pleases me more than hearing a reader say that they used one of my novels as a guidebook to Bangkok, or Singapore, or Hong Kong.
If a character in one of my books leaves the Mandarin Hotel in Hong Kong to walk to the Star Ferry and I tell you that he turns left when he walks out the front door of the hotel, you can bet that's exactly how you get from the Mandarin Hotel to the Star Ferry. Make book on it.
Describe a typical day.
Maybe it's my background as a lawyer, but I live a discouragingly regular life. When I'm writing, I go into my study around nine, work for three or four hours, break for a half hour or so and eat a sandwich at my desk, then work another three or four hours and knock off about five so I can go for a long walk with my wife.
I show up every day and I put in my eight hours at the factory. That's how I get the job done.
Would you care to share something about your home life?
Aey and I have been married for almost 25 years. She's a graduate of Oxford University, a prematurely retired concert pianist, and a former magazine editor. We have two sons, one of whom is a fashion photographer and the other is in his last year of studying economics at university. We have a penthouse apartment in Bangkok and a 230-year-old house in Virginia built during the Revolutionary War and we're back and forth between them two or three times a year.
Mr. Needham chose to take a pass on my customary "Lightning Round" of questions, and for that I forgive him after bringing such refreshing candor to this page. After diving into Chapter One of The Dead American, I will provide you with links to help you follow this intriguing author.
 THE DEAD AMERICAN
 CHAPTER ONE
 SAMUEL TAY STOOD in his tiny garden and squinted at the sky. The sun was a flickering smudge and the caramel-colored air smelled of earth and rot. Singapore, the diminutive island state known for its blue skies, dazzling sunlight, and green environment, was drowning in crap.
According to Channel News Asia, the Singapore Pollutants Index stood at a record high. Schools were closed, the armed forces had stopped training, and McDonald's was suspending delivery service. When Tay heard that last part, he knew this was really serious.
Before now, Tay had no idea Singapore even had a pollutants index, but for weeks now it had been the only thing anyone talked about. Every television channel was broadcasting warnings that breathing the air was hazardous to health. Were they telling him not to breathe at all, Tay wondered, or merely urging him not to breathe any more than absolutely necessary? Unless it was one or the other, he didn't see what good the information did him.
Heavy smoke from slash and burn agriculture in Indonesia had plagued Singapore for decades, but this was the dirtiest air Tay had ever seen. Blinking stung his eyes and breathing burned his throat. Yesterday he walked up to a Coffee Bean & Tea Leaf on Orchard Road for breakfast and at least half of the people he saw on the streets were wearing white surgical masks over their mouth and nose. The city looked like it had been taken over by an antisocial cult. Maybe the surgical masks helped you breathe, maybe they didn't, but Tay thought he would rather choke than join the crowd he saw wearing them.
The bell outside his front gate rang and Tay stopped contemplating the foul air. He also stayed right where he was. A year ago, he wouldn't have hesitated to go out and open the gate. He was an inspector in the Special Investigations Section of the Criminal Investigation Department of the Singapore police. When his doorbell rang, it was always important. A year ago, he would have answered without a second thought.
But a year ago the world was a very different place. Mad men had not yet blown up half of Singapore. Tay hadn't yet caught a homicide case that appeared to have nothing to do with the bombings, until it did. And he hadn't yet shot a man and been put on administrative leave. He had been quickly exonerated and returned to duty, of course, but then eight months later he had been suspended again. CID's new commanding officer decided the first investigation of Tay's actions had been incomplete. He ordered a new investigation and a new suspension for Tay until the second investigation was concluded.
Tay had not been all that surprised. There were senior officers in the Singapore police force that had been trying for years to get rid of him. Presented with the best opportunity to force him out they might ever get, they weren't going to give up without making a fight of it. The incident should have been a simple case of a police officer defending himself and another officer. That's probably what it would have been if he had fired once. Or even twice. Ten shots made for a somewhat more difficult conversation, even if the first review panel had done their best to ease past that problem.
The bell outside the gate rang again. Tay considered the possibility it was a personal visitor who had nothing to do with his job, but he thought that was unlikely. Off hand, Tay could think of only one person not involved with police work who had rung his doorbell in the last few years, and that was Cindy Shaw. Cindy was either a widow or divorced. Tay didn't know which, and he didn't want to know. She had made her interest in him so plain and pursued it so embarrassingly it had become a major preoccupation of his life to avoid her at all costs. Cindy lived two doors north of him on Emerald Hill Road and Tay had made a habit of taking a quick glance at the road outside his gate before going out just to make certain he didn't run into her by accident. Some neighborhoods had angry, snarling dogs people had to avoid whenever they left their houses. His neighborhood had Cindy Shaw. He would have preferred angry, snarling dogs.
Tay pondered the two rings of his doorbell and asked himself again whether he was going to answer it. He cocked his head and studied the dirty brown sky. Somewhere up there he found the answer written on the smog.
I sincerely thank Mr. Needham for taking time from his busy writing and touring schedule to introduce us to his growing number of works. I hope the American public will soon come to recognize him as the Asian people have done. If you'd care to learn more about this no-nonsense writer, here are a few links to The Dead American:
 Amazon          http://www.amazon.com/dp/B00NREOKMA
iBooks             https://itunes.apple.com/us/book/the-dead-american/id974767595?ls=1&mt=11
Nook               http://www.barnesandnoble.com/w/books/1121380321?ean=2940046618662
Smashwords    https://www.smashwords.com/books/view/525446
 Other links are:
Website           http://jakeneedham.com
Facebook         https://www.facebook.com/Jake.Needham
Twitter             https://twitter.com/JakeNeedham