Ksenia Anske is, without doubt, one of the most delightful authors I've had the pleasure to meet. Not the least bit shy—she's been known to do handstands at book signings—her inviting smile and eyes gleaming with mischievous humor and canny intelligence are guaranteed to win you over in a heartbeat. Oh! And have I told you about her sparkling personality and marvelous way of looking at life? Then, there are her unique writing style and story concepts. No wonder she sells so many books.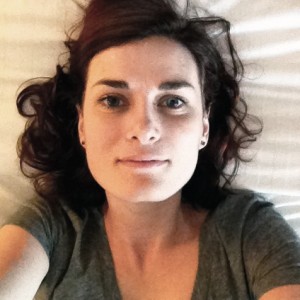 Ksenia was born in Moscow, Russia, and came to US in 1998 not knowing English, having studied architecture and not dreaming that one day she'd be writing. She lives in Seattle with her boyfriend and their combined three kids in a house that they like to call The Loony Bin.
Her newest release is titled The Badlings. It's a paranormal urban fantasy adventure for young people and is slated for release by the end of this month. When I asked her to give us its premise, this is what she replied:
"Of all of the naughty, mischievous, disrespectful, and downright horrible things that children can be, a badling is perhaps one of the worst. Badlings abandon books without finishing them, leaving their characters sad and lonely—not to mention angry. Meet Bells, Peacock, Rusty, and Grand, four ragtag friends convicted of this monstrous crime. As punishment, they get sucked into a book of unfinished stories, whose patchwork pages they must traverse…and read to the end this time."
The Badlings is a book that grew out of my nostalgia for the books I read when I was a child and memories of biking with boys in the parks of Moscow. I was the daredevil girl who liked to climb roofs and trees and throw tomatoes from the balcony and do other mischievous things that boys loved and therefore accepted me into their tribe. I started rereading them all in English and thought, "Wouldn't it be a great idea to write a book about kids hopping from book to book?" Voila. I decided to write it.
What was the biggest challenge you faced writing this book and how did you overcome it?
I have not done research and just plunged in, covering thirty different books that I loved as a child, and it's only on the second draft that my editor asked me, "Did you think about copyright?" And I was like, "Oh shit." I forgot to check them, and had to cut out twenty books from the thirty due to copyright issues. In the process I tried to make the book a comedy, therefore avoiding the copyright thing, but then it didn't work, so I almost gave up, then came full circle to the original idea, diving deeper into the ten books left, like Dracula and Don Quixote and The Snow Queen and others. In the end it turned out fantastic. I'm very proud of it.
What other novels have you written?
My first trilogy is Siren Suicides, about a teen who commits suicide but instead of dying turns into a siren and then gets hunted by a siren hunter, her father. Rosehead is about a rose garden that eats people, and a girl and her talking pet whippet investigate it to stop the murders. Irkadura is about an abused teen escaping her home in Moscow and seeing people as beasts as the way of surviving her nightmares, all set against the disbandment of Soviet Union. TUBE is an upcoming novel for which I have completed the 1st draft: it's about a train killing Bolshoi ballerinas that are riding it as part of their US tour. This book was born out of me winning the Amtrak Residency and writing on the train.
Have there been any awards, productions, videos or anything else of interest associated with your work?
I guess winning the Amtrak Residency was the biggest thing so far that happens, and also being on stage with Amanda Palmer. There is a video of that on YouTube. That's about it so far, but more fabulous things will be coming, of course.
What else are you working on?
Just novels! I have about 12 of them outlined, and about 6 other non-fiction books planned, so just focusing on cranking them out one by one.
Are there any occupational hazards to being a novelist?
Yes. Flat ass (from sitting all day long). Tired eyes that tend to go cross (from all this writing and reading). A tendency to forget to get out of the house (after all, why do it when you can visit a gazillion universes in your head). A tendency to forget to wash your clothes (why dress when you can write in your pajamas). A tendency to shun everyone away while writing (stop distracting me!) and to nag everyone when done writing (I finished my book! Read it! Read it!!!) A glazed look 24/7 that some people might interpret as a stupor while it's actually work.
Tell us about your path to publication.
It was a long and arduous one. No, I'm kidding. I started writing because I was suicidal and my therapist told me to journal. So I did. I also started blogging about it, and when my first trilogy was completed, a few agents were interested in representing me but all turned away upon learning that the topic of my books was suicide. It was a hard sell, they said. By then I have had people who have read the drafts of the trilogy and wanted it in the book shape. So I decided to take a plunge and self-publish. I did and don't regret this decision for a second.
If you were going to commit the perfect murder, how would you go about it?
Whack someone on the head with the tome of Oxford Encyclopedia. Or War and Peace. Or I would bury them in books. Alive. That sounds like a tortuous way to go. As to it being perfect, I don't know how perfect that is, so maybe I should make them suffer through paper cuts so they bleed to death? Yeah, that sounds about right.
How many people have you done away with over the course of your career?
Anyone who gets in my way is being thoroughly shredded to mincemeat by a chainsaw. Or sometimes I use pitchforks, to impale those who dare to block me. Stabbing with a fork is also good, makes them juicier when I broil them.
Ever dispatched someone in a book and then regretted it?
Nope. Killing off characters is the biggest fun you can have while writing (but you also cry buckets over every death).
What is the single most powerful challenge when it comes to writing a novel?
Trusting your gut. The endless doubts just drive you insane. Is this the right story? Is it interesting enough? Smart enough? New enough? Unique enough? Bla-bla-bla. It's recognizing that those thoughts are just that, thoughts, and not actual truths, and keeping writing despite them that is the hardest thing I face every day.
Do you have another job outside of writing?
Nope. I have been writing for 3 years full time now, and that's all I did. I did do ghostwriting between drafts for one client, but it was also writing, and I was getting paid for it, which blew off my socks because when I started writing I didn't think anyone would ever pay me for it. I started writing for therapy.
Describe a typical day.
My chatty brain wakes me up around 7ish am. I get up. I put on socks and go to the kitchen to get coffee. I come back to the bedroom where my writing corner is, sit down and start writing. While I write, I might have a significant thought and share it on Twitter or on Ello without checking the status of others or replying so as not to get distracted (I do it later). I might take a picture of my coffee cut of my hair and post in on Instagram. I write until it's about 3pm or until I produce at least 2000 words. Then I tell everyone online I wrote 2000 words, and answer all the tweets and comments and emails and whatnot, which takes about 1-2 hours (hey, I'm proud of this, social media used to take me 6 hours a day), then I read at least 100 pages (although I'm currently reading Lovecraft and I can't process more than 50 pages a day) which takes about 2 hours or more. I can also be interrupted by having dinner with kids (yes, sometimes they get to see me) and kiss my boyfriend when he comes home from work. When all of that is done, I might write a blog post or chat online for a bit again, then I exercise (I have a stationary bike) and if I'm really busy, I combine that with meditating (I bike with my eyes closed for 20-30 minutes). If I do have the time, I meditate after I bike. Then I take a vodka bath, and then we turn off the lights and climb on the roof naked and make love and fall asleep under the stars (though when it's raining in Seattle, it gets pretty wet). The next day everything starts over again.
What motivates or inspires you?
There are so many untold stories in my head, they not so much inspire me as they drive me forward to get them out. Does it make sense? Also, art, all kinds of art. Any time I read a fantastic book or see a beautiful painting or a gorgeous photograph or an exquisite dress or a anything that someone made with love to express their emotions, all of this inspires me. Also, the orgy of mountains and trees and rivers and flowers and clouds. Nature is magnificent.
What has been your greatest success in life?
Getting hit by a truck on my way home from work while I was on a bicycle. I woke up in the hospital and have decided to quit my career for good and start writing before I end up in a box.
Ksenia, you have made my work today so easy! I usually have to try to be glib in order to make my guest shine a bit more. In your case, I'm puttin' on my shades.
Before I share some of The Badlings with my visitors, let's try a Lightning Round. Answer the following questions, if you will, in as few words as possible:
My best friend would tell you I'm a… terrible recluse.
The one thing I cannot do without is: Writing. Also, reading. Also, coffee. Also, socks.
The one thing I would change about my life: Start writing earlier.
My biggest peeve is: Work done sloppily. I'm a perfectionist and drive others to perfection as well (which annoys them to no end). When I see something done half-ass, I can't stand it. I abhor it.
I couldn't agree more. The person/thing I'm most satisfied with is: My children. They have turned out better than I ever hoped for. I love you, Anna and Peter. You are my everything. XOXO
For your reading pleasure, here is a sample from The Badlings: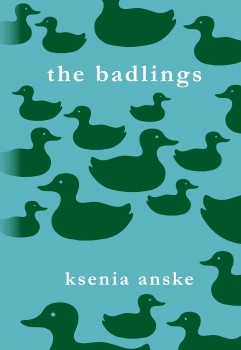 Chapter 1. The Duck Pond
What if you found a book stuck in dirt? Would you take a peek inside, or would you chuck it at innocent ducks that happened to waddle nearby? Poor ducks. You wouldn't hurt them, would you? Because who throws books instead of reading them?
Meet Belladonna Monterey, or Bells, as she'd like you to call her—she has decided that Belladonna was too pompous a name for a scientist. See her dark flashing eyes? Her ponytail all askew? Don't try talking to her, lest you want to be throttled.
On this sunny September morning Bells was mad. Mad at her mother, the famous opera singer Catarina Monterey, for calling her a "poor scientist." The argument started at Bells refusing to go to her Saturday choir practice and escalated further into a shouting match when Bells declared that under no circumstances would she ever become a singer.
"So you want to be a poor scientist?" said Catarina, hands on her hips. It was her usual intimidating pose mimicked by Bells' little sister Maria from behind her mother's back.
"What does it matter if I'm poor?" asked Bells, stung to the core.
Maria stuck out her tongue.
Bells ignored it, refusing to descend to the level of an eight-year-old.
"Oh, it matters a great deal," replied Catarina. "How do you propose to make a living? You have seven years left until you're on your own, Belladonna, and every year is precious."
"I told you I don't like that name. Call me Bells."
Her mother's lips pressed together. "As I was saying, Belladonna, every year is precious. I've picked out an excellent stage name for you, and I expect you to thank me." Her demeanor softened. "You are destined to become a star, with my talent running in your blood. If you stop practicing now, you might never develop your voice."
"I don't want to develop a voice," blurted Bells.
"You're a girl!" cried Catarina. "What future do you think you have in science?"
"Why does it matter that I'm a girl? I certainly have no inclination toward prancing around in stupid period dresses and hollering my lungs out like you do." As soon as she said it, she regretted it.
Her mother looked hurt. "Is that what you think I do? Holler my lungs out?"
"I hate dresses," said Bells stubbornly. "I hate singing. I hate it that I'm a girl. I want to do science. Stop sticking your tongue out!" That last bit was directed toward Maria.
"Mom, Belladonna is being mean," she whined.
"Shut up," said Bells.
"You shut up."
"Don't torture your sister," snapped Catarina. "Look at her. She's younger than you, but she has the presence of mind to follow my advice."
Maria flashed a triumphant smile and twirled, showing off her gaudy pink dress, the type their mother liked to buy for both of them. Bells made a gagging noise. She hated pink or anything decidedly girly. She made sure to never wear dresses, and if she absolutely had to, she smeared them with mud so thoroughly, her mother pronounced them as ruined.
If you'd like to follow Ksenia and buy her books, these are the appropriate links:
Blog/website: http://www.kseniaanske.com/
Twitter: https://twitter.com/kseniaanske
Ello: https://ello.co/kseniaanske
Instagram: https://instagram.com/kseniaanske/
Goodreads: https://www.goodreads.com/author/show/7111759.Ksenia_Anske