There is no shortage of interesting authors in the WordFire Press stable and this week's guest is no exception. Just when I thought the interview was on a predictable track, David Butler threw something at me from out of left field and I realized he is as unusual as are his story lines.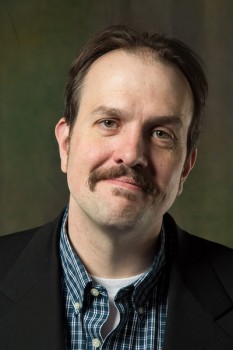 David Butler is a lawyer by background and works as a corporate trainer teaching business acumen to employees of large international companies. He writes science fiction, fantasy, steampunk, superhero, and even horror stories, for adults, young adults, and even middle readers. His large press debut will be The Kidnap Plot (Knopf, June 2016).
Will you tell us about your upcoming WordFire Press release?
WordFire Press is about to release its edition of City of the Saints, a steampunk adventure novel set in the American West in 1859. It's like an episode of Wild Wild West amped up by Nikola Tesla, with secret agents Sam Clemens (in his amphibious steam-truck, the Jim Smiley), Edgar Allan Poe (armed with a canister of flesh-eating scarab beetles), and Captain Richard Francis Burton (for Her Majesty, of course) facing off over which side in the looming war between the States will control the Kingdom of Deseret's airship technology and phlogiston guns.
City of the Saints is also available in audiobook.
What other novels have you written?
My big press debut will be The Kidnap Plot (Knopf, summer 2016). This is book one of The Extraordinary Journeys of Clockwork Charlie, which is an action-adventure steampunk fantasy tale about an unusual boy who sets out to rescue his kidnapped father and discovers astonishing things about the world… and about himself.
Other novels with WordFire Press include Rock Band Fights Evil, which is a serial about a damned rock and roll band. The lead singer is Satan's son, fallen out with his dad over the fact that the son's lover is in hell and dad won't release her; the guitarist sold his soul to the devil and was tricked, gaining amazing prowess… with the tambourine; the drummer is an outcast fairy, and so forth. The band's plan to recover what they've lost is to steal a fragment of Satan's hoof and use it to blackmail Old Scratch… but they have to get to it before any of Satan's rivals do. Rock Band #1 is Hellhound on My Trail.
Crecheling is the first in a science fiction trilogy about a society that initiates its youth into adulthood by making them commit murder. When Dyan learns this horrible truth, she refuses, and learns the price you pay for choosing not to bear the guilt your society wants to put on you. It's got sort of a Firefly feel in that it's a horses and monofilament weapons in the desert setting.
Do you have any other books in the works?
The thing I'm writing right now is Urbane, which is the sequel to Crecheling. Dyan, having broken with the System in which she was raised, now re-enters it by stealth to try to rescue the woman she has learned is her mother.
In addition, my agent (Deborah Warren of East/West Literary) is currently showing a black powder epic fantasy novel called Witchy Eye to editors. Later in the year, Deborah and have another middle reader series and a young adult realistic thriller to take out as well. So it's exciting times around here.
So I would say! Are there any occupational hazards to being a novelist?
Loneliness. Delusions of grandeur. Depression. Navel-gazing. Despair. Disdain. A sense of entitlement. Believing your own marketing. Doubting your fundamental awesomeness. Obsessing over commas. Losing the ability to read for pleasure. Failing to take in enough spiritual sustenance, and becoming barren. Forgetting that the world is bigger than books. Forgetting that stories are the only guide for making our way through the world.
It's a given there are very few, if any, overnight successes in the publishing industry. Will you tell us something about your journey?
This is a long and tangled tale, so I will try to abbreviate it.
The first thing I wrote was a trunk book. That's how it goes. But with the second book I wrote, I picked up a big name agent. I was sure I had it made. But the agent went one round with editors and got no bites. When I sent him a second manuscript, he could only rarely make time to even look at it, and never sent it out. Almost one year after offering to represent me, he dumped me, copying his lawyer on the e-mail.
In the meantime, I had co-written things with my wife, Emily. Shortly thereafter, she picked up an agent. She's still represented by him—Steven Chudney. The first thing of ours he sent out went several rounds and didn't get picked up. The second thing was a re-shaped version of the manuscript that had originally garnered me representation… and it sold!
So hurray, we were going to be published! Except that the publisher in question was Egmont. And after Emily went through the entire editing process, Egmont pulled the plug on its US operations, and the book was orphaned. Both those co-written books (and the series planned to follow them) are with Steven, being seen by editors today, and Emily continues to work on other projects.
In the meantime, I had starting self-publishing. This got me into conventions and onto panels, and that was a good thing. And then in early 2014, I got picked up by another agent—Deborah. She sent The Kidnap Plot to one editor on a sneak preview basis, Michelle Frey at Knopf, and Michelle went for it.
I'm going to unveil the cover art to The Kidnap Plot soon, via my mailing list. It's by a very talented guy named Kenard Pak. Readers can sign up for my mailing list at: http://davidjohnbutler.com/mailinglist/
What is the single most powerful challenge when it comes to writing a novel?
Setting it aside, writing the next one.
I know that one. Tell us something about your "other" job.
I'm trained as a lawyer, but I don't currently practice. By day, I teach business acumen to employees of large companies.
Describe a typical day.
My typical day really varies. If I am not on the road, I start by hitting the gym and then I go into the office. If possible, I try to write in the evenings, or at lunch. If I'm on the road, then I'll write in airports, or on the plane (if I'm lucky enough to get upgraded—frankly, airlines should be ashamed of the ridiculous cattle car nature of their main cabins, in which it is impossible to get any reasonable amount of work done). I often write in hotels, either having arrived there from the airport, or after a day of teaching client employees the different between an income statement and a statement of cash flows.
Would you care to share something about your home life?
I'm married, with three kids (the oldest is in junior high) and four chickens. We play lots of board games around here, and make music—piano, guitar, banjo, mandolin, and lots of odd little instruments. Our house is a rambling old affair on the side of a mountain, with snakes under the steps and a severed head hanging in the tree.
How do you pick yourself up in the face of adversity?
You have to fill yourself with substance. You have to understand who you are and what you're doing and why and know that there will be obstacles in your path. That won't make picking yourself up easier, but it will make it possible. Your most basic skill as a human being is knowing how to stand back up again.
What has been your greatest success in life?
My kids. They're creative, clever, hard-working, and good-hearted, without thinking much about the fact that they are those things.
Nicely put. Before I let our visitors sample City of Saints just below, I'd like to try a Lightning Round. In as few words as possible, please answer the following:
My best friend would tell you I'm a … Slow learner.
The one thing I cannot do without is: A good book to read.
The one thing I would change about my life: I would have started owning it earlier.
My biggest peeve is: Politics in social media.
David, I'd like to thank you for sharing your thoughts with us. At this point, I'd like to share an excerpt from your work.
From City of Saints: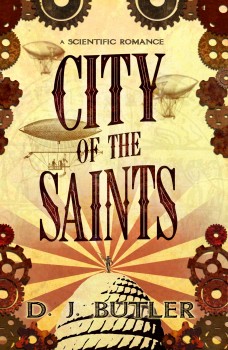 "And magic!" he cried and, reaching into his canister, he pulled out a handful of the brass scarabs and scattered them across the laps of Burton, Fearnley-Standish, and their female companion.
"Aagh!" shrieked Fearnley-Standish, and would have jumped from his seat if Burton hadn't restrained him with a hand on his arm.
"Arjuna's bow, man, they won't eat you!" the explorer snorted.
Then Poe saw their female companion's face and froze. She was short and dark, all straight lines and grace, and though he would have recognized her through any disguise, she wore none.
It was Roxie.
Robert, you didn't mention … but then, of course …
She smiled at him, the polite and slightly flirtatious smile of a woman who is casually attached to another man but conceals within her a voracious, insatiable wolf. She didn't recognize him, obviously, but then it had been years, and Poe was proud of the verisimilitude of his false nose. Within his breast a desire to seize her in his arms, sweep her to his chest and devour her mouth with his warred against an equally strong urge to pull his pistol from inside his jacket and blow out her vicious, wicked, conniving brains.
"Well, man!" Burton snapped. "Get on with it!"
He felt stunned, his vision out of focus. He floated, lost. Then, in the sea of passengers' faces under flapping parasols, he saw the physiognomy of his accomplice, the haggard dwarf Jedediah Coltrane. Coltrane was mouthing something to Poe, a nervous look on his face; Poe's professionalism reasserted itself and he tore his eyes away from Roxie's.
Stepping back, he raised both hands about his head, one of them holding the cylinder by its lid, and cried out in a loud voice, to be sure that the entire deck could hear him. "Behold the incantations of Thoth! Behold the power of Hermes Thrice-Greatest! Behold the might of the Egyptian priests, able to reach through the curtain of death itself and command the obedience of the inanimate and the damned!"
When he was sure they were all watching him, he waved his empty hand in a great circular flourish over the scarabs, carefully thumbing the recall button inside the canister's lid. "Nebenkaure, panjandrum, Isis kai Osiris!" he shouted.
The clocksprung beetles sprang instantly to life. With a great chittering and clacking, each metal bug rolled upright, oriented itself, and then began its trek. From the laps and boots of Roxie and the Englishmen, from the bench they sat on and the floor beneath them, the brass beetles swarmed in a great mass towards Poe.
He raised his hands, stood still, and laughed as diabolically and mysteriously as he could as the bugs climbed his clothing, laughed when he felt the first brass legs touch the bare skin of his neck, laughed with his whole chest and belly as the scarabs detoured around his head and crawled up his left arm, kept laughing as they swarmed ticklishly about his fist and dropped one by one into their native canister, and then, for effect, stopped laughing at the exact moment in which he slammed the canister shut.
The spectators went wild.
"That wasn't Egyptian," Burton said sourly, but the passengers all about him applauded, and a few whistled or whooped in excitement.
Coltrane clapped along with the crowd, shooting shrewd appraising looks at the people around him. Sizing up the marks, Poe thought. The man had the ingrained instincts of an inveterate carny. The little boy with the loop of wire stood stiff as a statue, his eyes so wide they threatened to swallow his face.
"They're scarab beetles, Dick," Fearnley-Standish pointed out.
"I meant the words," the darker man growled. "Pure higgledy-piggledy. Nonsense. Arrant balderdash."
"My name is Doctor Jamison Archibald!" Poe announced. "Tonight, at seven o'clock by the Captain's watch, in the stateroom, for the very reasonable sum of two copper pennies, any passenger may see exhibited and explained these and other marvels, visual and auditory. See the uncanny hypnotic hypocephalus in action, stealing the souls of men! Witness the muscular terror of the dire Seth-Beast!"
"Will children be admitted free of charge?" inquired a plain-faced, reedy-voiced, gray-wrapped matron in a blue prairie bonnet, clutching under her bony wings a trio of similarly undernourished-looking brats.
"My dear madam," Poe stage-whispered, meeting her eyes over the rims of his spectacles, "the things I have to display are dark and terrifying apparitions; the stuff of nightmares. Children will not be admitted at all."
Those of you who'd like to know more about David Butler can connect with him at the following links:
Website:         http://davidjohnbutler.com
Twitter:          @davidjohnbutler
Facebook:      http://facebook.com/dave.butler.16
City of Saints is scheduled to be released in paperback on January 15, 2016. Once that happens, you will be able to find book buy links at http://wordfirepress.com
You may purchase it immediately as an ebook at http://amzn.to/1TQwqrf