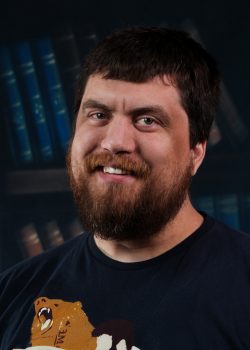 Ryan English is an author of fantasy who was published just last month by WordFire Press. Although his debut novel, Obstacles, has been out for less than one month as of this writing, it has already earned seven five-star reviews on Amazon. When I asked him to describe himself as an author, he told me, "I write fantasy exclusively. I read The Hobbit when I was 7, and childhood exposure is often incurable. I've got a BA in English (useless) and an MA in Political Science (mostly useless), and I work in IT. I live in Brigham City, UT, and dream fondly of San Antonio, TX, where I lived while attending grad school."
Ryan describes his novel this way:
Androkles, son of Paramonos, spent twenty-five years in the world's greatest army trying to earn enough money to buy back his good name. He's battle-scarred, weary, and heartbroken after decades of watching dear friends die, but he survived. He's ready to retire and be welcomed as a hero, finally able to see the reward he sacrificed so much to achieve.
There's only one problem: his wife just fled civilization with all his hard-won savings. Now he must pursue her north, through desperate bandits, ravening beasts, and worse. But after he rescues a pair of orphans from starvation, he is faced with his most difficult challenge yet: a question that goes to the very heart of honor. The consequences might be deeper than he realizes, and it's not just his life on the line…
Will you please tell us something more about the book?
Obstacles is a fantasy novel of just under 300 pages. It stands alone as a single book, but was intended to introduce a series. It features Androkles, a Greek-inspired soldier, wandering into a Basque-inspired region of pre-Christian Europe. I draw heavily on themes of honor and family, and although my hero is 40, it's an "adolescent travel fiction" novel in a lot of ways. It's about a man trying to go somewhere, and all the things that get in his way.
This is not your typical fantasy plot line. Who or what was the inspiration behind it?
I've had a hobbyist fascination with ancient Greece for a while now, and when I start the novel I decided 340 BC was a more interesting setting to me than medieval Europe. Instead of just making a generic Greek thing, however, I took some liberties with the setting and added some ideas I stole from Japan, like people with cat ears and the fairy Puck from the manga Berserk. It's got a sort of stone soup thing going on, if you know what I mean.
One thing I was really interested in while I wrote it was exploring alternate systems of morality. How do you take someone seeped in the old heroic ethic of Homer, and make him relatable and interesting to a modern audience? What would some of those ideas really have looked like in practice? One of the big conflicts of the novel is between "what you know in your head you should do" and "what you know in your heart you really want". Homer didn't think the heart was the source of personal truth. Rather, emotion can lead a person to act wrongly against his better judgment. Morality in ancient Greece was largely trying to find the right balance between one's obligations to family, society, and the gods.
What was the biggest challenge you faced writing Obstacles and how did you overcome it?
My challenges were largely related to the fact that it was my first novel and I barely knew what I was doing. Although the final edit reads like I did it all on purpose, smoothly and deliberately, I had a lot to learn about writing emotion into a scene, and describing things adequately. It took a lot of editing to make sure that the characters all came through how I wanted, and to make sure that there's enough tension there to keep readers flipping pages in between the "exciting" parts. On, I think, my first serious edit, I went through with the intention of cutting all the unnecessary or uninteresting bits, and ended up added 10,000 words to the length. Each successive edit grew the novel a bit more, as I'd keep finding places where I wasn't happy with how the characters were coming through and have to add a sentence or two.
What is your work schedule like when you're writing?
When I wrote it, I had just been laid off after having an IT contract end early, and I spent most of the day in front of the computer. I'd write for as long as I could, play some video games, and come back to it an hour or so later. Nowadays, I try to do my writing in a big chunk of time instead of bits here and there throughout the week, because it takes me a while to warm up. I'm like a diesel engine in that way, I suppose.
Tell us about your path to publication.
I've been in a writer's group with a good friend named John D. Payne for years, and after I wrote the book he convinced me to come to the Superstars Writing Seminar. I can't recommend it highly enough, because it's a business seminar, not a craft one. You learn about contracts, agents, marketing, and all that. But anyway, he not only made me attend, but he made me pitch it to the acquisitions editor for Wordfire. I wasn't that confident about it at the time, but he was persistent. It's safe to say that the person most responsible for the book's existence is John D. Payne. Other than me who wrote it, I suppose.
Why do you write?
I have a pretty active imagination. I'll get lost in some vivid daydream world and be deeply moved by the imaginary things that happen there. I then try to recreate some small aspect of that through writing, and never pull it off.
How do you think you've evolved creatively?
In my writer's group, we focus on the craft of writing from an almost academic viewpoint. The question is never 'what kind of story should I tell', it's 'how do I most effectively tell my story'. I've learned that ideas are cheap and no one cares about your crappy plot. You have to make them care with good writing, from the sentence level to the structure of the whole novel. Honing this skill is a lifelong commitment. Approaching it with that view has made helped me become a much more effective writer than focusing on having the coolest ideas.
Would you care to share something about your home life?
I'm not married, but it's been fun watching my little niblings (that's a word, go look it up) learn how to have a body and interact with the world and society. Having them around makes me deeply aware of the web of life, by which I mean how we place and understand ourselves in relation to others, and their effect on us. This is one reason why, I think, children figure so prominently in the novel. It's simply alien to me to imagine a world in which they aren't around, or in which they don't act like children. I feel this is one shortcoming of modern fantasy—seldom does a book present what I think of as an integrated person. We're still doing the adolescent travel fiction thing. We have lots of books about noble, heroic young men running around doing exciting things, but we neglect the deepest and most important motivation in a man's life: his family.
What has been your greatest success in life?
Either writing this book, or getting my MA in Political Science. Those may not be much, but they're mine.
What do you consider your biggest failure?
Making it to age 35 without getting married.
Considering how half of all marriages end up, that's not much as far as failures go. Moving on, do you have any pet projects?
I've got a long list of stuff I'd like to do, and some of it I've even tried. I play several different weird flutes, for example, and I'm going to start learning Greek one of these days. I've always got something going, and usually it doesn't go anywhere. I sometimes wonder if I'm more interested in learning about doing a thing than actually doing the thing. Once I learn how you learn to do a thing, then I don't really have to master it anymore.
Thanks, Ryan, for taking time out of your day to share with us. Before I present our readers with an excerpt from Obstacles, I'd like to indulge in a Lightning Round. In as few words as possible, please answer the following:
My best friend would tell you I'm a… somewhat tolerable houseguest.
The one thing I cannot do without is: an argument
The one thing I would change about my life: I'd get married
My biggest peeve is: slow drivers in the fast lane
The thing I'm most satisfied with is: I'm never quite satisfied. There's always more to learn.
Obstacles excerpt: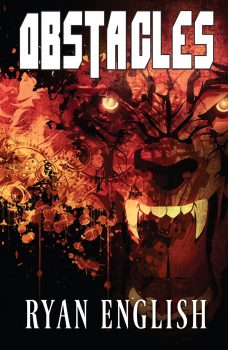 Looking over toward the fire, Androkles noticed that the kits surreptitiously watched the proceedings. The talking must have woken them again, after only a few minutes of rest. How would they feel, to be listening to this? Not that he cared much, he reminded himself.
"You said what I look like to you, so let me tell you what you look like to me. I thought it was a bit strange you dress like a guard, but that was fine. You had a good explanation. But it was strange that you took so long to find things in your cart, like it was the first time you inspected it. I bet you haven't found the silver yet, have you? You don't know where it is," said Androkles, loud enough for the boys to hear, "because you are bandits and you stole the cart." Then he gave Theodoric his best intimidating stare, which was a pretty good one. They had no reply.
Androkles stood with a wince as he straightened his back and legs. Even though he stood quite a bit taller than any of them except Tulga, to their credit they didn't flinch. "You have to be kidding me," he said to the sky. "I've got things to do. First the kits, and now this. The gods are bastards. You know that, Theodoric? The gods are bastards."
Androkles made a show of stretching his arms and legs, flexing. Then he declared, loud enough to make sure they all heard every word, "I'm not going to sell you the boys because you stole that cart and probably killed the merchant who owned it. It's my duty as a just man to kill you all, actually, so here's my deal: You're going to give me whatever supplies I want for free and leave me and the kits here. You won't tell anyone about us. You'll say nothing about slaves or runaways or anything of the sort. In return, I won't kill you and hang your corpses for a warning. Sound like a deal?"
Someone snorted behind Androkles. He looked over his shoulder and saw that the three guards stood with maces ready, several paces away.
Theodoric said, "We seem to be at an impasse. I have no doubt we can kill you—no doubt at all—but there's a chance you'll take one of us with you. Is the money you're going to get from those kits worth dying over?"
Androkles said, "I'm not giving anything to thieving trash like you. And they're not even really for sale. I'm either going to find their parents, or some other good home, and not give them to slavers or rogues." He surprised himself a bit with that, but as soon as he said it, he knew it was right. He was obligated now, and that was that. The kits were staring right at him, their intense golden eyes bright in the morning light. He sighed in mild frustration that he didn't truly feel.
"We're not as bad as you think, southerner. We might be bandits for now, but it's not like …" said Pansy, but she was interrupted by Androkles.
"You're every bit as bad. Tell me, did you stab your master in his sleep, or was he awake for it? I'm curious."
Theodoric readied his mace and shield and said, "This is getting absurd. Let's just kill him like we should have in the first place."
Those of you who would like to take the plunge and dive into this story should click on:
https://www.amazon.com/Obstacles-Acts-Androkles-Book-1-ebook/dp/B072JX2PTK/
SaveSave