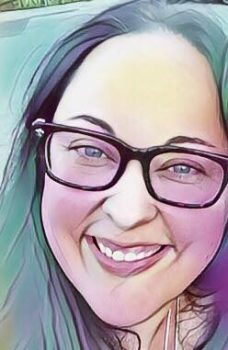 This week's guest, Michelle Cori, lives in the Rocky Mountains, when she isn't traveling to the next Comic Con. Currently, she spends her time running a bar and telling tales over drinks or in the form of novels and comics. During the day, she works as a Production Manager in publishing.
She shares her life and home with her teenaged son, and two crazy min-pins named Harvey Wallbanger and Honey Bunny. Traveling, bourbon, hard ciders, record shops, tea, old book stores and good ales are some of her other pastimes. She has a love for Flash Gordon, Highlander, Star Wars, Dune, Star Trek, Planet of the Apes, and comic books.
The Kind Mosiac:1, Convergent Lines, which was released as a trade paperback in Spring 2017, is Michelle Cori's first published book, but several are to follow. Currently she has works in progress in Gothic Horror, Urban Fantasy, several short stories, a comic series, an illustrated adult picture book and middle grade series.
Often, she can be found writing at various coffee shops around the country.
She describes Convergent Lines like this:
Thirteen families.
Human-fae hybrids who have existed alongside
humanity for thousands of years. With long lives
and magic they shaped the world.
Until a curse … or rather, curses …
Longing for freedom, Grayson Penrose finds himself
dreaming of the past, searching for something he lost,
but hating his empty life. He wants nothing more
than to be left alone. But fate has other plans for him.
Placed in the path between human and supernatural
nations, with his curse lifted, only Grayson can
carry the burden of his dying race.
Tell us about your debut novel.
The Kind Mosaic:1, Convergent Lines is my first published book. I called it a gothic horror because while it is differently urban fantasy, it has a darker narration. As I wrote it I was re-watching the original Twin Peaks, David Lynch had announced he would do another season 25 years later just like the end of the series said. Throw in the show Salem, and the Hannibal TV series and you can see where I was at the time. I've also had some compare it to Stranger Things, too. Part of the book takes place in the late 80s, early 90s. The book isn't gory or all that scary, it has the feel of the old gothic horror or noir genres.
Convergent Lines is my origin story for witches. It's targeted for adults. There is little objectionable in the first book, but it will get darker as the series goes. My world draws from paganism, Norse, Celtic and Egyptian mythology. I want to explore the darker sides of those worlds as they apply to witches.
Who or what was the inspiration behind it?
I have a "note from the author" in Convergent Lines about this.
This story came into being in a rather unusual way. In middle of 2015 I was preparing for National Novel Writing Month (NaNoWriMo). I'd been planning to write the second book in another series; I rough outlined the book and went to bed.
That night, as I slept, I had the most vivid dream of this boy who could walk through mirrors and anything he drew would come to life. But he was troubled, he hated his life and had lost the only person he'd cared about. I woke up remembering the whole dream and all through the next week I thought about him. Then I dreamed of him again; this time he told me more of his story. Intrigued, I outlined the rough draft (mainly world building) of his tale and over the next week he showed me his world.
Have there been any awards, productions, videos or anything else of interest associated with your work?
I'm a bit different from many authors. My background is in art directing and publishing. I had a couple of publishers interested in my book, but after thinking long and hard I decided I wanted to do what I do for so many others, myself. I self-published Convergent Lines.
The cover, chapter head illustrations and a custom tarot deck (one of the cards is at the back of the book the others are used for marketing), are done by me. I hired an editor, and used proofers. The end result is something I'm proud of.
In the end, it was too hard to hand off decisions about the cover and art to someone else. I also wanted control over the speed my books come out. My two urban fantasy books I will self-pub, the middle grade I will probably get an agent and shop publishers for.
What else are you working on?
The follow-ups to Convergent Lines. These are the two books in-between Convergent Lines and Deluded Lines. The follow-ups are called Side Lines: Kador's Curse and Side Lines: Fae Tales. Kador's book is almost to first draft and will be around 65K words. Fae Tales are a collection of 16 tales from the Kind's fae world which are related to the families.
I also have a mid-grade book I hope to get back to early next years. It is called Saint Wellinghouse's Discoveries: UNICOM. It's a little like Goonies, two young friends searching out one of their crazy great grandfather's inventions.
I hope to get to work on a comic book my son thought of. I'd like to co-write it with him. I also have what I call an adult picture book almost written, then I'll start the illustrations. The focus is Krampus.
I also have another urban fantasy series called the Forgotten Ones. I have the first two of the three books to first draft. Next summer I'll focus on those and have them come out every three months.
What is your work schedule like when you're writing?
I do most of my writing at night. The hours I keep bartending lead to me being a night owl. Kevin J Anderson, my boss and best-selling author said once in a seminar, "It's impossible to find uninterrupted time to write." I raised my hand and he said, "I know you don't have uninterrupted time."
I replied, "Nobody bothers me at one a.m." He laughed, and conceded my point. Jim Butcher later in the same seminar said he is a late-night writer.
So, I get up usually around 10:30 a.m. Go to the bar for a couple hours and order supplies, do paperwork. I then will hit up a coffee shop and do a couple hours of work for WordFire Press. By about 4:30 I come home to hang out with my son. We will eat and maybe watch TV, if he doesn't have a D&D or MTG game planned. He will want an hour or two to play online games, so I go back and finish WordFire stuff then start into my writing. Two days a week I bartend, those days I usually don't get any writing done. Saturdays, I give over to me, to do what I want. If I need to run errands or shop I do. But Saturday nights are all about writing.
Do you create an outline before you write? 
I do a really loose outline, most of it is research I need for the book. Earlier in my writing career I tried to do outlines, but I would run into the problem of trying to make a character do something which didn't work. Then my focus would change to adjusting the outline. It interrupted my writing.
Now, I do my research and write down a few things that need to happen, or any foreshadowing. The only exception is the opening. I will try writing the first chapter a couple of times, from different points until I have the one. I like getting into the story and seeing where it will lead. Many times, I've been surprised by a scene and a character that wasn't a major character but turns into one.
There were two things in Convergent Lines which surprised me. The first was a character from one of my other series decided she would like to make a splash in this book. She wasn't planned in the series she appeared in either. There was also Grayson's companion which is introduced about halfway through the book. I didn't know he would come along, nor play an increasingly important role. The other part that surprised me where the two big events at the climax. I know that sound weird, how can the person writing the story knowing the beginning and the end be surprised? I knew what I needed to happen at the ending, what I didn't know was how to make it happen. The night I wrote the big climax was during NaNoWriMo 2015 at my favorite coffee shop. It was around midnight as my hands flew across the keys I was shocked, intrigued and couldn't believe I would let that happen. Seriously, I wondered where it came from, never did I imagine that would happen.
Writing without a rigid outline is much more enjoyable for me, as the author.
Please tell us about what you do when you're not writing.
I have two other jobs, well, three. I'm a single mom of a fourteen-year-old teenager. I love being his mom. Me discovering I was pregnant with him is what started my journey into writing. I'd been an Art Director for years, and I was burnt out. I needed a new creative outlet.
I manage and bartend at a bar in Salt Lake City, Utah. Yes, there are bars in Utah and no it isn't the easiest thing to do in Utah. But I do have the best customers, especially regulars.
My other gig is as WordFire Press's Production Manager. A press owned by best-selling authors Kevin J Anderson and Rebecca Moesta. My background and first college degree was in graphic design and illustration. In the late 90s I was a Production Manager for the largest independently owned and run newspaper. So, I have been in publishing for a long time. It's been fun working with legendary authors, best-seller and new authors in the ever-changing publishing industry. A great job and experience to a new author like myself.
What motivates or inspires you (not necessarily as regards your writing)?
My first love was music. I'm classically trained, with more than twelve years of playing, and about seven in jazz. I took college music theory in high school, and have an extensive vinyl collection. I adore jazz, blues, some old R&B, classic rock, classical and so many forms of music. I can go from Mozart to the Police, then move on to Led Zeppelin. Right now, I'm stuck on Junior Wells with Buddy Guy. My first real job was working for Digitech and DBX (guitar and music equipment), for five years I worked with other musicians and some rock stars.
Music is my number one influence and inspiration. Christopher Walken once said, "I think in music." I knew what he meant, because that is exactly what I experience. Many of the stories I write are inspired by what I imagine a song is about, or a memory connected to a song. I pick the music I write to very carefully, because I use the tempo for the pacing.
Do you have any pet projects?
Yes, or it might be better to say I will. Reading programs for kids is near and dear to my heart. Being a parent I experience the frustration of a parent trying to help a child which struggled to read. I want to help others, especially because of the resources I have access to now.
My upcoming middle grade project and the comic series are the first steps into this. Once these projects are farther along, I hope to work with kid cons at comic cons, visit elementary schools while I travel, to work close with a couple of children's reading charities and to possibly start my own.
As a child, I loved to read and found it a wonderful escape, which grew with me into adulthood. It also lead me to writing. I'd like to pass that on.
Thank you, Michelle, for agreeing to participate in The Write Stuff. To conclude, I will make one brief statement which I would like you to complete in as few words as possible:
The person/thing I'm most satisfied with is: I look around at my life and wonder how I got so lucky.
Before I show our visitors an excerpt from Convergent Lines, I would like to point out that it was just released in hardcover on October 17, to be followed soon after in eBook format. Those of you who are interested in following Michelle online should also note I will provide social links as well as book buy links immediately after the excerpt.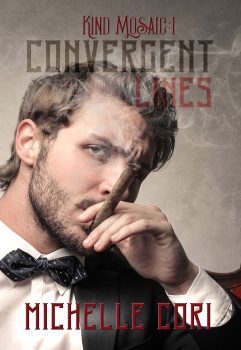 The Kind Mosaic:1, Convergent Lines
As I walked through the door, I began to say the undoing spell again. Any electronics nearby would be fried, including the video feed. Just inside the door, I found a second door with STAIRWELL printed on it. I needed to go down; I opened it and ran down the stairs. After considering where they would hold Hilda, I concluded she would be in cold storage. This would probably be in a basement, away from the public parts of the Coven House. I had reached the landing between the flights of stairs when I heard a door above me open and the sound of footsteps and creative cursing. I pressed myself against the wall to wait them out.
The upper door clicked closed, and I ran the rest of the way down. To my relief, there wasn't another keypad. The lack of real security surprised me. While humans might not find dead bodies valuable, the Kind had different ideas on the matter, especially the darker side. At the door, I stopped, opened it, and peered out into a dark hall. Darkness and silence greeted me. Out into the hall I went. Security would be doing a sweep after they barricaded the door I had come through, so I didn't have long.
It would take too long to check each of the several doors lining the hall. I needed to find cold storage. The fifth door on the left had a plaque, as I got closer I could see COLD STORAGE engraved on it. I stopped and listened. Nothing. I pushed, but found it locked. Kneeling to be level with the lock, I pulled a pen out of my pocket. It's my favorite pen and doubles as a wand focus for me. With the silver tip touching the lock, I forced my will and said, "Unlock."
I heard the tumblers move. I stood and pushed again just as I heard someone in the stairwell. I hurried into the room and looked for a place to hide.
The room could have come out of a TV morgue scene. On the wall to my right was the large cooler with several small latched doors for bodies. In the middle of the room, several stainless-steel roll-around tables sat empty. To the left was an open closet door.
I rushed into the closet, which turned out to be filled with cleaning supplies, and closed the door with a little click. I got into the corner behind the door.
I held my breath as I heard two voices nearing.
"Damn security system, do we need to look through every room?" a male voice said.
"You know the protocols."
"Was this door unlocked?"
"I don't remember. We'll lock it on the way out; don't forget or we'll hear about it tomorrow morning."
"Yeah. Did you check the closet?"
"No, I'll get it."
The doorknob rattled and the door opened. I held still hoping my cape would help if he saw me. A large flashlight beam shone in the dark corners of the closet.
"There's nothing in there."
"I told you there's no point. How long between when the malfunction happened and when we got there? A minute, maybe a little more? Who would want in this creepy place?"
"Yeah, yeah, but we have a job to do. Come on, let's finish this. I want to continue with our game."
"Sure. But you're locking the door." I heard the door open and I relaxed … and my foot bumped the mop bucket. Smack! The mop handle hit the floor.
"Damn it! What was that?"
"I don't know. It came from the closet."
One of them returned, pointing the flashlight beam at the floor. "It's a mop handle." The man walked into the closet, knelt, and picked up the mop, as he stood, he backed into the door causing it to open wider, concealing me further from view.
"Nothing to worry about. Let's go."
I heard the door squeak open and the key in the lock, locking me in with Hilda. It took my heart a long time to quiet itself. I waited almost five minutes before moving again.
Despite the risk, I turned on the lights. There was no way I would be alone in the dark with Hilda. My skin crawled at the thought of what I planned. I hoped they hadn't taken her clothes and things away from her yet, or this might get messy.
Paperback:     https://www.amazon.com/Convergent-Lines-Kind-Mosaic-Michelle/dp/1545450307/
Hardcover:     https://www.amazon.com/dp/1948090007/
Facebook:      www.facebook.com/michecori
Twitter:          @michellebcori