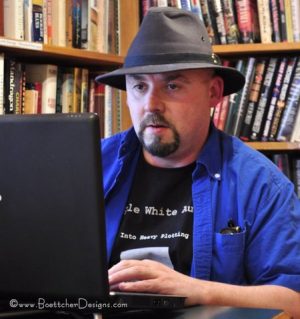 I am pleased to feature today's guest, WordFire Press author, David Boop. David is a Denver-based speculative fiction author. He's also an award-winning essayist, and screenwriter. Before turning to fiction, David worked as a DJ, film critic, journalist, and actor. As Editor-in-Chief at IntraDenver.net, David's team was on the ground at Columbine making them the first internet only newspaper to cover such an event. That year, they won an award for excellence from the Colorado Press Association for their design and coverage.
His debut novel, the sci-fi/noir She Murdered Me with Science, is back in print from WordFire Press after a six-year hiatus. His next novel, The Soul Changers, is a Victorian Horror tied in to the Rippers Resurrected RPG from Savage Worlds. Additionally, Dave is prolific in short fiction with over fifty short stories and two short films sold to his credit. In 2017, he edited the weird western anthology, Straight Outta Tombstone, for Baen. While also known for weird western series The Drowned Horse Chronicle, he's published across several genres including horror, fantasy, and media tie-ins for Predator, The Green Hornet, The Black Bat and Veronica Mars. His RPG work includes Flash Gordon and Deadlands: Noir for Savage Worlds.
He's a single dad, Summa Cum Laude creative writing graduate, part-time temp worker and believer. His hobbies include film noir, anime, the Blues and Mayan History.
Two of his works came out on the same day of April this year: She Murdered Me with Science, a noir sci-fi gum shoe detective novel and A Whisper to a Scheme, a self-published novel of the same ilk. Whisper can be quickly described with its back cover blurb: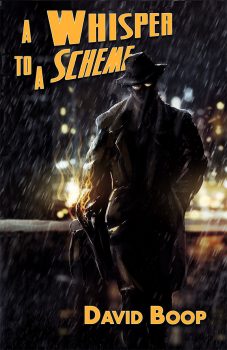 My name is Noel R Glass and I'm not your average gumshoe. What I am is a pariah from the theoretical physics game; a former wunderkind who watched his future dissolve like the victims of my failed experiment. Years later, I'm finally putting my intellect to work solving crimes with science, not instinct. Well, mostly. Instinct told me the angelic damsel in a black dress who walked into my office was bad news. What made it worse is she admitted to possibly killing her husband, Millionaire Mercantile Maverick Marlin Black. Now I have to find Mr. Black, or his corpse, before the cops do. Otherwise, they won't look beyond the bedroom eyes of his gorgeous widow. But I know different. It's not just a hunch, but the science of the bullet that took down Black doesn't add up. I'm on the run to find a rifle that kills without making a sound. Even my genius brain might need help on this one. Who can I turn to? Certainly not the Widow Black or any of Marlin's associates. They've all got motives. No. The type of assistance I need comes in the form of a Japanese gangster with a Chinese Name. But if Wan Lee helps me, what will he ask for in exchange? Damn those dames singing the "Save Me" blues. Why aren't I smart enough to just walk away?
As for She Murdered Me with Science, here's a quick introduction: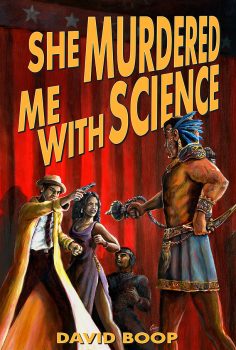 My name is Noel Glass. I once was a respected scientist and madly in love. All that ended in a splash of scarlet. I can never forget, and I will never forgive myself.
It's 1953 and I'm a shamus working the streets of Industry City. I don't rely on instinct; science is my game. The cases I get, and the booze I drink, keep oblivion just a step away. That is, until some rich recluse walks in and tells me that accident from all these years ago was a set-up, a frame job, and I was meant to take the fall.
Now I have to clear my name… like that's easy. Everyone's keeping secrets. Who can I trust? My neighbor, the mysteriously connected Wan Lee? Or the songbird Merlot Sterling? Her lies are almost as beautiful as her voice. Even the muscle-bound bodyguard I inherited can't keep the hit men, spies — or my own government — from trying to put me six-feet under.
You see, this secret organization believes I know something and wants to keep me quiet. All I do know is they're aiming to remake the world into their own twisted image using a device I created. They've already axed one world leader, and Ike could be next.
God, I could use a shot of bourbon and some answers, but neither comes cheap these days.
Tell us about your most recent release.
I have two. One, the re-release of my first novel, She Murdered Me with Science, which has been out of print since 2010. It's a sci-fi noir set in the 50s. Noel R. Glass was once a child prodigy, tops in his field of physics, but then at the height of his fame, an experiment goes wrong and kills several people including the woman he loved. Fourteen years later, he works doing an early form of forensics, considered a dirty science at the time. A rich recluse walks into his office and tells him the accident wasn't his fault, he was set up. Glass goes on a quest to clear his name, but runs afoul of lies, deceptions, and conspiracies in a world on the verge of a global war. WordFire Press was kind enough to re-release it. I also self-published a prequel, set one year before the events in the novel called, A Whisper to a Scheme.
What was the inspiration behind it?
I grew up switching back and forth between reading mystery novels and sci-fi/fantasy. When I set forth to write a novel, I wanted to bring the best of both worlds into it. The pulp setting of the 50s allows for the seamless blend of weird science with the detective noir voice. However, it was the prolog that really set me on this course. I dreamt the prolog, much as you read in the book. It involves a murder, and when I woke up, I knew I had to invent a character to solve the murder from my dream.
I created a character that reflected the best traits of the pulp detectives I loved: hard drinking, fallen hero, seeking redemption – a combination of Nero Wolfe and Archie Goodwin in one person. But I also needed supporting characters that were familiar, but not clichés. I have an Asian sidekick who constantly does the last thing you'd expect a sidekick to do. I give Noel a femme fatale, but made her African-American to reflect the racial tensions of the era. I put in assassins, spies, and real people from the times. I wanted the book to feel like it was written in the fifties.
What was the biggest challenge you faced writing this book and how did you overcome it?
Revision has always been my bane. I'm very ADD and the revision process is almost physically painful to me. And then going back some ten years since I first started writing it and seeing all the errors was grueling. However, the fact I could see them now was uplifting, as it meant I'd definitely improved as a writer over that time.
What other novels have you written?
I have a novel for Pinnacle set in the Savage Worlds roleplaying game. It's a tie-in to their Rippers world, a Victorian Horror setting similar to the Penny Dreadful TV series. It's called The Soul Changers and will be out later this year. I also have some fifty short stories in print, with another several due out this year, including a Predator story co-written with Peter J. Wacks. Additionally, I edited an anthology of weird westerns called Straight Outta Tombstone for Baen.
What else are you working on?
I have several projects due this year, including a historical fantasy, a WWII sci-fantasy middle reader in the vein of Hugo Cabaret, the follow-up to the SMMS, and a Flash Gordon RPG I just finished a sourcebook for.
What is your work schedule like when you're writing?
I'm a binge writer. I write whenever I can, as much as I can, and then I go throw up. Seriously, I have no writing schedule. Life won't let me.
Do you create an outline before you write? 
Novel, yes. Anything shorter, no. Having a good outline can mean a lot to an editor.
Why do you write?
Because I'm no good at anything else. No, seriously. I've held well over 100 different jobs in my lifetime. I used to work two or three at a time. I'd get bored and move on. Writing is the only thing that allows me to sleep. I have a lot of ideas and they won't let me go until I trap them on e-paper. I cannot imagine doing anything else.
What is the single most powerful challenge when it comes to writing a novel?
Keeping a rhythm. Novels flow best when they are worked on at a steady pace. I do not have a steady pace sort of life. I wish I did. I would love a routine that allowed me the freedom to write a certain amount of hours a day. As it is, I spend most of my time researching, then creating the outline, and then, if I've done parts one and two correctly, I should be able to drop in and just following the outline. Easy-peasy, right? Instead, the flow is disrupted by edits for other projects due yesterday, kids needing stuff yesterday, and bills that need to be paid yesterday. It's a glamorous life, no?
How do you pick yourself up in the face of adversity?
You can do that? Really? I never knew. Hahahaha! I do a whole talk on this subject. Since my novel first came out in '08, I've been plagued with loss: family members, mentors, close friends. I've been hit with health issues. My son was diagnosed as autistic. I'm suddenly responsible for my 93 year old step-father. So, it's been a bit overwhelming. But what got me through was never losing sight of the goals. I wrote short stories when novels were impossible to write. I wrote flash fiction when short stories were impossible to write. I kept my name out there even when I lost 50% of the fan base I'd built during the first release of SMMS. It's why I now have so many anthologies. Little steps. Trying to go big will cause failure. Breathe. Write a gunfight. Build the story around why later. Just get some words on the page. Write badly. Fix in post. Keep your professional friends close around you. They'll remind you why you're doing this. Their successes will motivate you. And have faith, if only in yourself, but a higher power isn't bad either. If I didn't have my faith, I would have packed it in some time ago. I know that being a writer is my purpose. I can't stray too far from the path that has been laid out for me.
Do you have any pet projects?
I love working on RPGs. I've done two for Pinnacle, so far. They use the Savage Worlds system. I just did a Flash Gordon sourcebook for them. I'm also writing for Moonstone Books, doing classic pulp heroes. I might also be editing an anthology for them in the near future.
Before I give visitors a sample from She Murdered Me With Science, I'd like to finish with a Lightning Round. Please answer in as few words as possible.
My best friend would tell you I'm … Certifiably insane, but creative.
The one thing I cannot do without is: TV
The one thing I would change about my life: The amount of TV I watch.
My biggest peeve is: Being called by my last name by people who don't really know me.
The thing I'm most satisfied with is: My past. It got me here.
For those who've been waiting for it, here is the excerpt from She Murdered Me that I've Promised:
As I reached my apartment door, I found it already unlocked and open a crack. While I might have still been suffering a little barrel fever from the night before, I remembered clearly closing and locking it. I listened and heard the subtle sounds of rustling inside.
I had no weapon to speak of, save for a pocketknife. I unfolded the blade and launched myself into the apartment.
The wall I ran into felt suspiciously like someone's back. I looked up until I found a neck. Sure enough, the mountain in front of me was a man. I jumped back into the hallway as the wall turned around. What best could be described as a shaved silverback gorilla smiled at me. His frame filled the doorway, keeping me from seeing who else was in the room.
"Sir?" the gorilla said, "I think he's here."
A weak voice came from somewhere behind it, err … him.
"Does the man have dark hair, intense eyes, and a hawk-like nose?"
I had never been sized up so quickly, but there it was.
"Yes, sir, that's him."
"Well? Let the man into his own place, Vincent. We have to talk." Vincent stared at my hand.
"He's got a weapon. Should I take it?" The question left no doubt as to if he could, just whether he should.
"Heavens, no! A man can defend his castle, no matter what form that castle takes." He let out a hollow cough then, "Now move out of the way."
Like a boulder rolling aside to open a cave, Vincent slid over, allowing me access to the room.
"Open sesame," I whispered, but I'm sure the man-mountain heard.
I surmised from the angle of the second voice, the man running this show was in my lab. I moved cautiously past the gorilla-man, folding the blade back into its protective sheath.
As a child, you are taught opposites. The man looking over my blueprints was the best example of a contrast to his partner I could imagine. While Vincent was swarthy and bearlike, his master was anything but: tiny; frail; blotchy skin; and, as he ran a finger over the designs, seemingly intelligent. He used a cane to steady himself as he leaned over my drafting table. Dangling from his neck, a gold chain with a ring hung low. An indentation on his skeletal ring finger indicated that he had gotten too thin to keep it there anymore.
"This design is sound. You finally fixed the catalytic converter, I see."
I never like to look surprised. It has added to the legend that I'm some sort of genius. I had to come up with some quick deductions to keep the ball in play.
"Along with a few other changes, Mr. Reece, but then you haven't seen The Atlantis designs in quite a while. Not that you should have seen them at all, but I guess a man as affluent as you are has first dibs on everything coming out of NMIT, right?"
He kept running a finger around the prints. "First guess. I'm pleased your attention to detail hasn't weakened in your banishment. I was also glad to hear what you had chosen to do in the private sector. Keeps those skills sharp, doesn't it?"
"Okay, you know me and now I know you, Mr. Reece." With my sarcasm dial fully engaged, I asked, "How can I be of service?"
Old Money didn't want to let the designs go. I stepped in front of him. Vincent placed a hand on my shoulder as a warning. I stared up at him incredulously while I waved a finger at Reece. "Tsk, tsk. Just like the bearded lady at the circus, you get one look for free. You need to pay extra for a closer look."
He tittered at the comment. Maybe he liked bearded ladies and was remembering some long-lost encounter. I don't know; maybe he just found me amusing. He slid away and slowly moved into the area I call an office. Vincent heeled, helping him into the most comfortable seat.
I entered the room, took my usual chair behind the desk, and leaned forward expectantly.
"I'm being murdered, Mr. Glass, and it's your fault."
And here I was, thinking this day was looking up.
If you'd care to follow David online, you may do so via these links:
Website:         www.davidboop.com
Facebook:      www.facebook.com/dboop.updates
Twitter:          @david_boop
You can purchase his books here:  http://a.co/bBlXBRP