A number of irksome matters have cropped up recently that have limited my time and made my life increasingly stressful. In days like these, all I want to do when I'm finally home is curl up with a well-written story that will transport me far from my day-to-day circumstances and revitalize me. Cat Rambo's delightful short stories are perfect for this and it's a large part of the reason I invited her to join us. To say her writing is quirky, unique and imaginative is not to describe even "half-et" of what makes it so enjoyable, since her language often blurs the boundary between poetry and prose. I am privileged to have her share her thoughts with us, here, on The Write Stuff, especially because her work is acclaimed by so many of science fiction's and fantasy's finest. Nancy Kress, for example, has this to say: "Cat Rambo's stories never go where you expect them to. They twist and turn and end up in strange places—sometimes very strange indeed. Both the stories set on the Earth we know (or think we know) and those set far away will surprise and delight you."
Cat Rambo lives, writes, and teaches atop a hill in the Pacific Northwest. Her 200+ fiction publications include stories in Asimov's, Clarkesworld Magazine, and The Magazine of Fantasy and Science Fiction. She is an Endeavour, Nebula, and World Fantasy Award nominee. Her popular online school, The Rambo Academy for Wayward Writers, has been in existence since 2010. For more about her, as well as links to her fiction, see http://www.kittywumpus.net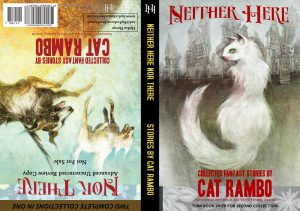 Cat, as we begin our conversation, I'd like to focus first on your December 2016 Hydra House publication, Neither Here Nor There.
From time to time, you write something that either makes me laugh outright, or else at least chuckle. For example the phrase, "given that fireflies are easily bullied", from your story The Toad's Jewel, or when Ionna, in the story Karaluvian Fale, asks, "Who created the official position of a Whatsit for me?", to which Kara replies, "Well, I had long needed a Whatsit". Are you by nature somewhat of a comic in your daily life? 
I have always loved wordplay and jokes, and always will, I think. My spouse would probably tell you that I am both easily amused and prone to silliness, but since he is the same way, it's a good match because we are always telling or playing jokes to or on each other.
While stories from your other collections have a distinctly earthly feel, like those in Altered America, which are explicitly stated to be so, the ones in Neither Here Nor There are entirely, to my mind at least, extraterrestrial. As one who has never written short stories, but rather novels, I feel compelled to ask if you deliberately set out to write a collection of stories with a common theme over a period of time, or do you anthologize works from stories created over the years because of their similarity?
I don't set out to write a collection, but because I write so many short stories – over 200 so far – they tend to accrete and get published as groups organized by theme. With Altered America, I'm returning to the same setting repeatedly, which happens more with my fantasy settings (Tabat and Serendib are both cities with multiple stories, and the former even has two novels so far) than my science fiction, although there too I have some places, like TwiceFar Station, that I return to repeatedly.
It's interesting as a writer to come back to a setting repeatedly for a number of reasons. One is that it becomes clearer and clearer in one's head and begin throwing off possible side stories. Another is that you can develop the location over time and have the events of one story affect what's happening in other stories set in the same location or with the same characters.
Although you write prose, your phrasing smacks of poetry: "Jack-knife sudden" and "velvet folds as soft as a baby's earlobe" from your story Love, Resurrected. In addition, your stories are sometimes non-linear, often alluding to, but skipping over events in a manner uncharacteristic of prose. This compels me to ask, even though I can find no evidence you've ever published any, do you write poems as well? If so, might I persuade you to share one?
I do write poetry as well, and won a couple of college contests when I was an undergraduate. I don't write it much anymore, but here's a sonnet from 1999, when I first moved out to PNW:
The sky's larger here, and closer somehow.
Lost in its enormity, I hardly miss you at all.
That ache's become a kite, flying low
in and out of clouds, in and out of sun,
poised high, string a melancholy thrum.
Sometimes its shadow falls across my face,
But I've grown used to that phenomenon
as I move in and out of shadow, in and out of sun.

All those poems say 'If ever I loved you' - but if?
Surely there's no question there, it's when,
when I loved you, and all the if is if
the box is sealed, if the string is tied and delivered elsewhere
or whether it sits close at hand, lid askew,
with all those painful longings showing through.
Your stories are distinctly yours, by which I refer not only to the lilt and flow of your writing, but also to the unexpected twist at their conclusions. Still, at various times when I read them, a passage will momentarily call to mind an author like Poe or Jacqueline Carey. Which of the countless ones whom you've read have influenced you most and why?
So many! I have always been a reader. Non genre people that have influenced me: John Barth, Willa Cather, Geoffrey Chaucer, Grace Paley, Gilbert Sorrentino. In the genre: Octavia Butler, Samuel R. Delany, Lord Dunsany, Robert Heinlein, Zenna Henderson, P.C. Hogdell, R.A. Lafferty, Ursula Le Guin, Joe Lansdale, Rachel Pollack, H.P. Lovecraft, Andre Norton, Cordwainer Smith, Theodore Sturgeon, Thomas Burnett Swann, and Jeff VanderMeer. To name a few.
Why? Because they are not afraid to experiment and at the same time not afraid to reflect life as it is. Because they love and respect language as much as they love this world and writing in it.
In June of this year, you visited Cuba and met Cuban science fiction author, Yoss. Will you tell us how this fortunate encounter came to be and elaborate a bit on both him and your time together?
I was lucky enough to be part of a family trip and when I knew I was going I asked around a little. The SF community is much smaller than one might think and a mutual friend introduced us via e-mail. Yoss and his wife came out to lunch with us and we had a great time talking about what the Cuban F&SF publishing scene was like. He plays with a band, so at one point he pulled out his harmonica to demonstrate and played a few bars, much to the astonishment of the tables around us. He was so much fun! I had prepared by reading his book Super Extra Grande; I've got another of his lined up on my Kindle now and hope to read more in Cuban F&SF in the future.
How long have you been playing/using Habitica and do you think you will continue to incorporate it into your day-to-day life?
I had made an account a while back but hadn't really done much with it until after talking with two of the founders at the Nebula conference this year. I have found it very handy for dealing with my tendency to get distracted and it's been helping me achieve my daily word count so I foresee continuing to use it.
Would you care to share something about your home life?
I have a cat named Taco and like to roast my own coffee beans with a hot-air popcorn popper.
I see you've stepped up to the plate again to assume another year as SFWA's president. Are you one of those individuals who find that added responsibility increases your productivity? How much does it impinge on your writing?
I find it eats up vast amounts of writing time if I let it, which was my main hesitation in agreeing to run for a second two-year term. By the time this term is over I will have spent five years total in SFWA office, and will be happy to let someone else steer the boat for a while.
SFWA has taken some nasty hits online over the years, yet you're still actively involved. Without delving into the negative—I'll leave the tawdry side of interviewing to others—what is it about the organization that keeps you so involved? Why do you recommend joining it to qualified authors?
SFWA keeps me involved because of the community of professional writers it represents. While it works hard to support, defend, inform and all of that, it also pulls a group together that is like none other in the world. Why do I recommend it? Because it has a tremendous amount of resources to offer and is well worth the membership fee. Beyond that, because they will make connections and friends there that cannot be made elsewhere.
Is there another Cat Rambo collection coming any time soon?
I'm currently looking at my backlog of science fiction and wondering the same thing myself. No matter what, there will be a mini-collection soon for my Patreon backers.
It is my habit to conclude my interviews with a Lightning Round because of the unexpected insights the answers sometimes provide. In as few words as possible, please answer the following:
 My best friend would tell you… I'm a person with a killer smile.
The one thing I cannot do without is… books!
The one thing I would change about my life is… I would make it easier to visit my friends.
My biggest peeve is… mean people.
The thing I'm most satisfied with is… I'm pretty fond of most of the aspects of this nifty planet we find ourselves on.
Readers can purchase a copy of Neither Here Nor There on Amazon at: https://www.amazon.com/Neither-Here-Nor-There-Rambo-ebook/dp/B01MQWD1GZ/
You can follow Cat via social media at any of the following:
http://www.patreon.com/catrambo
http://www.twitter.com/@catrambo
https://www.instagram.com/specfic/
https://www.goodreads.com/author/show/1014253.Cat_Rambo
SaveSaveSaveSaveSaveSave
SaveSave
SaveSave