This edition of The Write Stuff features Richie Earl, a fantasy author who hails from the South Wales town of Merthyr Tydfil. As Richie tells it, about 200 years ago, Merthyr was world renowned as a major industrial town, particularly for its production and exportation of iron. Around that time, a gentleman named Richard Trevethick built the first steam engine to run on a rail track. That journey began just a couple of hundred yards from where he now lives.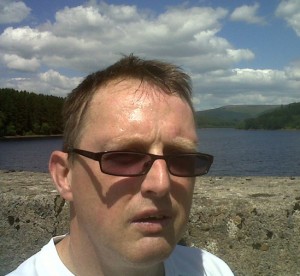 Richie Earl is the writer of fantastical fantasy adventures. Earl's first series, Tales of Finndragon, is a two part young adult adventure which started life as a bedtime story for his three children. They nagged him so much that he finally agreed to write a novel. Only one book was intended, but Earl came to realise that a second was required.
Earl was offered a publishing contract by a small Welsh press, but after much deliberation and discussion with the publisher, decided not to accept the offer. This proved to be a shrewd move, as he later discovered the press was struggling to meet the costs of publishing and has since moved its business solely into the field of printing.
Earl is currently working on two projects, a young adult paranormal mystery and another fantasy adventure, which may turn into a trilogy.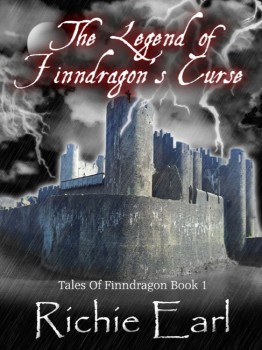 Richie, will you tell us a little about Tales of Finndragon's premise?
Three children racing against time, desperately searching for their missing father.
A medieval kingdom cursed by an evil wizard.
An ancient legend beneath our very feet.
The Legend of Finndragon's Curse is the first book in a unique, two book fantasy adventure series and is a fast paced, engaging and thrilling page turner. The story races along with plenty of twists and turns as it heads for the prophesized confrontation between the children and the evil Finndragon himself.
Combining wizardry and magic with modern technology and containing magical animals and terrible demons, The Legend of Finndragon's Curse is a rollercoaster of emotions that will make you laugh out loud and then fight to hold back the tears, as the children race against time to rescue their father. In doing so they have to kill Finndragon and put an end to the dreadful curse.
A young adult adventure that is sure to be enjoyed by all ages.
As you said, your children prompted you to put the story down on paper. Can you tell us a little more?
Emma, Megan and Scott are the middle names of my own children and their characters were born in bedtime stories I made up for my kids. Although older than my children, they have similar personalities, strengths and weaknesses.
I think subconsciously at first, the legend was based on my own childhood exploring the ruins of Morlais Castle in the town of Merthyr Tydfil, where I have lived all my life.
Presenting such a personal tale to a broader audience requires a certain amount of courage.
A couple of hours before the book went live on Amazon, I received an email from a small Welsh publisher expressing an interest in my manuscript, which had been sent out some six months before. I was subsequently offered a publishing contract, and agreed a deal. However, for various reasons, I didn't sign the contract, which I keep as a reminder that my work was deemed worthy of publication by a professional organisation.
If someone were to ask why they should buy your book, what would you tell them?
Anyone who enjoys a tale of adventure will be captivated by the childrens' relentless search for their missing father. Demons and medieval magic neatly dovetail with 21st century technology, and there are many twists and turns along the way.
Readers have compared the story with works by Enid Blyton and Tolkien, as well as other great writers and there have also been analogies drawn with The Wizard of Oz.
The Legend of Finndragon's Curse is a story that can be read and enjoyed by readers aged ten to 1500 years and older, although some of the vocabulary might be a little testing for younger readers.
Fantasy certainly appeals to children. What does it hold for you?
I started writing stories for young adults because I wanted to entertain my own children, but also hope that my books might have a wider appeal. I was greatly influenced by David Eddings, having read The Belgariad and The Mallorean when I was in my early twenties, and I just love creating realistic new worlds.
That's part of my fascination, too. Are you working on another fantasy adventure?
I'm currently working on an as yet untitled YA paranormal murder mystery, which I hope will be ready for release before the end of the year.
That was an unexpected answer. What else have you written?
I have written a collection of poetry and the first two books in a rhyming picture book series for young children. I intend to publish these projects at a later date, but for the immediate future I want to continue to concentrate on YA fantasy.
Since you are obviously multi-faceted, do you have any other pet projects you'd like to share?
Helping other self-published authors means a lot to me, knowing how hard it can be to market and promote one's work. Last September I launched a new blog which aims to provide a platform for such writers. One Thousand Worlds in One Thousand Words allows science fiction and fantasy authors to showcase the first one thousand words of their books. There are also author interviews and I have a few review partners who share reviews from their own book blogs.
Those who are reading this should know that your blog is how we first met. Since we are still becoming acquainted, with your permission, I'd like to ask a few personal questions.
 If you could have done anything differently, what would it have been?
I now realise that my true talent lies in writing and given the chance, I would ensure that I sought out and took advantage of opportunities to hone that talent from an early age.
What makes you laugh?
I think that I have a good sense of humour and can laugh at almost anything, from the classic old comedies such as Laurel and Hardy to more modern day comedies such as American Pie and Something About Mary. I particularly enjoyed Groundhog day and there is a slightly macabre element of that in the Tales of Finndragon series.
I try not to, but I am unable to stop myself laughing when someone falls over. However, my middle child (Megan in the books) can make me laugh by raising her eyebrows, or just by laughing herself.
What are a few of your favorite authors?
I grew up enchanted by Enid Blyton, reading virtually everything she ever had published, but probably my favourite books as a child were the Just William series by Richmal Crompton. David Eddings, as I mentioned earlier, has been a major influence on my choice of genre. Making History by Stephen Fry is one of my favourite books.
Alright, Richie. Lightning Round. The one thing I cannot do without is:
My smart phone
Hard copy or ebook?
Ebook – my phone is loaded with all the books on my to read list.
Favorite book:
Making History by Stephen Fry
Favorite Movie:
Chitty Chitty BangBang
Do you have a parting thought you would like to leave us with?
Don't forget the three Rs: Read – Write – Review
I couldn't agree more. Thank you for sharing your time and your thoughts with us.
Those of you who have dropped by to visit should know that Richie's books are available through the following sites:
 Amazon – for kindle
The Legend of Finndragon's Curse:    http://viewBook.at/FinndragonsCurse
Return to Finndragon's Den:               http://viewBook.at/ReturntoFinndragonsDen
Lulu Publishing – paperback:  http://www.lulu.com/spotlight/finndragon
Other pertinent links are:
One Thousand Worlds in One Thousand Words blog: http://onethousandworlds.blogspot.co.uk/
Tales of Finndragon Facebook Page:              https://www.facebook.com/finndragonscurse
Goodreads Author Page:         https://www.goodreads.com/author/show/6523833.Richie_Earl
Twitter (@finndragons):         https://twitter.com/finndragons
Book Trailer:               http://youtu.be/gXeh-pzIHSI
Lastly, so you can sample Richie's writing, he has agreed to provide a short excerpt taken from the beginning of Return to Finndragon's Den, during the children's search for the lost kingdom of Morgannwg (pronounced More-gan-oog).:
Once in the water, Emma held a heavy rock which helped her sink, and swiftly entered the watery tunnel. She swam as quickly as she could, shining the torch ahead. Even its powerful beam could only illuminate a few feet in front of her. The tunnel was almost a perfect cylinder, about six feet in diameter and snaked its way along. With each turn Emma hoped she might emerge once again from the chilly water. She was becoming concerned that she'd already travelled a long way, when in fact she'd only gone about thirty feet. She looked at her watch; she'd been in the water one minute. In another minute Megan and Scott would start reeling her in. She started to feel a little panicky, but she could hear Dad saying, "Stay calm, Em, once you panic you'll fall off." But that was when he was teaching her to ride a bike. Still she thought, don't panic, don't panic.
Her lungs were starting to burn, she could feel invisible arms squeezing her chest, slowly beginning to choke the life out of her. Emma gently let some air out of her lungs, still kicking her legs. She shone the torch upwards, the roof of the cave vanished and the tunnel turned ninety degrees upwards. This must be it, she thought. The way out, as she pushed off the tunnel floor and swam upwards for all she was worth.
Scott was looking very anxiously at his watch. "That's one and a half minutes now Meg. We're going to have to pull her out. Get ready." Megan took hold of the rope too, although they kept feeding it out. "Ten seconds and we pull for all we're worth!" Megan nodded. He counted down the last five seconds. "Five, four, three, two, one, pull!" He shouted.
"Wait Scott; give her a few more seconds!" Megan pleaded. They waited another ten seconds.
"We can't leave it any longer, we've got to pull now," and they did.
Emma reached the surface, and took in the largest gasp of the loveliest air she'd ever breathed; she felt under the water, reaching for the rope tied to her ankle, ready to give two huge pulls. But before she got a grip she was yanked downwards, back into the deep water, dragged feet first.
Megan and Scott pulled vigorously on the rope; hand over hand, both terrified that it may be too late to save Emma. The wet rope started to gather behind them, but then went tight and they couldn't pull any more, however hard they tried.
Scott cried out, "Emma must be stuck, or the rope has snagged on something. What do we do now, Meg?"
"I'll have to dive in and go and find her!" she said, less than confidently.
Emma clawed at the tunnel walls as she plummeted, she tried to reach down towards her ankle, but it was hopeless against the force of being pulled feet first. She dropped the torch, which was no use to her any more. She knew she couldn't survive being pulled back all the way through the tunnel. That one large gasp of air barely replenished her empty lungs, let alone prepared her for a return journey, however fast. Emma thought quickly, she had one chance to save her life, miss it and she knew she would die. As she reached the bottom of the vertical shaft she might have a split second were she could get some sort of a grip, before she entered the horizontal section.
Please note that Richie is offering  a Rafflecopter giveaway
Click the link to enter!