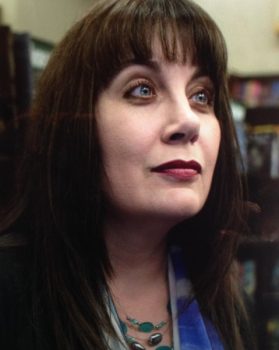 This week's guests are the writing team of R.A. "Bertie" MacAvoy and Nancy L. Palmer. R.A. MacAvoy published her first novel in 1983. All others she has published since then can be found online, along with awards she has won or for which she was nominated.
She studied various martial arts, starting at the age of eleven, but is no longer any sort of lethal weapon. She has raised and educated ponies and horses and been educated by them. She dived the waters of the Pacific Ocean, which was an experience as close to being in outer space as she is likely ever to know. She has been married to Ron Cain longer than she has been publishing books.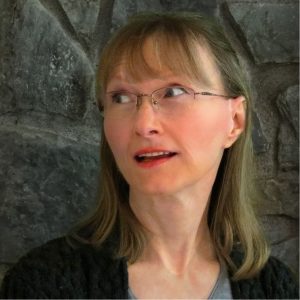 Nancy L. Palmer tells stories in words and pictures, and has done so as long as she can remember. She has looked carefully at small things and carelessly at large things until she's quite certain there's no difference really, and no space between them either.
They have recently published two novels through WordFire Press: Albatross, which was released in October, 2017 and which we will be featuring today, and Shimmer, which was released in January of this year.
Ms. Palmer, who has elected to speak for this duo, sent me this description of Albatross:
Accused of being a terrorist, a fugitive physicist takes flight in a gritty future world where the government has gone insane.
Rob MacAulay has followed the flight of seabirds all his life, as well as the elusive nature of quantum field theory. He is a brilliant physicist, famed for solving the Unity Theory, a tall, gentle man with glasses and a tweed jacket.
And he is framed as a terrorist.
Now, on the run from the police and under the steamroller of politics, MacAulay is on a flight of his own. As the EU fractures around him, MacAulay learns that his scientific reputation means little when the world is out to get him.
Thomas Heddiman, technical consultant with the police, finds himself both running with the fox and hunting with the hounds as he pursues MacAulay. But the tall, gentle physicist is an odd bird…and capturing him doesn't go as planned.
Nancy, what do you want readers to know about your book?
When Bertie and I began working on this book, certain political events seemed more like sinister whispers of dark potential, rather than circumstances we would actually be facing so direly here, now. But frankly I suspect Bertie of having more than one prescient bone in her body; she led the book down the dystopian path. Of course, she might say it's more accurate to say she followed the story down the path. But there was a great deal of urgency in writing this book; this urgency has only grown since its completion.
When a writer talks about big issues, it's sometimes necessary to come at them sideways. And often, these big issues are better understood through scaling down and looking at them through the lens of the personal. That's what we've done here.
How did the two of you come together?
I read my first R. A. MacAvoy book while I was still in college. I was blown away by her willingness to embrace difficult subjects, her ability to craft a sentence, her observation skills and her knack for finding just the right words to express those observations. Readers may find themselves returning to certain books again and again over the years, and that was definitely the case with me regarding Bertie's works. While I wouldn't claim to write like Bertie, I do believe that her works were formative in my own writing style.
Years later, we met via a mutual harping friend on social media. I was blown away when she asked me to help with Albatross. It was a challenge, but a wonderful experience. Bertie always quotes Thomas, "Don't thank me," when I express it, but I have to say I'm so grateful for the opportunity to have worked with her. And I'm glad that we stayed friends through the process!
What was your path to publication?
We were actually turned down for representation by an agent due, he said, to the presence of a homosexual relationship in the book. He said that nobody would buy such a thing. (Which I found confusing; I was working in a bookstore in 1990 and we sold a LOT of The Vampire Lestat. But, you know, not everybody lives in this century.)
Meanwhile, the urgency of the story was weighing on us. Rather than waiting and going through traditional channels, we self-published. Then I happened to meet Kevin J. Anderson of WordFire at a convention. I knew his work, and was really interested in what he was doing with WordFire. Bertie and Kevin knew each other from back before Bertie took her hiatus. We sent Albatross to WordFire's Acquisition editor, and there we had it. Much editing and flinging of electrons back and forth across the country, and we had our improved and honed manuscript and the sequel ready for publication.
And now we've got audiobooks! I love our narrator; you really need to hear him!
What are you working on now?
At this moment, I have a couple of short stories incubating. Basically stretching my muscles as a break from the multi-volume urban fantasy series I'm working on. And I've read part of a story Bertie was working on, but I'd lay even money that it won't stay a story. The novel is really her milieu. She's GOOD at short stories, despite being new to the form. But this particular work seems to want to expand, in my opinion. Of course, that's what she said about the last story of mine that I showed her, too. "This wants to be a book." And when Bertie MacAvoy is your writing partner? You'd do well to trust her. So I'm working on that.
What else have you written?
Bertie has written some very influential books, including Tea with the Black Dragon and The Book of Kells. I think that the books in the Lens of the World series were underappreciated; I'd like to see those brought before a larger audience. I love The Grey Horse… but really, it's hard to go wrong with a MacAvoy book. I recommend visiting her website and working through her bibliography!
I came from a strong oral storytelling tradition in West Virginia. I started revising fairy tales in elementary school, for spoken word telling. I've written stories to tell at storytelling events and conferences, which is fun and really trains you to listen to what you're writing. Poetry I've written, but never even tried to publish: it's too raw and emotionally open for me to want to expose it in public. But I do think it's good practice for understanding the weight of words.
I've written many, many short stories, some of them published in literary journals a couple of decades ago. Novels stuck in drawers; you know the type of bad writing that you have to get through to become a better writer. A couple of ghostwritten things that I'm contractually forbidden to name. I took some time off to home educate my fantastic son, but have eased back into the interlocking worlds of Science Fiction and Fantasy as he became more independent.
What is your writing routine?
Bertie and I are an interesting team. We both have serious physical limitations. We're fortunate in that we seem to be on an alternating schedule: when one of us is at low ebb, the other is at high tide, and so we carry on. Our work together is made possible by the wonder of e-mail and Dropbox. Otherwise we'd have paid our combined weights in postage, flinging manuscripts back and forth! Our routines seem to consist of WRITE WHEN YOU ARE ABLE. And then edit when you are able. Weirdly, my editing chores seem to time out most often to when I'm traveling, so most of my editing is done at a table in the shade, poolside, at some hotel or other.
Do you create an outline before you write? 
Generally, no. For the new series, though, I do have an outline. There are many characters and lines of action weaving in and out. I'm recovering from a traumatic brain injury last year and I can't keep these threads straight without help.
Why do you write?
Generally, because some character has come up and started telling me their story, and won't leave until I write it down. Seriously, the characters in my head are very real people to me. At least as real as the folks I went to high school with and lost touch with. Not trying to say that my classmates don't exist outside my mind! But my experience of them, now, doesn't exist outside my head. Think about it: my classmates exist, for me, as memories… a series of thoughts and connections in my brain. That's what my characters are, too… and I've been in touch with the characters more recently.
Sometimes a story will come to me as a question. For example, the last story I sold was prompted by my waking up in a very old bed and breakfast in Georgia, with the impression that a woman in old-fashioned clothing was standing by the foot of my bed, pointing out the window. When I awakened fully, there was nobody there. But I wondered: if there had been a figure there, who was she? Why would she be there? What was she trying to show me? And then a minor character (well, I thought she was a minor character; plainly she disagreed) popped into my head to ask those questions and find the answers.
How do you overcome writer's block?
Creative procrastination. I draw, paint, or sit down and practice my harp. Similarly, I overcome artist's block by writing. It's a really convenient way to trick your brain into doing something creatively constructive.
The worst block, for me, comes when I've had to face doing something bad to a character. It's hard. I care about these people. But conflict, and resolution (or failure of resolution) of conflict is an important part of an effective story. So, yeah—I have to throw bad things at people I like. Sometimes that's very upsetting. So I recover by painting something absolutely silly, or brightly colored, to give myself a bit of reprieve.
Do you have another job outside of writing?
I am also a mixed-media artist. My first writing publication came in elementary school; my first art sale not long after. I think that creative disciplines feed each other. Many writers are also musicians or artists or dancers or weavers; many in those other disciplines find themselves drawn to write. A visual artist friend of mine has been creating illustrated haiku every day this year. I don't believe you have to choose one over the other. You may devote more time and energy to one, but a second or even third creative pursuit can bounce your energy into new and exciting directions.
How do you pick yourself up in the face of adversity?
I've survived a number of tough things in my life: abuse, neglect, homelessness, poverty, hunger, familial loss, cancer, chronic illness. I've had a lot of wonderful things, too: a creek to play in, mountains to climb, good friends, the ability to express myself, people who love me and whom I love, and some of the best dogs in the world. (And some of the best-but-most-annoying cats.) The opportunity to be a positive force. Periods of strength and peace. I have honed the daily practice of focusing on those positive things. To put my thoughts toward what I CAN do, rather than what I cannot. It's really hard sometimes. But for me, changing that focus makes the difference, gives me the ability to direct what energy I have in a positive direction.
Do you have any pet projects?
I'm working on a frame story for a series of videos to help provide encouragement and possible structure to creative people working despite having an invisible illness. Chronic illness can be very isolating, and really compounds when in conjunction with writing and visual arts, which are typically pretty solitary pursuits. As humans, we need connections. Solitude can be good: loneliness tends not to be. It contributes to depression, which many in our community are fighting as a corollary of their illness.
And it can be very frustrating to be in the middle of a project and *wham* find yourself completely incapable of continuing. I think it might be helpful to be more visible in that experience… I'm something of an introvert, but I know that knowing someone GETS my experience has really helped me in the past, so I'm willing to open myself up that way, to help somebody else feel less alone. That if I can get through it, maybe they can too.
But I'm no self-help guru. So anything I make is going to be weird and colorful, and probably have fairies and spaceships. And tea. And kittens, definitely kittens.
Thank you, Nancy, for your time. I'm only sorry that circumstances prevented Bertie from participating. I'll conclude with The Write Stuff's traditional Lightning Round, after which I'll present an excerpt from Albatross, followed by your book buy and social links. In as few words as possible, please answer the following:
My best friend would tell you I'm a: magnet for lost, injured, and orphaned animals.
The one thing I cannot do without is: books
The one thing I would change about my life: chronic illness
My biggest peeve is: willful ignorance
The person I'm most satisfied with is: my amazing son, Atticus
Do you have a parting thought you would like to leave us with?
Nobody in the history of this planet has ever seen the world through your eyes, or spoken with your voice. If you want to tell your story, tell it. If you want to sing a song, lift your voice. If you want to make a thing, make the thing! Creativity is in our nature.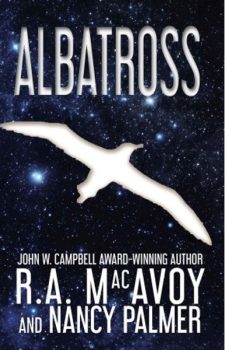 Albatross Excerpt:
Thomas himself was already by the café, though not yet at the table he had selected. That particular table, offering visibility on three sides and cover at the back, had not yet become vacant. He was waiting like a falcon waits in a tree for that table, although his tree was merely a public bench. He was not wearing his neutral camouflage today, because his fleece jacket and leather shoes were gone: disappeared. Up in smoke. He wore a grey sport jacket and office-wear pants and his feet were pure American: shining mesh running shoes with sky-blue trim. At ten minutes after nine the table emptied and he swooped down into a chair before the waiter could clean it off. The waiter looked meaningfully at the single man taking up a table for four.
"People will be joining me," Thomas said, in what he considered a calm, unthreatening voice. The waiter backed off as if burnt. He put a cup of coffee before Thomas and left him unbothered.
Time passed. The café was now empty. Thomas looked out toward the street, his head unmoving, his eyes focused on everything. It was twenty-five after when a tall figure approached along a small street that broke into two streets around the café. He watched the man come straight toward him, stepping on long legs, his arms hanging at his sides. He saw Rob MacAulay coming towards him for the second time, and it was as strange an experience as it had been the first time.
Rob saw Thomas Heddiman in full. The gray figure was so still, sitting there. Like a painting, so still. Unmovable as fate. Looking straight at Rob. His narrow eyes were brightened to amber by the morning sun, his hair polished almost white. No expression in those eyes. No emotion. Perfect waiting. Instead of causing fear in Rob, that face made his heart beat slowly.
Thomas himself saw Rob come toward him back-lit by the morning. He saw the large eyes only half-open, the triangular face so mild. He approached the outdoor tables and began maneuvering among them, never looking away from Thomas.
Closer.
The fugitive's face was so pale under that dark hair, all white but for two wind-chafes under the cheekbones. His mouth was closed. Unsmiling, but soft. The intimacy of his presence was unbearable.
Then MacAulay was there, and he put his large hands carefully on the table. It seemed he would sit down across from Thomas.
To prevent this, Thomas rose. "Follow me," he said, and he flipped a few bills on the table, catching them under a salt shaker. He did not look to see if Rob followed.
He led around the café to a parking garage, which was on a sharp hill slant, and from this angle it seemed to descend straight into the ground. Light footfalls behind were the only sound Thomas heard as he opened the heavy door to the garage stairwell.
The stairs were steep and the light dim after the morning sun. Thomas stepped firmly down. He did not look back.
He heard Rob MacAulay behind him, walking close and in the same rhythm. With such long legs Thomas thought it would have been natural for MacAulay to go down slowly, two steps at a time, but he did not. He paced him exactly.
Down one level. Down two. On the third level the light was out and they moved together, feeling their way. On the fourth and deepest level his rented car was parked, and Thomas pushed his way into the garage, hearing nothing behind him.
Orpheus and Eurydice, he thought, and still did not turn.
Book online sales links:
Wordfire:       http://wordfirepress.com/books/albatross/
Amazon:        https://www.amazon.com/Albatross-1-R-MacAvoy/dp/161475554X
Social links:
MacAvoy:       https://ramacavoy.com/
Palmer:          https://nancypalmer.net
Instagram:     https://www.instagram.com/moonsownsister/
Twitter:          @moonsownsister