Today, The Write Stuff features Michelle Weidenbenner. Both her YA Thrillers, To Cache a Predator and Scattered Links won Readers' Favorite gold medals this year. She has won other awards as well. This is no small accomplishment and this is not the first time her name has come up on this website. I had considered featuring this remarkable writer early on, but instead she pointed me to Oliver Dahl, my first interviewee. It's her turn now. When I asked her to describe herself, this is what she told me: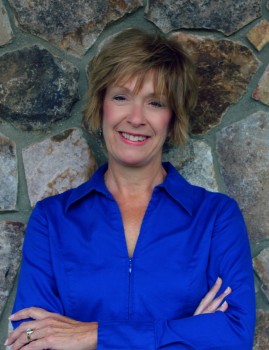 Michelle is a full time employee of God's kingdom, writing and encouraging writers every day. She's often a sucker for emotional stories, her sensitive side fueling the passion for her character's plights, often giving her the ability to show readers the "other" side of the story.
She grew up in the burbs of Detroit with five brothers. No sisters. Each time her mom brought the boy bundle home from the hospital Michelle cried, certain her mom liked boys better than girls. But when her brothers pitched in with the cooking, cleaning, and babysitting–without drama, Michelle discovered having brothers wasn't so bad. They even taught her how to take direct criticism without flinching, which comes in handy with book reviews.
Michelle is living her dream–writing every day and thanking God for the stories He puts in her path. She's a random girl who writes in random genres.
When Michelle isn't writing she's winning ugly on the tennis court. She's known as "Queen of the Rim Shots." No joke. It's ugly.
There's not enough space here to shine a spotlight on both her gold medal winners, so we've decided to focus on Cache. The Midwest Review has this to say about it:
Cache a Predator isn't a one-dimensional story of one man's vendetta: it's also about mystery and suspense wrapped up in the modern art of geocaching (thus the title)…that's part of the allure of Cache a Predator, which uses this urban game to the best advantage in the context of a urban mystery.
Any who look for deep psychological elements in their mysteries will find this a satisfying read, moving beyond the usual one-dimensional focus on mystery to reach out and tweak the reader's heart.
—D. Donovan, Reviewer
Here's an excerpt: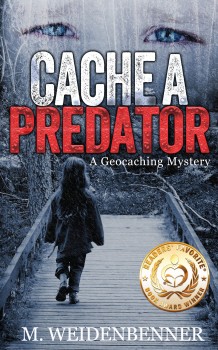 When she finally fell asleep, she dreamed she was a child again. That she and her brother were playing tag outside near the barn, and their mother was calling to them, standing in the front yard with a kite in her hand. She played out some of the string, and the kite's rainbow colors sailed back and forth in the wind. She said, "Come, I'll teach you how to fly a kite."
Sarah and Dean giggled and ran to her, running against the wind. But the wind's force pushed Sarah back and made her run harder to gain distance. She gulped air and lost her breath. The more she ran toward her mother, the farther the wind pushed her back. She yelled, "I'm coming, Mama." But the wind took the sound of her words away. Her mama kept waving for them to come.
Dean held Sarah's hand. Little brother, Dean. His tiny arms and legs like thin tree branches. He was always small for his age and sickly. She tightened her grip on his hand, certain the wind would blow him away from her if she didn't. "Hold tight, little brother. We'll get there."
But the more they tried, the farther they fell back, until finally Sarah couldn't see her mother anymore. She'd disappeared. The wind died, and their father loomed above them. His yellow teeth, his bent nose, and the scar on his forehead stared back at them. When she heard his deranged, boisterous laugh she screamed, which made him laugh all the more.
Sarah bolted upright in bed, her heart racing. Perspiration crawled down her neck like ants marching up a tree. Why had the old man suddenly appeared in her dreams here in her mother's room? It was like he was taunting her, saying, "You can't escape me." Oh, how she hated him.
Chilling! Michelle, in your own words, will you tell us what this story is about?
Cache a Predator is a story of one man's pursuit to gain custody of his five-year-old daughter. But first he must convince a judge, child protective services, and a deranged vigilante that he's a loving father.
I always ask about the underlying story, the story behind the story. Will you fill us in?
So many children are living with their grandparents because of illness or unemployment. We had to help our son and daughter-in-law with our grandgirls for a period of time when our son lost his job. During that time, I discovered many other grandparents were raising their grandchildren too. My oldest granddaughter helped me brainstorm this series of chapter books. I learn a lot from her.
What are you working on now?
Several different things at once. One is a YA novel about a world where kids with powers are shunned and killed. Another is a mid-grade novel about a twelve-year-old boy who has to save the canine race. Both are supernatural. I'm also working on a few non-fiction projects and will publish the second book in my children's chapter book series, Éclair Meets a Gypsy, late this year.
You do work in a number of genres. Why is this?
I write in random genres because I can't seem to hone my imagination to only one. I write the stories that move me.
Why is your writing different?
My writing seems simpler, easier to read. There isn't a ton of description, but enough to set the stage. I've been told I write about difficult subjects. This is true, but again, it's what seems to move me to a strong emotion.
That said, why should someone buy Cache?
Readers who like a quick thriller, one they can't put down, and are interested in learning about geocaching will like Cache a Predator. It's hidden in geocaching sites all around the US and Canada to bring awareness to child abuse. The books' goals are to travel to all 50 states and each Canadian province. Some books have traveled more than 5000 miles. It's fun to watch how they travel, but it's really fun to chat with geocachers so far away.
Tell us a bit about your path to publication.
I had an agent for a year and a half who was shopping my YA novel (which hasn't been published yet) but after a few rejections, and waiting for a publisher, I decided to self-publish. I'm an entrepreneur spirit—always have been. I wasn't afraid of the marketing and the extra work involved in seeing my books in print. What I was afraid of was not publishing a perfect book. But is there such a thing? I learned that books are products and not everyone likes the same brand. However, I'm nit-picky about editing my work. I probably spend the most money on editors.
Do you have a writing routine?
I'm totally blessed that I can write full time. I typically get to my office around 8:30 or 9:00 and start with answering emails and then jump into my projects for the day. I wear many hats, but I recently hired a virtual assistant to help handle promos. I hope it frees up more writing time.
I have a desk treadmill so I work (like right now) while I walk about 2.0 miles an hour. In a typical week I walk about 18 miles. I don't kill myself on it, but it feels great to move while I write.
As I told our visitors at the outset of this series, I am featuring award-winning authors. Please tell us about the awards you have won.
Scattered Links and Cache a Predator both won the GOLD Medal Award in the Readers' Favorite International Awards. Scattered Links has won several other awards too: It was the Kindle Book Promo Award winner and a BRONZE Medal winner in Dan Poytner's Global eBook Awards in the multi-cultural literature category. The fact that it won something in the "literature" category had me dancing on the sofa.
Athletic as you are, I can see that! And so many contests.
Indie authors have to enter contests to win. Not everyone can afford them though. Contests cost money to enter. So I'm a little choosy on which ones I enter. It's also important to enter the right category. Some categories are more difficult because there are more entrants. Authors have to research sites and analyze what they see. Is the payout worth the expense?
What else have you written?
I write for a nurses' aide magazine because I love the elderly, and it's my way to help in their care. I'm also working with my pastor on articles to teach other pastors how to grow their churches. Like I said, I'm a bit random about what I write. I like to have a purpose though and typically write for a reason—to help a certain group.
I wrote Scattered Links after adopting our daughter from Russia. So many adoptive parents think that love is enough when they adopt or foster a child, but sometimes love is not enough. I wrote that story to bring awareness to RAD, reactive attachment disorder.
To give our visitors a better sense of Michelle, the person, let's hear a little about your "other" life. Do you have another job outside of writing?
Does mother, wife and grandmother count?
Where would you live, if you could live anywhere?
I love where I live—close to my family. It's not the most beautiful place, but my family matters more than anything to me, so it's worth the compromise. But if I could move my family to the most beautiful place it might be to Colorado or New Mexico.
What is your dream job?
I'm living my dream job. Some day I want one of my books to make it to the big screen. Hey, a girl can dream, right? So I keep working at making that dream come true.
If I spoke to your closest friend about you, (s)he would tell me:
"Michelle is purpose-driven and goal-oriented. She works hard at what she loves, almost to a fault."
I'm not the type to sit around and chit-chat if there isn't a purpose, but I'm working on it. I know it's important to interact and establish relationships, but sometimes all I can think about is getting back to work. To write.
Do you have a favorite quote?
"I think there should be a rule that everyone in the world should get a standing ovation at least once in their lives." ― R.J. Palacio, Wonder.
Before we bring this to a close, Michelle, a few Lightning Round questions:
The one thing I cannot do without is:
Tennis, but I know some day I will have to give it up. I'm getting older. I won't be able to place forever.
Hard copy or ebook?
Ebooks rule because I can take them anywhere and open multiple ones at a time, flipping through them easily. However, if it's a resource book I want to dog-ear the pages and hold it.
Favorite book:
For this week: The Rosie Project, by Graeme Simsion. I just finished it and loved it. But I have a different favorite every month. I give a lot of FIVE-STARS because I know how difficult it is to write a good story with all the necessary elements and proper editing. Last month it was Wonder, by R. J. Palacio.
I want to thank you so much for joining us, Michelle. Visitors who want to learn more about Michelle or are interested in buying her books can do so at the following links:
Twitter: @MWeidenbenner1
Blog: http://randomwritingrants.com
Amazon Author Page: http://www.amazon.com/Michelle-Weidenbenner/e/B00E21RMNG/ref=ntt_athr_dp_pel_pop_1
264 pages
Regular Price: $3.99
ISBN: 978-1490936390
Cover artist: Avalon Graphics
Random Publishing, LLC
Amazon Buying Links:   http://amzn.to/16MjTyP
Amazon Print Book Link: http://www.amazon.com/Cache-Predator-A-Geocaching-Mystery/dp/1490936394/ref=tmm_pap_title_0?ie=UTF8&qid=1407178641&sr=1-1