This week's author, Dan Grant, has always loved stories and intriguing tales, especially suspense and thrillers that weave science, medicine, or technology into the fabric of the drama. Dan's focus is thrillers. His debut novel, The Singularity Witness, is a thriller that mixes science, medicine, and technology into story threads. He is a licensed professional engineer with degrees from Northern Arizona University: a bachelor's in electrical engineering and master's in college education and English with an emphasis in creative writing. His engineering work has provided opportunities to work with a variety medical and technological applications, as well as get behind the scenes at military facilities. Those experiences have provided conspiracy threads that form a broader storytelling tapestry.
For The Singularity Witness, Princeton University was selected as a story backdrop and a place for characters to take root because of its unique setting, historical connections, and its active research programs. For a year, Dan and his wife lived outside the town limits and fell in love with the place. Dan currently lives in Colorado, where he's working on his next thriller, entitled Thirteen Across.
I asked Dan to provide The Singularity Witness's premise:
What happens when a radical technology ushers in an ominous future? Governments and corporations will kill to control it. So murder and abduction are just the beginning.
When a clandestine research lab disposes of its test subject and kidnaps a U.S. Senator to protect its secrets, those events trigger a federal investigation. The covert program requires the services of Thomas Parker, a Princeton University professor and cutting-edge neurologist, to deliver their breakthrough achievement. And FBI Special Agent Kate Morgan needs Parker to help her infiltrate the secret lab. They discover that no sacrifice is too great for a cause that unravels the mysteries of the mind and changes the world forever.
Parker and Morgan are faced with the dilemma of advancing the revolutionary technology in order to solve the senator's abduction, save The Singularity Witness  and others, and survive. Who is The Singularity Witness? Read it to find out.
The Singularity Witness  plays off "what if" scenarios facing current medical and biological research endeavors. Some of those initiatives may fundamentally change social and geopolitical landscapes forever.
What do you want readers to know about your book?
Mix some science, medicine, technology, and conspiracies together and have some fun. The Singularity Witness  finds ways to make these areas understandable and fun. It strives to be an "intellectually stimulating thriller." Not only will readers be entertained but they will learn a few things too.
The Singularity Witness  plays with "what if" scenarios facing modern-day scientific and medical research efforts. It explores complexities to scientific achievements not yet realized.
I like research-based stories. I do field research as much as I can (rather than just make stuff up to fit the structure of the story). Many of the places and locations are real. I try to find ways to layer in setting and scene to add more story depth.
Aside from the plot, is there a story behind it?
As with all major medical discoveries, there can be doors that "lead to deep, dark passages." How far will governments and power-hungry groups go in order to secure a technology that can rewrite geopolitical landscapes and control or influence mass populations? Where will ethics fall?
Why is your writing different from other authors in this genre?
The Singularity Witness  takes a different approach to the topic, blends in murder and mystery, and presents a new twist to neurological science. What is neurological singularity? Read the book to find out.
What was your path to publication?
The original concept was my master's thesis, written in a screenplay format. It was too close to concepts similar to reading the minds of primates (perhaps with influences from Planet of the Apes). Years later, I wrote a completely different version using some of the characters and attended writer's conferences to help improve my narrative style and writing. Even though the story concept had meat to it, my writing was average. Everything went in the desk drawer while my engineering career took off. The manuscript deserved its interim fate. The writing wasn't good enough. Looking back, I clearly did not work hard enough on the craft of being a good storyteller much less a good narrator.
Many years later, my wife heard about Pikes Peak Writers Conference on the radio. I attended the conference, and during a stretch of four years, I completely rewrote the entire novel. During that time I crafted a theme, deeper subplots and storylines, found interesting secondary characters. I had to relearn lessons, overcome bad habits, and found a story.
Oddly enough, during the duration from my college thesis to publication, much of the emerging technology that I researched actually came to fruition. I had to find explore new technologies that sit on future horizons.
Pikes Peak Writers was a great re-start. Since then I have attended ThrillerFest, Rocky Mountain Fiction Writers, and SuperStars Writers and worked to refine the story. Each group has made me a better writer. I hired an editor and worked with a peer group to tighten the story and find my storytelling voice as well.
My master's thesis was May of 1994. My publication date is October 2018. Yep. That's a big span of time. But guess what? I never lost sight of my dream to be an author.
What are you working on now?
I am writing more of a catch-me-if-you-can thriller set in Washington, DC, entitled Thirteen Across. It still has a fabric of science and medicine as a secondary story element. This story focuses on FBI Special Agent Kate Morgan who is forced to confront a dark secret from her past.
After that is The Singularity Transfer. Thomas Parker and Kate Morgan face an old nemesis and are confronted with overwhelming odds. Pandora's box is open. And the fate of the world is at stake.
Are there any awards or honors you'd like to share?
I have several Starred Reviews on The Singularity Witness. These can be found at:
Pacific Book Reviews
http://www.pacificbookreview.com/the-singularity-witness/
Hollywood Book Reviews
http://www.hollywoodbookreviews.com/the-singularity-witness/
Do you create an outline before you write? 
I'm an outliner but love the freedom to free-write between plot points. Outlines can be tweaked, changed, or redirected, but I like knowing my ending and story destination.
I like the hero's journey because of my screenwriting exposure. Not all stories are hero's journeys but there are a lot of tools in that toolbox to use.
How do you overcome writer's block?
Plotting helps some. There's always a plot point to work on, investigate. If not, go back a revise and edit. Always try and push forward. Somedays there may only be 500 words written. Other days 5,000 words. Writing is rhythm. Find your rhythm and just do it.
How do you think you've evolved creatively?
I had to relearn how to write and how to be better at narration and craft several times during my writer's journey. My original narrative style was flat and lifeless—concept and ideas weren't enough. I went from wanting to write like Clancy and Crichton third-person omni to developing a more modern thriller pace and style and third-person close.
Pace and style and rhythm came over the past two years.
Writing is rewriting. I had to learn be a better editor. Trim words, long passages, and info dumps. Sometimes, shorter really is better.
Tell us about your writing community.
I support four writer's groups: Pike Peak Writers, Rocky Mountain Fiction Writers, SuperStars Writers, and International Thriller Writers. Each writer's group is unique and different, yet I've been able to network with like-minded people that have helped make me better. People who inspire you and nurture the muse.
Every writer should have peer readers and use an editor… listen to what others say and take that information and try to be better at your craft.
Do you have another job outside of writing?
Licensed professional engineer.
If you could do anything differently, what would it be?
Changing the past is dangerous.
For me, work harder at being a better writer the first time… without excuses, distractions, and don't stop until my writing was worth a damn. But then I wouldn't be an engineer.
But of course I think my writing is better now because it sat; I'm a far better storyteller for it.
What is your greatest life lesson?
More like words of wisdom. Three things:
– Life is short. Take chances and risks (without injuring yourself or others). Explore the world and see the sights. Do things different than anyone else. Dare to dream.
– It's okay to fail. Learn from your mistakes and those from others.
– Surround yourself with people you care about.
Who are some of your favorite authors?
Where to start? There's so many and no matter what I'm going to leave someone out… here is goes… Michael Crichton, John Grisham, Tom Clancy, Dan Brown, Tess Gerritsen, Steve Berry, and James Rollins. There's so many more!
Lightning Round (answer in as few words as possible).
My best friend would tell you I'm a: nerd.
The one thing I cannot do without is: air.
The one thing I would should change about my life: I have lots of areas that need improvement… just ask my wife.
My biggest peeve is: long lines, rude people, traffic.
The person/thing I'm most satisfied with is: (person/people) = family; things (engineering degree, licensed professional engineer, wrote and published a novel).
Do you have a parting thought you would like to leave us with?
Encourage others: Find time and ways to give back. Mentor and teach. Spend time with others. In your own way, leave the world a better place than you found it.
Here is an excerpt from The Singularity Witness, followed by links where you can follow Dan and others where you can purchase his book:
Excerpt: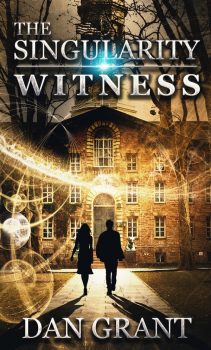 FAREWELLS
ANCRI, Undisclosed Research Facility, West of Princeton, New Jersey
Caroline Wang knew the authorities would view her atrocities as murder. No doubt they would be right.
She shook off the thought and cast her gaze down the intersecting sterile white corridors stretching before her. Deep inside her chest, her heart shuddered as pale lighting and colorless tile seemed to run forever. Trepidation smothered her like a swimmer caught in a swift undertow, her body submerged as an endless black tide towed it away from a distant, unreachable shore.
Caroline soaked in the foreboding silence before reaching back into the morgue and gripping the gurney's stainless steel handle. In the corridor, a wheel on the gurney wobbled and competed against the echo of her shoes clicking on flooring as she navigated it through a maze of similarly placid corridors.
Caroline stopped at a nondescript door marked INCINERATOR.
Placards read: DISPOSAL OF MEDICAL NUCLEAR WASTE IS PROHIBITED. AUTHORIZED PERSONNEL ONLY.
As the institute's neurogeneticist, a biological data-farmer of sorts, she was responsible for keeping their Genesis participant alive as long as possible. But that had been a grave mistake.
Caroline cleared her throat, gripped the gurney's handle tighter, and shoved it through the hinged door, which slammed closed like a blast of thunder.
She'd never visited the incinerator room. Disposal wasn't in her job description. Gray masonry walls surrounded her. The floor's dull finish soaked up most of the artificial light. A three-foot, dish-shaped door protruded from the far wall. Beside it hung a console packed with buttons and gauges.
Angst surged inside her as she searched for composure, while her vision settled on the crisp white sheet covering the body on the gurney.
"You thought I was your friend," she said. "You were wrong."
Her gaze found the surveillance camera above the door. Through the lens of the camera, she could almost see an audience of detached observers watching from comfortable offices located elsewhere in the facility.
The bastards were watching.
They should be here. Not me.
How many rats had fled the sinking ship? Nearly all of them. Most of her colleagues had resigned, citing philosophical differences. Others disappeared along with all traces of their existence. Her mistake was staying, naively thinking she could make the breakthrough. But in a year's time, the institute had gone from resembling a thriving metropolis to a desolate ghost town. Those who stayed kept silent. Opinions were discouraged. And Caroline became no different from the hired boatman who ferried the damned across the river to the shores of Hades.
She slammed her palm into an orange, mushroom-stemmed start button. A pneumatic eruption roared to life behind the thick door of the incinerator. A thermometer needle crawled upward on an analog dial.
A waft of air filled her nostrils. The room felt different as microscopic particles escaped ventilation filters as a blower fan hummed to life. She knew what that meant. Air pressurization was a safety protocol—positive air flow introduced into the room to provide back-pressure, to keep fire and fumes from expanding, in case of a malfunction. She half-hoped the furnace would explode in a life-consuming blast, saving her from completing this mission. Disposal. Her current mandate.
But Caroline was not so fortunate.
A tear streaked down her cheek, and she fought a swelling watershed behind tired eyes.
"You didn't deserve this. All you wanted to do was impress your father."
Caroline stripped back the sheet to expose the naked body past a bony collarbone. Amy Richards, pale and stiff, was barely recognizable. Only a grotesque outer shell remained of a once-vibrant woman. Her head was shaved, including her eyebrows. Alien-like deformations and sutures arced across a leathery scalp. Thin, hair-sized lines connected the dots on her scalp to larger dime-sized gray circles, the obscure tapestry forming a fragmented set of geometric patterns. Her eyelids were sunken and shut, and Amy's mask hid a recent, horror-filled past.
A year earlier, Amy had volunteered as their Genesis participant.
Now she was dead.
"This is how we repaid you," Caroline said, tracing her fingers along Amy's scarred forehead. Cold skin felt taut and rough, like starched linen.
Amy's death had shown her that the institute's Genesis program was a distorted conquest.
"I won't let your sacrifice be in vain," she said behind twitching lips.
Shielding her movements from the camera over her shoulder, Caroline withdrew a core biopsy needle from her lab coat. Using choreographed movements, she uncapped it, leaned over, kissed Amy on the forehead, and thrust the needle into Amy's heart. After rising, she etched AMY RICHARDS RIP in the pale skin along the centerline of the body with the tip of the needle. She recapped it and returned it to her coat. Next she retrieved an iPhone, held it tight to her chest, and tapped the camera feature. The phone went back into her coat pocket too.
Evidence. And an insurance policy.
The world had to know what they had done.
Caroline folded back the sheet and flattened the edges over the body. Reluctantly, she turned back to the incinerator.
With a nervous hand, she opened the door and yanked the holding carriage out of the fire box. The protective ceramic coating on the carriage rails retained little heat, allowing Caroline to manipulate it with bare hands. She positioned the gurney parallel to the carriage. Her breathing stalled as she slid one arm beneath Amy's torso, her elbow cradling the head, and the other hand below the buttocks. Amy's emaciated body was lighter than expected, and Caroline had no problem laying it onto the carriage.
"Walk with God, in a place where no harm will come to you again," she said over the knot forming in her throat. "Someday, I hope you'll forgive me."
Caroline shoved the carriage into the fire box and closed the door. After flipping up a clear plastic protective cover, she pressed a red button on the console. An inferno rumbled to life behind the door. The temperature dial on the incinerator leapt toward the 1600 degree Fahrenheit mark, where the unit would cremate the body in an hour and destroy all evidence.
Almost all evidence.
She stared at the incinerator, hoping to steal some warmth and overcome the soul-crushing cold residing inside her. It was a vain effort.
This was a funeral.
And she was the only one who had come.
As instructed, her efforts to get to know Amy Richards had been pretense, subtle coercion. Now Caroline was alone, with no one to give a eulogy when her time came to depart this life. It was a time that might come soon.
She knew too much.
And those who knew too much became liabilities.
Liabilities, well, they disappeared—like Amy.
Long black hair splashed across her shoulders as she collapsed across the empty gurney and sobbed. She wondered if the audience watching on surveillance monitors had returned to regular duties, as if this moment, the death of a human being, meant nothing.
Their Genesis participant was gone.
The world had to know the truth.
Caroline pressed a shaking hand against the pocket of her lab coat.
All will know the truth, and the truth will set us free.
Social links:
Website:         http://www.DanGrantBooks.com
Facebook:      http://www.Facebook.com/DanGrantAuthor
Twitter:          https://twitter.com/DanGrantAuthor
Goodreads:    https://www.goodreads.com/author/show/7097347.Dan_Grant
Book online sales links:
Amazon (print & e-book)
https://www.amazon.com/Dan-Grant/e/B07GT8X81P/
Barnes & Noble (print)
https://www.barnesandnoble.com/w/the-singularity-witness-dan-grant/1129410776?ean=9781732504011
IndieBound (print)
https://www.indiebound.org/book/9781732504011
Tattered Cover (print)
https://www.tatteredcover.com/search/site/the%20singularity%20witness
Kobo (e-book)
https://www.kobo.com/us/en/ebook/the-singularity-witness-1
Smashwords (e-book)