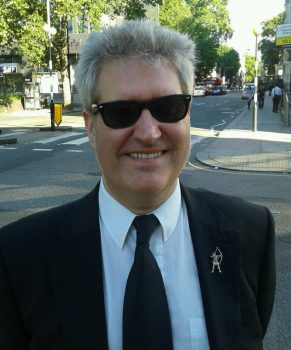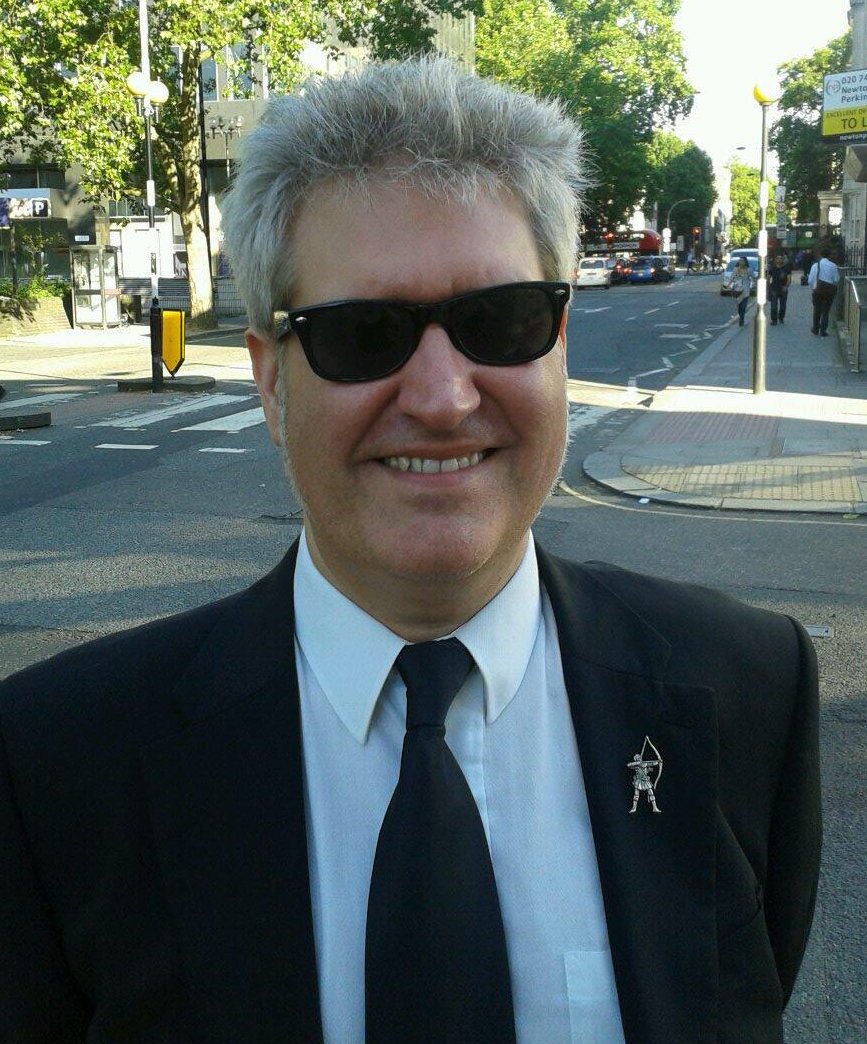 Paul Kane is the award-winning, bestselling author and editor of over eighty books, including the Arrowhead trilogy (gathered together in the sellout Hooded Man omnibus, revolving around a post-apocalyptic version of Robin Hood), The Butterfly Man and Other Stories, Hellbound Hearts,The Mammoth Book of Body Horror andPain Cages(an Amazon #1 bestseller). His non-fiction books include The Hellraiser Films and Their Legacy and Voices in the Dark, and his genre journalism has appeared in the likes of SFX, Rue Morgue and DeathRay. He has been a Guest at Alt.Fiction five times, was a Guest at the first SFX Weekender, at Thought Bubble in 2011, Derbyshire Literary Festival and Off the Shelf in 2012, Monster Mash and Event Horizon in 2013, Edge-Lit in 2014, HorrorCon, HorrorFest and Grimm Up North in 2015, The Dublin Ghost Story Festival and Sledge-Lit in 2016, plus IMATS Olympia and Celluloid Screams in 2017, as well as being a panelist at FantasyCon and the World Fantasy Convention, and a fiction judge at the Sci-Fi London festival. A former British Fantasy Society Special Publications editor, he is currently serving as co-chair for the UK chapter of The Horror Writers Association. His work has been optioned and adapted for the big and small screen, including for US network primetime television, and his audio work includes the full cast drama adaptation of The Hellbound Heart for Bafflegab, starring Tom Meeten (The Ghoul), Neve McIntosh (Doctor Who) and Alice Lowe (Prevenge), and the Robin of Sherwood adventure, The Red Lord for Spiteful Puppet/ITV narrated by Ian Ogilvy (Return of the Saint). Paul's latest novels are Lunar (set to be turned into a feature film), the Y.A. story The Rainbow Man (as P.B. Kane), the sequels to RED—Blood RED & Deep RED—the award-winning hit Sherlock Holmes & the Servants of Hell and Before (a recent Amazon Top 5 dark fantasy bestseller). He lives in Derbyshire, UK, with his wife Marie O'Regan and his family. Find out more at his site www.shadow-writer.co.uk which has featured Guest Writers such as Stephen King, Neil Gaiman, Charlaine Harris, Robert Kirkman, Dean Koontz and Guillermo del Toro.
When I asked him to describe Arcana, Paul provided this:
Welcome to an alternate world where magic really exists, and where those who practice it are hunted down by a police division called The M-forcers. But some groups are fighting back! Callum McGuire is a new M-forcer who once worked the quiet streets of London (England's capital is now Chelmsford, scene of the original Witchfinder General Matthew Hopkins' greatest victory). An orphan, Callum's been brought up to believe all magic is evil. But the more he sees of The M-forcers' cruel methods (implemented by General Nero Stark, and his second-in-command Sherman Pryce), the more he begins to question whether or not they are right. And when he unwittingly encounters a member of the rebel group called Arcana, he's introduced to their world and realises that nothing will ever be the same again. Join award-winning and bestselling author Paul Kane (the sell-out phenomenon Sherlock Holmes and the Servants of Hell, the Hooded Man series and the bestselling Before) as he shows you a kind of magic you've never seen…
What do you want readers to know about your book?
Arcana is basically a book about the underdog, about people who are in a minority fighting back against a crooked system. It's about how power can corrupt and how easily people can be controlled or the truth manipulated. I think that's an important message, especially when you look at the world around us and what's happening in it currently. Genres like SF, Dark Fantasy and Horror have always been a way to comment about things like that indirectly and this book is no different. At the same time it's also got action, suspense, excitement and romance, so hopefully it ticks a lot of boxes for readers. I had a ball writing it and I think that comes across when you're reading it.
Aside from the plot, is there a story behind it?
I think with Arcana I was trying to give readers who enjoyed books like the Harry Potter series something to move on to afterwards. There's even a line in the novel where it's referenced, that in another universe people who use magic like Harry are hailed as heroes. It's also very much influenced by my love of Clive Barker's book Cabal—famously filmed as Nightbreed—The X-Men, and even Dune. They're filled with outsiders who are just trying to survive, but at the same time are forced by pretty serious events to stand up and be counted. Of course, in Cabal and Dune you also have the messiah aspect which I've carried across into Arcana, a legend that one day someone will come along to liberate the downtrodden, and it might not be whom you were expecting. As a fan of the more imaginative genres and as a writer, I've always felt like a bit of an outsider myself, especially growing up. I didn't really discover my 'tribe' until I started going to conventions and met other fans and writers. That's really when I started to feel at home and accepted, I suppose. So Arcana is very much about that, drawing on those feelings.
Why is your writing different from other authors in this genre?
I'm not sure I'm the right person to answer that. I'm probably too close to it. But people seem to like what I do, which makes me very happy. I've been compared in reviews to some amazing writers like Stephen King, Robert McCammon and, of course, Clive. It's incredibly flattering and more than a little daunting. But I also like to think that, the same as with all writers, my writing's unique to me. We all go through different things that we bring to the table in our fiction, have different experiences and points of view, which is one of the reasons we appeal to some folk but not others. There's a point in a writer's career where they find their own voice, though, and the influence of other fiction – though it still remains – lessens to some extent. That happened to me when I wrote a tale called 'Eye of the Beholder', one of my Controllers stories which is being reprinted in March, in The Controllers, a collection from Luna. It was a character study really, about a woman's life from start to finish and how it was being messed about with by those pesky Controller creatures, but when I'd finished it and read it back I just thought to myself—yes, this is you. This is what your writing's going to be like from now on. The main character just came alive in a way that none of the others had done before, and that's when I knew I was on the right track basically.
What was your path to publication?
In general? I started writing stories when I was in my teens, but they weren't very good. At university, I took a module in Professional Writing, which led to a career in journalism. But I'd still kept up with the fiction and having my articles and reviews published gave me the confidence to start sending some of my stories off to small press magazines. Some were accepted, some weren't, but I carried on and in 2001 a number of them were gathered together in my first collection, Alone (In the Dark),published by BJM Press. And it all just stemmed from there. In this instance, with Arcana, I'd heard that Kevin J. Anderson had set up a publishing company and thought this book would fit with the kind of thing he was putting out. I've known Kevin for some time, so I thought it would be okay to sound him out about Arcana, and at least ask if he'd be willing to have a look. He was happy to and passed it on to Dave Butler at Acquisitions who loved it, and the rest is history. It's a tough one because, like a lot of my fiction, it doesn't easily fit into one category or another. Yes, it's Dark Fantasy, but there are also elements of Horror, SF, Crime… Thankfully the people at WordFire got where I was coming from with it, which is a gift to an author. My experience with them has been a delight, I have to say—from edits to cover design. I couldn't be happier with the finished product, and I'm over the moon that they've decided to bring it out as a limited hardback as well as paperback and ebook.
What are you working on now?
Several things at the same time, as always. My wife Marie—who's an excellent writer and editor in her own right, which is how we met—and I are just putting the mass market crime anthology Exit Wounds to bed for Titan. That features stories by the likes of Lee Child, Val McDermid, John Connolly, Dennis Lehane, Jeffery Deaver and Dean Koontz, and is out in May. Writing-wise I've just finished a couple of shorts that I owed, one a seaside horror and the other another entry in my Life Cycle spin-off series about a female werewolf called Diana; the rest were collected last year in a publication from Black Shuck Books. I'm also going through edits on a novella for PS that's crept into short novel territory. It's a monster story, a siege story, and my homage to the old horror books from the 70s and 80s.
What else have you written?
Oh, so many things! I celebrated 20 years of being a published writer a couple of years ago with a "Best of…" collection released by SST called Shadow Casting. That contained stories which have been filmed, won awards or were just reader favourites, so I think that's a good starting point for anyone wanting to check out my fiction. I'm probably most associated with the Hooded Man mass market books, though: a post-apocalyptic take on Robin Hood set within Abaddon/Rebellion's Afterblight Chronicles. That led to quite a few other PA books, such as The Dead Trilogy– one story of which was filmed by Lionsgate/NBC for their primetime TV series Fear Itself– The Rot and my latest YA novella Coming of Age, as P.B. Kane. I'm also known for my association with the Hellraiser mythos: books like The Hellraiser Films and Their Legacy, Sherlock Holmes and the Servants of Hell—in which the world's greatest detective meets the Cenobites—the anthology Hellbound Hearts, co-edited with Marie, and most recently an audio drama adaptation of The Hellbound Heart for Bafflegab.
Are there any awards or honors you'd like to share?
Quite a few of my books have been bestsellers, including most recently the novel Before. I've been shortlisted for the British Fantasy Award several times, have won the Editor's Choice Dead of Night award, the Skaadi, the Karl Edward Wagner Award for my work on conventions, and the film of my story Life-O-Matic won best short at the LA Independent Film Festival Awards, the London Independent Film Awards and the Wayward Film Festival, plus it won the Silver at the Spotlight Horror Film Awards.
What is your writing routine?
I try to keep office hours, though that's not always possible, especially if I'm juggling a few jobs at once. A number of times recently, for example, I've put in a full day's work writing then spent the evenings editing stories for an anthology that's due in. But one of the benefits of this kind of work is that you can do it at home, which is handy at this time of year when it tends to snow quite a bit. At least I don't have to drag myself out of the house to go to work! I also don't know from one week to the next what I'll be doing on any given day. You can try and plan it, especially if you've got a big job like writing a novella or novel, where you need to set aside some days in a row; I average about 3,000 words a day on a good day, so in theory it should only take a couple of weeks, working Monday – Friday, to get a draft done of a novella. But then things crop up all the time, like today, for instance, I had a book come back to go through that's due out soon and I've got to put aside what I'm working on to do that because it's time sensitive. Or you might get invited to an event you don't know about yet, which is always nice—or have signings and launches to organize or go to. I'm definitely not complaining though, because it's what I've always wanted to do.
Do you create an outline before you write? 
I'm a big believer in planning, yes. I'll sit and work out an outline, or even chapter breakdown for a novel, before I start anything. I have to know where I'm heading or where I'm going to end up before I even set off on the journey. That doesn't mean things can't change along the way, and they always do, so I try to stay flexible. I think it comes from having to plan essays at uni and articles back when I first started writing and getting paid for it. And particularly when I have to do any work for hire or tie-in stuff, because publishers usually like to see outlines and breakdowns when you do that kind of thing before they commission you.
Why do you write?
I don't think it's something you can even explain, it's just something you have to do. If you're a writer you'll do it no matter what, even if you're not getting paid for it. There are times when things aren't going right that I think about quitting altogether, but I don't think I ever could. Then when things get back on track again, I don't even want to! I was telling stories by drawing or with my toys before I even started writing, so I think it's been in me right from the start. It's also a way of processing the world around you, life and what's happening in society like I was saying before about Arcana. If you're a writer you can't sit and watch what's going on every day and not want to write about it, say something about it in some way. Of course the other answer is that it's my job and how I pay the bills, and I'm very glad it is. I can't imagine doing anything else now.
Tell us about your writing community and thoughts on collaboration.
I love being a part of the writing community. As I mentioned before, I felt like I'd come home when I found my "tribe". I think getting out to events and meeting other writers is so important, because it's quite a solitary job sitting at your keyboard tapping away. It's also nice to know that people's experiences in the industry, the highs and the lows, are all quite similar. We all have our insecurities and problems, no matter what level we're at. Marie and I are actually running StokerCon™ in 2020 – www.stokercon-uk.com– and those kind of events are always fun to do. We've run or been involved in several FantasyCons, World Horror, World Fantasy, Alt.Fiction and various HWA UK events like our scripting day or the "Partners in Crime" day about crossover fiction. In terms of collaboration, I've only written a couple of things with other writers. The last one was a collaborative novella with bestselling author Simon Clark, Beneath the Surface, which worked well. But I should really do more, because I thoroughly enjoy the collaborative process. I think that's why I like working in script form, for TV, films, comics, theatre and audio, because I like seeing what other people do with the material.
How do you pick yourself up in the face of adversity?
It's difficult. As I say, there are times when I feel like quitting as I'm sure there are with a lot of writers. My wife Marie gets me through those times in all honesty, and gives me faith that things will work out. Mostly it's just a case of hanging in there until the upswing comes around again.
Do you have any pet projects?
I do. My BA and MA are in film, so my pet projects tend to be connected with that medium. For example writing about the Hellraiser movies in Legacy was a bit of a labour of love for me, and I have a follow-up of sorts out now full of interviews with the creatives who worked on those films: Hellraisers from Avalard Books. I have a couple of other non-fiction film books in the pipeline that I'm fitting in around other projects, one of which I've been working on for a couple of years now, but I can't really say too much about those. My other dream projects revolve around films being made from my scripts. I'm lucky enough to have had a few shorts made from those, and have a couple more on the horizon including The Torturer, which is being directed by Joe Manco at Little Spark Films. I've written features too, but have yet to see one get made—so that would be a huge buzz for me.
What is your greatest life lesson?
To just keep going, keep trying. Patience and perseverance are big ones in this line of work, you just won't get anywhere without either of those.
What makes you laugh?
I'm lucky enough to have written comedy, one of my early collections gathered together a lot of those tales: FunnyBones. And I realised from the reaction to it that comedy is so subjective; different things tickle our own funnybones. But I do love the classics like Monty Python, Blackadder, Fawlty Towers, Only Fools and Horses, Seinfeld, Frasier… At the last HWA event, both Mike Carey and Joe Hill were recommending The Good Place to us and I'm slightly obsessed with that show now. If you haven't seen it, then drop everything and watch it immediately! And of course Marie cheers me up all the time, especially if I'm getting a bit too serious. We make each other laugh a lot, and I think that's one of the keys to a happy marriage, or just a happy life in general.
Thanks, Paul, for taking the time to share with us. Before I provide our visitors with an excerpt from Arcana, as well as your social and book buy links, I'd like to conclude with a Lightning Round. In as few words as possible, please answer the following:
My best friend would tell you I'm: Her husband.
The one thing I cannot do without is: My wife.
The one thing I would change about my life: More hours in the day.
My biggest peeve is: Stickers on book covers.
The thing I'm most satisfied with is: My marriage.
Do you have a parting thought you would like to leave us with?
Just thanks to everyone who keeps buying the books, I'll keep writing them if you keep picking them up!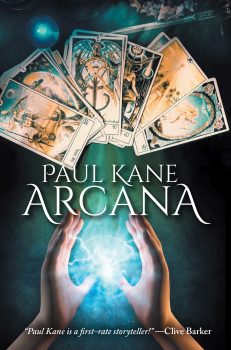 Excerpt:
Callum looked around at the paintings that hung there. He didn't know much about art, but bet they were worth a tidy sum. One showed a ship in a storm being battered about on the waves. Another had a knight in armour on a white charger, fighting a red dragon that was breathing fire.
"Cute," said Gibson when he saw it.
"So, what exactly are we doing here?" Callum asked as they approached another receptionist.
"All in good time," was the only answer he'd give. Gibson stepped up to the desk to talk to a woman who could have been a clone of the one downstairs, except for her blonde hair. "Mr. Temple, please."
The secretary looked at him, puzzled. "He's in a meeting … with a client." It was exactly what they'd been told before.
"Oh, okay," said Gibson, then made his way past into the foyer. The receptionist got up to stop him, but the policeman brushed her aside, reading the names on the doors to see which one belonged to Temple. He opened it and burst inside.
A tall man with pinched features wearing an immaculately cut suit rose from his desk, while the woman—middle-aged, wearing a black dress and hat with a veil—turned around in her leather seat. Surrounding them, on almost every wall of the room, were rows and rows of books.
"What's the meaning of this?" shouted the man, who had to be Temple.
"Sir, I tried to stop them," offered the receptionist.
"That's right, she did," Gibson confirmed. "But we kinda insisted."
"It's all right, Gloria," Temple told her. "Go back to your desk."
Gloria did as she was told, casting both Gibson and Callum a dirty look as she went.
"Now then," Temple said, "I demand an explanation for this!"
Gibson walked further into the room. "What was the lure, Mr Temple? Was it boredom? Is that how you got into it?"
Temple frowned.
"Someone with your kind of money; drugs and drink not cutting it for you anymore?"
Temple's distressed client looked up at him, seeking some sort of explanation.
"I… I don't know what you're talking about, Officer. What I do know is that I can have you pulled up on charges at the drop of a hat. Let's see, intimidation for a start, breaking and entering, abuse… Who's your superior?"
"Does the name Zola Bates mean anything to you?" Gibson demanded, eyes narrowing. That certainly wasn't his boss.
Temple appeared to think about this for a moment, then shook his head.
"Oh, come on—let's cut the bullshit, shall we? We pulled Zola in a couple of weeks ago. She gave up all of her clients."
"I'm afraid I still don't—"
"We've been on to you ever since. You've been consorting with the wrong kind of people, Temple. You think nobody knows about your visits to the back room of that wine bar on Avon Street. But we have the rest of your lot, mate. And I'm here to take you in."
"You have no right to—"
"Your fancy lawyer talk won't save you this time. We have all the evidence we need."
"This is absolutely preposterous," announced Temple, rounding the desk, hands balled into fists. "What's going on here, some kind of witch hunt?"
Gibson smiled. "Yes, that's right. That's exactly what this is." The smile broadened. "I'm here under Section 27 of the James I of England Act, Temple."
Then he pulled the canister from his belt and sprayed Temple with the liquid. Gibson aimed for the eyes first, and Temple howled, rubbing them with his knuckles. Then Gibson sprayed lower: into Temple's mouth, covering his suit with the liquid. The smell was strong, even across the room.
Gibson then took a box of matches from his pocket and struck one.
Temple opened his eyes. "Oh sweet Heaven, no! Please…" His hands were clasped together.
"No good praying, I doubt whether He'll help you now," Gibson spat. Then he tossed the match. The little wooden stick seemed to spin over and over in slow motion. Callum watched it turn, the yellow, blue and white flame flickering as it did so. When it collided with Temple's chest there was a fraction of a second's pause. The next moment the lawyer himself was engulfed in flames. They spread all over the area Gibson had sprayed, down across his trousers, up into his face. The female client put her hands to her mouth, but that didn't stifle her scream; though it was nothing compared to Temple's cries while his flesh bubbled and seared. As Callum watched, shielding his face from the heat, the material of Temple's suit stuck to its owner. Temple staggered around a little, then fell over. The plush carpet beneath caught fire too.
Callum looked around and saw an extinguisher by the door. He grabbed it and was about to move forward, when Gibson stopped him.
He shook his head. "Not yet. He's still alive."
Temple's client was up out of the chair now, and seconds later out of the door. Callum couldn't say that he blamed her. The sight of Temple's eyeballs melting in his skull wasn't exactly appealing. When the lawyer's head dropped back and his arms—which had been reaching out even as he writhed on the floor—finally went slack, Gibson finally nodded for Callum to put out the fire. Wincing, the young officer sprayed the man, and the flames died down as suddenly as they'd sprung up.
Callum stood back from the blackened mess that had been a human being just a few minutes ago. Only the white of Temple's teeth shone out, as what was left of his lips were pulled back over them.
"Best way for sparkies to go," said Gibson from behind him. "Old-fashioned, but effective."
Callum turned to face his partner, who was still smiling. He could think of nothing to say.
"You see, we're the real knights on the chargers. They're the dragons." His smile faded. "And we fight fire with fire."
If you'd like to follow Paul online, you may do so here:
Website: http://www.shadow-writer.co.uk
Twitter: @PaulKaneShadow
Instagram: @paul.kane.376
You may purchase Paul's books here:
Amazon UK POD: https://www.amazon.co.uk/Arcana-Paul-Kane/dp/1614759448/
Amazon UK Kindle: https://www.amazon.co.uk/dp/B07MC142BR/
Amazon US POD: https://www.amazon.com/Arcana-Paul-Kane/dp/1614759448/
Amazon US Kindle: https://www.amazon.com/dp/B07MC142BR/
Books2Read: https://books2read.com/u/b5r9N6