Every now and then I encounter someone I cannot pin down. How does one label a man who is an artist, a jewelry designer, a writing coach and an author? This week's guest is just such an individual. And when I try to identify his writing, I'm in an even worse predicament. One published work was called "a horror thriller, a psychological thriller, a whodunit, and a wonderful mystical thriller all rolled into one." Another was described as "a love story, a laugh-out-loud comedy, and a sympathetic mix of wit, banter, love, and frustration." Now, his latest release, A Sharp Bend in the Road: 17 Intriguing Stories, is described as a book that "redefines the art of the short story collection."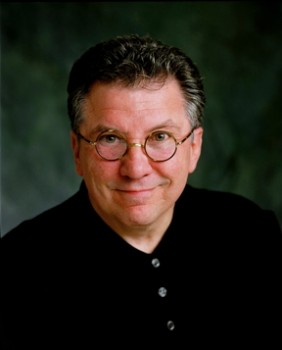 The one I'm referring to is my guest week, Gerard Bianco who divides his time between Portland, Maine and Boston. He holds an MFA in Writing from Albertus Magnus College. His short stories have appeared in various literary journals. His lessons, exercises and advice on the art and craft of creative fiction have appeared on the web and in the new book, Now Write! Mysteries: Mystery Fiction Exercises From Today's Best Writers and Teachers. (Tarcher, 2011; Edited by Sherry Ellis and Laurie Lamson.)
The Deal Master (2006) A mystery/thriller novel. Won the Editor's Choice Award and the Publisher's Choice Award.
Discipline: A Play (2012) A love story and a laugh-out-loud comedy that uses wit to depict human frailty, won the Editor's Choice Award, 2012 and was a Finalist in the 2013 Indie Excellence Book Awards.
A Sharp Bend in the Road: 17 Intriguing Stories (January 2015)
Book Blurb: "A virtuosic collection of stories followed by the sharp blade of a killer novella as the final act. Gerard Bianco's stories do not creep up on you: they fall upon you like a raptor plummeting, wings folded, golden eye ablaze. Their signature swirl of caustic irony is bitter, often brutal – a gleam of talons and a sudden cry – resulting almost always in a small death of the heart." -Dianne Benedict, Author of Shiny Objects
Book Review: "A Sharp Bend in the Road showcases a carnival of amazing and totally different types of stories. From a story about a young man's encounter in an elevator, to a gay couple in a jewelry store, to a woman entering a retirement home, Bianco's characters are real, yet colorful and unique. He has a gift in creating genuine dialogue making each story come alive. I thoroughly enjoyed this collection of stories. 5 stars for sure! A fine collection written by one author who clearly knows his craft." –Susan Violante for Reader Views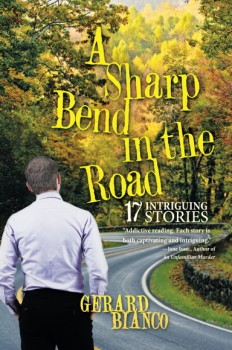 Synopsis of four of the seventeen stories:
From "A Sharp Bend in the Road." Following a devastating fall, Rita finds herself standing outside the dining hall at an independent living facility. She squeezes the handle of her cane, and her knuckles turn white. Her wire-rimmed glasses accentuate the tears she tries to hide. – After eighty-two years, and a lifetime of memories, Rita believes she's been abandoned at the mouth of a fiery dragon that will swallow her up-and she is terrified.
From "A Process of Elimination." When a man purchases a remote log cabin in the Adirondacks, he believes he has found a peaceful haven, until he discovers a stranger dead on his living room rug.
From "The Organization." A man, looking for a new adventure, joins a unique organization and quickly learns that getting what you want can sometimes lead to unimagined consequences.
From "The Long Ride." Two couples set out on a vacation in Maine, only to find their dreamy trip has turned into a getaway nightmare.
Welcome to The Write Stuff, Gerard. I'm so happy you could join us. Your two previous works sound quite compelling. As for your most recent release, it's always somewhat difficult to follow on the heels of success. What was the biggest challenge you faced writing this book and how did you overcome it?
One of the biggest challenges an author faces when putting together a short story collection is making certain all the stories look, and sound different. In this collection, plot, theme, voice, and rhythm change dramatically with every story so that each time the reader picks up the book, the stories are fresh and exciting.
Another way I made certain the stories are different is by writing solid, singular concepts that end with either a twist or an ironic conclusion. (Hence the title: A Sharp Bend in the Road.)
Is there anything you want to make sure potential readers know?
Yes, Raymond. I want readers to understand that the fun about this collection is that the reader never knows what the next story will bring. It's a total surprise. Some stories are serious, while others are absurdly dark and humorous. Some stories are based in reality, while others are sprinkled with speculative fictional elements. I've even included a Maine ghost town story. The length of the stories vary considerably as well. Some stories are short, while others are an average length for short stories. The collection's finale is a novella.
Tell us about your other works.
I wrote a mystery/thriller titled, The Deal Master. It's a story based upon a popular 13th century tale. It's filled with twits and turns and a surprising subplot that takes over and becomes the main thrust of the story. We filmed a Hollywood-style book trailer that I'm certain your readers will enjoy watching: https://www.youtube.com/watch?v=9ilXHaugenQ
I also wrote a play titled, Discipline. It takes place in Manhattan. It's a laugh-out-loud comedy whose meaning goes much deeper than first appears. The deepest truths can only be revealed through fiction. It's also a love story and it's available in book form.
Describe a typical day.
When I'm writing, my day begins early, usually about 4:30 a.m. The house is quiet. I write until about 7:30. Then the family gets up and our normal day-to-day life begins. My girlfriend and I have three dogs so they need attention – breakfast, walks, etc.
In the afternoon I spend a few hours on marketing. Then another hour or two writing until dinner. Then it's dinner and a movie – every night. I love watching movies to see how other writers structure their work, or not.
Off to bed around 10 or 11 p.m. Then back at it the following day.
That's a rigorous schedule. What motivates or inspires you (not necessarily as regards your writing)?
I'm passionate about art, music, the theater, and of course good writing, all of which inspires me. I'm also inspired by moments that ignite in my brain. It might be a thought, an expression someone uses, or a fleeting glance. And I love the sea. We live a block off the ocean in Maine, and daily beach walks with the pups invigorate me and stir my imagination.
How do you pick yourself up in the face of adversity?
I'm optimistic and I have a positive outlook on life. But, of course, no one is immune to adversity, it either sneaks up on you, or it comes crashing down. I suppose my attitude on life can best be summed up by one of my characters from the title story, "A Sharp Bend in the Road," in my new book. "Life," he says, "is like a road that twists and turns from the time you're born until the day you say good-bye. And if you don't twist and turn with it, you'll run smack into a brick wall. There's nothing you can do about adversity. So live with it. But live, damn it! Don't fight life. Fight to live life the way it was meant to be lived—with gusto, no matter how old you are."
That's a wonderful attitude—realistic as well. Before we conclude, it's time for the Lightning Round. Please answer the following as concisely as possible:
If I were to ask your best friend about you, what would your friend say?
My best friend would tell you I'm determined.
What is the one thing you cannot do without?
The one thing I cannot do without is the creative process.
What, of all the things you can think of, bothers you the most?
My biggest peeve is people who don't understand the concept that we're all in this together, and we need to help each other.
Who are you most proud of?
The person I'm most proud of is my son.
Thanks for the time you've spent with us today. It's always fun to introduce my visitors to someone unique.
If any of you, who've dropped by to listen in, would like to learn more about Gerard, here are some links to help you. Please note you can order signed copies of Gerard's books on his website:
Website:                      www.gerardbianco.com
Author email:             writingcenter@gerardbianco.com
Blog:                            www.gerardbianco.blogspot.com
Facebook Fan Page:    https://www.facebook.com/GerardBiancoWriterEnRoute
Twitter:                       https://twitter.com/GerardFBianco
Google +:                    google.com/+GerardBianco
Amazon link to "A Sharp Bend in the Road" Kindle Edition:
http://www.amazon.com/Sharp-Bend-Road-Intriguing-Stories-ebook/dp/B00S50CY7O/ref=tmm_kin_swatch_0?_encoding=UTF8&sr=8-1&qid=1421349884
Amazon link to "A Sharp Bend in the Road" paperback edition
http://www.amazon.com/Sharp-Bend-Road-Intriguing-Stories/dp/1491753617/ref=tmm_pap_title_0?ie=UTF8&qid=1421349884&sr=8-1
Amazon Author Page: http://www.amazon.com/Gerard-Bianco/e/B00770UC90/ref=ntt_dp_epwbk_0
Gerard's Writer Coaching Programs: http://www.writercoachingprograms.com/