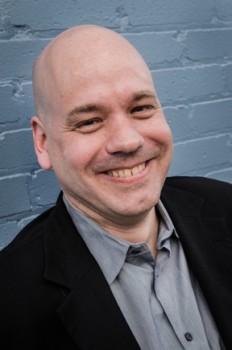 If you are a Star Wars fan, you already know that the release of Star Wars – The Force Awakens makes 2016 a milestone year. Die-hards, however, know full well that Star Wars has never gone away except, perhaps, on the silver screen. This week's guest, Jason Fry, is one reason why. He has written more than 30 books and short stories set in the Star Wars galaxy, as well as The Jupiter Pirates, a young-adult space fantasy series. He also co-writes Faith and Fear in Flushing, which is a blog about the New York Mets. He spent more than 12 years at the online arm of The Wall Street Journal, serving as a columnist, editor, and blogs guru, among other things. Besides fiction, he writes about sports, music, genealogy, travel, history and anything else that interests him.
While The Write Stuff normally focuses on a single work by an author—occasionally two—because Jason's work is so varied, we've chosen to discuss three: Rey's Survival Guide, The Force Awakens: Incredible Cross-Sections, and The Jupiter Pirates: Hunt for the Hydra.
Please tell us something about each of these.
I had two books come out on the same day, which was kind of fun—Rey's Survival Guide and The Force Awakens: Incredible Cross-Sections were both "day and date" books tied to the theatrical release of the new Star Wars movie.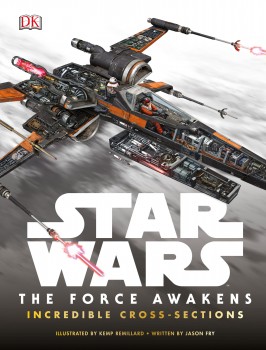 For Incredible Cross-Sections I supplied the words to accompany Kemp Remillard's gorgeous cutaway illustrations of vehicles from the movie. That seems like a fairly straightforward assignment, but the real work to be done was figuring out what the focus of that material should be. I decided it should be context for those vehicles' roles in the Star Wars galaxy. What were they built to do, and how were they modified from that purpose? How had their designs evolved? Or, in the case of a specific craft like the Millennium Falcon, how had various owners changed them?
I found that approach more interesting than a hard-science engineering deep dive. For one thing, Kemp's illustrations and the labels had already checked that box pretty effectively. But beyond that, Star Wars is fundamentally fantasy, not hard sci-fi, and while that kind of detail is satisfying to a certain subset of Star Wars fans, I think ultimately it's not the best fit for the saga.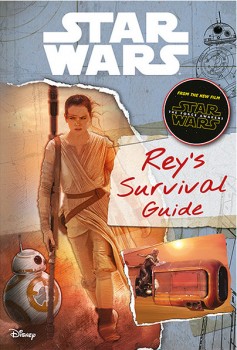 Rey's Survival Guide is a manual for surviving on Jakku, written in Rey's voice. I enjoyed that project because it was a unique way to try and tell a story. We didn't want a diary or memoir – though Rey does recount some of the events of The Force Awakens. But at the same time, we wanted the reader to get a sense of Rey as a person and of how her odd upbringing had shaped her. So the challenge was to tell a story "between the lines," if you will.
What was the biggest challenge you faced writing them and how did you overcome it?
I'll go back to Rey's Survival Guide, since I think I've summed up Incredible Cross-Sections pretty well. A lot of the challenges with that book stemmed from the unavoidable fact that I had to write it before seeing the movie.
You get a sense of a character from the script, the description, images and what the character does as the plot unfolds, of course. Those things were helpful. But that's not the entirety of a character—not by a long shot. Rey's a wonderful character—my favorite Star Wars character since Han Solo—but so much of what we've responded to about her comes from Daisy Ridley's remarkable performance. And I couldn't draw on that to write the book.
Now couple that with the fact that Rey has, essentially, no backstory. We don't know who her parents were or where she came from. She doesn't know who they were or where she came from. She's not just a blank slate but an erased one—a cipher to us and to herself.
That was difficult, but it was a challenge I warmed to precisely because it was so difficult. So I looked for ways to give the reader a sense of who Rey was by how she reacted to things, by how she discussed people and places and objects in her life, and by figuring out what she wouldn't talk about.
Fortunately, I had some help. The folks at Lucasfilm who had seen the movie were able to help steer the book in the right direction, and I'm grateful to them. But I still had my fingers crossed when I finally got to sit down in the theater—and two hours later I breathed a sigh of relief that the Rey I'd written fit the Rey I'd seen on-screen.
That would certainly have been a nail-biter. What other novels have you written?
For openers, there's Servants of the Empire, a four-book series of young-adult novels tied to the Star Wars: Rebels TV series. That series follows Zare Leonis, who's a minor character on the show. Zare and his sister Dhara are both loyal supporters of the Empire, but Dhara vanishes from the Imperial Academy on Lothal. The Empire says she deserted, but Zare doesn't believe that – and he learns the Empire kidnapped her. But why? He decides to enter the Academy himself to find out what happened to Dhara and save her if he can.
I don't just write Star Wars—I'm also the author of the Jupiter Pirates young-adult space-fantasy series from HarperCollins. Jupiter Pirates is set in the 29th century, when Earth's colonies in the outer solar system have broken away and are in a state of cold war with the mother planet. The series follows the adventures of the Hashoones, a family of pirates turned privateers who are based on Jupiter's moon Callisto.
The Hashoones operate their pirate ship as a family – the mother is the captain, the father is the first mate, and the three children are midshipmen. They have to cooperate, working together as a crew under dangerous conditions, but they're also competitors—the captaincy of the family ship is passed down from one generation to the next, but only one sibling can be captain.
The first book in the Jupiter Pirates series, Hunt for the Hydra, came out in December 2013. The second one, Curse of the Iris, is out in hardcover and comes out in paperback in May. The third book, The Rise of Earth, will be out in June. And there will be two more to come!
What else are you working on?
Unfortunately, I can't talk about the Star Wars books I'm working on now because they haven't been announced by Lucasfilm or their publishers. But I'm pretty excited about them and hope readers will be too.
I'm also working on a Jupiter Pirates short story that I'll put up for free on jupiterpirates.com as soon as it's ready. And I keep playing with ideas for some big, ambitious novels I'd love to get to. I'm busy, which can be exhausting but is a lot better than the alternative when you're a professional writer.
What is your work schedule like when you're writing?
Depends on how many balls I have in the air at one time, how close I am to deadline, etc. Some days are a relatively measured march forward, while others are defined only by when I'll have to collapse into bed and sleep for a few hours. (It's best not to have too many days like those.)
I usually wake up by answering email, scanning the news and seeing what's new on my frequented sites. I like to start writing by mid-morning and write until my kid gets home and finishes his homework and/or my wife comes home. How much I get done during that time depends wildly on what the project is and how well-defined it is in my head. I once wrote a 30,000-word novella in four days. I'm proud to say I did it; I also hope I never have to do it again.
Hah! I've produced a lot, but that tops everything. Do you create an outline before you write?
Yes. And I am a HUGE convert to outlining and/or writing a treatment first – planning instead of plunging.
Writers should find a process that works for them instead of following someone else's blueprint. But having worked both ways, I'll definitely evangelize for planning. My treatments are really detailed – sometimes too detailed – but there are huge benefits to that.
Most importantly, outlines/treatments will let you see plot holes, false starts, sagging character arcs, overly complicated narratives and the like before you plunge into writing the book itself. If you go down a wrong path, it's a lot less painful to discover that on page 4 of a story treatment than on page 140 of a manuscript.
The other benefit is that because I write really detailed treatments and road-test them with editors and trusted readers, I can usually write the actual book very quickly. That four-day sprint I mentioned above could not have happened without all the work that had happened first.
Last bit of preaching: I think some writers dislike and/or fear treatments because they feel they're straitjackets. But they're not—they're blueprints for the house, not the house itself. I've never had a book come out exactly like its treatment, and that's good. You always change your mind about some things, see different possibilities, etc. The difference, to me, is that a treatment makes those zig-zags easier to navigate and results in a better book. You're making improvements on the fly instead of improvising fixes.
Why do you write?
When I was a kid I told everybody I was going to be the starting shortstop for the New York Mets. When I turned out to have no athletic ability whatsoever, writing was my reluctant Plan B.
Ha ha. (Though that's true.) I've always loved thinking up stories and sharing them with other people. Writing lets you dream onto the page, and sometimes what you come up with resonates with people who picked up your book. Which is really pretty miraculous, if you think about it.
Sometimes I wish I was a financial wizard, a genius programmer or something more lucrative and stable than being a writer. But I'm not wired for any of those things—I'm wired for dreaming up stories and sharing them as best I can.
And you know what? I know financial wizards and genius programmers, and they say: "It's so cool that you get to write Star Wars." And they're right. I'm insanely lucky and I try not to forget that.
How do you think you've evolved creatively?
I've gotten much better at streamlining and strengthening plots and at being true to the characters in my stories. Some of that has come from working with superb, generous storytellers and editors at Lucasfilm, Disney, HarperCollins and other places. But it's also come from simply putting in the work. I'm a better writer now than I was two years ago, let alone twenty, in part because I'm older and I've lived more, but also because I've written hundreds and hundreds of thousands of words in that time.
What is the single most powerful challenge when it comes to writing a novel?
Putting your butt in your seat and doing it. It is so much easier to not write than it is to write. There are errands to run, papers to organize, household stuff to clean, plans to make, mental rabbit holes to disappear down—all of which suddenly become urgent when it's just you and a blank page. And we haven't even mentioned the Internet, that marvelous and terrible curiosity/procrastination machine.
One thing that helps me is I spent years as a working journalist, with deadlines as clear and present dangers. If you've got a story due at 5, the paper isn't going to hold the presses because the muse hasn't flitted down to alight on your shoulder and whisper into your ear. You do the best you can with what you have and get the work done—and then you do the same thing again the next day. That was excellent training for when I was finally ready to write fiction.
Yes, you need inspiration to create good work. But the inspiration emerges from doing the work. We all want an idea to arrive fully formed and then bring it to happy fruition, but that rarely if ever happens. You have to fight for it. All that writing advice about summoning the muse is well-intentioned, but I suspect it does writers more harm than good. Waiting for the muse is a recipe for talking about writing instead of writing. If you're going to succeed as a writer, you have to be your own muse.
Would you care to share something about your home life?
I'm out of shape despite the fact that my desk is 20 feet from a treadmill. This is a problem that I need to address, not so I look better in my clothes (though that would be nice) but so I produce better work.
Writing is mental exercise, yes, but that exercise takes a physical toll. I find when I'm in good physical shape that I am able to put in a longer writing day, I'm more disciplined during that day, and my writing and storytelling are both sharper. And yet this is a lesson I'm constantly having to relearn, because exercise is the first thing I jettison when I get overburdened, stressed, etc.
I don't mean you have to run five miles a day or have a six-pack or a certain BMI—that's not it at all. But I think the writing life is more physical than we imagine and writers would do well to remember it. Starting with me!
That's an interesting perspective and it has me eyeing my elliptical. What motivates or inspires you?
The world is just an amazing place. It can be horrifying and depressing and infuriating, yes, but it can also be astonishing and inspiring and heartbreakingly beautiful. In all those cases, it's because the world is full of stories.
Here's an exercise I like to do as part of school visits: I take a copy of that day's newspaper (an actual physical copy), tear it into single pages and pass those out to the kids. Then I tell them to find something on whatever page they have—even if it's the classifieds—and use it as a jumping-off point for a story. Give what they read a twist, or let one thought lead to another, and come up with something. Inevitably, they dream up great things—surprising and wonderful stories.
You can do that just walking down the street. Keep your eyes and ears open and be curious and ask yourself questions and you'll come home with more story ideas than you can ever be able to write.
How do you pick yourself up in the face of adversity?
You just keep going, I suppose.
When I get low, I remember that everything ever written has had its rabid detractors, that every writer has written things that didn't work, and that we're all fallible and make mistakes—some of them ones we'll brood about forever. It can feel like you're the only one that's happened to, but it happens to all of us.
There are people who think To Kill a Mockingbird is a terrible book. There are Coen Brothers movies that don't work. And everyone has some ill-advised remark or teenage humiliation or missed opportunity that haunts them when it's 4 a.m. and they can't sleep. You feel alone in these things but you're not.
Just keep going. Learn from your mistakes as best you can. Accept that you'll make more mistakes, vow to correct them, and forgive yourself for them. Know that luck plays a role in things and you can't control that. And then get on with it. It's all you can do.
Do you have any pet projects?
I make custom baseball cards. Not for stars, but for the marginal players who never got a card, or who played briefly for one team but only got a card with some other team. I make them to look as much as possible like the actual cards of a given year, down to the photos and the design and the stats on the back and the little accentuate-the-positive facts about the players.
When I make one of those that's authentic enough, I get a little moment where I can be taken by surprise and think it's "real"—that someone really made, say, a Benny Ayala card in 1976, and I just never got one buying packs at the drugstore or trading cards during recess.
That makes me really happy, in ways I struggle to articulate. I suppose it makes me feel like in a ridiculously small way I've made the universe a more ordered and complete place—more like it should be. I find that soothing. And even though sometimes I'm aghast at the time I didn't spend writing, I think it's good that to work different creative muscles.
Thank you so much, Jason, for taking the time to drop by. Before I share an excerpt from Hunt for Hydra, I'd like to try a Lightning Round. In as few words as possible, please answer the following:
 My best friend would tell you I'm a … stubborn, infuriating SOB. But one who's got your back.
The one thing I cannot do without is: Baseball
The one thing I would change about my life: I'd have my hair back or the higher metabolism of my youth. I'll take either, thanks.
My biggest peeve is: Winter. The northeastern U.S. is a 400-year-old scam. We should all move to California.
The person/thing I'm most satisfied with is: I'm not wired to ever feel truly comfortable or happy and I'm learning to accept that. Sounds like a weird thing to be satisfied with, but I've wasted so much time trying to change it, and I have better things to do.
Excerpt from The Jupiter Pirates: Hunt for the Hydra: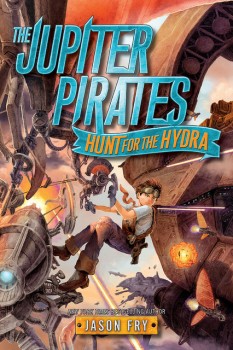 The firing ahead of them had stopped. Tycho looked at his schematic and realized this was where Carlo's group had gotten lost. He turned on his lamp and saw they were in a narrow room with two ladder wells instead of the maze of passageways shown on the schematic. Pistols and a knife were spinning slowly through the air.
Tycho signaled to the retainers, and they kicked with their hands and feet until they reached the wall, where they locked on to the metal, the magnets in their gloves clicking faintly. They shut off the lamps and began to work their way around the perimeter of the room in the darkness, lifting their hands and feet one at a time and clanking along the wall.
"I think I know what modifications they made," Yana said over Tycho's headset. "In about five meters you should reach a short passageway leading to the quarterdeck."
"Tycho, Ironhawk's boarding party has entered the Hydra," Diocletia said in his ear.
The members of the boarding party reached the spot Yana had told them to aim for, but instead of the emptiness of a passageway, their fingers found the outline of a sealed door. Tycho and four retainers—Higgs, Tully, Croke, and Laney—turned on their lamps and took up positions on either side of the door, with the last retainer, Chin, clinging to the ceiling like a spider. They shut off the lights, and Tycho thumbed the door control. Nothing happened.
"Break it down, Mr. Croke," he said.
"Tycho!" Yana said urgently. "Dad says another gang of Hydras got behind them—they're headed your way!"
Tycho spun, lifting his gloves off the walls too quickly. His upper body began to float, and he hurriedly felt for the wall again. He pulled out his earpiece and could hear yelling. The voices were getting closer.
"Enemy coming at us!" Tycho yelled. "Look to your rear! Tully, shut off that cursed light!"
A laser bolt struck high on the wall near Chin, dazzling Tycho's eyes. He heard the thump of the Hydras kicking off the walls of the passageway to hurl themselves through the air in zero gravity, screaming as they came. Another laser blast gouged the decking below Tycho's feet.
Just like the simulator, Tycho reminded himself, trying to force himself to breathe. But of course it wasn't anything like the simulator. Wounds here were real, and those who died stayed dead.
"There's too many—they'll gun us down!" Higgs screamed, firing his carbine at the oncoming pirates. His eyes were huge and wild. In the sudden light from the shots, Tycho saw Chin windmilling his arms, trying to reestablish contact with the wall. Tully was fumbling for his blaster.
"Higgs! Chin! Tully!" Tycho yelled. "Stand your ground! STAND YOUR GROUND! You are Comets, men, and you will defend crew and country!"
Tycho drew his pistol, reaching behind him to press the magnets in the glove on his free hand against the wall. Short, controlled bursts, he thought.
Then the pirates were among them, screaming and firing. Flashes of laser fire lit up the darkness, giving Tycho crazy, jumbled glimpses of Comets and pirates firing, yelling, tumbling away from the walls. Carbines cracked and thudded, and a spear of laser light zipped by Tycho's ear, close enough to scorch his skin and fill his nostrils with the smell of burning hair. Someone smashed into him, sending him spinning in the zero gravity, and he fumbled for the wall, his pistol jerking in his hand as he fired again and again, screaming at the top of his lungs.
Then Croke was gripping his shoulder, mouth close to his ear.
"Easy, Master Hashoone," he said soothingly. "It's done."
Croke had turned his headlamp on. Five of Mox's pirates were still and silent, floating through the air. So was Chin, hand still clutched to his throat, eyes empty. Higgs was hugging his arm to his side, teeth bared in a grimace.
"Tyke!" Yana was yelling in his ear. "What's happening?"
"We lost Chin, but we're all right," Tycho said, gasping for breath.
"Acknowledged," Diocletia said. "You need to keep moving."
Tycho shut his eyes for a moment, trying to force his hands to stop shaking.
"Aye-aye," he said. "Proceeding to the quarterdeck. Mr. Croke, I need this door open."
For those of you who would like to learn more about Jason Fry or purchase his books, you may do so though the following links:
 Jason Fry's Dorkery (his term, not mine): http://jasonfry.tumblr.com
Twitter: @jasoncfry https://twitter.com/jasoncfry
Jupiter Pirates official site: http://jupiterpirates.com
Faith and Fear in Flushing: http://faithandfearinflushing.com
Book Buy Links: 
RSG: http://www.amazon.com/gp/product/0794435696/
Cross-Sections: http://www.amazon.com/gp/product/1465438157/
Hunt for the Hydra: http://www.amazon.com/gp/product/0062230212/