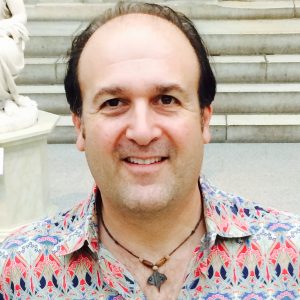 I am so glad to start off 2017 by getting to know WordFire Press author Anthony Dobranski, who is currently writing a historical thriller based on real people and real events. Apparently, there are no bounds to what this talented writer can do. A native of Washington DC, he lives there now. Anthony studied English at Yale and made his first career at AOL working in Europe and Asia-Pacific. WordFire published his debut novel, The Demon in Business Class, on October 26, 2016. He describes his book this way:
An international modern day fantasy —
A demon-possessed spy trying to start the next global war falls in love with a psychic trying to stop it.
A shady powerbroker forces Zarabeth Battrie into a secret plan to start the next global war, giving her a demon that lets her speak all languages. But the people now trying to kill Zarabeth might know more about her job than she does.
When hallucinations drive Gabriel Archer to violence, a steely investigator shows Gabriel his repressed psychic powers. Recruited to help a visionary corporate leader turn others from evil, Gabriel struggles to master his own senses, and his doubts.
When Zarabeth and Gabriel meet by chance in Scotland, their brief passion becomes a fragile, troubling love, until the demon's betrayal drives Gabriel away. Before Zarabeth's cruel vengeance can destroy the visionary's plans, Gabriel must stop her — but for both to survive, neither can win.
With witches, gangsters, prophets, cultists, and two angry angels, The Demon in Business Class is an edgy modern-day fantasy set around the world, on the uneasy ground where the worldly meets the divine.
Tell us about your most recent release.
The Demon in Business Class is an international modern-day fantasy, about a demon-possessed spy trying to start the next global war, who falls in love with the psychic trying to stop it. It's a hybrid-genre book, with corporate thriller elements, a central star-crossed romance, and stylized language. It's my first novel.
Who or what was the inspiration behind it?
My career before writing was at the internet service AOL, during its heyday, going overseas for months at a time to help launch editions in Europe and Asia-Pacific. I got to see the world, and to see how it is changing in our globalized era. Cultures rub against each other uncomfortably, in multiple dimensions, of nationhood and class and wealth, old and new. Societies on both sides of both oceans have been destabilized, some by new poverty, others by sudden and unequal wealth. People fear loss, fear the other, crave older certainties.
Fantasy cuts to the heart of culture, highlighting its hidden assumptions. I wanted to write a book that did that for our time, the way Jekyll and Hyde does for Victorian England or The Master and Margarita does for Stalin's Soviet Union.
How I achieved this was its own, different inspiration, or at least a powerful motivation. Writing about our time is different from writing a book set in our time before escaping it, like Lev Grossman or J. K. Rowling. I also didn't want to just bring a modern sensibility to a traditional fantasy world like A Song of Ice and Fire. I wanted a fantasy that came out of 21st century Earth, and I had the fervor of a convert, taking a great gleeful joy in bending and reworking as many genre norms as I could. Neil Gaiman blazed the trail I walked, for sure, but I walked a lot of it with Chuck Palahniuk.
What was the biggest challenge you faced writing this book and how did you overcome it?
The biggest was the style. I needed to evoke the crisp and often acid language of businesspeople, which is a kind of armor, yet still have it express doubt and fear and desperation, without ever sounding highfaluting. It's a tall order, and I had to let go a lot of my "literary" airs – these are not people who drop allusions to Austen, or who really spend a lot of time expressing their interiority.
I did it by writing and throwing out writing, mostly. I tossed my first 400 pages and started over, wrote a thousand pages and cut half of that. I constantly read my work aloud – I built myself a standing desk so it was easier to breathe and talk! Always looking for leaner rhythms and tighter phrasing. Oh, the flocks of darlings I killed. When my editor told me I had to add a chapter, I have to tell you, it was quite the strange moment.
Hah! That would have thrown me for a loop as well. What else are you working on?
My novel-in-progress is a post-climate-change sci-fi tale set in a war-ravaged Budapest, working title The Cooperative Spiders. It was my NaNoWriMo winner in 2015, based on a short story I wrote, based on a dream. It's gender-bending yet oddly genteel and Old World — think of it as Wes Anderson loosely adapting a Samuel R. Delany novel. Compared to Demon — which is rooted in real-world places and secret histories — Spiders is a freeing experience, since all that seems to stick to it is craziness.
What is your work schedule like when you're writing?
 10a-12p, 2p-5p, weekdays. I have a family and I do cons, so weekends are basically out.
Tell us about your path to publication.
It's not one any sensible person would follow, and I only discuss it to give hope to those like me who feel they've painted themselves in corners. I did everything wrong. I dove straight into a passion project with almost no understanding of the industry or market. I had no smaller works published. I sent out blind queries to both literary and fantasy agents and got form letters in return. I felt like I was living on crumbs. I woke up New Year's Day 2015 crying. My resolution was, in one year I would feel more like a writer than I did that moment, whatever it took.
My writing-group colleague Wayland Smith had been to Superstars Writing Seminars, a business-focused seminar in Colorado Springs, and spoke well of it. Actually, he gushed, and Wayland doesn't gush. So, I signed up. One morning at the seminar I met a writer and editor named Vivian Caethe. Demon intrigued her! She brought me to Peter J. Wacks of WordFire Press. I didn't get the feeling it intrigued him at all, and when he asked me for ten pages I figured it was his favor to Vivian. Seven months later, Kevin J. Anderson, who owns WordFire Press, sent me a Facebook message inviting me to submit the whole manuscript.
Kevin also asked for a marketing plan — and it was clear he was throwing down a gauntlet.
Let me circle back and say that, other than my brief bright moment with Vivian, I first found Superstars incredibly depressing. It's a professional seminar, so it skews to people with an obvious shot at making money, to series writers, to genre-mainstreams. They might as well have started every lecture saying, "Hey Tony, this one doesn't really apply to you either." By the time of the celebratory dinner, I was very low in spirit, really ready to chuck the whole enterprise. James Artimus Owen gets an acknowledgement in my book solely for the hours he spent talking me off the ledge of my discouragement, in deep, personal terms.
The techniques, though, are still applicable, and by the time Kevin wrote me, I had given them some months of thought. I had also read a great book about business called Mission in a Bottle, by the founders of Honest Tea — it's a comic book, so it's wonderfully accessible. Bringing an unsweetened high-end iced tea to market in a Snapple and Lipton world was akin to my taking my older-but-newer kind of fantasy to the mainstream fantasy market. I didn't need to pretend to mass appeal; I needed to appeal to people left behind by all the other writers seeking mass appeal. Time and time again, Honest Tea made their difficulties into strengths, their bugs into features that other manufacturers couldn't copy without violating their brands. I would do the same.
I gave Kevin eight single-spaced pages of multi-year marketing plan: about the market, about hybrid genres, about the slow building of literary cred, about modern bookbuying, about WordFire's current stable and how I fit in it – which was to say, as an outlier, and how that meant a new audience WordFire didn't really have. I even had the synopsis of Spiders – not a sequel, but enough to show I had more for Demon's audience, maybe enough to build a tiny, quirky brand.
I got a contract.
My entrée to WordFire was equally circuitous, so it's clear that they recognize talented odd-balls! Why do you write?
It's not simply that I'm a highly verbal person, and a hugely analogical thinker. I suspect it's something deep and simple involving how I understand the world. When I go to other countries, I buy local fiction. One of the few "eureka" moments I've had involving writing was Samuel R. Delany's note in Dangerous Visions about how science fiction let him unite "the disparate and technical with the desperate and human." I read that in eighth grade and it still rings true now.
I grew up with an inadvertently secret history. My parents came to America from Poland in 1961, having survived WWII and Soviet domination well enough to escape them. After they did, they didn't really talk about their pasts, didn't really want to. They couldn't know this gave me a great discomfort, a sense of unrootedness and not belonging in America, in ways I was too young to understand or express, save in my love for Mr. Spock.
I think Edith Hamilton's Mythology was the first time I had both a complete cultural history and an understanding you could discuss the world in real ways through the manifestly unreal and impossible. Now they're tied together in my head. Perhaps if my parents had told me about their lives sooner, I would have been a historian.
Would you care to share something about your home life?
Because of my traveling AOL career, I really only started having a home life rather late in life. I married in my early forties. My wife and I met at the dog park, so animals are a big part of our lives, and my wife is on the board of our local shelter. I've always loved live theater, and we try to get out to new plays as often as we can. Washington is a huge theater town, with dozens of companies, from scrappy to plush. I served on the boards of two DC theater companies for many years, and as a volunteer script reader for one, until children and novels overwhelmed my volunteer time. Reading twenty scripts a year is fantastic dialogue training, by the way!
"Winter is coming" holds no menace to this avid skier, only joy.
How do you pick yourself up in the face of adversity?
Sourly, then wryly. As Samuel Beckett wrote, "Try again. Fail again. Fail better." But failing better is different from failing bigger. I try to look at what went wrong and see if it ever could have gone right. Sometimes, it couldn't have, and my eager ignorance baked in the failure I should have avoided.
Do you have any pet projects?
I have a small side-project, derailed by Demon's launch, which I plan to pick up next spring after the next draft of Spiders. It's a serial thriller novella called The Scientists and The Spy, about the secret WWII military work done in my own Washington DC neighborhood by the scientists at the National Bureau of Standards (now the National Institute of Standards and Technology). It's very different from my usual – all-ages audience, historical fiction – but it turns out evoking the past is worldbuilding too. Plus, the research is a hoot!
Thank you, Tony, for taking the time to share with us. Before I present our visitors an excerpt from Demon, I'd like to finish with my customary Lightning Round. In as few words as possible, please complete the following:
 My best friend would tell you I'm… not nearly as good a drinker as I like to believe.
The one thing I cannot do without is… a myth that I had to stop indulging long ago.
The one thing I would change about my life is… to worry even less about what I'm "supposed" to do.
For those of you who've been waiting, here is an excerpt from The Demon in Business Class: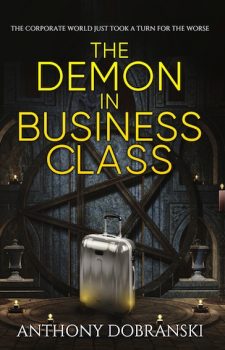 In the fake-oak-paneled conference room, Zarabeth Battrie found a dozen others standing. All looked wilted and worn, with bunched shirts and bowing ankles. The plastic tables were gone, the plastic chairs stacked in the corner. More people arrived but no one unstacked the chairs. A herd instinct, Zarabeth decided, to keep a clear path for fleeing.
A natty beige man in a crisp blue plaid suit came in, pushing a low gray plastic cart with stacks of documents. If the standing people surprised him, he didn't show it. With practiced ease he lowered the room's screen, plugged in his power strip. Someone passed the documents around but no one spoke. In the silence, Zarabeth felt anxieties around her, about money, status, children, groping her like fevered predictable hands. Too intimate, these people's worries in her skin when she didn't know their names, or want to. She shook them off, pushed through to the front so as not to stare at men's backs all meeting.
Projector light bleached the natty man while he talked through slides of sunsets and bullet points, with the real news a seeming afterthought. Her office and two others were merging with Optimized Deployments, in Boston. A great move. Efficiency for all. The animated org-chart realigned over and over, three squares gone and Optimized's no bigger. Reorganized like a stomach does food.
People asked tired questions, their hot worry now clammy hope. The natty man smiled no matter what he said. Yes, redundancies. Jobs would move, details to work out. All would be well and better.
He left to spread his joy. The room lights rose.
Zarabeth's boss, Aleksei Medev, slouched in the corner like someone had whacked his head with lumber. His unshaven olive skin hung gray and limp. With all eyes on him, he straightened.
"A very challenging time," he said. "We're sending reports to justify—to guide the transition. Client work is secondary."
Zarabeth was in no hurry to fill out Aleksei's useless reports. Nothing she had done in the last two months justified keeping her employed, she knew that. She went out the broken fire exit to a stand of pine trees behind the parking lot. She lit a cigarette, paced in the shade.
Once, Zarabeth Battrie had traveled the country as an Inspiration Manager, connecting the best people at Straightforward Consulting to an in-house knowledge network. She had good instincts which managers to flatter, which to cow, which to sneak past. It surprised her how much she understood when she finally got her quarry to talk their special arcana, over morning jogs, lobster lunches, steak dinners, midnight hookahs with shots of tequila. Later, on airplanes, she'd think of those and other conversations, watching the pieces fit together in this strange unity and balloon, her world growing with a drug-like jolt. To let her do that, week in, week out—taking off, landing, on the move, on her feet—had been the greatest praise.
On Valentine's Day, it had evaporated without explanation. Zarabeth had been reassigned from downtown Washington to Reston, in the Virginia suburbs, to do public-relations grunt-work for industry trade groups. Aleksei Medev, still shiny then, had put his feet on her new desk and spun a great tale, core knowledge toward a turnkey marketing solution, select team deep study. At least she got an office with a door.
Zarabeth had visited Boston twice in her old job. Optimized had smart people and kept them by being greedy. They would suck the money from her division like marrow from bone. Everyone fired, no matter how they danced.
Doubt ate through her like some parasite come to lay its eggs. She pinched the cigarette's cherry to burn it off with pain. Six years at this firm would not end this week.
You may follow Tony on FaceBook, Twitter and Instagram as ADobranski.
His website is: www.anthonydobranski.com
You can purchase The Demon in Business Class ebook at: https://www.amazon.com/Demon-Business-Class-Anthony-Dobranski-ebook/dp/B01MFG0ARS/
 If you are interested in following his progress on his historical thriller, The Scientists and the Spy, you may do so here: http://www.foresthillsconnection.com/category/style/sci-spy/