This week's guest is award-winning fantasy writer, Leisl Kaberry. I first met Leisl online. She's a member of Facebook's Fantasy Sci-fi Network, a group of amazing writers and readers you might wish to consider taking part in. I've found this multi-talented Aussie-turned-Canadian a real delight as I've gotten to know her. In turn, I thought you would also enjoy meeting her. Leisl writes fantasy adventures. Here's what she has to say about herself: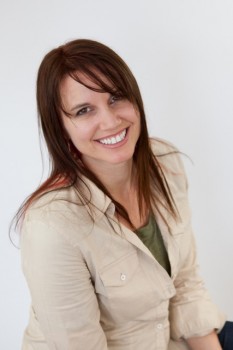 'I was never going to be a writer… seriously.' Somehow despite Leisl's lifelong love for making up and telling stories, she had no desire to become an author. However, after a creative urge spurred her on to write an idea for a scene, the world of Titania was born and she hasn't looked back since. Born and raised in Australia she has lived in a variety places, including the Australian outback and Montreal, Canada. She currently resides in Kitimat, Northern British Columbia with her husband and four children; she is studying a degree in Criminology and Criminal Justice, is an amateur theatre actor and enjoys snowboarding during the winter.
Will you tell us about your award, Leisl?
Recently I won the RomCon Readers Crown 2014 for Fantasy. I was just thrilled to become a finalist, so to actually win… I was over the moon. Our local library in Kitimat has hung all the framed artwork from the book on the wall there. 11 pieces in total… I consider that a great honour, for me and my artist.
With the degree of competitiveness in today's writing community, I can assure our visitors this is no small achievement. Since just getting published is also a major achievement, will you please share your experience?
I took the really long road on the first. When I started writing Journey of Destiny, I knew I needed to see it through and have it published, but writing for me (over ten years ago) was nothing more than a hobby and I would sit down to write whenever I had a creative urge. Fast forward to when we moved to Montreal Canada and I was stuck indoors while it was freezing cold outside, I barely knew anyone and I was struggling to learn the language. I found myself sitting down to write on a regular basis, when I could get some quiet time away from the kids. Within a year I was finished writing, I bought myself the book Self-Publishing for Dummies (no, really) and I set to work editing for the next three years. I did multiple edits myself between having others edit for me and in that time I rewrote and wrote a whole lot more. I found an artist through a mutual friend and we talked about her doing the cover for me and that turned into a whole lot of other artwork inside the book also… this dragged things on while I learnt how to format and prepare my book for publishing. Just over 11 years from conception to fruition. A worthwhile journey though… I learnt a stack in that time about writing, developed as a person, had some amazing experiences and lived in some very different places… all of which was fodder for my imagination.
That path suggests real discipline. I'm wondering if you ever get stuck. Do you ever experience writer's block?
I don't know that I've ever really had writers block, for me when I find I can't write it's usually just a function of being uninspired which leads to can't be bothered and the manuscript not being worked on. I tend to find a good brainstorming session will get me past any issues though.
When I'm stuck on a problem the best thing I can do is leave the computer and give it some serious thought. Lying on the couch, sitting in the hot tub or going for a walk by myself can help me relax and just let my mind play with imagination. All answers seem to come after a serious brainstorm and usually with added excitement and clarity. All I want to do then is sit down and write feeling freshly inspired.
What life experiences have enriched your writing?
I guess the biggest inspiration through life experiences has been travel and living in different locations. Traveling to different parts of the world has opened me up to new and exciting scenery that I was able to experience in ways that you can't through a picture alone. The smells, the people and even the ambient temperature all add to the experience and give inspiration to my world. In the book I'm working on at the moment, a good part of the story takes place in a country that was inspired by a trip to Iceland. Iceland's terrain is so different and unusual that it is frequently used for filming sci-fi and fantasy movies including Batman Begins, Oblivion, Prometheus and my favourite, Stardust. I loved it and the very experience being there gave me so much feed for my imagination.
Having lived in very different locations has also given me a wealth of inspiration for growing and enriching my world. Living at the top of Australia in the tropics certainly inspired the first book.
What are you working on now?
Right now I'm a hard a work editing the second book of the Titanian Chronicles. It's fully written and it will soon be passed on to others for further editing. My aim is to get it out by Christmas. While the first book sets our heroes out on a journey of discovery beyond the elvin borders where they have spent the entirety of their lives, the second book sees them five years on, at a time where the armies of the Warlord Moorlan are gathering and the mysterious Dark One is in search of furthering his power. I have seen this book in my mind since the beginning of my own journey writing the first book, there is a lot of exciting plot development in this one and it was so inspiring to write.
What is your typical day like?
A typical day for me starts at 6am with exercise… it's the greatest thing to wake me up and get me going for the day. Then after I shower, the next hour is all about getting my kids ready for school and off to the bus stop. When I get back with the dog I finally sit down to breakfast and I work through my emails and social media. After that there's housework and I study. In the early afternoon I sit down to work on my book and most days I can get few hours in before all the kids come bursting in the door from school. Once they are home its pens down for me and it becomes all about them. I help with homework and taxi the kids around to after school activities. I sometimes get a bit more writing done after the kids go to bed but then I also hang out and relax with my husband and maybe get some reading in. Then we go to bed around midnight and get up again at six the next day to start it all again. It doesn't sound exciting but any day I get to work on my book is a good day for me and I find that exciting.
How do you overcome adversity?
I tend to be a pretty optimistic person anyway and try to see things in a positive light but it doesn't always work straight away. I tend to find a good sleep does wonders… things always look better in the morning. 'The sun will come out tomorrow…' and all that, it really works!
Do you have a favorite quote?
"Don't cry because it's over, smile because it happened." ~ Dr Seuss. I love this quote… the Dr knew too well. See!? This totally reflects my positive point of view.
It does! And I like your take charge attitude. So then I have to ask, if you could change your circumstances and live anywhere in the world, where would you choose to live?
Hawaii… haha, and I say that without ever having been there. I'm a beach girl, I just live for it. The roar of the waves, the salty smell in the air, the refreshing water and soft white sands is alluring to me. I would be happy just living in a shack on the beach and Hawaii has a wonderful and rich culture too that I imagine would also inspire me.
Now comes the Lightning Round. In a few words, answer the following:
The one thing I cannot do without is…
My family… I tend to think of my laptop as family too… it carries my characters and the story they tell.
In one or two words, what is your defining trait?
Happy go lucky – Oops three words.
Hard copy or ebook?
Although I think ebooks are great and so, so convenient, I still love hard copies of books and where I love a book or series, I will have to have it on my shelf.
Vice? Virtue?
Virtue for me and vice for my characters
Favorite book:
Daniella (played by Drew Barrymore) in Everafter is asked to pick a book, any book and she says "I could no sooner choose a favourite star in the heavens." I feel this way.
Favorite movie:
Stardust
Do you have a parting thought you would like to leave us with?
Not really, but I would like to say thanks Raymond for the interview, I appreciate you taking the time.
Thank you for joining us.
I asked Leisl to provide a synopsis and an excerpt fromTitanian Chronicles – Journey of Destiny. She provided the following: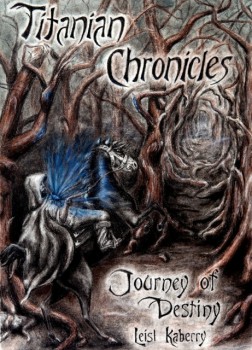 Synopsis
Afeclin walked nervously to the entry of the cottage. He held his breath as he passed over the threshold.
A little cradle was the only piece of furniture left in the building.
Afeclin touched the cradle delicately with one finger.
All of a sudden he fell backward onto the floor as an image of the fire burst into his mind…
He had seen a horrified face that screamed amongst red hot flames.
Found beyond the Elvin borders, Afeclin, a human child, is taken in and raised by an Elvin King. Now grown and longing to learn about the mystic arts, he embarks on a journey back into a land now unfamiliar. Accompanied by his elvin friend, Wolflang, they leave their homes to seek out their destiny. Unbeknown to Afeclin and Wolflang however, the warlord, Moorlan and his confederate, a dark mage, are preparing to bring war to the peaceful Land of Marrapassa, putting their lives and those they care about, in danger.
Excerpt
The ground had been a lot colder and harder to sleep on than it had first appeared. Wolflang had found himself sleeping on rock and although the rock was covered in fresh fallen leaves and moss it provided little comfort for the elf.
Adding to the problem, the day's events had kept playing over and over again in his mind.
In the early hours of the morning, exhaustion overcame him and Wolflang, tired and achy, fell into a deep sleep.
It was during this sleep, while his body was relaxed and free from the tension built up in him from the previous day, he saw a familiar being.
A human man, wearing a leather cloak, stood before him and beckoned for Wolflang to follow. His face was shadowed by the cloak's hood apart from his jaw and cheekbones covered in thick, greying stubble. Deep wrinkles around his mouth and down his neck showed that the man was aged and his weathered hands were old but strong.
'You're the hooded man I saw at the celebrations the other night.'
The man nodded and once again beckoned for Wolflang to come with him.
Wolflang, while curious, felt at ease with the old man despite his mysterious nature. He began to walk towards the hooded figure, stepping with lightness on the ground.
The older man led Wolflang to the edge of a cliff. There he beckoned the elf with an open hand to cast his eyes over.
Wolflang came and stood beside the hooded man, looking down into a deep valley beset by mountains.
He beheld a frightening scene before his eyes. For there in the valley a mighty battle raged. Heavy men clad in black armour, not unlike the pig-faced trolls they had seen the day before, surrounded a small multi-raced army.
Wolflang could hear the clang of swords clashing and shouts of anger and fear as men fought for their lives, giving everything they had. Blood flooded the terrain as one by one, the smaller army's men fell to the ground dead.
The men in black, having been victorious, waved their swords in the air and cheered in celebration of their slaughter. It was a sickening sight.
'What is this?' Wolflang asked shaking his head.
The hooded man spoke at last, 'It is a vision of an event that is to come.'
Wolflang felt sick to his stomach. He stared at the strange man with an incredulous frown. 'Why do you show me this?'
'In this moment of time lies a part of your destiny,' the hooded man said as he faded away before Wolflang's eyes.
'What do you mean? I am to die down there?' Wolflang shouted at the already faded figure.
Wolflang's mind raced as he tried hard to comprehend what he had just witnessed. He buried his head in his hands in sorrow and slumped down to the ground.
If you'd like to buy Leisl's book, or learn more about her, please click on the following links:
Book links:
http://www.amazon.com/Titanian-Chronicles-Journey-destiny-Volume-ebook/dp/B00F3UYKZS
https://www.smashwords.com/books/view/422214
Social links:
Blog http://titanianchronicles.blogspot.ca
Twitter https://twitter.com/Lawfabex
Facebook www.facebook.com/titanianchronicles
Pinterest http://www.pinterest.com/leisl78/