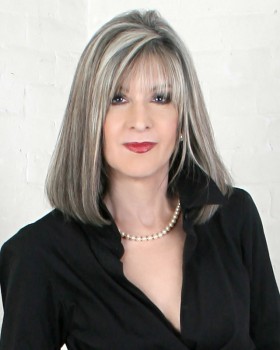 Today, I am inserting an interview between my regularly scheduled spots to feature a very special author. Hank Phillippi Ryan is an award-winning crime fiction author and the on-air investigative reporter for Boston's NBC affiliate. She's won 32 EMMYs, 12 Edward R. Murrows and dozens of other honors for her ground-breaking journalism. A bestselling author of six mystery novels, Ryan has won multiple prestigious awards for her crime fictions: the Agatha, Anthony, Macavity, and the coveted Mary Higgins Clark Award. National reviews have called her a "master at crafting suspenseful mysteries" and "a superb and gifted storyteller." Her previous work, The Wrong Girl, has the extraordinary honor of winning the 2013 Agatha Award for Best Contemporary Novel. A six-week Boston Globe bestseller, it is also an Anthony and Daphne Award nominee, a Patriot Ledger bestseller, and was dubbed "Another winner" in a Booklist starred review and "Stellar" by Library Journal. She's a founding teacher at Mystery Writers of America University and 2013 president of national Sisters in Crime. She is a rare breed, as she managed to maintain two equally successful careers as a bestselling crime fiction author and award-winning investigative reporter.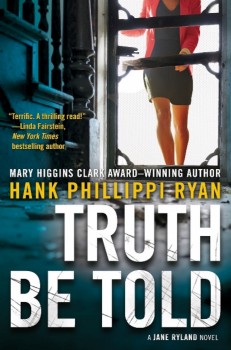 Her latest thriller, Truth Be Told, was released on October 7. I'm happy to help her launch it.
Ms. Ryan, given your background, I suspect there is a story behind Truth Be Told. Would you care to fill us in?
That's a question that some authors loathe…but I love! TRUTH BE TOLD is a puzzle in four parts.
Part one. My husband is a criminal defense attorney. When we first met, I asked: "Have you ever had a murder case where the defendant was convicted, but you still thought they were innocent?" His eyes softened a bit, and then he said: "Yes." The man was charged with murder in the death of a young woman—the prosecution said he had lured her to a forest, and tied her to a tree.
Jonathan told me he still, to this day, thinks the man is innocent.
Hmmm. Idea.
Another puzzle piece? Another of Jonathan's cases. A man in prison, incarcerated with a life sentence for shaking a baby to death, recently confessed to a cold-case murder. It's very unlikely that he actually did it—so why would he confess?
Hmmm. Idea.
Another puzzle piece. We recently did a big story on abandoned homes in Boston. They are all places the banks have foreclosed on, where the owners have been evicted, and the houses are now empty. All are for sale. Many of them are neglected, with broken windows and overgrown lawns. But some are in good shape. While I was interviewing the head of Boston's Inspectional Services Department about this, I began to wonder. What could be going on inside those forgotten empty houses?
Hmmmm. Idea.
I also thought about the people who had been evicted from those homes. People who'd gotten mortgages from banks with lots of money, but who through some failure of their lives, some catastrophe or disaster, some wrong decision or bad luck had not been able to keep up the payments. Wouldn't there be something that could have ben done to prevent that? If a banker-type really cared about their customers, wouldn't there be something that could be done to keep people out of foreclosure?
Hmmmm. Idea.
And finally, I was sitting at the computer in my TV station office, writing a story, and thinking about why I do what I do as a reporter. It's making history, I decided. It's creating the record of what happened in our lives, the comings and goings, that issues and the solutions, the documentation of how we live. And people believe it, right? What's on TV and in the newspapers becomes a resource by which all is remembered and relied on.

And then I thought—what if some reporter decided not to tell the truth? Not big discoverable lie, but simply—little things. A sound bite, a reaction, a quote. Who would know? What difference might that make? And what would happen when the truth was finally told?
Hmmm. Idea.
And in the way we all do as authors, by spinning and polishing and twisting and turning, and shooting it full of a lot of adrenaline and a little romance, I got the key elements of Truth Be Told:
A mortgage banker turned Robin Hood decides to manipulate bank records to keep people out of foreclosure, a murder victim is found in a foreclosed home, a man confesses to the unsolved Lilac Sunday murder, and a reporter makes stuff up.
And when it all comes together in the end: TRUTH BE TOLD.
And now you know exactly where it came from.
That's more than a little intriguing. Now, I have to say no one wins as many awards as you have by following the herd. Why is your writing different from other authors in this genre?

I have wired myself with hidden cameras, gone undercover and in disguise, confronted corrupt politicians and chased down criminals. My TV investigations have changed laws and changed lives—and I have 32 Emmys to show for it!
And it's so fascinating to me that all those 40 years of reporting were not the end in themselves—but turns out, they were just the research to prepare me for my second career as a crime fiction author! So when my main character reporter, Jane Ryland, worries about stalkers, deadlines, breaking news, keeping her job, tracking down clues, following leads, doing research and making sure the bad guys get what's coming to them—it's all from my own experience! (Tweaked and polished and expanded, of course!) And that, I hope, is what brings authenticity–authentic suspense and authentic stakes—to the books.
What happens to Jane has—or could!—happened to me, or any hardworking reporter. Now, as one fellow reporter put it "She lives it, now she writes it!"
Do you ever experience writer's block and, if so, how do you overcome it?
Oh, gosh, I get over it by denying its existence. After all these years as a reporter—can you imagine what would happen if I went to my news director and said—You know, can I be on the air at ten after six instead of six? I'm just not feelin' it right now… "
I'd be laughed out of the business. So I know that some days, the writing isn't going to be fabulous, but I also know it has to get done. So I persevere, and allow myself to be bad. I can always make it fabulous later!
I also think that when people feel they have writers block, it's actually a signal from their writer brain that something is wrong—and a message to you to find it and fix it. Sometimes when I'm stuck—and that's inevitable!—I scroll back fifty pages and just start reading. Often the mistake or the omission or the error in continuity or the plot glitch will appear, and ping! I can fix it and go on.
That's marvelous advice. If I may pry a little, can you tell us a little about Hank the person? For example, if you could do anything differently, what would it be?
Not a thing. Not one little thing. The "mistakes" I have learned from .The joys—I count my blessings. It's all good. (I might have learned how to play the piano, but still, no. That took time from something else that matters.)
What is your greatest life lesson?
Oh, gosh! I think I have learned not to worry. To try not to worry, at least. If I had to go back to my geeky unpopular bookish 10 year old self and tell her something—I would say—get ready, sweetheart, everything going to be great.
What are a few of your favorite authors?
Edith Wharton. Shakespeare. Tom Wolfe. Thomas Wolfe. Stephen King. Kent Krueger. Oh, so many! If I start listing contemporaries, the page will soon be full.
A few Lightning Round questions. Please fill in the blanks.
The one thing I cannot do without is:
Coffee. Paper and pencil. My husband. (fine, fine, in the opposite order.)
Hard copy or ebook?
Hard.
Vice? Virtue?
Yes, wine. (Is that a vice?) Virtue? I love to solve problems. And I am a good cook.
Favorite book:
Too hard. The Stand? Custom of the Country? Bonfire of the Vanities? Winters Tale?
Favorite movie:
Too hard. Lawrence of Arabia. To Kill A Mockingbird. Desk Set. The Godfather. Working Girl.
I can only imagine how hectic your schedule must be as your launch date approaches, so I want to thank you for taking the time to stop by and visit with us. Before I draw this interview to a close, do you have any closing thoughts you'd like to leave us with?
Two things. On a practical level— If you love a book? Please tell someone. Word of mouth is the most valuable commodity in publishing. (If you don't like it… um, just don't say anything.
And philosophically? I am so grateful to readers. I didn't start writing until was 55, in the midst of a terrifically wonderful career as a journalist. I'm the poster child for following your dreams at midlife! So what is it YOU'D like to do? And what are you waiting for?
Ms. Ryan, thank you so much for taking the time to share with us.
For those of you who would like to learn more about the author, these are her social links:
Facebook: https://www.facebook.com/HankPhillippiRyanAuthorPage
Twitter: https://twitter.com/HankPRyan
Website: http://www.hankphillippiryan.com/
You can find numerous links through which to purchase her books on her website. As a quick assist, here is her Amazon link:
http://www.amazon.com/Truth-Be-Told-Jane-Ryland/dp/0765374935/ref=sr_1_1?s=books&ie=UTF8&qid=1405641425&sr=1-1&keywords=0765374935&dpPl=1
TRUTH BE TOLD
Hank Phillippi Ryan
A Forge Hardcover
ISBN: 978-0-7653-7493-6
400 pages / $24.99
On-sale: October 7, 2014
Also available in E-book, ISBN: 978-0-7653-7497-4
Audio CD: 978-1-4272-4387-4
Digital Audio: 978-1-4272-4388-1