I was introduced to Nancy Kress by my previous guest, Mike Resnick, this past August at the WorldCon book launch party that WordFire Press was throwing for his newest release. The guestroom where the party occurred was growing increasingly crowded as Mike led me through the throng of partygoers toward an attractive brunette seated on a couch against one of the walls. When he told her about my interview series, she smiled and immediately gave her email address to this stranger standing before her, assuring me she would be delighted to participate. I could see I was interrupting her conversation with the woman seated next to her, so I thanked her as best I could and made myself scarce. To this day, I wish I had had a better opportunity to get to know her. This then, is your chance and mine to acquaint ourselves with one of the all-time masters of sci-fi and fantasy.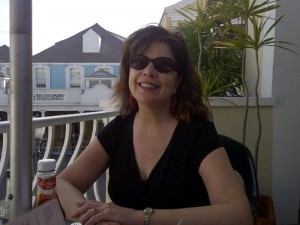 Nancy Kress is the author of thirty-three books, including twenty-six novels, four collections of short stories, and three books on writing. Her work has won six Nebulas, two Hugos, a Sturgeon, and the John W. Campbell Memorial Award for the novel Probability Space. She often writes about genetic engineering and is perhaps best known for the Sleepless trilogy, beginning with Beggars In Spain, a complex look at the intersection of genetic engineering and national economics. Most recent works are the Nebula-winning Yesterday's Kin (Tachyon, 2014) and Best Of Nancy Kress (Subterranean, September, 2015). Her work has been translated into more than two dozen languages, including Spanish, French, German, Croatian, Danish, Hebrew, and Klingon.
In addition to writing, Kress often teaches at various venues around the country and abroad; in 2008 she was the Picador visiting lecturer at the University of Leipzig. Currently, every summer she teaches Taos Toolbox, a two-week intensive writing workshop, with Walter Jon Williams.
She describes her most recent release, Best Of Nancy Kress, this way:
This collection holds twenty-one stories, written over nearly forty years and representing the best of Nancy Kress's fiction. Three of these stories have won the Nebula, the Hugo, or both, and another four were nominees. They include time travel ("And Wild For To Hold"), hard SF ("Shiva in Shadow," "Margin of Error"), alien planets ("Flowers of Aulit Prison," "My Mother, Dancing"), trenchant satire ("People Like Us"), near-future extrapolation of current technology ("Someone to Watch Over Me"), explorations of social movements ("Beggars in Spain"), and unclassifiable ("Grant Us This Day"). The gorgeous cover, representing Anne Boleyn in "And Wild For To Hold," is by Tom Canty.
The stories were chosen by Kress herself, who says: "The stories in this book try to do different things. Some, such as 'People Like Us,' are predominately idea stories. Some, like 'Laws of Survival,' are mostly interested in what a character would do in an impossible situation. Some, like 'Unto the Daughters,' were written because I enjoyed writing the voice. At least one, 'Casey's Empire,' is a comment on writing science fiction: why, how, and at what cost one may become an SF writer. I picked the stories that are my personal favorites."
The Best Of Nancy Kress received a starred review in Publisher's Weekly, which called it a "sparkling and thoughtful collection…Kress has a gift for focusing on the familiar and the personal, even in the most alien settings."
Nancy, thank you so much for agreeing to honor us with your presence. You've been writing for nearly forty years and have almost one book still in print for each of them. In addition to your many Hugo and Nebula award-winning science fiction novels and novellas, you've written numerous short story collections so I am compelled to ask, how do you keep your writing fresh?
Writing evolves. My first three novels were fantasy, the first heavily influenced by Peter Beagle (a fact mentioned by every single reviewer of the book). Then I moved on to more traditional fantasy, before deciding I'd like to write a science fiction book. I did some thrillers, some space opera, and, increasingly, hard SF based on emerging science. The disadvantage of this is that, unlike some other genre writers, I have not built a "brand" with a coterie of faithful followers sure that they will like the next book because they liked the last one. The advantage is that it does keep writing fresh to always be trying something new. And, of course, with hard SF, there is always new science to draw on.
I enjoy Beagle's writing, as well. Many writers specialize in either non-fiction or fiction. Some choose to write almost exclusively novels or short stories. I, for one, feel I need novel-length works to develop my themes, yet you seem to thrive in virtually every writing environment there is, including non-fiction. While many of your books are for adults, your 2013 novel Flash Point targets a YA audience, something that requires an entirely different mindset. I don't mean to sound disparaging—far from it—you've earned my greatest respect. Nonetheless, I have to ask how is this possible?
I think some writers are natural novelists; some are more effective at shorter lengths. I've experimented with all of them, and my conclusions are two: First, my favorite length for science fiction is the novella. It is long enough to develop an alternate world but short enough that only one plot line is needed, which lets the writer drive that one on through for maximum punch. Second, I think I am a better writer at short lengths than at novel lengths. All my awards except one are for short fiction. As for Young Adult books—Flash Point was also an experiment, but not one I will repeat. I didn't really understand fourteen-year-olds when I was one, and the teenage culture now is not something I think I can successfully appeal to.
Many of your works delve into areas that require great technical expertise, for example genetic engineering and artificial intelligence. Yet, as far as I can tell, before your writing exploded, you transitioned from being an educator to working in advertising. What do you read to develop the knowledge base required for your books?
I wish I had a scientific education! Had I known when I was young that I would turn into an SF writer, I would have chosen differently. Instead, I hold a Masters in English. To write about genetic engineering, I research on-line, attend lectures, and pester actual scientists with questions. My best friend is a doctor; she goes over my work to check that I have not said anything egregiously moronic.
A career such as yours has many turning points, some striven for, others that blind-side the recipient for better or for worse. Would you care to provide two or three of the more pivotal moments?
The first turning point for me came with the writing of the novella "Beggars in Spain," which won both the Hugo and the Nebula and which would never have been written without a jolt from writer Bruce Sterling. At a critique workshop we both attended, he pointed out that my story was weak because the society I'd created had no believable economic underpinnings. He said this colorfully and at length. After licking my wounds for a few weeks, I thought, "Damn it, he's right!" In the next thing I wrote, "Beggars in Spain," I seriously tried to address economic issues: Who controls the resources? What finances are behind what ventures? Why? With what success? My story about people not needing to sleep, which I'd actually been trying to compose for years, finally came alive.
Another big turning point for me was deciding to make my two biothrillers, Oaths And Miracles and Stinger, as realistic as possible. That meant a lot of scientific research. My reward was having both scientists and FBI agents tell me, "I believed every word you wrote." Very satisfying.
Would you be good enough to describe your path to publication?
I began with three short-story sales to SF magazines. That convinced an agent to look at my first novel, without making any promises of representation. But she liked the book, and so she took me on.
What are you working on now?
I'm writing an SF series based on my novella "Yesterday's Kin," which won the 2014 Nebula. Aliens come to Earth—but they are not as alien as we think, and they bring both great tech and bad news. When I finished the novella, I felt that the immediate story was done but not the greater implications. A three-book series will come out from Tor over the next few years.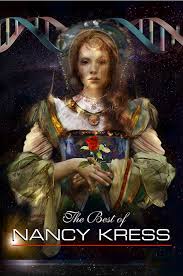 On September 30 of this year, Subterranean Press is releasing The Best Of Nancy Kress, a collection of twenty-one stories written over thirty-five years. I'm really pleased about this.
If there is such a thing, describe a typical day.
I am a morning writer. I wake up early (very early, and it's getting worse as I get older), drink coffee while puttering around for an hour or so, and then write. If fiction doesn't get written by noon, it doesn't get written. In the afternoon, after a walk with my husband and the dog, I do research, email, edit student manuscripts if I am teaching just then, social media—all the non-writing things that go with being a full-time writer. Evenings that we are home, I read. Of course, all this changes with the of actual life. But that's the basic template.
I'm no stranger to rising early to write. I understand the morning routine very well. Would you care to share something about your home life?
I live in Seattle with my husband, writer Jack Skillingstead, and Cosette, the world's most spoiled toy poodle. I've been here in Seattle for six years now, having moved from upstate New York to marry Jack, and I love the city. It's beautiful, temperate in climate (unlike Buffalo, where I grew up), and culturally rich. Also, there is a large SF community here.
What inspires you, not necessarily as pertains to your writing?
Narrative and science both inspire me. I get the narrative from books, movies, and some TV. I love movies and go often. The science I must seek out. In addition, I play a fair amount of chess, but I can't say that inspires me because, alas, I'm not very good at it. When I was younger, I didn't think you could really enjoy something you were bad at. Turns out I was wrong.
Which authors do you enjoy—sci-fi and otherwise—and why?
My favorite author is Jane Austen: not an intuitive choice for an SF writer. But her satire on how humans behave is just as fresh, funny, and true today as it was during the Regency. Out of genre, favorites include Somerset Maugham, Anne Tyler, Philippa Gregory, Karen Joy Fowler. In SF and fantasy, a diverse group: Ursula LeGuin, Bruce Sterling, Connie Willis, George Martin's Game Of Thrones, Daryl Gregory, Fred Pohl. Some new, some old.
I always conclude my interviews with what I call a Lightning Round, since the responses often yield unexpected insights. In as few words as possible, please complete the following:
My best friend would tell you I'm… Over-organized, always wanting to know "what is the plan?"
The person I'm most proud of is… My two children.
The one thing I cannot do without is… Coffee.
The one thing I would do over is… You don't really expect me to answer that in public in any significant way, do you?
Hah! No. I guess I don't. The thing that always makes me laugh, right down to my gut, is… My husband. He has a wonderful dry sense of humor. My two children.
Nancy, thanks once again for joining us, most especially for your thoughtful replies. (I also need to find a copy of one of your works in Klingon. What an item that would be!)
Those dropping in for a peek can learn more about this wonderful author via these links:
Website:         www.nancykress.com
Twitter:          @nancykress
Facebook:      https://www.facebook.com/nancy.kress.9
You may purchase her books here on Amazon:               http://www.amazon.com/s/ref=nb_sb_ss_c_0_11?url=search-alias%3Dstripbooks&field-keywords=nancy+kress&sprefix=Nancy+Kress%2Caps%2C206
Or through her Amazon author page:       http://www.amazon.com/Nancy-Kress/e/B000AQ4SK2/ref=sr_tc_2_0?qid=1444280027&sr=1-2-ent