WordFire Press of Monument, Colorado has graciously allowed me to interview a number of its authors, many seasoned, some in the process of debuting their work. In the process, I've been learning that, with WordFire, "debut" does not necessarily mean "unseasoned." In fact, this week's featured debut author, Josh Vogt, is a publishing world veteran. He has been published in dozens of genre markets with work covering fantasy, science fiction, horror, humor, pulp, and more. He also writes for a wide variety of RPG developers such Paizo, Modiphius, and Privateer Press. His debut fantasy novel, Forge of Ashes, is a tie-in to the Pathfinder roleplaying game. WordFire Press has also launched his urban fantasy series, The Cleaners, with Enter the Janitor (2015) and The Maids of Wrath (2016). He's a member of SFWA, the International Association of Media Tie-In Writers, and a Scribe Award finalist.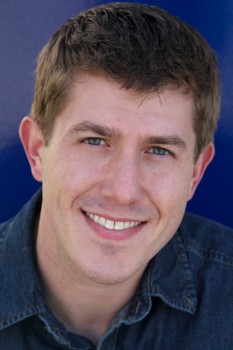 I first met Josh in August at WorldCon in Spokane and found him to be at once engaging and intelligent, likeable to say the least. A quick glance inside his books reveals a brisk writing style and atypical, engaging characters. Also atypical of The Write Stuff's usual line of suspects, Josh is releasing two debut novels this year. When I asked him to tell us a bit about each, he provided these two insights:
Forge of Ashes, Sword and sorcery (RPG tie-in):
A female dwarven barbarian returns home from war to discover her family in disgrace and her mother missing, presumed dead. Monsters, magic, and mayhem ensues as she risks all to fix the situation.
Enter the Janitor, Urban fantasy:
A janitor working for a supernatural sanitation company must track down a fledgling demigod before it's corrupted or destroyed, all while training a rebellious new employee whose fluctuating power could trash an entire city.
Please tell us about this year's releases.
I had quite an interesting debut year as an author, as I had two books come out in the same month from different publishers. As they were almost simultaneous, I treat them as my "collective debut." Technically the most recent was Enter the Janitor, which launched during Denver Comic Con. It's about janitors (and other sanitation workers) employed by a supernatural sanitation company that keeps the world clean and safe—be it from sewer monsters, magical muck, or trash golems.
What was the biggest challenge you faced writing Enter the Janitor and how did you overcome it?
Well, urban fantasy is a somewhat crowded genre these days. It can be hard to make a story stand out or seem unique. Aside from taking the idea of supernatural sanitation, I feel that by emphasizing the absurd humor, it can provide a fun, entertaining (and unique) experience for readers.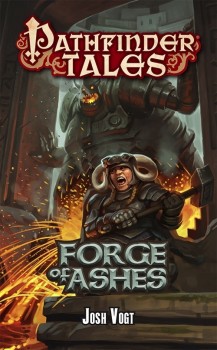 Tell us a bit about Forge of Ashes.
This is my first media tie-in novel, based on the Pathfinder roleplaying game. Set in the fantasy world of Golarion, it features a female dwarf as the main character. She's been away from home for a while and returns home to find a bit of a family disaster waiting for her—and with anger issues and an identity crisis already looming over her, she's not best equipped to handle things in the healthiest manner.
What else are you working on?
Lots! I've currently got the second Cleaners novel in production and it should be out later this year. Then I'm getting into the draft of the third in the series. I'm also working on a Pathfinder novella, a possible middle grade scifi tale, and other RPG tie-ins. Plus a number of short stories and plenty of other novel ideas brewing. Oh, and I'm taking on a new job as a full-time editor for Paizo (the publisher of Pathfinder)!
Are there any occupational hazards to being a novelist?
It's a job that requires you to be a little insane and obsessive in your persistence. It also involves a lot of sitting (though I try to work at a standing or treadmill desk to balance that out). Oh, and it can do terrible things to your finances and work/life balance…sometimes causing you to have none of either.
A number of my site's visitors are aspiring authors. What can you tell them about your path to publication.
I had a moment of clarity in college where I realized I wanted to be a career writer and author. At that point, I launched into learning how to improve as a writer, researching how to get published, going to conventions, and connecting with other writers. I also started writing. A lot. And I started submitting stories, getting rejection letters, and trying to constantly improve.
Honestly, that all went on for several years before I made my first short story sale. I wrote during lunch breaks, in the evenings, over weekends…anything I could do to reach a professional level of writing. So just picture a "Cool Writing Montage" and let it play for a while. It'll be far more entertaining and probably have a better soundtrack.
Eventually, I wrote Enter the Janitor, got an agent, and started shopping it around. It didn't sell for a while, and the agent and I amicably parted ways for various reasons. But in the meantime, I'd also become a freelance copywriter, making a living solely off my writing. I got into freelancing for some RPG companies, connected with Paizo, and sold them a couple short stories. At that point, my editor, James Sutter, asked if I wanted to pitch a novel to them. And thus Forge of Ashes was born, becoming my first contracted novel. Enter the Janitor found a home with WordFire Press later that year, and things continue to evolve in exciting ways since then.
What is the single most powerful challenge when it comes to writing a novel?
For me, it's finding the tone of the story and the character voices at the beginning. Once I'm about 10k words in, I usually hit it and it flows better from there. Then I have to go back and rework the beginning based on that.
Do you have another job outside of writing?
Since college, all of my jobs have been either publishing, journalism, editorial, copywriting, or freelance writing. Only the context has changed. I love being able to make a living from my passion.
You're a fortunate man. Very few can make that claim. Can you tell us what a typical day is like?
There is no such thing.
What motivates or inspires you, not necessarily as regards your writing?
A belief in hope, and that people have inherent value. A love of exploration and the weird and the strange. And the constant desire to grow and learn new things.
How do you pick yourself up in the face of adversity?
I give myself time to recover, try to avoid beating myself up for getting knocked down (counter-productive, no?), and then remind myself what my real priorities are. Then I start working toward them again.
Before we take a peek at Enter the Janitor, let's take a stab at a Lightning Round. In as few words as possible, please answer the following:
 My best friend would tell you I'm a… person with very good taste in books and video games.
The one thing I cannot do without is: My nervous system.
That would pose a problem.
The one thing I would change about my life: I'd start writing earlier and read even more widely.
I'd like to thank you for sharing your time with us and for the following sample of your work.
For those visitors who'd like to learn more about Josh, or are interested in reading more of his work, you'll find social and book purchase links at the bottom of the page.
Enter the Janitor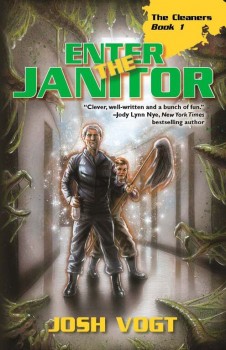 Ben pushed his squeaky-wheeled cart out of the elevator and into the underground lot of HQ's office complex. Dani walked by his side, her gaze darting to every dark corner as if checking for monsters.
They ambled between rows of identical white vans until they came across one which might've been white in a previous lifetime. Mud splatters, rust, and flaking paint covered the paneling, and it wouldn't have looked out of place on someone's front lawn alongside plastic flamingos and beer cans.
Dani stared at it in faint horror. "I thought we were supposed to maintain a clean image."
He patted the side. "Mebbe all the rest like to waste time sprayin' their vans down every time it gets a speck of dust on the bumper. Me? So long as it gets me where I gotta go, it's all the fancy-shmancy wheels I need."
"Still, shouldn't you take better of your company car?" she asked. "I mean, that thing looks half-fossilized. What's Francis' ride? A white stretch limo?"
"When you reach his level, limos are beneath you," Ben said. "So unless your new powers include teleportation, you're gonna just have to enjoy the ride."
She stood back as Ben slid the van's side door open. It rattled aside to reveal built-in metal shelving that held all manner of buckets, cleaning fluid, bottles, extra mops, bundles of rags, and other cleaning paraphernalia. A regular janitorial treasure chest.
She perked up. "Got any gloves in there?"
He scrounged across one shelf until he came up with a pair of yellow rubber gloves and tossed them her way. As she tugged them on, he levered the cart into an open space at the back and locked the wheels in place.
"Why janitors?"
He glanced back. "Eh?"
"Why janitors?" Dani repeated. "If the Cleaners are some big magical society, why not act like it? Why hide behind this corporate front? Wouldn't it be better to take on an image people respect more? Like law enforcement. Or superheroes."
"First off, you really wanna go 'round wearin' tights and capes? Or seein' me in 'em?" He chuckled at her grimace. "Second off, if you think about it, janitors, maids, plumbers … all sortsa cleanin' folks have been keepin' the world from turnin' into one big ball of mud since people started figurin' out that sleepin' in their own filth ain't exactly the brightest idea. Mebbe politicians and military folk look like they're the ones with all the say-so, but we're the ones that keep things runnin' from the ground up, whether they know it or not."
"Still, isn't it a little on the low end of the totem pole?"
"If you look hard enough, there's plenty to be proud of." He grinned. "You just gotta think like a janitor."
"I wasn't aware janitors did much thinking."
"That sorta mindset is gonna get you in a lotta trouble."
He rummaged around the shelves until he came up with a dusty-brown cleaning jumpsuit which zippered up the front, and a pair of black rubber boots. These he handed to Dani. "Get changed."
She held the suit doubtfully. "These are way too big for me. And I am not changing clothes in a garage."
"Fine. But that piece you're wearin' right now dissolves if taken outta HQ, so I guess you're ridin' shotgun nekkid."
Her eyes narrowed. "You're joking. I know you are."
An engine started in the distance as they stared each other down.
At last, her glare turned pleading. "Please say you're joking." When he remained silent, she stalked around to the other side of the van, calling out, "You try to peek and I'll break your nose."
Ben waited as groans of disgust and shuffling evidenced her attempts to change without falling over. A squeak of surprise was followed by Dani running back around, now wearing a hot pink jumpsuit. She plucked at the waistband and arms, which were just loose enough to give her free range of motion. Otherwise it fit perfectly.
"What the … this thing shrunk! And changed color!"
"One size fits all 'round here."
She craned her neck to study the outfit from all sides. "But why pink?"
"It switches to the wearer's favorite color."
"I don't like pink."
"Accordin' to the suit, you like it a lot."
"How do I change it?"
He briefly shut his eyes. When he opened them again, his dusty blue jumpsuit had turned forest green. "Just a mental command. 'Course if you get too distracted or knocked unconscious, it'll revert back. Pink's nothin' to be ashamed of."
Website:                              JRVogt.com
Facebook                           https://www.facebook.com/JRVogt
Twitter:                               @JRVogt
You'll find Josh's books at:
http://www.amazon.com/Enter-Janitor-The-Cleaners-Volume/dp/1614753180/ref=tmm_pap_title_0?ie=UTF8&qid=1431709208&sr=8-1
and
http://www.amazon.com/Pathfinder-Tales-Forge-Josh-Vogt/dp/1601257430/ref=sr_1_1?ie=UTF8&qid=1431707452&sr=8-1&keywords=forge+of+ashes