This edition of The Write Stuff moves into different territory. When I began this series, I promised to present authors of interest. I doubt you will find anyone more interesting than mystery and non-fiction author, Giacomo Giammatteo. With so many titles to his credit and such glowing reviews about his work, I hardly knew where to begin this interview. I thought I would play it safe by asking Jim, as I have grown to know him, to tell us a little about himself. He chose to describe himself this way: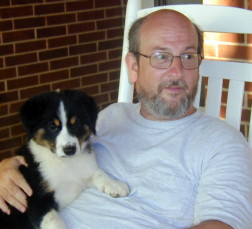 I live in Texas now, but I grew up in Cleland Heights, a mixed ethnic neighborhood in Wilmington, Delaware, that sat on the fringes of the Italian, Irish and Polish neighborhoods. The main characters of Murder Takes Time grew up in Cleland Heights and many of the scenes in the book were taken from real-life experiences.
Somehow I survived the transition to adulthood, but when my kids were young I left the Northeast and settled in Texas, where my wife suggested we get a few animals. I should have known better; we now have a full-blown animal sanctuary with rescues from all over. At last count we had 41 animals—12 dogs, a horse, a three-legged cat and 26 pigs. Oh, and one crazy—and very large—wild boar, who takes walks with me every day and happens to also be my best buddy.
Since this is a bio, some of you might wonder what I do. By day I am a headhunter, scouring the country for top talent to fill jobs in the biotech and medical device industry. In the evening I help my wife tend the animals, and at night—late at night—I turn into a writer. I write mysteries and non-fiction career books. I also have a series of epic fantasies planned; the first three are written.
Jim, in brief, what is Murder Takes Time about?
Nicky Fusco thought he knew right from wrong, living by an oath of friendship & honor with his three best friends. But life took them down separate paths, and the oath was broken. Secrets were kept. Years later they are reunited and the bonds of their friendship are brutally tested, putting them on a collision course set in motion long ago.
Murder Takes Time is not a typical murder mystery or mob story. It is a thriller, a romance, and a coming-of-age story that rips your heart out. By the time you're done reading it, you just might find yourself rethinking the definition of friendship & honor—even right and wrong.
Three boys, one girl. Friendship, honor, love—betrayal. It ends with murder.
Wow! That's quite a concept. Since I know from personal experience that every story has a seed, what prompted you to write this one and why should someone buy it?
Many of the stories in this book are true, mostly of the kids in the early days. The neighborhood described is where I grew up.
I guarantee a good read. Literally. If you don't like my books, or don't feel you got your money's worth, I'll give you a refund or a new book. I have it posted on both of my sites. No one has taken me up on it yet.
What are you working on now?
Always a tricky question. I tend to work on a lot of things at once, and at different stages of development. So, I have just put up my second career book  on pre-order (No Mistakes Interviews), and I am doing the final edit on A Bullet From Dominic, the second book in the Blood Flows South series. I am also close to finishing the draft on Murder Takes Patience, the third in the Friendship & Honor series, and I am plotting a novella, and also the fourth and final book in my fantasy series.
Right from the start, I said you have numerous titles to your credit. That brings up the question, how do you overcome writer's block?
Fortunately, I have never had to deal with that.
Some say marketing a book is more difficult than writing it, yet you've bee very successful at this. What is your marketing strategy?
When you find a strategy that works, please let me know. I have been experimenting with a lot. I can tell you what I don't do, and that's give books away for free in mass quantities.
Hah! Can you tell us what life experiences inspire or enrich your writing?
I guess growing up in the city in a big family and among various ethnic groups. That was a wonderful experience.
Between all of the animals and your day job, how do you find time to write? What's a typical day?
Wake up about 7, feed a few of the animals. (we have a sanctuary with 45 animals).
Drink coffee.
Work in my day job, headhunting in the biotech/medical device industries.
More coffee.
Feed animals at noon.
Back to headhunting.
More coffee.
Feed more animals at around 5-6 PM.
More coffee.
Eat dinner around 8:00 and then start writing.
Write until about midnight or so. Start all over the next day.
 A few quick questions. If you could live anywhere in the world, where would it be?
Italy. No question about it.
How do you pick yourself up in the face of adversity?
Knowing that picking yourself up is required. That's what must be done.
Do you have a favorite quote?
"The greatness of a nation and its moral progress can be judged by the way its animals are treated" ~ Mahatma Gandhi
Do you have any pet projects?
Continuing our work with animals that need help.
What makes you laugh?
Almost anything. But especially little kids and animals.
What are a few of your favorite authors?
Alexandre Dumas, Luciano DeCrescenzo, Frank Herbert, John Sandford.
I enjoy multiple genres, as well. Alright, Jim, before I share an excerpt from Murder Takes Time with our visitors, as well as links to more of your work, let's try a lightning round.
 The one thing I cannot do without is:
Coffee/espresso, garlic, pasta. (I can't limit it to one)
 In one or two words, what is your defining trait?
Persistence.
Hard copy or ebook?
Doesn't matter.
Vice? Virtue?
Coffee, garlic, pasta.
Hah! I think I see a pattern here. Favorite book:
The Count of Monte Cristo
Favorite movie:
The Phantom of the Opera (2004 version)
Do you have a parting thought you would like to leave us with?
If you like a book, tell someone about it.
I asked Jim to provide a brief excerpt from Murder Takes Time. Here it is, for your enjoyment: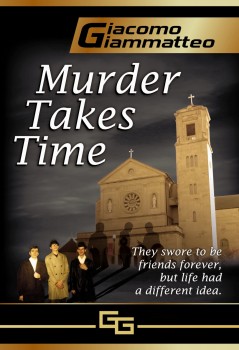 GG: Murder Takes Time
Published 4/15/2012
Chapter 1
Rule Number One―Murder Takes Time
Brooklyn, New York—Current Day
He sipped the last of a shitty cup of coffee and stared across the street at Nino Tortella, the guy he was going to kill. Killing was an art, requiring finesse, planning, skill—and above all—patience. Patience had been the most difficult to learn. The killing came naturally. He cursed himself for that. Prayed to God every night for the strength to stop. But so far God hadn't answered him, and there were still a few more people that needed killing.
The waitress leaned forward to refill his cup, her cleavage a hint that more than coffee was being offered. "You want more?"
He waved a hand—Nino was heading towards his car. "Just the check, please."
From behind her ear she pulled a yellow pencil, tucked into a tight bun of red hair, then opened the receipt book clipped to the pocket of her apron. Cigarette smoke lingered on her breath, almost hidden by the gum she chewed.
Spearmint, he thought, and smiled. It was his favorite, too.
He waited for her to leave, scanned the table and booth, plucked a few strands of hair from the torn cushion and a fingernail clipping from the windowsill. After putting them into a small plastic bag, he wiped everything with a napkin. The check was $4.28. He pulled a five and a one from his money clip and left them on the table. As he moved to the door he glanced out the window. Nino already left the lot, but it was Thursday, and on Thursdays Nino stopped for pizza.
He parked three blocks from Nino's house, finding a spot where the snow wasn't piled high at the curb. After pulling a black wool cap over his forehead, he put leather gloves on, raised the collar on his coat then grabbed his black sports bag. Favoring his left leg, he walked down the street, dropping his eyes if he passed someone. The last thing he wanted was a witness remembering his face.
He counted the joints in the concrete as he walked. Numbers forced him to think logically, kept his mind off what he had to do. He didn't want to kill Nino. He had to. It seemed as if all of his life he was doing things he didn't want to do. He shook his head, focused on the numbers again.
When he drew near the house, he cast a quick glance to ensure the neighbors' cars weren't there. The door took less than thirty seconds to open. He kept his hat and gloves on, walked into the kitchen, and set his bag on the counter. He removed a pair of tongs and a shot glass, and set them on the coffee table. A glance around the room had him straightening pictures and moving dirty dishes to the sink. A picture of an older woman stared at him from a shelf above an end table. Might be his mother, he thought, and gently set it face down. Back to the kitchen. He opened the top of the black bag and removed two smaller bags. He set one in the fridge and took the other with him.
The contents of the second bag—hair and other items—he spread throughout the living room. The crime scene unit would get a kick out of that. He did one final check, removed a baseball bat from the bag, then sat on the couch behind the door. The bat lay on the cushion beside him. While he stretched his legs and leaned back, he thought about Nino. It would be easy to just shoot him, but that wouldn't be fair. Renzo suffered for what he did; Nino should too. He remembered Mamma Rosa's warnings, that the things people did would come back to haunt them. Nino would pay the price now.
A car pulled into the driveway. He sat up straight and gripped the bat.
For more of  Giacomo Giammatteo's work:
Online sales links:
Amazon: http://www.amazon.com/dp/B007UNJJYI
Barnes & Noble: http://bit.ly/NK6oqO
Apple: https://itunes.apple.com/us/book/murder-takes-time/id593283220?mt=11
Google: http://bit.ly/1jmALEe
Kobo: http://www.kobobooks.com/ebook/MURDER-TAKES-TIME/book-EYyE6dSy0GSQM4cu9IIzg/page1.html?s=gm40hRi4bEiPA241VefjbA&r=2
Smashwords: https://www.smashwords.com/books/search?query=giacomo+giammatteo
Scribd: http://www.scribd.com/giacomo4giammatteo
Website, blog and online social accounts:
https://twitter.com/JimGiammatteo
http://www.facebook.com/GiacomoGiammatteo
http://gplus.to/GiacomoGiammatteo
http://www.linkedin.com/in/jimgiammatteo