This week's edition of The Write Stuff takes us to the Land Down Under, but with a twist… We're replacing 'roos with dragons and Aussies with elves as author Kasper J. Beaumont takes time away from her already busy schedule to share her writing life with us. I first met Kaz through Facebook's Fantasy Sci-Fi Network where she's an active part of the group that connects readers with bloggers and authors who specialized in this genre.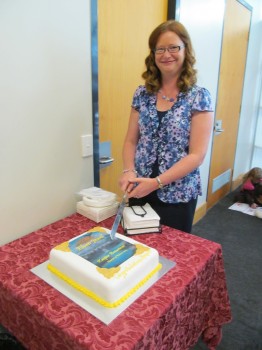 Kasper J. Beaumont was born and raised in Australia and lives a quiet life with the family in a seaside town. Combining a love of fantasy and a penchant for travel in the Hunters of Reloria trilogy, Kasper started to write on the urging of friends and family and enjoys watching readers become immersed in the magical world of Reloria. Kasper is a pen name for a rather shy author who is happy to remain unnamed.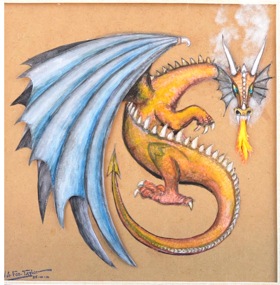 The first two volumes of her trilogy, Elven Jewel and Hunters' Quest, are already out. The concluding volume, Dragon's Revenge, is expected to be released July of this year. Oh, yes. Before I forget, the Dragon's Revenge art competition is underway. There are 11 prizes and anyone can enter.
http://huntersofreloria.weebly.com/dragons-revenge-art-competition.html
Here is some information about the first two installments: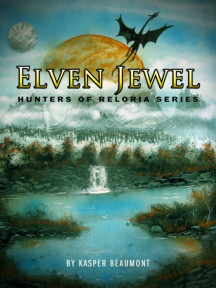 Elven Jewel
This fantasy adventure begins when the magical continent of Reloria is threatened by cruel, scaly invaders called Vergai from the wastelands of Vergash. These invaders are barbaric and are intent on destroying the protective elven forcefield and conquering peaceful Reloria. The Vergais' plan is to steal the Elven Jewel which is the key to the Relorian defence system.
Halfling friends Randir and Fendi and their bond-fairies are the first to discover the invaders and they embark on a quest to save the Elven Jewel. They leave their peaceful farm village with their fairies and race against time to stop the invaders. They join forces with dwarves, elves, men and a mysterious dragon, and call themselves the Hunters of Reloria.
The quest is perilous, with numerous encounters with the ruthless Vergai, who are determined to fulfill their mission. The Elven Jewel is stolen and the quest becomes a race to the portal to retrieve the jewel before it can be taken to Vergash. A battle for Reloria ensues where the consequences for the Relorians is death, unless Vergai are stopped.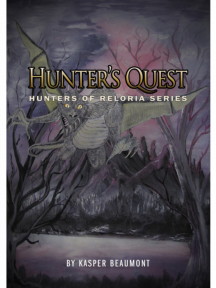 Hunters' Quest
Magical Reloria is under siege by scaly Vergai invaders by portal who have captured the Elven Jewel which creates their protective forcefield. These Vergai live across the western sea, and have fled with the elven princess.
Halfling friends, Randir and Fendi and their bond-fairies are members of a group of brave hunters on a quest to recover the stolen Elven Jewel. They must search for a mage who can make a portal to rescue the princess. They thought they knew what the quest would entail, but with an unexpected member and new enemies, not everything goes the way they had planned.
Their journey takes them to strange new places including the centaur lands, the gnomish inventors, the Great Elven Heart and the home of the dragons.
This unlikely group of men, a dragon, dwarves, halflings, fairies and an elf are known as the Hunters of Reloria.
Kaz, what distinguishes your work from that of other fantasy authors?
I introduced the concept of fairies and halflings bonded together in a symbiotic relationship. The fairies use their magic to heal and regenerate the halflings. The halflings eat food which keeps the fairies strong. The fairy comes into being at the birth of the halfling and one will not outlive the other. They also have a distance limit of 10 metres, but as I don't use measurements in the book, I just call it the limit of their bond. I like that their fairies have individual personalities. Some are like a little conscience and others such as Sienna-Li can be very cheeky and get himself into trouble.
I also use some mythical beasts in my books, which some reviewers call a 'genre-mash.'
Intriguing. These are certainly unique stipulations. Will you give us an idea of what your writing routine is like?
I'm not sure that I have one. I do routinely wake at 5am, but I don't tend to start writing straight away. I usually sort through the 100-odd emails I've received for the day and do writing later on, maybe when the kids go to school. I love to escape to the bath or cubbyhouse with my scrapbook and scribble away without distractions.
For some authors, writing occurs in fits and starts. How do you overcome writer's block?
I don't believe in it. I could write 18 hours a day if my life would let me. It's like there's a dam full of ideas in me and the sluice can be opened at any time for ideas to spill forth.
Hah! Good for you. I would say the same about myself. Since I suspect we will also agree writing doesn't come out of nowhere, but rather springs from our experiences, what life experiences inspire or enrich your writing?
I would have to mention my family when talking about writing. My eldest son has two short stories published and has been my biggest supporter. He likes to come up with outrageous ideas such as Cyclops giants with laser beams and I fit them into the stories somehow.
My favourite thing to do is travel with the family and experience new lands and cultures. Not only is this fun, but you always learn something, whether you're in the Louvre, or wandering a desolate countryside.
Aside from the Hunters of Reloria trilogy, what else have you written?
I've written a short story recently about the tragedy of Garass and Asher, which is the back-story to one of the Hunters of Reloria. They were two best friends who had the misfortune to fall in love with the same woman and it tore them all apart. I like this one, because I get to write more romance than in the previous books, but as you know, I do love my battles too. I just handed it over to my editor and hope to share it with you all soon. My poor editor is very busy at the moment.
A moment ago, you mentioned your family and how they influence your writing. What else would you care to share about life in the Beaumont household?
My chickens. I have 6 beautiful little hens who are so tame they eat out of our hands. Sometimes they get impatient and peck our toes to remind us to bring food. They each have a name and personality. It's so nice to have fresh eggs every day and know that the hens are loved and well cared for.
That's delightful! Sticking to your "other" life for a moment, do you have another job outside of writing?
Yes, I'm a healthcare worker and I do enjoy my job most of the time. It has its challenges and rewards. At the moment I'm working less hours there and spending more time on my writing, so I would have to call it the best of both worlds.
Here are a few of questions I ask most of my guests. Where would you live, if you could live anywhere?
I'd love to be on an island with a couple of hundred people. Somewhere that's not too hot or cold and there's a mango tree. My family and I would live in tree houses and go fishing for our supper. Perhaps we'd have a pet possum. No work, no school, no traffic. I'd still have my scrapbook, no doubt. No worries and no cares sounds heavenly to me. Oh-oh, I think I've watched too many episodes of Survivor LOL.
Sounds like Swiss—or rather, Aussie—Family Beaumont. How do you pick yourself up in the face of adversity?
Keep calm and carry on. I'm not really one for theatrics. We've had some loss recently and it has brought my partner and I closer together. It has been great to have all the family rallying around us.
I agree. Having said that, what makes you laugh?
The Umbilical Brothers and Tim Minchin. They are seriously some funny guys. Also the Big Bang Theory is hilarious.
Alright, before I treat our visitors to an excerpt from your writing, here are a few Lightening Round Questions. Answer them in as few words as possible.
The one thing I cannot do without is:
Chocolate (I apologise to my partner, who runs a very close second!)
Favorite book:
The Belgariad series by David Eddings
Favorite movie:
Star Wars
Do you have a parting thought you would like to leave us with?
Try an Indie author for your next book. There are truly some gems to be found.
Raymond, thanks so much for having me on your blog today. It's been heaps of fun, cheers, Kasper.
I've enjoyed having you. Thank you for coming.
Now, as I promised at the beginning of this interview, for your reading pleasure, here is an excerpt from Hunters' Quest by Kasper Beaumont, Battle of the Western Outpost.
Halflings Fendi and Sienna and their bond fairies, could now discern what the elf and dragons' keen eyes had already seen. The grasslands ahead were covered with thousands of Vergai, spread out in numerous camps across the West Lands, and beyond them, the outpost castle was just discernable in the early morning gloom. Bolts of lightning could be seen striking about the black fortress. As they sped closer, Fendi saw many giants surrounding the crackling portal.
Dark shadows above the portal caused the Dragon leader to pull up abruptly from his rapid flight. The dragons hovered high above the Vergai campfires.
The grey Dragon turned to the brown and growled, "There be some kind of sorcery here. See those large blobs suspended over the castle? They emit lightning at random intervals. To destroy the portal, we must avoid them and defeat the wizards on the far side."
To the dragons' surprise, a loud voice came from far above them, "Well, it's about time you dragons joined the party. We have been here for hours, but can't find a way past the lightning creatures and the giants. They keep pouring through the portal and we can't get close to it." It was Baja dwarf's cheerful voice calling, but he sounded rather more serious than usual.
They all looked up to see Heikki's gnomish flying machine suspended above them, with their companions straining to look over the sides of the basket.
The Dragon leader gave a regretful look at the Hunters of Reloria in the flying machine, before saying, "Lead them to the wizards, Varnon. If I fail, that is our last hope."
With mighty beats of his enormous wings, the dragon set off towards the portal, leaving his companions behind. Fendi gave a cry of despair at seeing huntress Sienna valiantly clinging to the dragon's spiked neck. The other dragons followed the leader closely, with Fendi riding the plucky brown, and Daeron upon the large black.
As they approached the castle, the halflings saw it was the same defensive design as the other outposts, but made of black rock. A fair distance in front of the castle was the portal, surrounded by giants and twelve strange lightning creatures. Fendi thought they looked a bit like large bloated toads, anchored to the ground in front of the portal by long thick ropes. Glowing antennae projecting from their foreheads were suspended before wide mouths. Every so often, one of the creatures burped and lightning crackled in all directions, striking the ground with a loud explosion. Fendi noticed that the giants stayed well clear of these lightning creatures and were positioned directly in front of the portal.
The Dragon leader carrying Sienna reached the portal first and circled high around it, noting the portal could only be seen from the eastern side with no guards to the west. He surmised that the portal could only be accessed from one direction and he banked around to see the other dragons, hydra and wyvern, waiting for his lead.
"Follow me, dragons, we'll go straight down the middle and then peel off sideways just before the portal, while sending your strongest burst of flame into the mouth of the portal to break the connection. Let's go."
With wings beating strongly, the grey Dragon sped straight towards the lightning creatures, with the others bravely fanning out behind in a V formation.
If you'd like to learn more about Kasper Beaumont, or purchase her books, here are a few links to assist you.
Book links:
http://www.amazon.com/Kasper-Beaumont/e/B00DQ2JB22/ref=ntt_athr_dp_pel_1
https://www.smashwords.com/profile/view/KasperBeaumont
http://www.barnesandnoble.com/c/kasper-beaumont
Links to her website, blog and online social accounts:
http://www.huntersofreloria.weebly.com
http://www.huntersofreloria.weebly.com/ kaspers-ramblings.html
https://twitter.com/KasperBeaumont