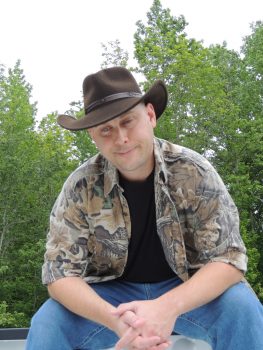 Today's science fiction issues from a raft of varied authors. Drawing from their personal histories, each crafts their unique contributions to the ever-evolving genre. This week's guest is one of the talented and comes from a typically unusual background. (Please pardon me if that sounds oxymoronic.)
As a graduate of Florida State University, Ian J. Malone has written in a variety of arenas ranging from public health to news and sports. When it comes to his fictional work, however, he's a firm believer that nothing shapes an author's writing like experience. That's why he credits his tenures in radio, law enforcement, and military contracting for much of his inspiration, plus the legion of family and friends who've stood with him along the way.
Beyond writing, Malone is an avid fan of audiobooks (he's legally blind) and the outdoors. It's also not uncommon to find him at a ballgame, a concert, or somewhere out by a grill. He is an active member of the Science Fiction & Fantasy Writers of America and a resident of Durham, North Carolina, but he'll always be—in his words—a "Florida boy" at heart.
Today, he is sharing details about At Circle's End (The Mako Saga: Book 3), a space opera/science fiction adventure published in April of last year. He describes the story's premise as follows:
In the months since his disappearance, Danny Tucker has retreated to the darkest corners of Alystierian space in search of intelligence on the empire's new chancellor, Alec Masterson. Backed by a crew of outcasts and fighting from the shadows as the enigmatic Rogue centurion, Danny will stop at nothing to achieve his mission: absolute vengeance for Masterson's now infamous "Return to Fear" demonstration. Still, try as he might, Danny can't remain underground, and with sightings of the Rogue growing more frequent, Lee Summerston won't rest until the lost Renegade is found. Meanwhile, in the core, Aura stands on the brink of annihilation as imperial forces, aided by an ancient enemy, draw ever closer to her shores. In the end, scores will be settled, and brothers will rise united… or they'll all burn together.
At Circle's End is the soaring climax to Ian J. Malone's epic space-opera series, The Mako Saga, and a heartfelt sendoff to sci-fi's most beloved band of bar buddies turned intergalactic heroes of war.
Please tell us more about it.
My last release was At Circle's End, the final installment to my space opera trilogy, The Mako Saga. Naturally, you can't have space opera without an epic interstellar conflict, so this was the book that wrapped all that up. It was also the final "ensemble book" for The Renegades, the plucky group of college-buddies-turned-intergalactic-war heroes who served as the series' heart. Now the plan is to split them all off into standalone stories or perhaps even series of their own.
What was the inspiration behind the series?
I started Mako as more or less a stress outlet in 2009. Like a lot of folks back then, I was unemployed. That meant a lot of time spent writing resumes and cover letters, and eventually I hit a place where I needed something that could be mine. A creative vent, so to speak. I had this goofy story in mind about a bunch of bar buddies from college, now in their thirties and down on their luck, who play a video game for kicks then run off to outer space. So, I just started writing. Six months later I had a draft. Six months after that, I had a second draft. Fast-forward a few years—then drop in a marriage, parenthood, and three moves in between two states—and I was ready to share my pet project with the world.
The series was your entrée into writing. What was the biggest challenge you faced writing Mako and how did you overcome it?
Beyond the fact that I had absolutely no clue how to write a novel back then—most don't in a debut—I'd probably say the biggest challenge facing me was the use of body language as story beats ("Lee pursed his lips, eyes twitching side-to-side," etc.). The reason for this is because I'm legally blind and can't see facial expressions. That meant a lot of reading and a lot of research.
Not at all typical of most authors' research, but yes, absolutely essential when you're writing for a sighted audience. What other novels have you written?
First came Mako, which sold remarkably well for an indie. That gave me the requisite funds for editing, cover design, formatting, etc., on the remaining two saga books (Red Sky Dawning and At Circle's End). I've since written another novel not of this series, though I'm sure we'll get to that shortly.
Heading in that direction, what else are you working on?
I'm extremely busy right now. For starters, I've got a short story coming out this fall in an anthology set in Chris Kennedy's Four Horsemen universe (military sci-fi). Next, I've written another novel, tentatively titled Colonies Lost, which I've contracted with Red Adept Publishing to release in 2018. That's created something of a delay in my schedule, giving me time to prep my first Mako spinoff novel, as well as a much-needed second edition of that original story. Mako 2.0 will drop later this year with an all-new cover. After that will come re-releases of Red Sky Dawning and At Circle's End, followed by the spinoff novel then finally Colonies Lost. I've also got two more short stories planned for my email listers.
What is your work schedule like when you're writing?
I find that I'm freshest in the morning, so I gear my schedule accordingly. I'm up by 4 a.m. to write, after which I head into work at my day job. I then use the evenings for an hour or so of admin time (social media, responding to emails, publishing logistics, etc.) after dinner is cooked and my kid's in bed.
Tell us about your path to publication.
I started as an indie with Mako and stuck with that model for the rest of the series. I've since become a hybrid, publishing projects with Red Adept Publishing (Colonies Lost) and Seventh Seal Press (Four Horsemen short story). To me, the hybrid life is the right life in that it offers me the best of both worlds. I still get to control my own destiny with passion projects like The Mako Saga. However, I also get the exposure and notoriety that comes with being traditionally published through my work with small presses.
Do you create an outline before you write? 
I do now. I've gone the "pantsing" route with books before, and while I enjoy the ride, I learned later that outlining typically yields a better story (better pacing, better development, fewer plot holes, etc.). Outlining also helps me crank out a story in about half the time—a must for indies.
What is the single most powerful challenge when it comes to writing a novel?
Finding the time to park my butt in a seat to do it. Writing a novel isn't rocket science. It's about making a conscious choice to begin a project then carving out the necessary time to see it through. As writers, this inevitably means we sacrifice things. For me, that's television. Once upon a time, I was a total TV junkie. These days, not so much. Now I watch Florida State football (GO NOLES!), the occasional NASCAR race, and a handful of shows with my family. That's it. When I'm not doing any of that, I'm reading (I shoot for a book a month, minimum).
Do you have another job outside of writing?
I do. I work in communications for a government agency here in Durham, North Carolina.
Would you care to share something about your home life?
Only that I'm married to the greatest woman God ever created. Seriously, I couldn't do what I do without her. She's the consummate teammate, and the proverbial engine of our family. I help where I can with cooking, cleaning, yard work, and so forth, but she's the one who keeps our house on-schedule while I'm in the office writing.
What inspires you when writing?
Family and friends are obviously a big part of what I write. They're often the backbone for a lot of my characters. I also draw a lot of inspiration from music. Case in point: the playlists I listen to when writing. In Colonies Lost, for instance, I was writing a protagonist from America's Deep South. That meant gorging myself on artists like Charlie Daniels, Waylon Jennings, and Chris Stapleton. When writing action, on the other hand, I like things upbeat (The Chemical Brothers, Lacuna Coil, Van Helen). When writing romance, I may plug in Howie Day or Gladys Knight, whereas straight prose usually requires something more innocuous (instrumentals, movie scores, video game soundtracks). It really depends on my mood and what I'm trying to accomplish. However, there's rarely a time when I'm writing that some sort of music isn't playing in the background.
What else motivates you to write?
I've never been one to "write to market," as they say. If I don't love a story, I can't bring myself to put in the kind of time and work it takes to finish one. That said, I'd be lying if I told you that money doesn't play a part. I'm a grown man with a family, a mortgage, and a college education to save for. My wife and I base our budget on our fixed income (jobs), but it's the proceeds from writing that help us pay off our house early and take vacations. If I wanted a hobby, I'd go fishing.
Ian, I'd like to thank you for taking time out of your day to share with us. Before I provide my site's visitors with an excerpt from At Circle's End and the social links afterwards that will guide interested visitors where to follow you and purchase your books, I'd like to conclude with a customary Lightning Round. In as few words as possible, please answer the following:
My best friend would tell you I'm a… Redneck nerd.
The one thing I cannot do without is: COFFEE!!!
The one thing I would change about my life: I'd be a millionaire.
My biggest peeve is: Beer snobs
The thing I'm most satisfied with is: My family.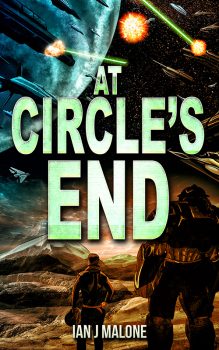 Without further ado, At Circle's End:
A muffled funk sounded, and two red blots catapulted in high arcs over the wall into the fork's left passage. A crash rocked the scene, smoke billowing skyward, and both runners scampered for what they thought was safety in the right corridor.
They were wrong.
Fire. The XL's barrel went full white when both runners hit the clearing. The first reacted well, knifing right and scarcely averting a head-on collision with a boulder.
The second never stood a chance. Ice became fire, and the runner was gone.
"Hell yeah!"
Mr. Black yelped a red-lettered protest when fresh taps pelted his back.
"Oh, no you don't." Danny wheeled right and scrambled for a lock as the last runner broke for the chamber exit. Fire. The volley went wide. Fire. Wide again. Fire. Into a wall this time. "Damn it!"
The runner shot like a bullet through the stalactite-filled opening.
Danny vaulted atop the dune he'd used for cover, nearly tripping over his own feet in the process.
"Bridge integrity at the eighteen percent," Mr. Black warned.
Wait, eighteen what? Danny's attention snapped back to the ground when his crosshairs went red on the last runner. He straightened his arm. See ya.
"Jam!" Shotz screamed. "Turret's jammed!"
Danny whirled to the open west and saw the Dart bearing down on his team. Shit. "Hold on, Garbage Team—I'm coming to you!"
Danny leapt off the dune and struck the ground with a thud, bones jarring in their sockets as he rolled through the snow. His agility was shot, and apparently, so were his pain meds, but the last thing Danny had was fifteen free seconds to stop, drop, and redose. He had to go, and now.
Danny pushed off with his hands and got to his feet then took off across the open ground as fast as Mr. Black's legs would carry him. Faster. The armor shuddered but complied. Faster. It shuddered harder but with more speed. Faster!
"Bridge integrity at six percent."
Danny's joints were on fire, his limbs becoming weights, but he had to keep moving. Faster!
"Mr. Black, where are you?" It was Shotz again.
Faster!
"Bridge integrity at four percent."
Faster!
A low moan reverberated through Mr. Black's operator cocoon, and Danny suddenly felt as if he were sprinting through concrete. "Oh no, no, not now! I'm supposed to have at least eight more minutes!"
In his last gasp of strength, Danny threw up his right arm, sighted the Dart as best he could, and hoped like crazy for the best. XL, full spread. Fi—
Danny toppled under his own heft and face-planted into the snow, his view flickering dark save for a small battery icon. Activate.
No response.
Activate.
Nothing.
Come on, Mr. Black—get your ass up!
Still nothing.
Danny accessed his battery, which had barely enough power for an emergency redose, and used it to key his faceplate. It opened, and the cold that flooded in could've frozen the soul.
Danny gritted his teeth then dared a squint. His eyes opened wide when the Dart, now primed for the kill shot, descended on his team. "Doc, Shotz, get out of—"
The Dart's starboard nacelle exploded as if struck by Zeus himself.
What the hell?
Shards of flaming debris flew from the smashed engine housing as the ship coughed and sputtered amid plumes of black smoke. Somehow, though, it managed to right itself, and once that happened, it wasted little time getting out of there.
"Who in the worlds is that?" Befuddlement was thick in Shotz's voice.
Danny managed just enough strength to crane his head upward as the underbelly of a second ship flew overhead. Short and frumpy looking with a thick boxy frame and small, stubby wings, the freighter bore a striking resemblance to an oversized UPS truck. Or at least, that was how Danny had always described it in the past.
"Is that a…" Doc broke off. "A Newbern-class freighter?"
Danny held his response, eyes fixed on the sky, as a deluge of mixed emotion poured over him. "Yes, Mr. Blue. Yes it is."
"Who in the worlds still flies one of those old beaters?" Shotz marveled. "And where'd they get the weapons package?"
Key juice release, ten percent. Danny waited while Mr. Black's systems came back online. Then he climbed to his feet. "Not important right now, Mr. Red. Just get to the ravine, and prep to move out for Lynder. I'm right behind you."
Visitors who would like to follow Ian online can do so here:
Web:               www.ianjmalone.net
Twitter:          @ianjmalone
Facebook:      @authorianjmalone
You may purchase his books at:
Amazon:        https://www.amazon.com/Ian-J.-Malone/e/B00BJ5QO50
Audible:         http://www.audible.com/search/ref=a_hp_tseft?advsearchKeywords=ian+j+malone&filterby=field-keywords&x=8&y=16