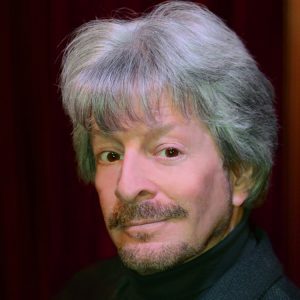 As I continue to feature WordFire Press authors, I never cease to be amazed by both their writing acumen and their impressive backgrounds. This week's guest, Brooks Wachtel, is no different. Lady Sherlock: Circle of the Smiling Dead, a detective historical novel, may be Brooks Wachtel's first novel, but he is no stranger to crafting stories. He is an Emmy Award-winning writer with a long resume in television and film. Mr. Wachtel spent his youth as a "Navy Brat" traveling the world. While attending Hollywood High and in college, he produced several student films. One, a forty-five minute Sherlock Holmes spoof was the first film ever shot at Hollywood's famed "Magic Castle." Wachtel co-created, executive produced and co-wrote many episodes of the hit series DogFights for the History Channel. He also wrote and produced many History Channel documentaries, including episodes of Defending America: National Guard and The Coast Guard. Additionally, he has written The Great Ships, Search and Rescue, The Royal Navy and Fly Past, which won the Cine Golden Eagle Award. Wachtel also wrote and co-produced an independent documentary feature illustrating the history of his famous alma-mater, Hollywood High School. All rights and royalties were donated to Hollywood High to help fill the school's scholarship funds. His latest documentary project, Silver Tsunami, which he co-wrote and co-produced, details the calamity of the massive and aging baby-boomer demographic. In addition, Wachtel has written more than 100 produced episodes of television fiction, with shows as diverse as Fox's live-action Young Hercules (starring Ryan Gosling), to animated hits like PBS's Liberty's Kids, Tutenstein, Heavy Gear, Spider-Man, X-Men, Robo-Cop and Beast Machines: Transformers. For younger viewers, he has penned episodes of the pre-school hits, Clifford the Big Red Dog and Rainbow Fish. His script for Tutenstein won an Emmy Award. Wachtel has written several live-action features, including Goddess of Death, which he also directed. Wachtel serves on the Steering Committee of the Animation Writers Caucus of the Writers Guild, as well as teaching screenwriting at UCLA Extension. He is also a performing magician member of Hollywood's Magic Castle.
When I asked Brooks to give us a sense of his new book, he characterized its premise as follows:
Lady Natasha (Tasha) Dorrington, an emancipated and brilliant detective in 1906 London, is drawn into a deadly mystery involving an ancient pagan curse and a diabolical scheme to plunge Europe into a devastating war.
Will you please tell us more about it?
My most recent release is also my first novel, Lady Sherlock: Circle of the Smiling Dead.
The book chronicles the adventures of Lady Natasha "Tasha" Dorrington, a fast-thinking, hard-fighting and very sensual leading lady. The story takes the reader from fog-bound Edwardian London to a remote island in Scotland, where a terrified man is taunted by the power of a thousand year curse closing upon him.
Tasha finds herself embroiled in a much larger game. She has been lured to the island to play a life and death contest with Deirdre, the brilliant leader of an ancient and sinister cult who plots to plunge the world into war. The prize between these powerful adversaries is no less than civilization itself – and the life of Tasha's daughter, held hostage by the cult.
The novel is also elegantly illustrated in the fashion of the original Sherlock Holmes stories as they appeared in the Strand Magazine.
I've been a television writer for more than three decades with over a hundred produced episodes in animation and live-action as well as documentaries, but "Lady Sherlock: Circle of the Smiling Dead" is my first step into prose. However, even that step had its launch-point in script-writing.
What was the inspiration behind it?
Before Lady Sherlock was a novel, it was a screenplay. The idea came about as the confluence of several of my favorite interests.
First, I love writing strong female characters. I became known for this with my television writing and often was the pick to do episodes which featured the female leads (e.g. An episode I wrote for "Young Hercules" featured the Amazons). I also have a love of history, especially the late-Victorian-Edwardian era. Fitting comfortably in that era is another interest of mine: Sherlock Holmes. Add to that, growing up a military-brat (or more properly, Naval Dependent) gave me an appreciation of ships, sea-power and its place in history.
I decided to combine these interests; history, naval, the supernatural, Holmes, powerful female characters, in one story. The story has a basis in real history as H.M.S. Dreadnought and the naval race and political collision between Britain and Germany which that ship help set in motion are a part of the book.
Making my main character a woman—a very capable, confident woman—in a particularly chauvinistic era would be fun and offer story and character opportunities that a male lead would not. There would be so many circumstances and attitudes, which would simply not exist for a man, of that era, that she would have to overcome. She's a character equally skilled with women's rights—and lefts. There's a lot of humor in the book and much of it is the collision between a witty, smart woman who will not easily tolerate chauvinistic attitudes.
The character also had a visual inspiration. My friend, actress Tanya Lemani George had a wonderful look that I thought would be a great image for a feminine take of Holmes. She is the model for the cover and many of the interior illustrations.
Originally a screenplay that never sold—alas—but worked wonderfully as a writing sample, the script landed me lots of television (and screenplay) assignments. When I reread it several years later, I felt it was too good a story to languish in a drawer and only be seen by a few producers and story-editors. As I reacquainted myself with the script, I felt it had the makings of a novel. I've been writing scripts for decades and was looking for something new. Little did I know what vast changes lay ahead…
Have there been any awards, productions, videos or anything else of interest associated with your work?
I have had two Emmy Award nominations and one win. My Emmy Award was for the animated series "Tutenstien." An episode of the History Channel series "Fly Past" titled "The Cutting Edge," which I co-wrote with Cynthia Harrison, received the Cine Golden Eagle Award.
While "DogFights" did not win any awards, it is a huge favorite in the aviation community. When I visited the Palm Springs Air Museum – which is one really superb enterprise – I discovered they are running excerpts from the series that show some of the aircraft they have on static display in action. When I visited Vancouver a few years ago and explored the Royal Canadian Navy Museum, one of the docents informed me that a World War One episode of "DogFights" is used by history classes at her university.
Episodes of "Liberty's Kids," a series about the American Revolution (with Walter Cronkite doing the voice of Benjamin Franklin) are used as an educational tool in elementary schools.
In fiction writing, I have worked on many series which are fan favorites. I wrote several episodes of the X-Men animated series, including the conclusion to the "Dark Phoenix" saga and, continuing in the Marvel Universe, the Spider-Man series I worked on is still fondly recalled. It was fun to be a part of the Hercules-Xena universe by scripting for "Young Hercules," starring a very young Ryan Gosling.
One thing that always brings a smile is when twenty-somethings I meet find out I wrote episodes of "Clifford the Big Red Dog," it always gets a very enthusiastic and happy response.
"Silver Tsunami," a documentary I co-wrote with my often writing/producing partner, Cynthia Harrison-Wallach, dealing with the challenges the vast baby-boomer demographic will present to the world won several film-festival awards. Here's the link to the trailer:
https://www.youtube.com/watch?v=8LJqt6fj8uI
Thanks to youtube most of my career is now online. If I ever need to review a show I wrote, no matter how vintage or obscure, chances are it will be posted.
There is a promotional video for Lady Sherlock, narrated by yours truly. The character inspired composer David Raiklen to write the wonderful theme which scores the video.
https://www.youtube.com/watch?v=o39owXZHrRs
How do you pick yourself up in the face of adversity?
I suppose, like most of us, we just force ourselves to get back into life and work. I've had some losses in the last few years—my mother and brother passed away within four days of each other—and it hit me hard. There are still days when I am down and don't feel like doing anything… and sometimes I don't. Then there comes that time when life and work beckon and you simply start. Friends, and I have some wonderful ones, help a lot. But ultimately we all just find it in ourselves to place one foot in front of the other and continue on the journey.
What has been your greatest success in life?
That depends on the definition of success. Professionally, receiving an Emmy Award was certainly a high point. Co-creating, co-exec producing and writing "DogFights" was a professional highlight, as was getting to interview some of the amazingly heroic aviators and pilots whose amazing exploits we brought to life in the series.
One other success about "DogFights" that was important to me: at the time we were the only WGA covered series on the History Channel. I was proud to help several writers get the credits they needed to join the Guild.
But perhaps I treasure my friendships: the people that you are there for and are there for you, most of all. I have been blessed with some wonderfully caring people in my orbit. And I am exceedingly and always grateful for them.
Who or what has been your greatest inspiration?
I was about to answer with some literary or other notable or some book or film… but on reflection, perhaps it was, after all, my parents. They gave me the values and perspective that I think define me in the most important ways.
Lastly, what is the one thing you cannot do without?
Good friends, music, books, finding outlets for creativity.
Before I provide our visitors with online links where they can follow you or purchase your book, I'd like to give them a taste of Lady Sherlock: Circle of the Smiling Dead. Here is an excerpt: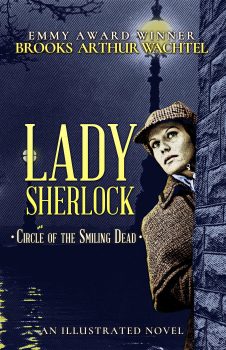 Before Ian could halt the gig, Tasha—like Ian, soaking wet from the cold rain—leapt to the road, peering ahead to the ruins. Above the rain and fierce wind, they could hear the eerie chanting of more than a dozen voices.
"Utter fool that I was to desert him!" yelled Tasha over the din. "Look!"
The ruins odd appearance was even more distorted by the ferocity of the storm. The ancient shrine was torch-lit and full of black-robed people standing on various levels of the rocks. There were eighteen in all: nine men and nine women; every one of them wore masks that mimicked a goat's heads with exaggerated horns. The torches were sheltered from the elements by alcoves cut into the dolmens. They created a harsh contrast of flickering red light and dancing black shadows that that exaggerated the malevolent atmosphere. Some sort of ceremony was transpiring, and the gathered all gave voice to a rhythmic chant. The horns of the masks turned in unison to the altar stone, where there was erected a black-robed effigy of an ancient demon-god, with crescent-moons on the robe and flaring horns protruding from the distorted goat-like animal skull that formed the sinister head.
From the roadway, Tasha and Ian scrutinized the proceedings in front of them.
"I don't see McGloury!" yelled Ian.
"They have him. Depend on it!" said Tasha bitterly, as she drew her revolver and dashed to the ruins as fleetly as the mud-soaked ground would permit. Ian followed close behind.
Two masked men dragged a live goat to the altar. The robes of the effigy parted as Deirdre, in her priestess robes and bearing an ornate mask, emerged in flowing white with a crescent moon dangling near her breast. She raised a crude stone dagger and with one accurate stroke, slit the animal's throat left to right. The chanting abruptly stopped and, save for the rain—the wind had died down—there was silence. Deirdre addressed the assembly in a disguised whisper. She pointed to a dolmen and motioned, "Come here."
Tasha and Ian stepped from behind the towering monolith, weapons in hand.
Deirdre, with a bend of her finger, bid them forward.
Tasha boldly marched in, but Ian, his eyes darting from place to place, followed nervously. They reached the altar, and he pointed his revolver at Deirdre. "Up with your hands … ma'am."
He was ignored, even by Tasha. She was focused on Deirdre—who, with her face concealed and her voice disguised, Tasha failed to recognise from their meeting at the Hermes. But she had put enough together to ask, "Deirdre, is it not?"
The priestess nodded.
Tasha nodded in return. "We meet at last."
Deirdre's smirk was just visible under the lower part of the mask. The cult members burst into laughter. Ian scowled at the masked faces made hideous by the malicious hysterics that surrounded them, but Tasha kept her eyes on Deirdre. The priestess raised her finger and the laughter stopped.
"We've met before," came the mocking reply from behind the priestess's mask.
"When?" There was no answer. "Where is McGloury?" Again no answer, just Deirdre's maddening half-smile behind the ornate mask. "You are already responsible for two murders," continued Tasha.
"Three," Deirdre whispered. "Now four." At once there was a vicious howling and human scream from the direction of the cliff. Tasha spun to see, indistinct through the storm and distance, the blur of a dog lunging for the throat of the vague shape of a man. That shape screamed again.
"McGloury!" yelled Tasha as she sprang into action.
She heard Deirdre's mock sympathetic taunt. "Help him. You never fail."
As Tasha and Ian raced toward the cliff, Deirdre, unmoving and regal, removed her mask, revealing her luminous eyes. Somewhere, faint in her throat, was a chuckle. "The cleverest woman in Europe."
At that moment the "cleverest woman" was aiming her gun at the dog, but hound and human were intertwined as they struggled toward the cliff, making a clean shot impossible. She was too late. The battle ended as man and beast tumbled over the precipice, their screams and howls vanishing with them. Tasha stopped and staggered as if she'd been physically hit. Her mind screamed in protest as she bolted toward the cliff. Then the muddy ground crumbled under her feet and she slipped over the edge. She plummeted only for a second—Ian grasped her arm and, painfully, pulled her back up.
Tasha's normal reserve was gone; she was desperate and fighting back tears. She had failed. Her client was dead.
If you've enjoyed Brooks' writing and would like to read more, here are links to purchase his book, as well as ways you can follow him online.
Book online sales links:
Amazon                      https://www.amazon.com/Lady-Sherlock-Circle-Smiling-Dead-ebook/dp/B01LYDJTJL
Barnes & Nobel        http://www.barnesandnoble.com/w/lady-sherlock-brooks-arthur-wachtel/1124734777
Kobo                           https://www.kobo.com/us/en/ebook/lady-sherlock
Smashwords              https://www.smashwords.com/books/view/669578
iBooks                                    https://itunes.apple.com/ca/book/lady-sherlock/id1162237016
Social Links:
Lady Sherlock Blog:            http://ladysherlocknovel.blogspot.com/
Lady Sherlock FaceBook Page:      https://www.facebook.com/TheLadySherlock/
Lady Sherlock FaceBook Fan created page:         https://www.facebook.com/groups/321693048210287/
Lady Sherlock Youtube promotional video:         https://www.youtube.com/watch?v=o39owXZHrRs
(Please note: Brooks Wachtel's headshot was taken by Steven Sears)