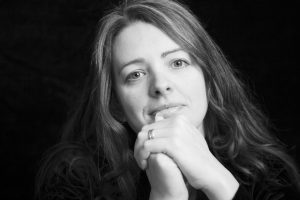 Award-winning paranormal urban fantasy author, Laura Resnick, my guest on February 29th of this year, introduced me to this week's featured author and I couldn't be happier. Emma Newman is a masterful story-teller, every bit on a par with such greats as Nancy Kress and Mary Doria Russell. She writes dark short stories and science fiction and urban fantasy novels. She won the British Fantasy Society Best Short Story Award 2015 and Between Two Thorns, the first book in Emma's Split Worlds urban fantasy series, was shortlisted for the BFS Best Novel and Best Newcomer 2014 awards. Her first science-fiction novel, Planetfall, was published by Roc in 2015. Emma is an audiobook narrator and also co-writes and hosts the Hugo-nominated podcast "Tea and Jeopardy" which involves tea, cake, mild peril and singing chickens. Her hobbies include dressmaking and playing RPGs. She blogs at www.enewman.co.uk and can be found as @emapocalyptic on Twitter.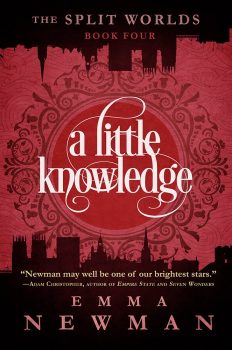 Her latest book, entitled A Little Knowledge, was released on August 2nd of this year. (Visitors please note: You will find Emma's book buy and social links at the bottom of this interview.) It is the long-awaited return to Emma Newman's popular Split Worlds series in which dynastic families feud across the ages, furthering the agendas of their supernatural patrons. Innocents are protected by monsters and the beautiful ones are not what they seem. The Split Worlds is an urban fantasy setting with a dash of noir, fantastical magic, evil faeries, and people just trying to drink their tea in peace.
I initially read her short story, "The Unkindest Cut", which is a part of the anthology Monstrous Little Voices: New Tales From Shakespeare's Fantasy World. It left me so impressed that I immediately dove into Planetfall, an unusual and highly-compelling tale about a colony of terrestrials who have settled on another world.
Your readers were undoubtedly on tenterhooks as they awaited A Little Knowledge's release. Will you kindly provide as much about it as you can?
A Little Knowledge is the fourth in the Split Worlds series and readers have had to wait a while for it as the series changed publisher. The Split Worlds series really has to be read in order, starting with Between Two Thorns, so I can't say too much about the fourth book without risking horrible spoilers. The series as a whole is quirky British urban fantasy involving evil Fae, mad sorcerers, feminism and lots of tea and cake.
This is a chicken/egg question and requires some preface:
I am fascinated by how flawed many of Planetfall's characters are. It certainly makes them more human. Ren/Renata in particular is a counterpoint of strength versus weakness, certainly one of the more emotionally fragile and vulnerable characters I've encountered in a science fiction novel. Did you set out to portray her as such before you began, or did her particular condition evolve as the story progressed? This is also to ask if you are a plotter or a pantser. That is to say, do you outline before you begin, or do you fly by the seat of your pants?
I see this as two very separate questions, because having an idea of who your character is before writing a novel could apply to both plotters and pantsers.
So, about Ren. The entirety of the novel was built around her, which is very unusual for me. Usually there's a question I want to answer, or a world that grows in my mind and few characters maybe, all growing together. With Planetfall, my drive was to sensitively and hopefully accurately portray the experience of a particular mental illness (which I won't name because it's a huge spoiler). Thoughts about the disorder and how to portray it led to critical decisions about the setting and then when I read an article about using 3-D printing to build a moon base, it all suddenly clicked into place. Not only did I just know, instantly, that Ren should be a 3-D engineer, I knew the book had to be set on a colony on a distant planet. Then lots of other things I've been wanting to explore for years (such as the intersection between religious faith and science) folded into it all nicely.
As for whether I am a plotter or pantser, I am a combination of the two. I usually have a good sense of the beginning, middle and end, critical plot points and some character and story arcs when I start to write a book. I then plan about five chapters or so ahead, just with bullet points and then write those scenes. If things change as I write, that's fine. At the end of that planned section, I evaluate where things are going in line with the broader ideas of the book and then plan the next chunk in more detail. This technique is very similar to something called the "agile method" of coding big projects like complex websites. The idea is that as you can never accurately predict every single factor at the start of the project, it doesn't make sense to make a comprehensive plan at the start and try to stick to it no matter what. Instead you do it in phases and adapt to any changes as you go along. When it comes to writing a character driven novel, I can try my best to predict what will happen, but sometimes when I get to a particular point that assumption just doesn't feel right anymore, I adjust and carry on, like an "agile" coder. I feel I get the best of both worlds; the planning aspect enables me to minimise the need for major re-writes and allows me to manage multiple interwoven threads like in the Split Worlds. The "seat of my pants" aspect keeps the story details fresh for me – if I knew every single thing that happened in a book before I wrote it I would get bored. Sometimes writing a book is as much about finding out how it all works out in the end, as it is about completing the project.
That makes a great deal of sense, and it also validates many of the techniques I employ as I assemble my own work. Returning to Planetfall, the virtual software interface you employ throughout the book makes me wonder at your non-writing background. Do you write code or are you a gamer?
Both! Well, I used to code (I am horribly rusty now but I used to be pretty comfortable around html, MySQL and PHP) and my first proper job out of university was in information architecture and user interface design for websites. So yeah, experience in that field was definitely mulched down and grew into some aspects of the user interface in Planetfall. I am also a keen gamer—not just tabletop and live action roleplaying but also console games. I think it was my professional experience that was a greater influence of the two, that and my degree in Psychology.
That helps explain Planetfall's protagonist. That said, no one writes characters as complex as yours without considerable life experience and a long reading list. Would you care to touch on some of the events and/or books that helped shape your work?
I think all life experiences, all books read, all films watched—everything—gets chucked in the mental compost heap and then characters, plots and settings grow up like mushrooms from it.
For some characters, I can still detect a hint of what was rotted down to make them. Cathy in the Split Worlds series does draw a lot from my own rage, but she and I are very different in personality. As for Ren in Planetfall, there is an overlap between her mental illness and the generalised anxiety disorder that I live with that I could base an aspect of her behaviour on, but again, we are more different than similar. Readers have said that the descriptions of her anxiety and a scene involving a panic attack were hard to read because they rang so true. There was a reason for that!
I am impressed by the way you reach out to aspiring authors, especially the Resources page of your website. Was someone equally kind to you while you were still in the initial stages of your journey, or have you done so because of an early absence of help?
Neither! I just like to help people. I didn't really have a mentor when I was an aspiring writer and in some ways I think that was a good thing. It forced me to find my own way, which is what I think every single writer has to do. However, once I became published I kept hearing the same questions and the same incorrect assumptions. The Writer's Rutter on my website shares some of the things I've learned, but very much with the caveat that what works for me might not work for anyone else.
That's very much the reason why I run my workshop on overcoming the psychological barriers to writing. I got so fed up with reading interviews with writers who'd say that being a successful writer was all about sitting down and writing. For some people (I suspect most actually), there are all sorts of reasons why that might be very difficult. Being able to help people work through that is something I find very rewarding.
You are a contributor to Monstrous Little Voices: New Tales From Shakespeare's Fantasy World. Regarding your story, "The Unkindest Cut", who approached you to participate and what made you decide to expand on the Prospero theme?
David Moore, the editor of the anthology, mentioned he was thinking about putting it together at a convention years ago. I enthused about the concept and he remembered that, getting in touch once the project was underway. I was so thrilled to be asked, as it was a challenging brief. Not only did we have to riff off Shakespeare's world and characters, we also had to interlink the stories.
The Tempest was one of the first plays that came to mind because I saw an amazing performance of it at the RSC when I was a student. I thought that Prospero was such a memorable figure that it would be fun to play with him and one that readers would enjoy too.
I wish I could attend this year's LARP. Alas, not enough notice and too far away. I'm sure that by the time you can respond to this, it will have transpired. When did you start holding them and will you please share a bit about this one?
This question implies it's a regular thing! The Split Worlds Masked Ball LARP was a one off event and it was a huge success, I'm very relieved to report. Readers can find pictures from the event on my website.
I've been a keen role-player and GM for many, many years and planned to run it with my best friend. Sadly she passed away and I thought I'd never be able to do it. Then a wonderful person called Katie Logan got in touch, asking if she could run a LARP in the Split Worlds universe and it took off from there. The ball was set between books three and four, with forty of the players playing characters from the novels and the short stories, and thirty-six more created for the event. It was held in the Guildhall in Bath. Everyone really went to town on their costumes and it looked amazing. I NPCed one of the characters from the books, as did my husband, and whilst it was incredibly stressful, time consuming and highly pressured, I am so very glad we did it.
I want to thank you so much, Emma, for taking time to share with us. Readers should know that, with her extremely busy schedule, we've been jostling for months to get this out to you while she's been working hard to get A Little Knowledge published. Knowing, from personal experience how much of one's time this kind of endeavor requires, I remain eternally grateful that she got back to me so soon after publication date.
For those of you who have enjoyed meeting Emma—and I have to ask, how could anyone not?—here are the links I promised earlier:
Website:         www.enewman.co.uk
Twitter:          @emapocalyptic
Other:             www.splitworlds.com
Book Buy Links:
Kindle (Amazon.co.uk):      https://www.amazon.co.uk/Little-Knowledge-Split-Worlds-Book-ebook/dp/B01F7TCBLO
Kindle US (Amazon.com)https://www.amazon.com/Little-Knowledge-Split-Worlds-Book-ebook/dp/B01F7TCBLO/
Paperback (Amazon.co.uk): https://www.amazon.co.uk/Little-Knowledge-Split-Worlds-Book/dp/1682302911
Paperback USs (Amazon.com): https://www.amazon.com/Little-Knowledge-Split-Worlds-Book/dp/1682302911/
Book depository: http://www.bookdepository.com/Little-Knowledge-Emm-Newman/9781682302910