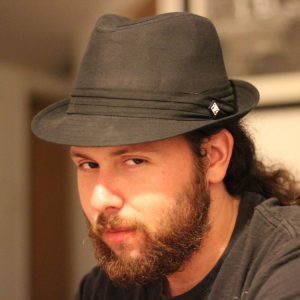 This week's featured guest is Israeli author, Uri Kurlianchik. He has written primarily for tabletop role-playing games but recently turned his attention to fiction. His work in the gaming field was published by WotC, Paizo, Mongoose and others. His fiction includes the modern fantasy story cycle "Tales from an Israeli Storyteller," the space opera, Noblesse Oblige, released by WordFire Press on July 27, 2018, and several fantasy and horror stories published in various magazines and anthologies, including the British urban fantasy story cycle "The Red Phone Box." When not writing, Uri is raising the next generation of geeks by instructing tabletop and board games to kids in schools and community centers. When not doing either, he sleeps.
Uri describes Noblesse Oblige's premise as follows:
In a universe where corporate scions hold aristocratic titles and wield near absolute power over the masses, a young princess embarks on a mission of mercy to find a new home for the refugees created by her father's latest war on the edge of the solar system. To her dismay, an invitation to an isolated planetoid that could serve as the perfect home for the exiles turns out to be a ploy by the infamous Baron Von Schmidt to add yet another outrage to his repertoire: a depraved auction where the item on sale is her royal highness and the bidders are the who's who of the system's worst scoundrels!
With only enemies in sight and no way to call for help, the young princess has no choice but to rescue herself. This will not be easy.
Her foes include: a Chinese pirate queen, Russia's foremost duelist, a corporate samurai, a Venusian mafiosi, expert French poisoner twins, a floating Swiss banker of unimaginable wealth and weight, and a British gentleman who happens to be a pterodactyl.
Her arsenal consists of: vague memories from classes she mostly slept through, a pile of gadgets for which she's never read the user manual, and an unruly ferret.
What do you want readers to know about your book?
It's a story about a Princess who needs to rescue herself from a parcel of rogues while marooned on a faraway planetoid. It's equal parts Dune, James Bond and Charlie and the Chocolate Factory… if they were all written by a drunk Victorian (that's actually how a friend described the prose in the novel). The Princess does have a name, but I keep forgetting how to spell it. It appears somewhere in the book, however, so not to worry.
Aside from the plot, is there a story behind it?
Oh yes! The whole thing started online as a random late night chat with a friend. We just started throwing ideas back and forth and ended up discussing many people who didn't exist and events that never happened. We talked for hours, but vampires that we are, we had to retire before the sun rose. However, I got so excited about the small mythology created in the conversation that the following evening I copy+pasted it into Google Docs and used it as a guideline for a short story which kept getting longer and longer until it reached its organic conclusion. There was never an outline or a plan of any sort, just rogue thoughts doing their best to outsmart one another.
Why is your writing different from other authors in this genre?
The scope of this novel is intentionally very small. It covers a period of just 24 hours (almost in real time) and takes place entirely in and around one mansion on an isolated planetoid. At the same time, we keep getting hints about the greater setting and famous denizens thereof through cultural references and conversations between the characters. However, these are just hints. It's possible to understand the context of the novel from them, but it's also possible to be very wrong…
What was your path to publication?
Once the book was completed (something I never really planned for since I worked on it irregularly at best) I thought I might as well shop it around because I felt the result was a fun read and because this is what you do when you have a completed manuscript. An editor friend kindly offered to go over the manuscript and fix language and continuity issues. Without her assistance, I doubt the novel would be publishable. I sent the manuscript to several publishing houses that published stuff I liked. Eventually, the good people of WordFire Press liked the novel and chose to publish it. The rest is history.
What are you working on now?
I am working on a sequel for Noblesse Oblige. It's still told from the POV of the Princess but it's wider in scope and sheds light on some of the "mythological" characters mentioned only in passing in the first book. Also, since this time the Princess is on an adventure of her own choosing, she'll hopefully be a little less outraged all the time, and we'll get to see her nicer side. No guarantees though. You know how these aristocrats are…
My other project is a novel about four Jewish kids and a Bedouin girl who deal with all sorts of magical creatures as well as mundane dangers in the hills of Samaria as they try to help their giant friend to discover what happened to her children. The whole book is an ode to the view I see each time I raise my eyes from the screen and look into the distance. It burrows some elements from Jewish and Islamic folklore, but mostly it's just my imagination running wild in the landscape before my eyes.
What else have you written?
I started as a writer for tabletop RPGs and have written many articles and adventures, mostly for the science fiction game Traveller and the fantasy game Dungeons and Dragons. Fiction-wise, I have self-published "Stories from an Israeli Storyteller." It's a cycle of short stories in various genres ranging from lighthearted fantasy to rather bleak horror. Each story explores a different location I like in Israel. The plots are entirely fictional (you don't meet many golems or efreeti in the desert these days) but the geographic details are precise enough to make each story useful as a guidebook to the location in question. I have also written several short stories, mostly horror and dark fantasy, including a couple of stories to a very unusual urban fantasy story cycle called "The Red Phone Box."
What is your writing routine?
Nothing in my life has any semblance of a routine and writing is no different. I write whenever I feel like it, which is usually very late at night when it's cool and quiet and my brain is tired enough to stop resisting the flow of ideas but not so tired as to muddle my writing. I don't force myself to write unless I have deadline. I think writing should be fun and spontaneous. It shouldn't be a chore.
Do you create an outline before you write?
I didn't do it for my first novel, which got me in a pickle a few times. I ended up having to rewrite big chunks of the novel when I realized that the direction I was headed into wasn't feasible and again when I decided to change an important detail about the setting. This wasn't the least bit fun. My current projects both have plot outlines, though only in the vaguest terms because I still want to be able to surprise myself from time to time. I also wrote short but expansive setting bibles to help avoid inconsistencies. Lastly, I have a little notepad where I write down any cool idea that comes to mind, a creative diary of sorts. This can be anything ranging from a cool plot development to a funny line or even just a cool sounding name.
How do you overcome writer's block?
I never write until I'm intellectually exhausted. Instead, I stop right at the most exciting part, when I'm just burning with the desire to write some more. This way, the momentum of the previous session carries me to the next session. I find that when I write until my mind is empty it's much harder to go on writing the following day.
Secondly, as the excellent fantasy writer Steven Brust once said, you need to invent some lie that helps you to go on writing and stick to it until your novel is done. In my case, the lie is that I am not going to write a whole novel. I'm only writing to kill time and can stop anytime I want without any consequences. It's just mindless fun, like watching TV or reading a comic book. By constantly repeating this lie to myself, I've already finished a couple dozen stories and adventures, two gaming books, a story cycle and a novel. It's far easier to start writing when you know it's just to pass the time then when you feel like you're doing important work and better do it right or else.
What life experiences inspire or enrich your work?
As someone who lives in the Middle East, the news are full of villainy, heroism and the touch and go drama that can inspire anything ranging from bloody horror to epic fantasy. Sometimes, you can look out of the window and see stuff exploding in the sky as if you're living in an episode of Star Wars or Babylon 5…
Traveling is another great source of inspiration. I daresay there are few locations in Israel I haven't visited yet and almost everywhere I go I find a small fragment of a story, a trace of something fantastic (or terrifying!). Go to enough places and you have enough fragments to construct an entire tale. When I go abroad I usually try to stay with people rather than sleep in hotels. I don't do this just because I'm a cheap bastard (well not onlybecause of that) but also because spending some time with people from a different culture can really help you see the world from a different perspective. This is a huge part of what writing fiction is all about: trying to see a different world through different eyes for a while.
Then there's gaming. Yes, it's all made up, but since it involves so many people from diverse backgrounds, some games create experiences that are far greater than a sum of their parts. While there are very few things more obnoxious than someone telling you about their character at length or describing the minute details of their campaign setting, some game scenes have enough drama and emotion to inspire excellent literally scenes as well.
Describe a typical day.
I wake up at the crack of noon, hastily dress so I won't be late for work. I drive while holding the steering wheel in one hand and a cup of tea in the other. Usually there will be some good audiobook in the background. After 2-3 groups, my work day is over and I can start the "me" part of the day. The majority of it will be spent in my garden with my laptop. It always starts with my intention to work on one of my novels, but often leads to hours of pointless surfing and chatting. Sometimes feral cats or hyraxes come to keep my company. At some point I will take a break to watch some good show or walk around town for an hour or so.
I go to bed just as the distant muazzin summons the faithful. I hardly ever see my neighbors, but I am very well acquainted with their white bunny and their black dog.
Would you care to share something about your home life?
The top of my fridge is a shrine of sorts. It contains little deities from Japan, China, India, Siberia, Russia, Nepal, Norway, Egypt, and of course dread Cthulhu. I think this may have attracted a domovoi spirit because I have no other way to explain why things disappear and reappear in my home at random. Right by the door to my house there's a lovely ricinus plant. It provides shade in the summer and peace of mind in the winter. I don't have any pets, but I get along very well with all manners of small animals. These include parakeets whom I almost, but not quite, trained to eat out of my hands.
Thank you so much, Uri, for sharing your story and imparting your delightful sense of humor to this page. Before I provide our visitors with an excerpt from Nobless Oblige, as well as your social and book buy links, I'm hoping to entice you to participate in a Lightning Round. In as few words as possible, please answer the following:
My best friend would tell you I'm a: a flatulent git.
The one thing I cannot do without is: cheese!
The one thing I would change about my life: Eat less, exercise more.
My biggest peeve is: Stalin apologists. Never forgive. Never forget.
The person I'm most satisfied with is: My girlfriend is pretty cool. She's the best traveling companion in the world.
Do you have a parting thought you would like to leave us with?
If you get invited to a small planet at the edge of the solar system by a famously eccentric baron, don't go. It's bound to be a part of some nefarious plot!
Excerpt: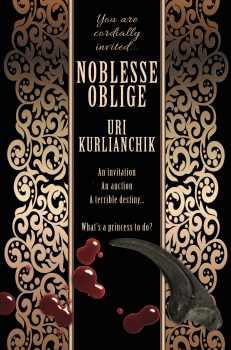 The Princess wrinkled her nose and turned away. She was surrounded by the sort of people one hopes to go through life without ever seeing outside of sensational newscasts or feverish dreams. While the guests she'd met so far had at least some tenuous claims to aristocracy, the same could not be said about the last and least of the guests – a venerable Chinese woman in a gown of seemingly living butterflies and an obese Italian man smoking a thick cigar while framed by two belles, one albino and one Afro-Terrestrial, their doped expressions a testimony to the ill effects of opium.
Von Schmidt followed her gaze and proceeded with his round of uncalled for introductions.
"This delightful lady, very wellpickledfor her age, which puts many of the rocks outside to shame, is the infamous pirate Chang Shih Feng, an admiral in the Fleet of the Thousand Butterflies. Her dress consists of a thousand ersatz butterflies with wings as sharp as razors. With a single word she can reduce a roomful of unshielded people to bloody ribbons or upgrade her dress into the latest scream in orbital fashion.
"Across the room, with two gorgeous women by his somewhat less gorgeous sides, is her sworn enemy, Don Vincenzo Calzoni. It is said that for all her flagrancy, Madam Chang has a soft spot for defenseless young maidens and would castrate anyone who would dare to take advantage of a young woman of any creed. Calzoni, on the other hand, has made quite a fortune by taking advantage of such young women, as well as boys, beasts, and various artifices unsuitable for civilized discourse due to being subjects of deviant intercourse.
"I hope you are flattered that two sworn enemies are willing to peacefully share a room just to bask in your royal presence, especially since both of them command private armies to match those of numerous smaller Terrestrial states, though, it must be said, not even a minor threat to your father's fleet, or even the Old Brigade."
"Overjoyed," the Princess said with the expression of a person informed that their upcoming execution will be performed by a panel of award-winning executioners and that each artifice of murder would be lovingly handcrafted by a troop of celebrated Dutch artisans. "You could have saved considerable time by simply saying 'a pirate and a pimp.'"
Von Schmidt clapped once, raising quite a few eyebrows, and laughed heartily. "This is true, oh yes, quite true! I will save time then – a scoundrel, a villain, a thief, a charlatan, an assassin, a radical, a libertine… well, that would be me of course, and a princess! My dear lady, if you feel yourself so much above this choice extract of the villains of the system, should we get to the matter at hand?"
"What matter?" The Princess asked suspiciously.
Von Schmidt turned away from her and spoke as loudly as one could without appearing emotional. "Ladies, Gentlemen. I'm so glad that most of you could make it. May I offer a moment of silence for our friends who did not survive the arduous journey?"
"No need! They already very silent!"  Madam Chang interjected. Several people laughed uneasily.
"I admit-a to a-nothing!" Calzoni laughed alone.
"Must we suffer this vulgarity for long, dear Jean?" Jean asked in a sensual voice that sounded as if it was leading to a yawn but never quite got there.
"It is a sad truth that the possession of some rare jewels is worth suffering the company of apes," the other Jean replied in an identical voice.
"Apes are apes, though they speak with a rummy French accent." Professor York misquoted the old poet and addressed Von Schmidt directly. "If one doesn't care to spend the entire afternoon wiping blood and brain matter off the walls, one is dashed well advised to start with the proceedings already!"
Von Schmidt bowed his head slightly. "Indeed, my dear professor, let us waste no more time on banter and get to the auction."
"What's for sale?" the Princess asked uneasily.
"Why, you are, of course." Von Schmidt answered cheerfully.
Readers can follow Uri here:
Website:         https://www.facebook.com/Urikson
Blog:               http://dndkids.blogspot.com
You can purchase your copy of Noblesse Oblige at:
Amazon:        https://www.amazon.com/Noblesse-Oblige-Uri-Kurlianchik/dp/1614756643/