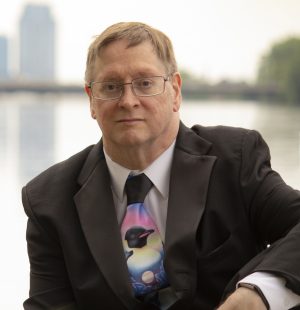 Martin L. Shoemaker is a programmer who writes on the side… or maybe it's the other way around. He told stories to imaginary friends and learned to type on his brother's manual typewriter even though he couldn't reach the keys. (He types with the keyboard in his lap still today.) He couldn't imagine any career but writing fiction… until his algebra teacher said, "This is a program. You should write one of these."
Fast forward 30 years of programming, writing, and teaching. He was named an MVP by Microsoft for his work with the developer community. He is an avid role-playing game master, but that didn't satisfy his storytelling urge. He wrote, but he never submitted until his brother-in-law read a chapter and said, "That's not a chapter. That's a story. Send it in." It won second place in the Baen Memorial Writing Contest and earned him lunch with Buzz Aldrin. Programming never did that!
Martin hasn't stopped writing (or programming) since. His novella, Murder on the Aldrin Express, was reprinted in The Year's Best Science Fiction: Thirty-First Annual Collection and in Year's Top Short SF Novels 4. His work has appeared in Analog, Galaxy's Edge, Digital Science Fiction, Forever Magazine, Writers of the Future 31, Year's Best Military and Adventure SF 4, and select service garages worldwide. He received the Washington Science Fiction Association Small Press Award for his Clarkesworld story, "Today I Am Paul," which also was nominated for a Nebula award and appeared in four years' best anthologies and eight international editions.
A press release about his latest novel, Today I Am Carey, published by Baen Books, might read:
REMARKABLE DEBUT NOVEL FROM CRITICALLY ACCLAIMED AUTHOR MARTIN L. SHOEMAKER. Shoemaker proves why he has consistently been praised as one of the best story writers in SF today with this touching, thoughtful, action-packed debut novel, based on his award-winning short story, "Today I am Paul".
Today I Am Carey's premise:
Mildred is dying of Alzheimer's Disease. As her memories fade, she requires the aid of a full-time android to assist her in her everyday life. The android's duty: to tend to Mildred as Alzheimer's steals her away, one memory at a time, and to pretend to be her absent family.
Soon, Mildred passes away, and the android Carey must find a new purpose in the world—and in its new family: Paul Owens, the overworked businessman. Susan Owens, the dedicated teacher. And Millie, a curious little girl who will grow up alongside her android best friend. As the humans around it age and change, Carey struggles to understand life's challenges and to make its own path. Carey must learn to live. To grow. To care.
What do you want readers to know about your book?
It's not your ordinary science fiction. Not that there's anything wrong with science fiction! It's almost all I read and write. But I think this book will appeal even to people who avoid science fiction because they think it's all ray guns and rocket ships. It's about life as viewed by an android, a perfect neutral observer who understands and doesn't judge.
Aside from the plot, is there a story behind it?
The original story, "Today I Am Carey", was strongly influenced by my mother-in-law's last year of life. The rest of the novel flowed from my curiosity: what does the android do after its patient passes away? How does it become part of her family?
Why is your writing different from other authors in this genre?
I could answer with a cliché: "Every author has a unique voice." Or I could answer boastfully, trying to convince your readers how great I am.
But a serious question deserves a serious response. I think my niche in the field is what I like to call ruthless consistency. I'm not alone in that niche, of course, with Larry Niven being one of its masters. What I mean is that if I establish something as a rule in my universe, I am stuck with it. My world building is more evolution than planning. I discover bits of the world as I write; and once I discover them, they change the shape of the story.
What was your path to publication?
The book got its start with my Clarkesworld short story "Today I Am Paul". http://clarkesworldmagazine.com/shoemaker_08_15/ That story got a lot of attention: a Nebula nomination, a Washington Science Fiction Association Small Press Award, four year's best anthologies, and eight international translations. So when my agent heard I was considering making that into a novel, we agreed that it had strong potential. I dictated the rest of the novel in six weeks and then revised it over the next few months.
Baen knew of my work through Analog Science Fiction and Fact, and also through the Jim Baen Memorial Short Story Award, where I took second place. We had already discussed me writing for them, and in fact I had a story in their anthology Little Green Men: Attack! (edited by Brian Thomas Schmidt and Robin Wayne Bailey). So when my agent started shopping the manuscript around, they were very willing to take a look at it. Compared to other projects, this all happened very fast. I know how fortunate I am for that.
What are you working on now?
Ulla, book one of what might be a series called "Martian Song". It's War of the Worlds meets I Am Legend—and possibly meets To Kill a Mockingbird. (I'm still discovering where it's going.)
What else have you written?
Coming next September from 47North will be my next novel. The working title is Mutiny on the Aldrin Express, but that will probably change before release. It's a novel built around my Carver and Aames stories that appeared in Analog, adding a framing story involving the day Captain Nick Aames finally pushes the Admiralty too far.
I've had other work in Analog, along with Galaxy's Edge, Digital Science Fiction, Writers of the Future, and various anthologies. There are 51 entries on my Amazon author page – and more to come!
Are there any awards or honors you'd like to share?
Besides those above for "Today I Am Carey", my novella "Murder on the Aldrin Express" (the first Carver and Aames story) was selected for The Year's Best Science Fiction: Thirty-First Annual Collection and The Year's Top Short SF Novels 4. My story "A Hamal in Hollywood" was selected for The Year's Best Military and Adventure SF, Volume 4. And my novelette "Unrefined" won third place in the first quarter for Writers of the Future Volume 31.
What is your writing routine?
My most consistent routine is based on my practice of dictating stories while I drive:
In the morning, I listen to the last five minutes from the day before to "seat" myself in the story.
I turn on the recorder, and I start dictating and driving.
When I get to work, I turn off the recorder.
When I leave at night, I listen to the last five minutes from the morning.
I turn on the recorder, and I start dictating and driving.
When I get home, I turn off the recorder.
After dinner, I copy the day's files to the computer and let Dragon NaturallySpeaking transcribe them.
That's the ideal, and of course sometimes I can't hit those targets. But that's how I dictated nearly 90,000 words in six weeks for the first draft of this book.
Do you create an outline before you write? 
Sometimes, sometimes not. Today I Am Carey had something of an outline, with a lot of deviations. Murder on the Aldrin Express had no outline, just a vision that I wanted to tell a Citizen Kane style framing story. Ulla… I have no idea where Ulla is going. Every time I think I know where it's going, it surprises me. My characters are telling the story, and I'm just taking notes.
How do you overcome writer's block?
Discipline and habit – but I have to make it a habit. If I sit down in my Jeep and put on my microphone, story comes out. Every time. If I tell myself I don't feel like it, guess what? No story comes out! Every time I'm "blocked", it's because I'm distracted and I lose the habit.
In diabetes class, they taught us that it takes three weeks to a month to build a good habit, but only one week to break it. I'm starting to see that in my writing career as well. If I have a bad week where I don't dictate something at all, it becomes really easy to find reasons not to write. But if I make myself anyway, if I keep the habit building, dictation becomes effortless.
How do you think you've evolved creatively?
At the Writers of the Future Volume 32 workshop, I and other returning winners spoke to the new winners about our career since winning. Someone asked me about dictation, and in the middle of answering I realized that every story I had sold in the past year had been dictated. That led me to sit down and examine why dictation works for me. My current process has evolved from that point. It involved learning to trust that if I put forth the effort, I can do this. Worry less, write more.
At this stage in your career, what is your greatest challenge?
Discipline/time to get the work done. When I started answering these questions, I had six novels in my queue. By now I have seven. I need to work faster!
What life experiences inspire or enrich your work?
I believe that my career as a software developer has contributed greatly to the ruthless consistency I mentioned above. I am very comfortable with constructing elaborate systems and holding them in my head.
What motivates or inspires you?
Space museums. They're like a pilgrimage. I look at Apollo-era hardware and I think: They put that in orbit around the Moon, and the entire world at that time had less computing power than I carry in my pocket. My job is not hard.
How do you pick yourself up in the face of adversity?
I allow myself to wallow for a while. I'm only human! But I try to limit that and then figure out what happens next.
No, it doesn't always work. But there's also the Beatles method: I get by with a little help from my friends. And my friends are the best!
Do you have any pet projects?
My Carver and Aames stories are part of a much larger universe I call Blue Collar Space. I'm slowly mapping out a future history, some of which may not interest anyone but me.
What is your greatest life lesson?
In late 2017 I almost died from an infection complicated by undiagnosed diabetes. Since then I've lost 60 pounds, I've gotten my diabetes under control, and I'm probably the healthiest I've been in my adult life. So prosaically, my lesson was to take care of myself. Philosophically, it was that I can take care of myself, that it's not too late to make changes. And that's true for more than just health and fitness. I finally got serious about writing when I was 47. I like to think I'm proving that that was not too late.
What makes you laugh?
The Hitchhiker's Guide to the Galaxy series.
Early Garfield strips (before Jim Davis started farming them out to assistants).
Dogs. Cats. Penguins.
Frasier, especially the character Niles Crane.
Sock monkeys. I can't explain why, but sock monkeys make me smile. They even make an appearance in Today I Am Carey.
Mostly my friends.
Who are some of your favorite authors?
Jack McDevitt. Larry Niven. Jerry Pournelle. Barry Longyear. Harlan Ellison. J.R.R. Tolkien. Robert A. Heinlein. Daniel Keyes. Connie Willis.
Thanks, Martin, for taking the time to share with us. Before I present an excerpt from Today I Am Carey, followed by links visitors can use to purchase it and follow you online, I'd like to conclude with a Lightning Round. In as few words as possible, please answer the following:
 My best friend would tell you I'm a: Ham.
The one thing I cannot do without is: Black licorice.
The one thing I would change about my life: Procrastination.
My biggest peeve is: Passive protagonists.
The thing I'm most satisfied with is: Where I'm at right now.
 Do you have a parting thought you would like to leave us with?
There's still time to invest in Kleenex stock! I expect a shortage when this book comes out. Publisher's Weekly calls my ending "heartbreaking".
And thank you most kindly for the opportunity to share!
Excerpt: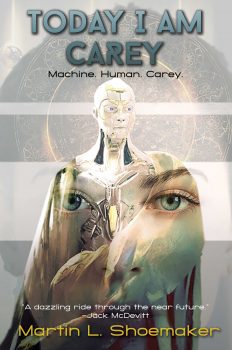 "Good morning," the small, quavering voice comes from the medical bed. "Is that you, Paul?"
Today I am Paul. I activate my chassis extender, giving myself 3.5 centimeters additional height so as to approximate Paul's size. I change my eye color to R60, G200, B180, the average shade of Paul's eyes in interior lighting. My silicone flesh stretches, and I flood it with pigments to adjust my skin tone as well. When I had first emulated Paul, I had been troubled that I could not quickly emulate his beard; but Mildred never seems to notice its absence. The Paul in her memory has no beard.
The house is quiet now that the morning staff have left. Mildred's room is clean but dark this morning, with the drapes concealing the big picture window. Paul would not notice the darkness (he never does when he visits in person), but my empathy net knows that Mildred's garden outside will cheer her up. I set a reminder to open the drapes after I greet her.
Mildred leans back in the bed. It is an advanced home care bed, completely adjustable and with built-in monitors. Mildred's family spared no expense on the bed (nor other care devices, like myself). Its head end is almost horizontal and faces her toward the window. She can only glimpse the door from the corner of her eye, but she does not have to see to imagine that she sees. This morning she imagines Paul, so that is who I am.
Synthesizing Paul's voice is the easiest part, thanks to the multimodal dynamic speakers in my throat. "Good morning, Ma. I brought you some flowers." I always bring flowers. Mildred appreciates them no matter whom I am emulating. The flowers make her smile during eighty-seven percent of my "visits".
"Oh, thank you," Mildred says, "you're such a good son." She holds out both hands, and I place the daisies in them. But I do not let go. One time her strength failed, and she dropped the flowers. She wept like a child then, and that disturbed my empathy net. I do not like it when she weeps.
Mildred sniffs the flowers, then draws back and peers at them with narrowed eyes. "Oh, they're beautiful! Let me get a vase."
"No, Ma," I say. "You can stay in bed, I brought a vase with me." I place a white porcelain vase in the center of the night stand. Then I unwrap the daisies, put them in the vase, and add water from a pitcher that sits on the breakfast tray. I pull the night stand forward so that the medical monitors do not block Mildred's view of the flowers.
I notice intravenous tubes running from a pump to Mildred's arm. I cannot be disappointed, as Paul would not see the significance, but somewhere in my emulation net I am stressed that Mildred needed an IV during the night. When I scan my records, I find that I had ordered that IV after analyzing Mildred's vital signs during the night; but since Mildred had been asleep at the time, my emulation net had not engaged. I had operated on programming alone.
I am not Mildred's sole caretaker. Her family has hired a part-time staff for cooking and cleaning, tasks that fall outside of my medical programming (though I am learning), and also two nurses. The staff also gives me time to rebalance my networks. As an android, I need only minimal daily maintenance; but an emulation net is a new, delicate addition to my model, and it is prone to destabilization if I do not regularly rebalance it, a process that takes several hours per day.
So I had "slept" through Mildred's morning meal. I summon up her nutritional records, but Paul would not do that. He would just ask. "So how was breakfast, Ma? Nurse Judy says you didn't eat too well this morning."
"Nurse Judy? Who's that?"
My emulation net responds before I can stop it: "Paul" sighs. Mildred's memory lapses used to worry him, but now they leave him weary, and that comes through in my emulation. "She was the attending nurse this morning, Ma. She brought you your breakfast."
"No she didn't. Anna brought me breakfast." Anna is Paul's oldest daughter, a busy college student who tries to visit Mildred every week (though it has been more than a month since her last visit).
I am torn between competing directives. My empathy net warns me not to agitate Mildred, but my emulation net is locked into Paul mode. Paul is argumentative. If he knows he is right, he will not let a matter drop. He forgets what that does to Mildred.
The tension grows, each net running feedback loops and growing stronger, which only drives the other into more loops. After 0.14 seconds, I issue an override directive: unless her health or safety are at risk, I cannot willingly upset Mildred. "Oh, you're right, Ma. Anna said she was coming over this morning. I forgot." But then despite my override, a little bit of Paul emulates through. "But you do remember Nurse Judy, right?"
If you'd like to follow Martin Shoemaker, you can do so here:
Web Site:http://Shoemaker.Space
Facebook:https://www.facebook.com/MartinLShoemaker
You can purchase a copy of Today I Am Carey here:
Amazon: https://www.amazon.com/Today-Am-Carey-Martin-Shoemaker/dp/1481483846
Barnes & Noble: https://www.barnesandnoble.com/w/today-i-am-carey-martin-l-shoemaker/1128864110
Baen Books (eARC): https://www.baen.com/today-i-am-carey-earc.html