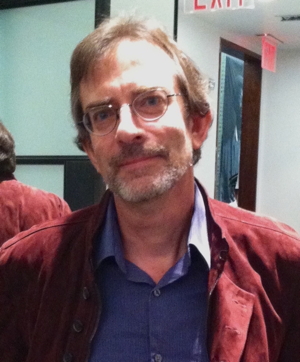 Jeffrey J. Mariotte has written more than seventy novels, including original supernatural thrillers River Runs Red, Missing White Girl, and Cold Black Hearts, the horror epic, The Slab, which I am featuring this week, and the Stoker Award-nominated teen horror quartet, Dark Vengeance. Other works include the acclaimed thrillers Empty Rooms and The Devil's Bait, and—with his wife and writing partner Marsheila (Marcy) Rockwell—the science fiction thriller, 7 SYKOS and Mafia III: Plain of Jars, the authorized prequel to the hit video game, as well as numerous shorter works. He has also written novels set in the worlds of Star Trek, CSI, NCIS, Narcos, Deadlands, 30 Days of Night, Spider-Man, Conan, Buffy the Vampire Slayer and Angel, and more.
He is also the author of many comic books and graphic novels, including the original Western series Desperadoes. Other comics work includes the horror series Fade to Black, action-adventure series  Garrison, and the original graphic novel Zombie Cop.
He is a member of the International Thriller Writers, Sisters in Crime, the Western Writers of America, and the International Association of Media Tie-In Writers. He has worked in virtually every aspect of the book businesses, as a bookseller, VP of Marketing for Image Comics/WildStorm, Senior Editor for DC Comics/WildStorm, and the first Editor-in-Chief for IDW Publishing. When he's not writing, reading, or editing something, he's probably out enjoying the desert landscape around the Arizona home he shares with his family and dog and cat.
Amazon describes The Slab as follows:
A skull in a fire pit.
A man who can't remember his murders.
A woman snatched off the street, then set free only to be hunted down like an animal—until she becomes the hunter.
When these threads wind together, the result is unstoppable suspense and unforgettable horror. In the grim days following 9/11, three veterans of different wars are drawn together in one of the most remote, forbidding areas of the California desert. As serial killers ply their deadly trade and an ancient evil grows beneath desert sands, these three must discover the terrifying bond they share and learn to harness its power–before the darkness spreads and the world they know is gone forever.
Written in powerful prose as dangerous as its desert setting, The Slab is a true epic of horror and dark suspense.
What do you want readers to know about your book?
The Slab is a multi-character horror epic, loaded with surprising twists and turns and harrowing suspense.
Aside from the plot, is there a story behind it?
The Slab was my first original novel, after I wrote several tie-in books. I'd started it in early 2001, and then September 11 happened and I had to put it aside for a long time. When I took it up again, the world was a different place, and my novel was a different book. That time was awkward and confusing and sad and horrific, and that's all reflected in the book. But when I recently re-edited and rewrote some of it for this author's-preferred edition, I discovered that in many ways it's as relevant now as it ever was.
Why is your writing different from other authors in this genre?
I've been in the book business for more than 30 years, as a bookseller, bookstore manager, and bookstore owner, as an author, and as a publisher. Before, during, and since, I've also been a fan, and am widely read in multiple genres. I've also written in many different genres, because I love them all. So I'm not one of those horror writers who only writes horror—I write suspense, mystery, fantasy, science fiction, westerns, historical, superheroes, and occasional nonfiction. And I bring elements of all those different genres into everything I write. Blending genres in new and surprising ways is one of my favorite hobbies.
What was your path to publication?
Everybody's path to publication is a little bit different, and I don't think anybody can replicate mine exactly. My first professional sale was to a widely praised, influential anthology called Full Spectrum. The editor was someone I'd become acquainted with through my bookstore work, and when I saw that he was buying for a new book, I sent in a story. He said he was happy to find out that it didn't suck, because that's always a concern when an editor looks at a story from a friend he's never read before. He bought it, suggested a couple of minor changes, and that became my first story. Years later, the regional bookstore chain I worked for shut down its southern California stores, and as I was in the process of putting together my own specialty store, my former assistant manager's husband reached out to ask me if I'd write some trading card backs for him. He was Jim Lee, an artist who had left Marvel Comics to become one of the original founders of Image Comics. He had a growing business, and after that first set of trading cards, he had me write a few other things, then eventually brought me onto the staff. I became the company's VP of Marketing, and when we sold the company to DC Comics, I became an editor there. But meanwhile, I was also writing comics, and I was asked by my friend Christopher Golden to collaborate on a novel about one of our superhero teams, Gen13. That became my first novel, 20 years ago this year. Then Chris introduced me to the Buffy the Vampire Slayer editor, and I wrote a Buffy novelization, then a bunch of Angel novels, and things just kind of took off from there.
What are you working on now?
I have a procedural thriller that I'm shopping, and am exploring various other projects, but haven't decided yet which one I want to take all the way.
What else have you written?
So, so much. I've had seventy-some published novels, a couple dozen short stories, and about 175 comic books and graphic novels. I've written or contributed to five or six nonfiction books, written a CSI DVD game, and all sorts of other weird side projects. I've been a working novelist for 20 years, having published at least one and often several novels in each of those years.
Are there any awards or honors you'd like to share?
I've won two Scribe Awards from the International Association of Media Tie-in Writers, and my most recent book, Narcos: The Jaguar's Claw, is also a nominee. I've also been nominated for Bram Stoker and International Horror Guild Awards in the horror field, the Spur Award in the western arena, and the Glyph award in comics. True West Magazine picked Desperadoes as the best western comic of the year, a few years back. And Comic-Con International: San Diego honored me with an Inkpot Award for my "contributions to the field of science fiction and fantasy."
Do you create an outline before you write?
I usually work from an outline, though not always. In the world of tie-in fiction, a solid, thorough outline is a necessity, because it has to be approved by the licensor before I can start the book. And once it is approved, if I want to vary much from it, I'd better have a convincing reason. That experience taught me the value of a good outline. I use it as a roadmap—I need to get from my starting point to the final destination. I know what that destination is, and I know basically the route I'll take to get there, including some of the high points along the way. While I'm traveling, if I see a sign directing me toward the world's largest ball of string, I can go over there and check it out—because who doesn't want to see that?—knowing that I can get back on the right path, because my map is solid. That said, sometimes I just like to dive in and see where a story takes me. I did not use an outline on The Slab, for instance, even though it has a lot of characters and different plotlines weaving in and out of each other.
At this stage in your career, what is your greatest challenge?
I've accomplished much of what I set out to do in my career—told lots of great stories, touched people's lives in innumerable ways, and made many fast friends. What I haven't had is a major breakout success. I'm not complaining—I've been published by all the Big 5 publishers, made plenty of money from my books, and have a loyal readership. But it's a small one. In part, I blame my unwillingness to stick to a single genre, but that's what I have to do to be true to myself. So my challenge, 70-some books in, is that my audience isn't big enough to excite the ever-dwindling number of major publishing houses. My response to that challenge is to focus my efforts on smaller houses, like WordFire—places where the old ethos of publishing holds true, where I can be published by people who get what I'm doing and respect it. That's why I brought The Slab to WordFire Press. They're putting out five of my favorite novels this year, in celebration of my 20th year as a working novelist. And the editions they're releasing are not only stunning to behold, but each one has been revised and re-edited to be as good as I can possibly make it.
Tell us about your thoughts on collaboration.
I've collaborated with many different writers, from my first novel throughout my career. And because I'm not an artist, every comic book of graphic novel I've written has been a collaboration. My favorite collaborator is my wife, Marsheila Rockwell, because she's a fantastic writer and poet and we really enhance one another's work. My theory on any collaboration is that the finished product should be something neither of us could possibly have done alone. My collaborator and I have different life experiences, different backgrounds, different hopes and fears and joys and regrets, so we'll each bring a unique sensibility to the project.
What motivates or inspires you?
I find inspiration in countless ways throughout the day. I pay attention to the news—I subscribe to three different newspapers—and of course am bombarded by more through the internet and social media. I see people struggling, close to home and around the world, and I want to offer them some kind of hope, some bright spot in their day. I think I'm ultimately an optimist—maybe an optimistic realist, or a realistic optimist—and through my books and stories, I try to tell stories in which magic is real, in which hope is an option, and in which decency triumphs. It doesn't seem like that is always true in real life, but it should be.
Do you have any pet projects?
Although I've worked on—at last count—37 different tie-in properties over the course of my career, one character I've never tackled, although I'd love to, is Batman. Specifically, I'd like to novelize the Daughter of the Demon storyline that introduced Ra's Al Ghul to the world. That's my favorite Batman story arc of all time, and I'd drop everything else to do it if the opportunity arose.
What is your greatest life lesson?
Don't be a jerk. Really, that shouldn't be that hard. If you're not a jerk, if you treat people with honesty and respect, life can be pretty fulfilling.
Who are some of your favorite authors?
Oh, it's a long, long list. Spending decades selling books will do that to you. If you could see my book collection, you'd understand. Just to name a small handful: Marsheila Rockwell, Wallace Stegner, William Goldman, Stephen King, Laura Lippman, James Lee Burke, Don Winslow, Greg Iles, Joan Vinge, Graham Greene, Sue Grafton, Samuel R. Delany, John Connolly…want me to go on? Because I can…
Thank you Jeffrey for taking the time to share with us. I'd like you to know that a couple of your responses made me smile, and that isn't always the case. Before I present an excerpt from The Slab, as well as links to where visitors can purchase it and follow you online, I'd like to conclude with a Lightning Round. In as few words as possible, please answer the following:
My best friend would tell you I'm a: Chocolate chip cookie snob.
The one thing I cannot do without is: Iced tea.
The one thing I would change about my life: More time and money for travel.
My biggest peeve is: People who don't understand simple grammar. Your/you're, their/they're/there, etc.
The person/thing I'm most satisfied with is: Probably a cliché, but my wife is my best friend, writing partner, and ideal reader. Doesn't get better than that.
Do you have a parting thought you would like to leave us with?
Did I mention "Don't be a jerk?" Because that's really key. Also, you'll be a better person if you read my books. More attractive to the gender of your choice, and probably wealthier and more satisfied with life. So there it is: forego jerkiness and read my books. Life can be great.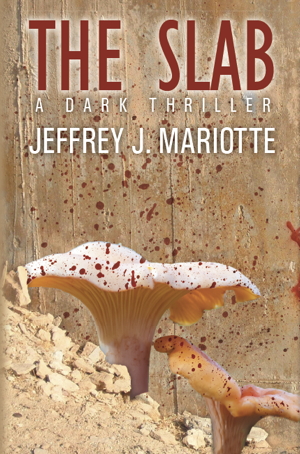 Excerpt:
Lucy nodded her understanding, shoveling in her last forkful of eggs. She ate fast, not knowing if they might at any moment decide she'd had enough time. She didn't want to upset her stomach but she figured she would need the fuel. When she had downed the last of the coffee, she realized she still had the fork in her hand.
"Can I keep this?" she asked.
"A fork?" the guayabera man asked with a chuckle. Today he wore a military-style olive drab T‑shirt and camouflage pants, though, as did all the others, so she knew she'd have to come up with a different name for him. She noticed they'd been careful not to use their names in front of her. She took that as a positive sign—maybe they intended to let her live, after all. "You want to keep a fork?"
"You guys have the guns, so it seems only fair," she said.
"Sure, darlin'" the curly guy said. He was definitely the decision-maker of the bunch, and the first one she'd plunge the fork into if she ever got the chance. "You can keep the fork. Enjoy it. You need to use the can before you get going?"
"Yes, please," Lucy said, willing to delay the start any way she could. A few minutes sitting around in the shade while they stood outside in the sun, getting more and more anxious and disturbed—she would take that. She knew it wasn't much of an advantage—it wouldn't compensate, for instance, for the fact that her wedge sandals were just about impossible to run in. But it was something, and she had decided during the night that she would cling to any positives she could. Negative thinking was just going to get her dead.
When she got inside the outhouse, she realized, too late, that she should have asked for water instead of coffee for breakfast. Water would do her more good and stay with her longer. But it wasn't like they'd offered her the choice—the coffee had just been put in front of her. If she hadn't accepted it, she might well have gone thirsty.
Once again, she sat inside until they banged on the walls and insisted she come out. When she emerged, she was still cool, but the two guys who had escorted her out had already sweated through their T-shirts.
"Let's go, bitch," one of them snarled. He was the one with the drooping mustache that made him look perpetually miserable. Probably he is, she thought, or why would he participate in something like this?
She just gave him a smile. "Show some respect," she said. "You don't own me yet. Maybe you never will."
"Oh, we own you, bitch," he said. "Just like you were bought and paid for. You just don't know it yet."
"We'll see." Lucy said, trying to maintain a pleasant demeanor. It was fun to see how much it pissed this guy off when she was nice to him.
The other escort, the muscular one with the ponytail, seemed to understand her psychological warfare, though, because he grabbed the mustached guy's arm. "Let it go," he said. "She'll find out soon enough."
"There's thirteen graves around here full of bitches didn't think we owned them either," the mustached guy said, ignoring his friend's advice.
"Shut up, man," the ponytailed guy said. "You too," he said, directed at Lucy. "You just keep quiet."
She nodded and smiled as they walked her back to the house.
The other men were scattered around the couches and chairs of the cabin's main room, looking like they were ready to get going. "You know the rules," the curly guy said. "You get away, you get away. You don't, you're ours. You get a twenty-minute head start. Any questions? Too bad. It's really very simple."
She had questions, but none that she would bother to ask. What the mustached one had let slip answered the most important one. If they brought her back here, not only would they use her but then they'd kill her. So she wasn't coming back to this cabin, ever. Curly was right. It was very simple.
"I'm ready," she said.
"Nobody's stopping you. Clock starts now."
Lucy turned without a second look back and ran out the door. As soon as she was outside, she took off the sandals and looped them over her wrists. It would hurt to run on the bare dirt and rocks, but she'd make far better time barefoot. At the same time, she didn't want to let go of the sandals, because they might come in handy later on.
She still had the fork, tucked into the rear pocket of her jeans.
Bare feet slapping the hot stones and fallen twigs and raw earth, Lucia Alvarez ran for her life.
You can follow Jeffrey J. Mariotte here:
Website: www.jeffmariotte.com
Facebook: www.facebook.com/JeffreyJMariotte
Twitter: @JeffMariotte
You can purchase The Slab here: