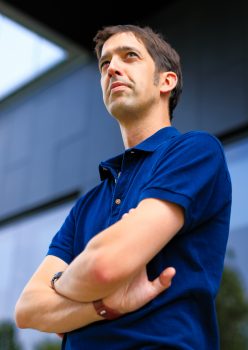 Today's guest, Steve Rzasa, is the author of several novels of science-fiction, steampunk, and fantasy—with several more in progress. He was first published in 2009 by Marcher Lord Press (now Enclave Publishing). His third novel, Broken Sight, received the 2012 Award for Speculative Fiction from the American Christian Fiction Writers. The Word Endangered (2016) and Man Behind the Wheel (2017) were both finalists for the Realm Award in recent years. Steve grew up in Atco, New Jersey, and started writing stories in grade school. He received his bachelor's degree in journalism from Boston University, and worked for eight years at newspapers in Maine and Wyoming. He's been a librarian since 2008, most recently earning his Library Support Staff Certification from the American Library Association. He is the technical services librarian in Buffalo, Wyoming, where he lives with his wife and two boys. Steve's a fan of all things science-fiction and superhero and is also a student of history.
Today, we're featuring his self-published title, Failed Frequencies, a sci-fi space opera which was released in November 2018. Its premise:
There's no place like homeworld…
Vincent Chen would rather stay far away from his birthplace. But when he's called back to Tiaozhan, it's his job that's on the line.
His superiors at MarkTel don't like the publicity his adventures have brought the company, which holds the monopoly on galactic communications. Vincent dutifully promises to keep quiet for the duration of his stay.
Except his younger brother has other ideas.
Martin Chen is mixed up with dangerous smugglers, who're furious he's encroaching on their business, and they won't let him simply walk away. It'll take all Vincent's savvy and a partnership with a legendary law enforcement officer to keep his brother—and himself—alive.
And his family intact.
What do you want readers to know about your book?
First and foremost, this is a story about adventure and about family. The main character, Vincent Chen, has to figure out how far he'll go to protect the people he cares for.
Aside from the plot, is there a story behind it?
As the other brother of two boys, I'm always intrigued by the interactions between siblings. After spending two books dealing with Vincent's personality and his solitary life, I put him into a situation in which he has no choice but to reconnect with his family—something he's put off but also desires—and keep his younger brother out of trouble
Why is your writing different from other authors in this genre?
My science-fiction and fantasy stories touch on elements of the Christian faith, especially the books set in The Face of the Deep fictional universe. The hero of Failed Frequencies, Vincent Chen, is from a family of Christians who were oppressed under the regime of the Kesek secret police, who regulated all organized religion in the galaxy. They've been out of power for ten years, but the scars inflicted on people like the Chens remain. Those elements are integral to his story, yet he's primarily a hard-working communications expert who sees situations in which people are wronged and feels it's his job to fix those situations.
What was your path to publication?
I had written a couple prototype novels in high school and college, but those were early experiments that should never see the light of day. I started working on a sprawling space opera in the early 2000s, after I graduated Boston University. It was a long slog, though, because I was working as a newspaper reporter and the last thing I wanted to do after I got home was write, since that's what I did for work all day long. So, it took me about six years to come up with about 200 pages. Life took an insane turn when I lost my job and, after scrounging for a couple of months, was hired by our local library. The freedom of not having to produce newspaper copy every day freed me so that I wrote the other 400 pages in nine months.
Now, this was far too long a novel for a beginner like me, and I weathered the rejections, until a small publisher of science-fiction and fantasy called Marcher Lord Press not only expressed interest, but asked if the book could be split in two. I loved the idea of getting two novels for the price of one and jumped at the chance. Fast forward by 10 years, and I've had five novels published by Enclave Publishing (the successor to Marcher Lord Press) and released ten more books and novellas on my own.
What are you working on now?
I have a trio of urban fantasy novels coming out in July, and a superhero novel releasing in September. I've just finished the first draft of Mixed Messages, the follow up to Failed Frequencies and the last of four Vincent Chen novellas.
What else have you written?
I have written a four book space opera series called The Face of the Deep, a pair of fantasy novels, a couple of steampunk books, and a handful of mixed sci-fi. My flash fiction short stories were published in five issues of Havok Magazine, which is now defunct but was reborn as Havok Publishing in January, an online speculative fiction magazine.
Are there any awards or honors you'd like to share?
Broken Sight  won the award for Speculative Fiction from American Christian Fiction Writers in 2012. The Word Endangered  and Man Behind the Wheel were nominated for Realm Awards from the Realm Makers conference in 2017 and 2018, respectively.
What is your writing routine?
My wife teaches public school special education and I have two teenage boys. They're all gone from the house by 7:30 in the morning. I don't have to be in to our library for work until 9:30, so that leaves me plenty of time to catch up on projects. Also, I've made it a habit to write during nearly every lunch break when I'm in the middle of a novel, and also on long road trips.
How do you overcome writer's block?
I don't have a problem coming up with ideas. My greatest difficulty is finding time to write all the stories I've dreamed up! Once I sit down to write, the words hit the screen without much effort, though some stories are easier to write than others.
At this stage in your career, what is your greatest challenge?
Drawing attention to my work. Independent publishing has led to a great leveling of the field when it comes to the release of new books, but it takes a lot of effort on the part of the writer to advertise and promote. I'm more of a producer, so taking the time to plan promotions slips the old brain frequently. After I finish up my latest round of new books, I plan to step back from writing as much and focus on the promotional aspect. It's time for a change of plan.
Tell us about your thoughts on collaboration.
Collaboration is a great exercise for relinquishing total control of a story. One of the best writing experiences I ever had was being part of Just Dumb Enough, a collaborative novella in which seven authors, including yours truly, took turns writing chapters of a short but epic fantasy adventure. I was lucky enough to go first, so I set the stage with characters and a goal. By the time I sat back down to write Chapter Seven, I had been following the chapters written by my fellow authors and marveled at their creativity. Everyone stuck with the story line and fleshed out the characters in unique ways.
Just Dumb Enough serves as a fund-raiser for the Realm Makers conference, so that we can provide a full registration as a scholarship for one attendee. https://www.amazon.com/Just-Dumb-Enough-Steve-Rzasa-ebook/dp/B0781YZHXX/
Do you have another job outside of writing?
I'm the technical services librarian at the Johnson County Library in Buffalo, Wyoming, where I've worked for more than 10 years. I'm in charge of the movie collection, and inter-library loans, plus I handle the bulk of the public relations, which includes producing a four-page newsletter every couple of months. I'm also the go-to guy for tech troubleshooting. The "technical" part of my title refers to my primary role linking all adult fiction, nonfiction, and audio/visual items for our collection, somewhere on the order of 2,500 items a year.
Would you care to share something about your home life?
My family enjoys traveling, even though we don't get to go as often as we'd like. I'm an ardent fan of my wife's roller derby team, and she's a fantastic knitter, which gave rise to her roller derby name: the Termi-Knitter. Lately my boys have gotten into Magic the Gathering, so they've been training me to play and I've been learning how to not lose. Or at least, how to not lose so often.
What is your greatest life lesson?
To not be afraid of failure. The fear of doing the wrong thing paralyzed me to the point I was not able to take chances, but I eventually realized, I can't let chances in life slip away. Some things you try are not going to work. It doesn't mean three strikes, you're out. You keep going, keep learning, and do better.
What makes you laugh?
Having relaxed evening with friends, when we can talk and joke and enjoy each other's company. That, and Brooklyn Nine.
Thanks, Steve, for taking the time to share with us. Before I provide our visitors with an excerpt, as well as your social and book buy links, I'd like to conclude with a Lightning Round. In as few words as possible, please answer the following:
My best friend would tell you I'm a: Geek.
The one thing I cannot do without is: Pizza.
The one thing I would change about my life: Eliminate my fear of flying.
My biggest peeve is: Grown-ups.
The person I'm most satisfied with is: The people I love.
Do you have a parting thought you would like to leave us with?
Science-fiction and fantasy are great genres with which an author can appeal to the human heart, because everyone loves heroes, and it's in these stories that we can make people feel that heroic achievements are still possible.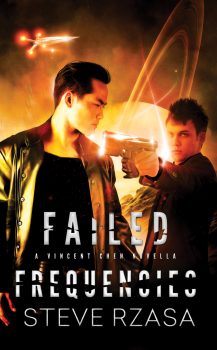 Excerpt:
I help Martin to his feet. He brushes spring roll off his shirt. "That's gonna stain."
"You've got worse problems," I mutter. "Those the guys who shoved you?"
"Don't worry." He draws his gun. "I've got this."
"You most certainly do not 'got this,' Martin." I clamp a hand around the barrel and push it toward the floor. "Are you blind and unable to count? They're all armed."
"Back off and let me handle this!"
Doesn't matter what I do, because two of the men advance on us without any fear of Martin's meager defense. Both guys look like their buddies—short, stocky, athletic. Their heads bristle with buzzcut hair of varying lengths, some pink, some yellow, all shifting hues as they move. The left sides of their faces are covered with tattoos, stylized images of behemoth-worms curving from their brows to their necks. Their clothing is a motley mix of colors and styles, all bright.
The pink-haired one pulls Martin's gun from our grasp. He sweeps my legs out from underneath me and the next microsecond, I'm on my back, trying to get up, except there's a handgun much bigger than Martin's illegal, compact model glaring at me. Red streaks flash through Pink Hair's buzzcut.
The second guy, this one with gold spikes, puts Martin into a bear hug. Martin gasps, color draining from his face. It's hard to hear with the band still jamming, but something mechanical whirrsin the background. I really hope it isn't coming from Gold Spike.
"Marty." The leader's voice is rough, like he's guzzled a bottle of the cleaner they use to polish starship drive nozzles and survived. He's bald, with a thick, sharp goatee and moustache. His eyes are brown, but they spark with illuminated circuitry. Red shirt, with the stylized behemoth-worm image his boys have on their faces, and black pants. He could be a nightclub owner, right down to the rings on his right hand—one each colored black, white, gold, silver, and bronze. "How's Captain Rilla?"
"Rilla? She's great. Yeah, great. I'm finishing a transaction for her." Martin's answer comes out in wheezes. Gold Spike doesn't seem like he's willing to let go.
"I know why you're here. I also know what you've got." He grabs the front of Martin's shirt. "I also know who's the top smuggler of said goods—and, hint, it isn't you or Captain Rilla."
"Hold on." I push to my feet, slowly, because I don't want Pink Hair shooting me. The leader looks at me as if I've barged into the wrong restroom. "Let's take this outside and see if we can't figure out our problem."
"Our problem?" He sounds ready to inflict violence, and I'm bracing myself for an incoming punch, when his scowl all of a sudden disappears. "Great steaming drive nozzles. Vincent?"
"Yes. Captain Vincent Chen." My hands are on my hips, posture as straight as it's ever going to get—enough to gain Father's nod. All I need is triumphant brass and I imagine I can use my MarkTel authority to counter violence with reason.
"It's Grant. Grant Liu."
He could have stunned me with a scrambler and I'd be less astonished. "Grant? You're still here? I thought you left years ago."
Grant snorts. "Where else would I be? Unlike you. Word was you ran off-planet, chasing comms ferries."
"Good way to do honest work, helping other people." I fold my arms. "I take it your career path went differently."
"Let's say I'm carving out a niche market, and I don't appreciate others trying to elbow in." He stares at Martin.
Grant Liu. Childhood pal. Smartest kid in our class. Graduated earlier than the rest, right before he got picked up by Kesek—courtesy of my brother's rash decision. I'd have put money on him becoming a Raszewski sphere physicist or a medical tech.
Instead, he's got a gang of eight armed goons at his back and is threatening my brother.
"Let Martin go," I say. "No one's been hurt. We can all walk out of this."
"Sorry. Not possible. Your bái chī brother has been dipping his toes in our end of the pool. Unfortunately, there's piranhas."
Odd way to put it. The left side of Grant's face twitches. He rubs at his eyes. They seem bleary, unfocused, until something flickers around their edges. He's got a vision stabilizer implant, keeping his sight from degenerating. I've seen specs of those come through Mother's delver when she's routing Yun Medical commnotes. "Okay, so, Martin isn't known for his impulse control, or his common sense—"
"Hey!"
"Shut up," I snap. "Listen, Grant, take the cytori and we'll go."
Those who would like to follow Steve online can do so here:
Website: www.steverzasa.com
Facebook: https://www.facebook.com/steverzasa  and https://www.facebook.com/SteveRzasaAuthor/
Twitter: @SteveRzasa
Instagram: @steverzasawriter
You can purchase a copy of Failed Frequencies here:
https://www.amazon.com/Failed-Frequencies-Vincent-Chen-Novella-ebook/dp/B07JBBT8GB