Although I have spent the past sixteen months interviewing novelists, I'm breaking form today to interview a screenwriter. I first met Wally Lane in 2011 when we were members of the now defunct writers' blog, Black Ink, White Paper. And yes, he is a novelist as well, but it's not his primary pursuit, nor is it easy to box him in with any one label. Wally is a former Boardmember of the Northwest Screenwriters Guild (NWSG). He is an award-winning writer and filmmaker, a published poet, and has written articles and book reviews for several publications, including Journey. Wally's film, "Winos & Pigeons", was honored at WorldFest Houston. As long-time Chairman of the NWSG's Compendium committee, Wally has mentored hundreds of new screenwriters by helping them write to "Industry Standard."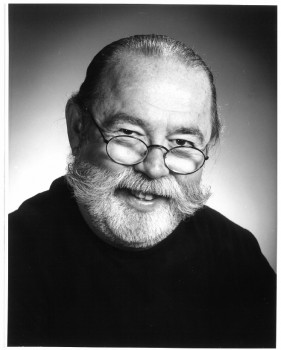 Wally has been writing screenplays since 1990. He and his writing partner, Wash Phillips, have scores of screenplays completed or in development across a wide range of genres. Many of these scripts either have been or are currently optioned. Wally & Wash have adapted one of their screenplays Trial by Circus into a novel.
Wally started out writing short stories and poems as well as doing performance poetry and running a poetry slam, Slammin' in the Square, at the Central Saloon in Seattle's Historic Pioneer District in the 1990s. He and his wife Belva also started and operated Year of the Dragon Publishing at that time. They also produced the award winning short film, Winos & Pigeons, written and directed by Wally. He also was the voice of the POET (V.O.), featuring the poetry of Wally and Rod McKuen. https://www.youtube.com/watch?v=TbarMidgecA
Wally is an alumnus of the University of Washington Extension Certificate Program in Screenwriting and The Film School, a Seattle-based institution of national repute. He is a former panelist at the Pacific Northwest Writers Association's annual Writing Conference and the Surry International Writers Conference .
Wally lives with his wife Belva in Shoreline, WA and operates their web site Belva's List http://www.belvaslist.com/ and does one-on-one mentoring for screenwriters, http://www.screenwritingtostandard.com/ He also does workshops in screenwriting to Industry Standard and How to write a Comedy as well as a workshop on Adapting a Novel to the Screen.
Here is how he describes his novel:
Trial By Circus is a comedy about romance in a courtroom contest of wills/wits. Green, broke lawyers (star-crossed lovers) are separately hired to defend Siamese twins, only one of whom is accused of murder. If this were a movie, you might say Friends With Benefits meets Knocked Up.
DWIGHT BEECHE and ANALIZA CORSO have law offices across the hall. To her, he's a "gigolo." To him, she's ice-cold.
When barely-conjoined twin girls SELA and SELU KAROLYI headline at Circus Pluribus (a cabaret run by mysterious BELA COMANECI and his mom, MADALENA), something unexpected happens. Following an amazing matinee, one of the twins is said to murder a roustabout stagehand in whom each had romantic interest.
Why Bela calls Dwight/Analiza for the defense makes no sense, but why they accept in haste does—they're broke. She's a recent widow sans life insurance. He's a newbie in his uncle's practice (with uncle in prison.)
The D. A. and presiding Judge sense a noteworthy trial. But goofy witnesses and errant jury members see the proceedings through warped lenses, lending hilarious moments. It's a comedy, after all.
Romance, fed by initial attraction denied, blossoms under pressure. By the end, Analiza and Dwight talk of sharing the law…and their hearts. Who knows what else they might discover in common: Ain't love grand?
Tell us about your recent work.
We have only adapted one screenplay to a novel, but at the present I have worked with an author to adapt the first novel in a series of three into a screenplay/pilot for mini-series or motion picture. I also worked with a Canadian writer to rewrite her screenplay, which now has a director attached and will probably be filmed in England. Wash and I are also working on a short film script and developing a treatment and marketing package of that story for an episodic TV/Cable series. And last but not least, We are adapting a novel into a treatment for a marketing package of a novel adaptation for a mini-series. We are shooting for mid May to bring it out.
Have there been any awards, productions, videos or anything else of interest associated with your work?
Winos & Pigeons won several awards – no first places, but we came away with something every time it was shown.
What else are you working on?
Getting better at the craft of writing… telling a story. Helping others understand how to bring a screenplay to life for a reader, help the director/reader/producer imagine/see the story on the screen.
Do you believe there are occupational hazards to being a writer?
I think the main challenge to being a writer lies in not getting discouraged. You have to grow a tough hide – because rejections stab to the bone. You have to just grin and bear it… Drag your ass up off the floor and keep trying. Keep writing, but quit making the same mistakes over and over again. Listen when someone tells you they don't get it, then fix it so they do get it. Be resolute and anxious and willing to learn but not stubborn and deaf to criticism. When someone compliments you, it feels good. But other than that, it is useless. But when someone offers criticism, "I didn't get it, or I got confused", those words are gold nuggets, they are things you can fix and make your writing/storytelling better.
What is the single most powerful challenge when it comes to writing a novel?
I think every writer has to find his or her self. To understand who you are and whether or not you really want to be a writer is paramount to success or failure. You have to make the decision whether or not you are willing to make the commitment. Are you willing to keep trying when everything you send in is rejected? Are you willing to rewrite again and again until it's right? There's a big difference in being a writer and keeping a journal.
Do you have another job outside of writing?
My wife, Belva, and I have a website. Belva's List that is a one-stop recreational guide to things to do in Seattle and Western Washington. And of course I teach and mentor. That might not seem like a lot, but try it at 74 years old. People ask me when I'm going to retire, my answer is, "I don't have time."
Describe a typical day.
I get up around 8am and I try to be in bed by midnight. I read the paper, I read my email, I look at Facebook and LinkedIn. I work on whatever I have on my plate at the time. I watch TV from 8 pm to 11 pm. I spend the hour between 11 & Midnight checking email and writing.
That's quite a long day for anyone. Would you care to share something about your home life?
I have a wonderful wife, who is also my best friend, who is ultra-supportive, which is very important to both of us and our marriage. We are a team. I'm very lucky in that sense.
What motivates or inspires you, not necessarily as regards your writing?
Creating something… Making people laugh… helping them enjoy. Maybe that's why I enjoy writing comedy.
How do you pick yourself up in the face of adversity?
Know that something went wrong and figure out how to fix it. Quit making the same mistakes over again. Believe in yourself, and that means… know yourself and be willing to work on improving you!
What has been your greatest success in life?
Finding myself and who I am. Learning to like me. And I would say finding Belva.
Do you have any pet projects?
My play, WILL YOU BE STAYING FOR SUPPER. I've been writing it for twenty years. I want to sit in the back of a theater and watch it and the crowd someday.
I certainly hope that you will. Before I share an excerpt from Murder By Circus, I'd like to try a Lightning Round. In as few words as possible, answer the following:
 My best friend would tell you…
I'm an Obsessive Romantic.
The one thing I cannot do without is…
The funnies in the newspaper
The one thing I would change about my life:
Maybe more money and time to spend it
My biggest peeve is:
Bullies
Amen to that! The person or thing I'm most satisfied with is:
Belva & Wally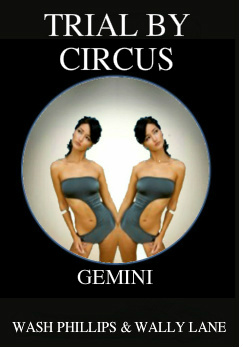 And now, for our visitors' reading pleasure, a bit of Murder By Circus.
Chapter 1 – Lily's prologue.
The prior January was the pits.
The Ogre had croaked. Suddenly. Embarrassingly. In a public place. Dressed in rock climbing gear, of all things. And smelling of patchouli oil.
Why The Ogre, 53-year-old attorney John Corso, top of the shingle at…
CORSO & CORSO, P.S.
…would be found suspended 12 feet aloft (after he'd otherwise ceased to be) loomed as a mystery to those who claimed to care for the man.
But not Lily Caldwell. Quintessential office manager-secretary-assistant-paralegal and roller bearing of all things motive at C&C, she alone knew the reason. Or thought she did. Had it on good authority, or so she thought.
See, The Ogre's young wife, Analiza (name #2 on the shingle) was not quite 30. And was withering away her exquisite youth in a setting Ebenezer Scrooge would have approved, had Dickens set him there. Analiza secretly hungered for some changes in her life as junior partner in love and domesticity. Exactly what changes were not clear to Lily, since Analiza never announced them; she was all business most of the time since knot-tying with The Ogre, taking up residence in his home, his office and, one assumed, his heart. A defense mechanism to keep real life at a distance? Maybe.
But Lily knew better. And had a hunch those reasons might be clearer if only Analiza looked harder, deeper, in more private places, as Lily had examined herself on occasion. After all, Analiza and Lily were best friends in high school, striking off on different paths thereafter.
For Lily, graduation preceded a bruising ride in the Pacific Northwest roller derby circuit (with a little girl-on-girl action of the experimental variety to boot). Followed by a couple of loser boyfriends (fond of lewd slogans they thought hugely original, emblazoned on their ball caps). Soon after, Lily nearly went Navy on the rebound, trusting a female recruiter who had a disarming smile. And a quota.
Then Lily was scared straight by a late-night mystery she never dared to discuss, possibly a dream of drowning in the ocean, or red tape. From that, Lily lost her desire for sea duty, found Jesus and Junior College, discovered paralegal, then lost Jesus but kept His jewelry.
Of Analiza, Lily knew this much for sure. Blessed with an anonymous benefactor but no remaining parents, Analiza (nee' Kron, or so it said on the birth certificate—and what kind of name was that?) breezed through Portland State in three and a half years. Then parlayed a top-notch score on the LSATs to a full ride at Furlong Law, where she edited The Review, cum laude. Followed by knot-tying with The Ogre (on questionable advice of a lascivious—thus treacherous—law school mentor, the bastard).
Now, with The Ogre's passing, Analiza was Lily's boss, such as that went. It had taken time for the two women to re-acquaint in that profoundly nuanced way females can arrive at (when hair-pulling is not on anyone's agenda).
But last January was an eye-opener for Lily, ripe with the unexpected. First, of course, the sudden demise of John The Ogre Corso in entirely unlikely circumstances.
Then, accompanying Analiza via an oversized powder-blue limo rented from Steve's Stretches ("Your choice for that hot/fun special occasion") by an undertaker suddenly facing a spate of mechanical failures at this crucial time. It being post-Senior Prom season, limos of that Vegas-esque ilk were available—lean, powder-blue with a stretch-out side couch and two moon roofs. But any port in a storm, Lily said—immediately regretting the Navy allusion—and glad for the blue bomb with promises of no extra charge.
Thence, to a funeral populated with more chairs and flowers in attendance than actual mourners. A stormy, umbrella-collapsing service at graveside, attended mostly by the digging crew, bill collectors, the funeral home troops and even a process server who had the wrong funeral.
Lily noted how Analiza took it all with hardly a tear, nary a whimper, as the limo swooshed through town, its azure presence interpreted by passersby as a harbinger of Brangelina or some other movie celeb tribe filming in the area. Whatever.
Or maybe just slumming; it was Portland, after all, an ambitious, believable town whose gusto stood ever in the sibling shadow of Seattle up the road.
For those of you who would like to learn more about Wally, or get in touch, here are a few links:
Facebook:      https://www.facebook.com/wally.lane
Website:         http://www.screenwritingtostandard.com/
LinkedIn:       https://www.linkedin.com/profile/view?id=16044709
YouTube:       https://www.youtube.com/channel/UCH7qRyVhhy8Yb0mzxXjtPLw
Buy Link:      http://www.amazon.com/TRIAL-CIRCUS-Wash-Phillips-ebook/dp/B00E88RHYM/ref=sr_1_4?s=digital-text&ie=UTF8&qid=1423627342&sr=1-4&keywords=trial+by+circus