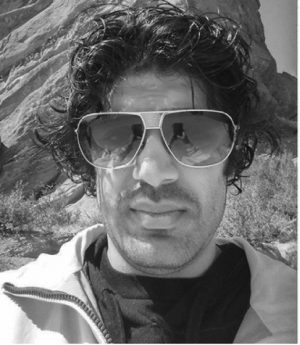 I first connected with R.R. Virdi— a two time Dragon Award nominee—through Facebook. He is a part of a growing community of authors I regularly connect with. His first Dragon Award nomination was for his series, The Grave Report, a paranormal investigator series set in the great state of New York. The second nomination coming for Dangerous Ways, book one of The Books of Winter, an epic urban fantasy series set in the same overall universe as his Grave Report novels. He has worked in the automotive industry as a mechanic, in retail, and in the custom gaming computer world. He's an avid car nut with a special love for American classics. As he relates it, his hardest challenge up to this point has been fooling most of society into believing he's a completely sane member of the general public.
He describes Dangerous Ways like this:
Jonathan Hawthorne has lived over a century beholden to one rule: do not meddle in mortal affairs. He's broken it twice. So when he crosses paths with Cassidy Winters, he's forced to interfere again.
Strike three. And the third time's not the charm.
Hawthorne is swept along as Cassidy slips through the cracks in reality.
And being hunted by bands of monsters doesn't help.
To find the answers they need, they'll have to play in a dangerous world. One where the odds and rules are stacked against them. They will have to navigate magical courts, queens and lords all while trying to keep Cassidy out of their scheming hands.
If they fail, she will end up a pawn in a plot that will consume them all.
Hawthorne will have to face the consequences of his past, and risk his future to ensure Cassidy can have one of her own.
For a man with all the time in the world—it seems to be running out—fast!
Please tell us more:
Dangerous Ways is book one of The Books of Winter, an epic-sized urban fantasy. It follows Jonathan Hawthorne, a member of the Timeless, a group of semi-immortals removed from the effects of time but bound by rules to never overtly interfere in paranormal and mortal world problems. He's broken the rule twice. At the start of book one, he finds himself heading to trial to explain his two involvements when bumping into a young woman falling uncontrollably in and out of the Neravene, the paranormal world of many worlds. Helping her earns him his third strike. The trial is abandoned and he's up for execution as he races to try to find the powers after the young woman, possibly prevent a supernatural war, and explain that his involvements aren't really his faults. At the very least… he has good reasons.
What was the inspiration behind it?
It was a spinoff from my successful urban fantasy detective series, The Grave Report. I wanted to showcase more of the supernatural world than possible in that series. I always loved Neverwhere…and thought this could be a wonderful blend. My world, my creatures, my storytelling, meets someone able to open doorways to show it all off. My fans loved it.
What was the biggest challenge you faced writing this book and how did you overcome it?
The sheer scope of it. Balancing moving the plot forward, the world building I wanted, the plot structure, and peppering the right clues all the way through.
What other novels have you written?
Oooh boy. The Grave Report, which has two out right now, Grave Beginnings, and Grave Measures (last year's Dragon Award finalist). A third is coming this fall, Grave Dealings. That's book three out of twenty.
I'm in a number of charity fiction anthologies. And, I just sent off my first sci-fi, a space western, off to a publisher.
Have there been any awards, productions, videos or anything else of interest associated with your work?
Two Dragon Award nominations, one in 2016 along with Jim Butcher, Larry Correia, and N.K. Jemisin. The second came this year and I placed with Mr. Correia again. Great honors!
What else are you working on?
Right now? Well, I'm editing up Grave Dealings for a late fall launch, writing a novella in the series, then I'm starting a new series/genre (unnamed as of now) in the cyberpunk field. It'll be my fourth concurrent series. I know I might be biting off a bit more than I can chew, but I've been managing so far. I plan to write and stagger releases and this allows me a reprieve from one world after it gets to be a bit too much on my mind.
Tell us about your path to publication.
I self-pubbed. Proud of it. Honestly, fear kept me from pursuing agents with Grave Beginnings…after its success, I was told I should have submitted. But, it's too late now. What it is, is what it is. Shoulda, coulda, woulda.
Do you create an outline before you write? Outline…is a French word, right? What's that? Pantser.
Why do you write? I honestly couldn't imagine having another life. No, seriously. There's no replacement. Why does someone commit to becoming a career competitive barbeque chef? Same reason, I guess? Passion.
How do you think you've evolved creatively?
I've learned no ideas are sacred, they're all respun from something else. It's what you, the author, you bleed into them, spin with them, that makes them unique/special.
Describe a typical day.
Wake up, furrow my brow and squint at my immortal enemy, the Sun. After that, grumble to myself as I plod to the kitchen to eat. Forget why I came to the kitchen. Put on a pot of tea, leave, log on Facebook, forget about the tea, catch it just in time, pour, sit and write. Hours later, I'll remember breakfast. Repeat this process with various meals until I finish my day's work. Occasionally, I leave to socialize. After reaching the adequate human interaction, I retreat home and realize that interaction can be overrated. I continue this cycle for some odd reason.
Would you care to share something about your home life?
My room is slowly being overfilled with otter plushies fans are sending me. No, I'm not joking. It's a small room filled with bookcases, art prints and originals, a 4,000 dollar gaming pc, there's not much room for plushies. People keep sending them anyways.
What has been your greatest success in life?
Meeting my heroes, especially this past DragonCon 2017, and finding out they've read my work and loved my stories! I have to be doing something right to have that happen!
Thank you for agreeing to participate in The Write Stuff! Before I present visitors with an excerpt from Dangerous Ways, after which I will provide book buy and social links, I'd like to finish with a Lightning Round. Please answer the following in as few words as possible:
My best friend would tell you I'm a… strange, but nice guy.
The one thing I cannot do without is: my writing.
The one thing I would change about my life: My bank balance.
My biggest peeve is: interrupting my writing.
The thing I'm most satisfied with is: My pillow, it's never let me down.
Without further ado, here is the Dangerous Ways excerpt: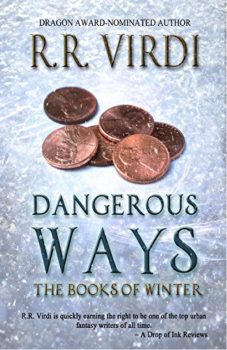 That settled it. I set my jaw and walked towards them, trying to close the distance as best I could. When I was close enough to be heard, but still out of arm's reach, I barked, "Hey!"
The deep rumbling ceased. I couldn't see a thing, but felt their eyes. The pair of them stared at me. I raised my hands above my head, hoping to appear as non-threatening as possible.
"Hey," I repeated, trying to keep their attention on me.
"Who are you?" asked Blue Hood.
"Hrmm, leave," ordered his pal.
I was sorely tempted to heed the advice. Getting involved was my problem. One that had landed me in an inquisition. Some people never learn.
I took several more steps, praying they would take no hostile action. "I just want to know what's going on. When two people follow a third down an alleyway, it raises questions."
The cavernous grumbles echoed again, but I pressed on.
"Go away—"
"—or you next," cut in the second voice.
"Next for what?" I was close enough to make out the pair now, their outlines at least.
Another rumble left their throats. I could see the vague shape of the third figure, huddled against the brick wall at the end of the alley. He shuddered, arms wrapped tight around himself. I had a feeling it had nothing to do with the cold.
I let an edge of heat into my voice. "Next for what?"
I sucked in a breath as my feet left the ground. Two fists clenched the collar of my coat, holding me with ease. The hood of the black parka fell back to reveal the face of gruesome man. It was too solid and layered in generous mass. There was no grunt of effort as he shifted his body. The world sailed by.
Pain blossomed across my left shoulder blade, making its way to my right as I hit the ground, rolling through the snow. I blinked. The muscles in my throat fought for air as my lungs pumped in futility. Lying there was not an option, and doing something—anything—was beyond my ability. The gray-hooded figure was within arm's reach. My head lolled to the side. The man in the black parka approached.
He cracked his neck. The air around him shimmered, and his features changed. There was no subtle transition. His head and face increased in mass, becoming inhumanly thick and flabby. The creature's skin was a pale, unhealthy gray with a wet sheen. Purplish lips, missing a chunk of flesh, pulled away from his mouth. A handful of teeth remained, chipped into sharp edges. Bits of rotting meat wedged between them.
The putrid odor increased.
Fabric tore as the monster took its true form. It towered well over eight feet, built of ropey muscles engorged to grotesque proportions. The creature's body was bare save for a haphazard assortment of clothes tied together in a makeshift girdle. Its hands dwarfed my skull, and, if things continued the way they were, those hands would crush my head.
"Trolls." I coughed and spat. "It had to be trolls."
The advancing creature was missing a fair bit of his left ear. It looked as if it had been gnawed on. It pointed to me. "Mine." The troll jabbed a finger at the shivering figure behind me. "Yours."
Blue Hood chortled and followed his companion's example. He dropped the illusion. Shreds of clothing fell to the ground.
The bitter winds and having been tossed by the troll left my fingers hesitant to move.
"This is bad," someone whispered behind me.
I grunted, trying to dig into my coat.
"I'm sorry for this," said the man in the gray hoodie.
"For what?" I turned to look at him, and for the first time that day, my loss of breath had nothing to do with physical reasons.
His hand slashed diagonally through the air. Silver light burst into existence; a tear in the space before me.
A Way. The stranger had opened a Way.
My collar constricted against my throat as he hauled on my coat. "Come on!"
Both trolls let out defiant snarls and lunged. I kicked, bringing myself to my feet without proper balance. I tumbled back. My newfound friend held onto me.
We fell through the tear.
If you've enjoyed what you've just read and would like to read more and perhaps follow this author, here is where to do so:
Website:         www.rrvirdi.com
Facebook:      https://www.facebook.com/groups/1380786495293139/
Facebook:      https://www.facebook.com/rrvirdi/
Book Buy:      https://books2read.com/u/4XonN9
SaveSave