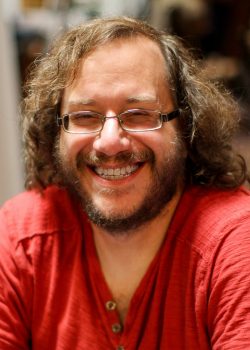 The first thing you should know about this week's guest author, Keith DeCandido—for the uninitiated, his surname is pronounced DeCANdido… so alright, this is the second thing—his books are fun. The third thing you should know: so is Keith.
Keith R.A. DeCandido is the author of more than fifty novels, as well as a ton of short fiction, comic books, and nonfiction in the science fiction, fantasy, horror, mystery, and superhero genres. Some of it is in one of the thirty-plus licensed universes he's worked in, from Alien to Zorro; others are in worlds of his own creation, taking place in the fictional cities of Cliff's End and Super City or in the somewhat real locales of New York and Key West.
I'm breaking form in this interview. While I usually focus on one book and one book alone, today I'm featuring two: Mermaid Precinct and A Furnace Sealed.
Mermaid Precinct is the fifth novel in my high fantasy/police procedure series—kind of Law & Order meets Lord of the Rings. The setting is a medieval-style city-state with humans, elves, dwarves, gnomes, and wizards all living side by side, but the main characters are detectives who solve crimes named Danthres Tresyllione and Torin ban Wyvald. This novel features the death of the legendary Pirate Queen, a high-profile murder that has unexpected repercussions that extend all the way to the king and queen.
A Furnace Sealed is an urban fantasy set in New York City, the first in a new series featuring Bram Gold. Bram is a Courser, a for-hire hunter of monsters and supernatural creatures—if you need a unicorn wrangled, a dangerous ritual stopped, or a bunch of werewolves kept in line, Bram's the person for you. Immortals keep turning up dead, and binding spells become unraveled all over town. Bram must find the links between these events before it leads to the destruction of the city.
What do you want readers to know about your books?
A Furnace Sealed was inspired by working for two years in the Bronx for the U.S. Census Bureau. It got me to explore parts of my home borough I hadn't been to before, and also got me thinking a lot about the history of one of NYC's forgotten parts, where I've lived most of my life. Mermaid Precinct is the first "Precinct" book in five years, and I'm jumping the timeline ahead a year. Among other things, that time jump will establish two new precincts in Cliff's End, Manticore Precinct and Phoenix Precinct, which gives me two more novel titles to use…
Aside from the plot, is there a story behind them?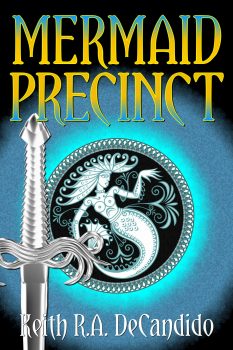 Mermaid Precinct is simply the next book in the series, and one that enables me to do a pirate story for the first time in my career. A Furnace Sealed grew out of a desire to do a New York City story that deals with a part of the city other than Manhattan south of 125th Street, which is usually all anyone thinks of when they imagine the Big Apple. The Bronx is particularly underrepresented in fiction.
What was your path to publication?
Unique. I was working as an editor for the late Byron Preiss, a book packager. We were putting together a Spider-Man anthology in 1994, and we had the thing mostly filled, but we needed a Venom story for two reasons: 1) It was 1994, and Venom was by far the most popular member of Spidey's rogues gallery at the time and 2) Venom was on the cover of the book. We had sent six different proposals to Marvel, which were all rejected. Finally, we asked Marvel for a premise—they gave us a one-sentence pitch. We were past the eleventh hour at this point, so my co-editor, John Gregory Betancourt, and I wrote a story based on that premise. And that's how I got my first short story sale, in the most non-replicable manner possible…
What are you working on now?
I'm working on a short story set in the "Precinct" universe for an anthology called Release the Virgins! After that, I'm collaborating on a novel with David Sherman, and I've also got a game tie-in to write—can't say what game yet, as it hasn't been announced. And there are more "Precinct" and Bram Gold books to write…
What else have you written?
A ton of stuff. As I said, I've written more than fifty novels and about a hundred pieces of short fiction, plus all the comics and nonfiction. Recent and upcoming work includes the Alien novel Isolation, which will be out from Titan in January 2019; the prose trilogy Marvel's Tales of Asgard, novels featuring Thor, Sif, and the Warriors Three; the Orphan Black coffee-table book Classified Clone Report; short stories in Aliens: Bug Hunt, Altered States of the Union, Baker Street Irregulars, Joe Ledger: Unstoppable, Limbus Inc. Book III, Mine!: A Celebration of Freedom and Liberty for All Benefitting Planned Parenthood, Nights of the Living Dead, They Keep Killing Glenn, TV Gods: Summer Programming, The X-Files: Trust No One, and two of the V-Wars anthologies; and nonfiction for Tor.com, kOZMIC Press, ATB Publishing, and my Patreon.
Are there any awards or honors you'd like to share?
Just this past year, I received a Best Short Story Award from the International Association of Media Tie-in Writers for "Ganbatte," my story in the Joe Ledger: Unstoppable anthology. The IAMTW also favored me with a Lifetime Achievement Award in 2009, which is handy, as it means I never need to achieve anything ever again.
What is your writing routine?
BWAH-HAH-HAH-HAH-HAH-HAH-HAH! "Routine." That's funny…
Do you create an outline before you write?
Always. I started out doing tie-in work, and an outline is required for licensed fiction, as the plot has to be approved by the copyright-holder before you can write a single word. That habit has carried over into my other fiction, as I find it's much easier and smoother to write the book if I already know the plot.
Why do you write?
I can't possibly not write. I've been doing it since I was six, I can't imagine any circumstance under which I would stop. (Actually, I can imagine a few, but they're all really awful, so I don't particularly want to dwell on them.)
How do you overcome writer's block?
I remind myself that I have this eating habit I can't kick, and my landlord insists we pay the rent once a month whether they need it or not…
What life experiences inspire or enrich your work?
All of them. Seriously, inspiration for writing comes from all around me. There are no life experiences that don't inspire and enrich my work.
Do you have another job outside of writing?
I'm a full-time freelancer, so I have lots of jobs. I write, I edit, I teach martial arts to kids, and I do any number of other things as long as they pay me.
Describe a typical day.
Not really possible, as no days are typical. That's why I love being a freelancer.
Would you care to share something about your home life?
My wife is also a full-time freelancer, so we're both home together a lot. We've been living together like this for eight years now and—excepting an eighteen-month period when she had a contract job out of the house—that's been our normal. We've been living together most of every day for all this time and haven't killed each other, so it must be true love. It helps that we also have really affectionate cats.
How do you pick yourself up in the face of adversity?
A friend of mine, Marco Palmieri, once said, "Pessimism is a misuse of imagination." I love that phrase. I prefer to be optimistic and happy, as being sad is depressing and being happy tends to have a cascade effect on other people. Better to smile at someone than frown at them. I'm lucky in that I don't have any problems that prevent this from happening—I'm fully aware that depression is an issue for many, and I'm fortunate not to suffer from it, as it's debilitating. I choose to be happy because that makes life better.
What is your greatest life lesson?
It's not worth getting worked up about the opinions of people whose opinions you don't respect.
Thanks, Keith, for sharing your thoughts with us. Before I present an excerpt from A Furnace Sealed, followed by links where readers can follow you online and purchase your books, I'd like to conclude with a Lightning Round. In as few word as possible, please answer the following:
My best friend would tell you I'm a: Muppet.
The one thing I cannot do without is: coffee.
The one thing I would change about my life: I'd have more money.
My biggest peeve is: that I don't have more money.
The thing I'm most satisfied with is: my homemade tomato sauce.
Do you have a parting thought you would like to leave us with?
I am firmly against the entire notion of the "guilty pleasure." If something gives you pleasure, and nobody is getting hurt as a result of your enjoyment, then you shouldn't feel even a little bit guilty about it. Everybody likes something and nobody likes everything, and it's stupid to feel guilty about liking something even if lots of other people don't.
Excerpt: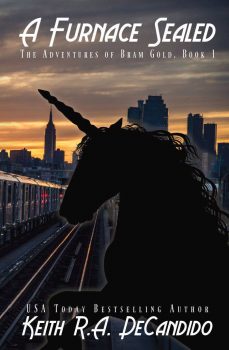 Downstairs was Ahondjon's magick shop. The man himself wasn't in—his nephew Medawe was, and he was talking on the cordless phone.
He waved at me as I came down the metal stairs. The place was dank, lit only by crummy fluorescent lights, since there weren't any windows.
"Nah, he ain't here," Medawe was saying. Unlike his uncle, he was born in the Bronx, so he didn't have Ahondjon's thick west African accent. "It's Sunday, he's in church. … Nah, I ain't telling you what church. … What, you telling me you found Jesus now? Bullshit. Just gimme the message, I'll let him know when he gets back. … I don't know when, I ain't found no Jesus, neither. 'Sides, you know how he likes talking to folks. Could be hours. … Yeah, well, fuck you too."
Shaking his head, Medawe pressed the end button on the phone.
"Another satisfied customer?"
Medawe snorted. "Yeah, somethin' like that. What'cha need, Gold?"
"I need to talk to Ahondjon. He really in church?"
"Hell, no. Only time his ass goes into a church is to deliver their holy water."
I blinked. "Wait, churches buy holy water from him?"
"They do if they want the shit that works."
"Well, I hope his holy water smells better than his talisman to stop a unicorn."
Medawe frowned. "What, it didn't work?"
I smiled. "It worked fine." Then I remembered how Siri described it. "When I activated it, it smelled like a moose fucking a dead octopus."
"Yeah, well, you want shit that works, it's gonna stink."
I thought about reminding Medawe about what Velez had said, then decided it wasn't worth it. Besides, Medawe was just the hired help—Ahondjon was the one who put the talismans together, so if I was gonna get them to not stink up the place, I'd need to talk to him.
"Still," I finally said, "I've had some complaints. The first being from my hooter." I pointed to my oversized schnozz.
Medawe chuckled. "Look, I'll pass it on, but you know my uncle."
"I do indeed." I also noticed that Medawe hadn't actually answered my question about when Ahondjon would be back, which led me to think he either didn't know or couldn't tell me.
Whatever, I had a binding spell to stop. "Hey, I wanna double check, what would the components be if you wanted to cast a binding spell on a loa?"
That got me another snort from Medawe. "A thing'a lipstick so you can kiss your ass goodbye. Who'd be stupid enough to do that?"
"Woman over in Seton Falls Park, apparently."
Shaking his head, Medawe said, "Well, there's lotsa binding spells, but if you want to bind a loa, you're gonna need an Obsidian candle, thick rope, a red ribbon, and sandalwood."
I winced. Except for the candle, that was stuff you could get over the counter anyplace. Hell, you could probably get all that at Target. "Does it have to be an Obsidian candle, or can any black candle do it?"
"Depends."
"On what?"
"If you want the binding to work or not."
Ask a stupid question… "Yeah, okay, thanks, Medawe. And tell your uncle—"
"Moose fuckin' a dead octopus, you got it."
I grinned. "Thanks."
If you want to follow Keith DeCandido online, you can do it here:
Web site: DeCandido.net
Blog: DeCandido.wordpress.com
Facebook: fan page at Keith R.A. DeCandido
Twitter: @KRADeC
Instagram: krad418
You can purchase a copy of A Furnace Sealed  here:
https://www.amazon.com/Furnace-Sealed-Adventures-Bram-Gold-ebook/dp/B07NBKDKQ9/
You can purchase a copy of Mermaid Precinct  here:
https://www.amazon.com/Mermaid-Precinct-Keith-R-DeCandido-ebook/dp/B07N1X49J2/