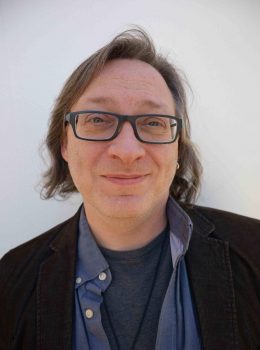 This Week's guest, Lou Agresta, is a science fiction and fantasy novelist and an award winning game designer. He has authored, edited, and developed over 1 million words for the adventure game industry. A martial arts enthusiast and a fan of Nordic dotwork tattooing, Lou has been spotted in an orange tuxedo at conventions, co-hosting the Iron GM show. He lives in the Hudson Valley with two cats, his girlfriend, and (part time) two children – not necessarily in that order. WordFire Press published his cyberpunk novel, Club Anyone, on May 22 of this year.
Lou describes Club Anyone this way:
In an age of augmented reality, love is found in the most dangerous places…
Stranded on Mars, megacorp programmer, Derek Tobbit, drowns his sorrows in augmented reality sex, only to have his drug-fueled midlife crisis hijacked by a conspiracy that threatens the solar system.
It will take his every hacker skill, the friendship of an illegal rogue AI, and the redemptive power of an impossible love to save them all.
Club Anyone, is a gritty novel of conspiracy, sex, augmented reality, and star-crossed desire.
Would you please give us some sense of what it's about?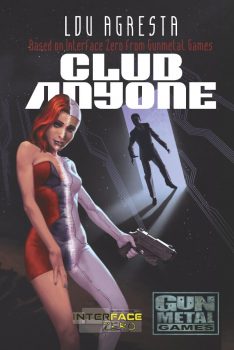 Club Anyone is a noir on Mars set in the Interface Zero game world. It takes place against the backdrop of a bleak near future in which humanity has spread throughout the solar system, but not beyond. Club Anyone is around 75 years away. Megacorps dominate the landscape, polities struggle in cold wars, AIs are outlawed, and the little guy squeaks by in the cracks. The settings dominate characteristic is direct neural interlinking that provides not virtual reality but augmented reality only. Because this is an almost world, in transition either to utter disaster or transcendence—which isn't clear, although I'm betting disaster—humanity has almost, but not quite, reached the heights of technology in, say, the cyberpunk of Stephenson or even Gibson. Technology is less reliable and more messy.
In this world, our hero Derek is just a middle class programmer with a wife and 2.5 kids. He takes a job on Mars, with his family to follow him after she sells their house. Only his wife has other ideas—divorce for instance. "I'm staying here with the kids, so sorry you used our life savings to get to Mars. Enjoy the place!" In the wake of this Derek makes some poor life choices and his life spirals out of control, opening him up to exploitation by a few bad folks and a role in a conspiracy that threatens everything. But he makes some unexpected friends along the way. Not sure he gets out in once piece, though. Guess you'll need to read to find out.
What was the inspiration behind it?
It started when I received a phone call from my friend and collaborator Rone Barton. "You're going to write that novel finally," he said.
"I am?"
"Yup. David Jarvis of Gunmetal Games is giving you away as a Kickstarter reward. If Interface Zero hits a stretch goal, I told him you'll write a novel."
And they did hit it, so I did write it. My friend kicked the little birdie out of the nest.
What was the biggest challenge you faced writing this book and how did you overcome it?
This opportunity came at a dark and difficult time in my life. To my surprise, my wife of 15 years decided she was done with our marriage.
"Honey I'm going to write a novel!"
"Yeah, you're going to move out, actually."
Not quite like that, but almost. I called Rone and said, "I don't think I can do this. How am I supposed to write a novel with all this going on?"
And he said, "Well why don't you write your divorce into your novel?"
So I did—not the plot, of course—but I sublimated the emotion in my life into Derek's story. It let me understand what it would mean to be him, abandoned on Mars, bereft of his family and to channel that feeling like jet fuel for words.
Have there been any awards, productions, videos or anything else of interest associated with your work?
There have. As an adventure game designer my work on Razor Coast has been nominated for five Ennie Awards. That's sort of the Oscars for Role Playing Games. Heart of the Razor, a book in the same line that I developed and edited, won Silver Ennie for Best Adventure the same year.
What else are you working on?
I'm currently working on a grimdark urban fantasy set in a post-apocalyptic world ravaged by climate change. I don't want to give too much away, but part of the underlying premise is that retired sorcerous powers grow alarmed as climate change spins out of control faster and worse than predicted. They decide to put an end to this science nonsense that allows we hoi polloi to play fast and loose with the future of the species. Our hero is a young corrections officer returning to Minnesota to deal with her family and career problems. She didn't know she'd be walking into a magi-geddon apocalypse. The idea came to me in a pain haze, while I was under the tatooing needle of Nordic dotwork artist Uffe Berenth in Copenhagen. It resurrected and tied back to ideas I was developing in the late 80s and early 90s, so I'm very excited.
I would be, too. Let's get into your writing life. What is your work schedule like when you're writing?
The bigger a block of time I can lock down, the better. Interruptions are difficult. Trying to slice a piece of writing into an hour block is maddening. I try for 2-3 hours at a shot, often in a café. The hubbub works like white noise for me. On a good day it's 2-3 hours at home, a workout, then of to a café for another 2-3 hours.
Do you create an outline before you write?
For Club Anyone, I jotted down some notes on the general trajectory and then set out. After I finished the first draft, I outlined what I had written. That showed me how wonky the structure had turned out. I restructured everything with revision, outline, revision, outline a few times. Then I sent it to readers, got feedback, and did it again. For the latest piece I'm outlining extensively first.
What drives you to write?
I used to think people who said, "I have to write… I must. My muse compels me… " *nose in air* were pretentious a-holes. But I've come to a place where that's true for me in the sense that I have to have my coffee in the morning. If I don't write, I'm a much less pleasant person. Writing makes me feel like I'm not just wasting my time on earth. I need to have that creative project I believe in or I get real cranky real fast. So I guess I write because I have to in order not to become a pretentious a-hole.
How do you think you've evolved creatively?
I've become much more about the mission and much less about me. I've also learned that my first five ideas probably suck. There's a deeper level to get to that takes time and patience and I can only find it after I regurgitate all the shows and stories I've already ingested. Then something that's me starts to rise up.
What is the single most powerful challenge when it comes to writing a novel?
Defending your time. Everyone and everything wants you to prioritize them or it above the writing, and some things do take precedence. Kids for example. But if you can't learn to defend your time and say, "Nope," to even well-meaning people, you're dead in the water.
Is there anything you want to make sure potential readers know?
Club Anyone deals with some unpleasant realities, particularly in the sex trade. Sure, they're gussied up in adventure, noir romance, organized crime, cybertech, and a host of (I hope) exhilarating and downright cool experiences . That's all part of what makes ugly things easier to think about. But in the end, this is an R-rated book. Not for kids.
Do you have another job outside of writing?
I do. I manage investments and commercial real estate. In a former life I was a network systems engineer and managed programmers on large projects.
Would you care to share something about your home life?
Sure. I live with my girlfriend and two cats. I have joint custody with my children, Kaylie (10) and Malcolm (7) so I get them half the week and alternate weekends. It makes for a challenging schedule but I'm so glad I didn't wind up a weekend dad.
What has been your greatest success in life?
To be frank, I'm not sure how to measure success. So many people help me through so much of life, it's hard to claim success sometimes. I feel more like I need to roll the credits on a movie for a life that isn't yet over. How about this? A decision I made in life that turned out to be the most life changing, in a positive way. I dropped out of college and played bad blues guitar on the streets of Taiwan for a year. It changed everything. I still finished college though.
Who or what has been your greatest inspiration?
My father's library of 2,000 plus science fiction and fantasy volumes, starting with magazines from the 40s. I read it voraciously and became the book addict I am today. Also Neal Gaiman.
Thanks, Lou, for taking the time to talk to us. Before I present our visitors with an excerpt from Club Anyone—after which I will provide links where those with an interest can follow you and purchase your book—I'd like to try a Lightning Round, because of the unexpected insights it often provides. In as few words as possible, please answer the following:
My best friend would tell you I'm a… Generous person.
The one thing I cannot do without is: Books
The one thing I would change about my life: Less weight through more combat training. Okay, that's two I admit it.
My biggest peeve is: Drama. Not the kind on a stage.
The thing I'm most satisfied with is: My home life.
Club Anyone excerpt:
 There didn't seem enough bioroids left to monitor drift on the orbital entanglement. How could the Chute smelt with no one to steady its aim?
Shit!
The thin china mug fell from my hand and shattered hot luxury across my ankles. I ignored it and bolted from my office, yelling before I reached the hall. "The Chute is bare!"
Everyone stared at me. For a moment. Then someone's assistant turned back to a stack of papers and resumed shuffling. A nearby executive tsked at me. Others lay in their cubes, not present at all, focused on TAP data only they could see.
No one knew me, and anyone who knew what they were talking about used the codes. I TAPped the NOM manual. I didn't know the codes. Where were the codes?
Fire anything—a bullet, an arrow, a stone—and the farther the shot, the more the tiniest misalignment at the start ends the shot off target. From Mars orbit to the deepest pit of the Valles Marineris was the longest shot around. How soon before the quantum anchors drifted a micro out of true, and the next plasmatic meteor smashed through the dome into TRIC City, killing thousands?
Found it.
"Code 7, Code 7!"
And the office exploded—into stillness.
Not everything runs off the TAP, so some people dropped the papers in their hands and bolted for their desks, but most froze in their chairs or even flopped to the floor as if fainting. Mugs of synth flew and papers floated like pillow feathers. Standing, sitting, or collapsed, employees drowned themselves in a hyper reality torrent of data. Eyes rolled into heads as code-champions rode their hyper object steeds to cyber battle.
I followed.
The instant I TAPped the subnetwork a curtain of data subsumed me, but I saw the problem. Someone was gattling inane commands at all the NOM bioroids over the SRSOC—the Short Range System Override Channel.
We build multiple control layers into bioroid communications as a security failsafe. If something damages a bioroid's language parser or a virus infects the software, we need a way to pull the plug. That's especially important if you hand your bioroids guns or toxic waste or, I don't know, a mining operation that fires molten planetoids into a trench near your city?
Tell a bioroid to lift its arms, and it hears with its ears. That's the top layer. Software in the middle parses your words into code, sends it to the muscles that lift the arms—a lower layer—and the arms lift.
The top layer anyone can use, because the language parsing software does the heavy lifting. Talking directly to an arm requires fluency in "arm control" language, a lingua more abstruse than ordinary programming.
Commands in "arm control" override spoken commands, because lower layers are closer to the organics. If you speak the words "lift your arms" at the same time I send the command "don't move" through the SRSOC—pronounced sir sock—sub channel in arm-speak, the bioroid's arm won't move. I'm working at the lowest possible layer, closer to the arm than you, in a language more "wetware" than yours.
Someone was flooding the SRSOC sub channel of the Chute's bioroids with innocuous "arm language" commands like "sweep the floor" and "do sit-ups." Definitely not "maintain the Chute's quantum entangled geostationary orbit." And whoever it was fired off thousands of low-level commands simultaneously at machine gun speeds.
Impossible.
Legions of Chute Control employees, myself included, froze and scanned hyper reality in our TAPs. We hammered every reachable SRSOC channel, desperate to wrest them back and block the flood of purposeless instructions. We needed to free the bioroids from their paralysis and put them on job before the Chute drifted.
It was like that game where you smack something back into a hole, but it pops out of another hole. We stormed the SRSOC, established bridgeheads, and slowed the degradation.
But too little, too late.
Without canceling the attack at its source, we couldn't return enough bioroids to work before those flaming space-bullets micro-inched off target and destroyed us all.
The only question now was how many people would die?
Commands continued to flood the bioroid's SRSOCs at an inhuman rate. For every two we whacked down, another one popped up. Inhuman. Not human. Of course! Someone wasn't doing this.
Something was.
Suspicion bloomed like a tumor in my chest, I bolted for the Lift. The culprit wanted an Ampule to escape.
This wasn't an attack. It was a diversion.
Lou's book is not yet available online, but you can order a copy on his Website: www.agrestasaurus.com
You can follow Lou online at:
Facebook:       www.facebook.com/agrestasaurus
Blog:               https://www.agrestasaurus.com/words-like-bullets
Twitter:          @agrestasaurus
Pinterest:       https://www.pinterest.com/Agrestasaurus/