An earlier guest, Horror Grand Master Michael R. Collings, introduced me to Bram Stoker award winning author, Mercedes M. Yardley. Her writing displays an interesting mix of timing and suspense. Her prose is crisp, clean and offers tantalizing hints at what is to come pages after. And while each page propels the reader forward, nothing about the writing seems forced. There's almost a nonchalance in her style that I admire. This is how she describes herself: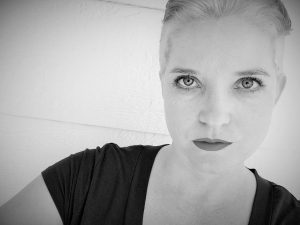 Mercedes M. Yardley is a dark fantasist who wears red lipstick and poisonous flowers in her hair. She was a contributing editor for Shock Totem and currently works with Gamut, a groundbreaking new neo-noir magazine. Mercedes is the author of many diverse works, including Beautiful Sorrows, Apocalyptic Montessa and Nuclear Lulu: A Tale of Atomic Love, Pretty Little Dead Girls: A Tale of Murder and Whimsy, and the Bone Angel Trilogy. She recently won the Bram Stoker Award for her story Little Dead Red. Mercedes lives and works in Las Vegas, and you can reach her at www.abrokenlaptop.com.
Tell us about your most recent release.
My most recent release is a novella titled "Little Dead Red." It's a modern retelling of Little Red Riding Hood, and it's exceptionally dark. It's something that could actually happen. It's about predators and prey, about little girls who are stolen and the guilt and grief of their mothers. I do believe it's the darkest thing I've ever written.
The Wolf is roaming the city in this Bram Stoker award winning tale, and he must be stopped.
Grim Marie knows far too much about the wolves of the world, a world where little girls go missing. After all, she had married one before she/he showed his claws, and what that wolf did to her little girl was unforgiveable. Grim Marie isn't certain if she can ever forgive herself for putting her Little Aleta in harm's way.
When Grandmother becomes ill, Aleta offers to take the bus through the concrete forest to Grandmother's house to bring her some goodies. She knows the way. What could possibly go wrong?
In this modern day retelling of Little Red Riding Hood, the wolf takes to the city streets to capture his prey, but the hunter is close behind him. With Grim Marie on the prowl, the hunter becomes the hunted.
Wolves pad through the darkest kind of fairytale: one that can come true.
What was the biggest challenge you faced writing this book and how did you overcome it?
My biggest challenge with LDR was the subject matter. It has to do with sexual abuse and the fallout from that. So not only was I dealing with the loss of a child, but I was dealing with the loss of a broken, abused child. I wanted to treat it as respectfully as I could without shying away from it. It was a balancing act. Too often abuse and the aftermath are used as plot devices without giving the situations any real weight. I wanted to avoid that.
Many choose avoid the tougher elements, but doing so can be interpreted as invalidating the victims' experiences, be they parent or child. I'm glad you chose not to. Have you written any novels?
I wrote a dark fairytale with a high body count called Pretty Little Dead Girls. It's very whimsical and dear and quite deadly. It's my favorite thing I've written because it was just so much fun. I also wrote a novella titled Apocalyptic Montessa and Nuclear Lulu: A Tale of Atomic Love. Think streetwise Romeo and Juliet meets Stephen King's Firestarter. It's the most explosive love story. My debut novel was an urban fantasy titled Nameless: The Darkness Comes. It's about a girl who sees demons but everybody simply assumes she's crazy. It deals with themes of mental illness and suicide while also being snarky and humorous. It's the first book in the BONE ANGEL trilogy.
Have there been any awards, productions, videos or anything else of interest associated with your work?
"Little Dead Red" won the Bram Stoker Award in May for long fiction, and that was absolutely thrilling. Apocalyptic Montessa and Nuclear Lulu won the Reddit Stabby Award, which was super cool. The award is a long, medieval type of dagger. Reddit seldom agrees on anything but I was so pleased they agreed on this.
What else are you working on?
Right now I'm finishing up book 2 of the BONE ANGEL trilogy. After that, I dive directly into book 3. I'm also working on three separate novellas, and only one can officially be announced. That novella is titled Skin of the Bear, Bone of the Witch and it goes along with the Heroes of Red Hook anthology which is being put out by Golden Goblin Press. I'm really looking forward to it. I also have six short stories in the works, so I'm staying busy.
Boy! I'll say. What is your work schedule like when you're writing?
Writing is very much a part of my everyday schedule, which means that it's as haphazard as everything else. I wake up, get the kids ready for the day, play with the stray cat outside, and then write for 15 minutes. I clean. I write for 15 minutes. I check emails. I write for 15 minutes. If writing is going well, I'll reset my alarm and write for another 15 minutes. That seems to be about the time span I get before the kids fall apart/the house starts on fire/my mind wanders/Demogorgons attack. It also helps me focus. If my alarm is set, I know I have a set amount of time to write and I know not to waste it. In fact, I'm doing this interview with the use of a timer. When my 15 minutes is up (I have about 40 seconds left), it's time to switch laundry and make breakfast for the kiddos.
Tell us about your path to publication.
I sold my first short story for twelve dollars in 2008. I started with short stories instead of novels, and that was a good choice for me. I learned how to query and submit. I learned markets. I learned to follow guidelines, act professional, and clean up my work. After a bit, I joined Shock Totem Magazine, and that was such a valuable experience. Sitting on the other side of the desk helped me thicken my skin and see that rejections weren't personal. I put out my first collection of short stories, and then a novella. Then suddenly two novels back-to-back, which I wouldn't suggest. It's important to give yourself time between each release to breathe. I was exhausted by promotion and it affected my writing. I eventually left my publishing company and joined another company that was a better fit. I signed a five book contract with them, and I have two books left to complete my contract. I couldn't be happier. Things have changed so much in eight years!
Why do you write?
I write because I don't have a choice. I tried to not write, and it withered my soul. Writing is how I process things. It's thinking with my fingers. As a person, I tend to be quite scattered and distracted. It's like chasing a roomful of light. Writing helps me condense and define everything around me so I can experience it better.
How do you think you've evolved creatively?
I've learned how to get out of my own way. That's my evolution.
Would you care to share something about your home life?
My home life is insane. There are five of us in a teeny, tiny house. We have backyard chickens. We have two rabbits. We have a turtle that violently hates all humankind. We now have a gorgeous stray cat who would live inside our home if my husband wasn't deathly allergic. My home is full of movement and laughter and frustration and love. There are always toys out. There's always something delicious baking in the oven. I think it's a happy place.
What motivates or inspires you?
I'm inspired by hope. I see the one dandelion struggling to push itself through the cracks in the concrete and I identify with it. I see people with nothing left in their souls or gas tanks, but they manage to put one foot in front of the other. They even manage to make beautiful things. It makes me want to grab their hand and walk with them. We'll keep each other moving. There will be something stunning and worthwhile at the end of the journey.
How do you pick yourself up in the face of adversity?
You just do it. You just stare at the ground and keep going. My mother told me once that our family isn't smart enough to know when to fall to the ground and give up. We keep getting up and taking that beating. I think it's one of our best traits.
What has been your greatest success in life?
My children are kind. They impact the world in a positive way. I couldn't ask for more success than that.
Before I give you a peek at "Little Dead Red," Meredith has consented to finishing our interview with a Lightning Round, just for fun.
 My best friend would tell you I'm a …
Spaz.
The one thing I cannot do without is:
Coke Zero.
The one thing I would change about my life:
Eliminate depression.
My biggest peeve is:
Use of the word "retard."
The person/thing I'm most satisfied with is:
David Bowie. Mmm.
Mercedes, I can't begin to tell you how happy I am that you joined us. After the prologue from "Little Dead Red," which follows immediately, those of you who'd like to learn more about this wonderful author, or purchase her books, can do so with the links at the bottom of this post.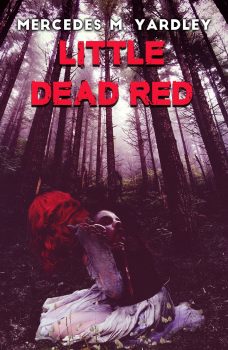 Little Dead Red
Prologue
            Once upon a time, long long ago, somewhere before her second divorce, Marie had smiled. She had simply been Marie then, and occasionally even Happy Marie, and that was a kind and gracious thing. Marie knew of the dangers of the world, but Marie also knew of love and laughter. Marie knew of her tiny little girl, Aleta, who used to hop around on one foot to see if she could keep her balance, and stuck her naughty fingers into Marie's jam, and would ask for a bedtime story even when it was nowhere near bedtime.
"It doesn't have to be a bedtime story, dear," Marie would say, and her eyes would twinkle. Smiling Marie. Happy Marie. "A story told at any other time is simply a story."
Aleta, who had dark eyes like her mother, and dark hair like her mother, and it refused to be tamed and combed, also like her mother's, would say, "But bedtime stories are the best. Won't you please tell me one, Mama?"
Marie often had things to do. There were dishes to be put away and dinner to be cooked and text messages to send to her husband, who seldom came home anymore. There were bags to be packed and an escape to be planned, but this made her smile, too. In fact, it made her nearly happier than anything else ever had, except for her sweet daughter.
"Of course we'll read. Which one would you like?"
Aleta usually wanted stories about brave soldiers and clever girls and terrible, terrible monsters. Marie made her voice deep and heavy for the monsters, scary and dark, and Aleta snuggled next to her in horrified delight.
"I'm going to EAT YOU," she cried as a troll or a wizard or a wolf.
"Don't eat me all up!" Aleta would shriek.
"Yes, I'm going to eat you all up!" Marie would scream, and then she'd chase her daughter around the house, kicking over her husband's ash trays and piles of unpaid bills and pieces of her broken dreams. Then they tumbled to the floor together and Happy Marie would smile and whisper that good always won, and clever children outwitted monsters and witches, and she would never, ever, ever let Aleta be eaten all up.
Until, of course, the day Marie discovered monsters were not only real, but had been feeding on her little Aleta without her knowing. Aleta had been eaten all up, for years now, and Marie was never Happy Marie again.
Facebook:                  https://www.facebook.com/mercedes.murdockyardley
Twitter:                      https://twitter.com/mercedesmy
Pinterest:                   https://www.pinterest.com/mercedesmy/
Book buy link:          http://tinyurl.com/hc9uutk