I first met YA Contemporary Fantasy author, Lauren Lynne, through the Facebook group, Fantasy Sci-fi News Network, #FSFNNet, a hangout for authors and readers of these genres. Time passed and our friendship grew until one day I chanced to read her Facebook bio and learned we are neighbors, living within a few miles of each other. It didn't take long before we found a chance to do a face-to-face over coffee at a Starbucks located midway between our homes. I found her to be such an enjoyable lady—certainly an enjoyable, intriguing author—and decided I needed to introduce her to you. Here is how she describes herself: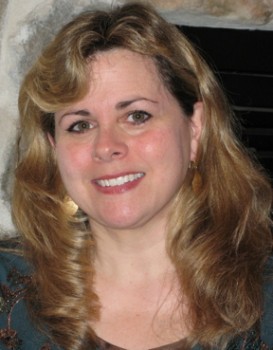 I'm author Lauren Lynne. The good side of growing up is that you can write whatever you want. The downside… now I can't read it without my glasses! I have the soul of an adventurer but the heart of a coward when it comes to danger, yet I'm drawn to all things action-adventure, so this particular genre was a natural fit. You won't find me bungee jumping, cliff diving or doing parkour because, well… I'm a klutz… so I write it. Think of me as an armchair adventure hound. I create characters who are much braver, tougher, more graceful and athletic than I will ever be. When you dream, dream big!
I love working with students who have a thirst for knowledge. I write for young adults because they are the age group I most love to teach. I grew up in a house where reading was expected, anticipated and enjoyed. I want to pass that joy on to my students. I do not write alone, but pull in my boys for real life teenaged insight. I also listen to my students.
I am a native of the Pacific Northwest, with its vivid and varied panoramas. When I'm not writing, I can be found spending time with my family, working with students, reading, gardening or hiking around Mt. Hood, the Columbia River Gorge or the Oregon Coast with my camera. I am also a graduate of both Oregon State and Portland State universities with degrees in education and science. Writing is my passion and I want to share my love of it and reading with you.
Lauren has written a Young Adult contemporary fantasy action adventure series called The Secret Watchers. Today, we're showing off book four of the series, Perceptions, published May 26 of last year. Here is its description:
Marlo finds a missing watcher and now it's up to Lucie and Owen to go undercover to pull her out, if she's even still alive. They find themselves thrown into the world of human trafficking and are afraid they won't make it out alive. Caged, drugged and confused, they lose sight of their mission. Then they must face the truth about darkness and light – or is it all just shades of gray? How will they save someone else if they can't even save themselves?
Sometimes you have to do truly repugnant things for the greater good but then what does that make you? What do you become if you are just as malicious as the dark watcher you are supposed to be saving everyone from? White Eagle says that power is power, but Owen has absorbed dark watcher gifts. He can feel himself morphing and he's pretty sure he's nowhere near good anymore.
What will two damaged watchers do now? Are you still good if you've been consumed by darkness? Owen will have to figure that out before it's too late. He meets a mysterious stranger who has an interesting offer. Owen can't decide if it's worth the risk but it becomes more and more appealing as he is used again and again by both sides and now that he's actually killed someone, who will save him?
I asked Lauren to describe the rest of the series and to tell us what else is on the horizon.
I have now written five books in The Secret Watchers series; four are published. Book five will be the end of Owen's story but readers will see him again. Thanks to demands of loyal fans, there will be a new, as yet untitled, book and possibly series in the world of The Secret Watchers. I have just begun work on a book with a female protagonist discovering who she really is. What is her secret power? Stay tuned to find out.
This December will be the final release in The Secret Watchers series. Protagonist Owen Ryer will be graduating from high school and he will face the greatest evil he has known while battling the darkness that has taken root inside him. I am also working on my first dystopian. This was not something that I planned to write. I was hijacked by a muse and decided to go for it. It has been both fun and challenging.
Do you find there any occupational hazards to being a novelist?
For me, time is the greatest challenge. I still need another job so that I can pay the bills and I am part of the famous sandwich generation where I both help out my parents and my kids.
Tell us about your path to publication.
I would guess that there are as many paths to publication as there are authors. In lieu of writing a ton of query letters I chose to self-publish. That does not mean that if the right offer comes along I will turn it down. I wanted my book in the hands of readers. I did quite a bit of research and finally selected BookBaby who happens to be a local company.
How many people have you done away with over the course of your career?
So far I have only done away with bad guys but hold onto your seat because in Destiny that will change.
Describe a typical day.
I love it when people ask me this question! I would love to build some routine into my life. I have not had that for the last ten or so years. I am working on it! At this very moment it is summer so I am neither teaching nor tutoring. I do some technical editing and I am helping my parents get their old house ready to go on the market. I try to look at Twitter and Facebook every day and respond to friends and fans. I do a little marketing (like answering this interview) and I try really hard to squeeze in some writing. I am looking forward to the day when I can dedicate more time to my craft.
How do you pick yourself up in the face of adversity?
I am a Tigger at heart. One of my greatest assets/curses is that I see the best in everyone until they prove me wrong. If someone is going to find a silver lining it's me! It's raining? Great, it's watering my flowers! Most people love my books but the first few ugly, mean or unfair reviews hurt my feelings. Now, I know that everyone has a right to their opinion and I don't have to agree. I still celebrate and cherish every four and five star rating and each awesome review.
What has been your greatest success in life?
My kids will always be my greatest blessing. They are turning into wonderful people that I am proud of, but when I am gone, my books will live on. I will have left something behind. I will never know how many student lives I touched or how deeply but I will always have the books I authored and the feeling that I have left a positive mark that will remain.
Before we share an excerpt from Perceptions, I'd like to finish with a Lightning Round. Please answer the following in as few words as possible:
My best friend would tell you I'm a…
person who is too nice. I need to stand up for myself more.
The one thing I cannot do without is:
GPS or a good map. I have a terrible sense of direction.
The one thing I would change about my life:
A little more money so that I could dedicate my time to writing.
Boy! Wouldn't we all? My biggest peeve is:
Intentionally mean people.
The thing I'm most satisfied with is:
Where I am today. I am happy in my life and have some flexibility. I have people who care about me and people to care about. What more could you really want? Oh, yeah, GPS
It's wonderful you can say that. I wish more of us could. Before we close, here is a sampling of Lauren's writing: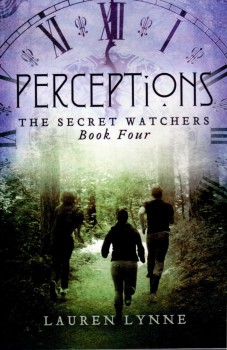 I turned and growled to the newbie watcher, "Who are you? And why are you spying on us?"
He gave us a defiant look, twisted and tried to drain White Eagle, who caught his wrist before his hand connected and snapped it back. "Answer him." His voice was filled with menace. White Eagle can be an imposing guy when he wants to be.
The young dark watcher raised one side of his upper lip in a snarl making the scar by his mouth pucker.
"Who sent you?" I queried, giving him my best scowl.
"You don't scare me. I'm not telling you anything!" he sneered.
I squinted at him, deep in thought. Did I have the stomach for this? Did I have it in me to be cruel? Could I torture him for information and still live with myself? If I did, I would be no better than they were. Where was the line and should I cross it?
A slow smile spread over his unshaven face where a scraggly beard showed in uneven patches. "You won't do it. You don't have what it takes. You won't do what has to be done to get what you need. You're… moral," he said with disgust like I'd personally offended him. "You're weak. The good guys usually are. They follow the rules. They can't do what needs to be done!"
"Shows what you know!" Lucie came out of nowhere to deliver a perfectly executed upper cut to his jaw. Skater dude sagged in White Eagle's grip, semiconscious as we all turned to stare at Lucie.
"What?" Lucie asked defensively. "We didn't have all day. Somebody go get the van and let's take him somewhere we can really question him."
Mom snapped out of it first, reached into White Eagle's pocket for the keys and sprinted off.
"Lucie dear, if you're feeling upset from the proceedings maybe we should talk and not… um, take out our aggressions on others," Sarah said with quiet dignity.
Lucie smiled at her, a rather sick smile that came nowhere near her eyes. "And I don't think we should assume he isn't dangerous. Until we know who he is and what he wants… I consider him a threat." She shook out her hand as she spoke.
"Did you hurt yourself?" I asked with a huge grin.
A real smile broke across Lucie's face. "I failed to make 'good fist'. Sorry, White Eagle."
Sarah rolled her eyes but White Eagle grinned at her and shifted his limp load that was just beginning to moan softly. I brought Lucie's hand to my lips. "You gonna need medical attention?" I asked her, still smiling.
Lucie didn't even get to answer. Mom screeched around the corner, narrowly missed the dumpster, and stopped inches from White Eagle's elbow. To his credit, he neither blanched nor dropped his load. He did slowly raise his eyes to give Mom a dirty look through the windshield and then looked significantly at his elbow and then back to her. She grinned, shrugged and hopped out of the van. "So where do we stow him?" she asked indicating the limp skater.
I popped open the back and rummaged in the compartment where we kept our supply of zip ties, clips and Velcro. We zipped up our guy and tossed him unceremoniously into the back. Sarah pulled a Taser out of a locked compartment and then chose a seat near our now thrashing captive. "You behave or so help me, I'll zap you," Sarah said in one of the meanest voices she employed.
He gave Sarah a long look, then stopped flinging himself around, sensing her seriousness. He subsided into a sullen silence. Mom and White Eagle had a brief, silent argument over the van keys. He finally sighed and relented, making Mom jump up and down in a brief happy dance as she giggled.
"Some things just aren't worth it," he huffed under his breath as he plopped into the seat next to mine.
For those of you who would like to learn more about Lauren and purchase her books, here are some helpful links:
 Author Website         http://laurenlynneauthor.com/
Series Website          http://thesecretwatchers.com
Facebook                    http://www.facebook.com/TheSecretWatchersSeries
Facebook                    http://facebook.com/LaurenLynneAuthor
Twitter                       http://Twitter.com/LaurenLynneYA
Goodreads                  http://www.goodreads.com/author/show/5808133.Lauren_Lynne
Pinterest                    http://www.pinterest.com/laurenlynneYA/
Google+                     http://plus.google.com/+LaurenLynne/about