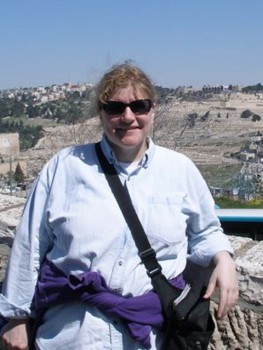 Last August at Sasquan, at the WordFire Press book launch party for Mike Resnick, the author promised to introduce me to his multi-award-winning daughter, Laura, for an interview. I'm pleased to tell you he's a man of his word. I was equally pleased to find, after reading her work—something I should have done long ago—that her prose is crisp, compelling and filled with the dry, cutting humor I and many other readers enjoy.
Laura Resnick is the author of the popular Esther Diamond urban fantasy series, whose releases include Disappearing Nightly, Doppelgangster, Unsympathetic Magic, Vamparazzi, Polterheist, The Misfortune Cookie, Abracadaver, and the upcoming Goldzilla. She has also written traditional fantasy novels such as In Legend Born, The Destroyer Goddess, and The White Dragon, which made multiple "Year's Best" lists. She began her career as the award-winning author of fourteen romance novels, written under the pseudonym Laura Leone. An opinion columnist, frequent public speaker, and the Campbell Award-winning author of many short stories, she is on the Web at LauraResnick.com.
I asked Laura to tell us about her most recent release, Abracadaver, the seventh in the Esther Diamond series. She describes it this way:
R.I.P. = Reanimated, Infernal, and Pretty damn dangerous
Struggling actress Esther Diamond, whose year got off to a rough start (what with incarceration, unemployment, and mystical death curses), finally catches a break when she's hired to reprise her guest role as prostitute Jilly C-Note on The Dirty Thirty, a TV crime drama about depravity and corruption in the New York Police Department.
Esther's ex-almost/sometime boyfriend, NYPD's Detective Connor Lopez, who hates that show with undying passion, vows he'll never forgive Esther for convincing her narcissistic co-star to add verisimilitude to his performance as a morally bankrupt cop by shadowing Lopez on the job. But Esther's fellow thespian is her best bet for keeping an eye on Lopez 24/7—and, more to the point, on Lopez's new partner, Detective Quinn. Esther and her friend Max, a 350-year-old mage whose day job is protecting New York City from Evil, suspect Quinn of being involved in the latest mystical mayhem to menace Manhattan—where corpses suddenly aren't staying quite as dead as they should.
While Max and Esther try to determine what Quinn's role is in the supernatural reanimation of the deceased downtown, a part-time mortician courts Esther, and a dangerous foe with deadly intent changes everyone's dinner plans one cold winter night…
When did you start writing and, more important, when did you know your were a writer?
When I was 24 years old. I read a book called How To Write A Romance and Get It Published by Kathryn Falk (publisher of Romantic Times Magazine), and I thought that writing a short novel about two likeable people who fall in love might be something I could do. So I gave it a try. I got hooked, and as soon as I was done, I started writing the next book, and then the next after that.
A friend, who is a best-selling romance author, has used a pen name throughout her career as an admitted strategy to insure that any success she received was not due to her prominent New York family. When you wrote as Laura Leone at the outset of your career, was this a similar consideration, or was it just a way to keep both genres' readerships distinct?
Neither.
When I sold my first romance novel to the Harlequin/Silhouette all those years ago, they had just instituted a policy whereby all new writers were required to use a pseudonym when writing for them, and we could never use the pseudonym anywhere else without their permission. Obviously, this meant that if a new writer built a readership while writing for them, she would thereafter face a choice between continuing to write for this company no matter how dissatisfied she was with the terms and payment, or else, upon switching to another publisher, losing her audience by having to start all over under another name. Various individual writers and organizations opposed this policy over the next decade or so, and it was eventually abolished; but back when I first signed with Harlequin/Silhouette, the choice presented to new writers like me was that I could agree to write under an exclusive pseudonym or I could forget about selling books to them. So I took the pen name Laura Leone and sold them about a dozen novels over the next five years. (This wasn't a tough decision for me, since selling books mattered to me more than what name I used; and when I left, H/S released my pseudonym to me, so I have control of it.)
However, I was still writing for H/S and bound by the terms of that clause back when my dad and the legendary anthologist Marty Greenberg invited me to write a short story for one of their sf/f anthologies. I saw no reason to fight with H/S to try to get the use of my professional name (Laura Leone) for one sole short story in another genre, so I just wrote it under my real name, which seemed simplest. If I had known at the time I would eventually write fantasy novels, I would have chosen a different name, since there has occasionally been some confusion about there being two Resnicks in the genre. (For example, after my first fantasy novel, In Legend Born, was released, I kept hearing that Laura Resnick was Mike Resnick writing under a female pseudonym.)
To what extent has your father nurtured your career and how much has he stood aside? 
Around the time I was writing my 8th romance novel, my dad and the late Marty Greenburg started inviting me to write short stories for some of the anthologies they were producing together. I don't know whether I'd ever have ventured into sf/f if not for that. It wasn't something I had my eye on, and I initially just viewed the short stories as a refreshing change of pace from writing romance novels back to back to back. But it led to more sf/f people inviting me into more anthologies, which ultimately led to my writing sf/f novels. Pop subsequently also acquired my travelogue, A Blonde in Africa, for a nonfiction imprint he was editing at the time; it's a book that might not have gotten published otherwise. Most recently, he asked me to write for his new e‑mag, Galaxy's Edge, and I recently sent him a story for that, which will appear later this year. So, as an editor, he's certainly given me plenty of work. Apart from that, he occasionally introduces me to editors (or interviewers!), or tells me about work opportunities, and if we talk business, he gives me advice or feedback based on his decades of experience.
With all that said, please describe your path to publication.
While living in Sicily years ago, I read Kathryn's Falk's How To Write A Romance Novel and started working on one. I wrote it by hand in notebooks, then typed it on a manual typewriter. Then I spent 24 hours on a train to Rome, which was where the nearest English-language library was, and got some addresses from a copy of Writer's Market, so I could start submitting the book proposal to editors and agents via trans-Atlantic mail. All the literary agents I queried turned me down, but a young editorial assistant (with whom I am still in contact) asked me to send her the rest of the book. She was tired of doing office grunt work, and the way to get promoted to an editing position was to find a new writer in the slush pile whose book the company would buy. So she championed my manuscript through the multiple readings involved in acquiring a new writer, keeping me informed by mail. I was back in the US when they finally made an offer on the book the following year, and I published about a dozen books with them over the next five years. And like so many other writers who started there and are having long and busy careers, I learned a lot about my craft at H/S.
No matter an author's success, I believe there is always the thought of the greater work inside that has yet to emerge. Does that ever nag at you, and what do you do to address it?
What nags at me is the question of whether any of my work will ever become popular enough to make me financially secure.
Coming at this from a different angle, does winning an award, such as the John W. Campbell, serve just to validate your work, or can it leave you daunted—as in, "what do I do now to surpass this?"
An award is very gratifying. It can also be an excellent addition to your résumé.  But I  believe that assigning any more weight than that to an award is illusory. Also counter-productive. If I worried about validation from awards or about how to surpass this-or-that milestone, then I'd freeze with anxiety and couldn't keep writing book after book after book… which is what a career writer does. And then—GOOD GOD, MAN!—I'd have to go find a job.
Hah! "Who would want to do that?" asked the man with a day job. You've postponed Goldzilla, the eighth book in the Esther Diamond series, until later this year. For your eager fans, do you have an ETA?
I didn't postpone Goldzilla, I just wound up being very, very slow on this one, which happens sometimes. I'll post the release date front-and-center on my website as soon as I know it.
What do you love most about Esther and what, if anything, about her do you hate?
I love that she's full of try. Esther is not always enthused about confronting challenges, but she never gives up, quits, chickens out, or freezes. I don't think I hate anything about her, though I know from readers that there are things about her that exasperate them.
On an entirely different note, I noticed that in 2006 you wrote several articles for the Associated Press while serving in Jerusalem as a journalism intern. That caught my attention, because in 1972 I interviewed for the post of stringer photographer with Marcel Castro and Hal McClure, AP's bureau chief, at the Mariv Building in Tel Aviv. This compels me to ask, did you write those articles in Hebrew, or were they for AP's English-speaking audience?
The Associated Press is an American news service and publishes in English. I don't speak Hebrew, but it didn't limit me much, since The AP's work is conducted in English. And since many Israelis speak English, I got sent out on a lot of stories, handled the phones often, and delivered a lot of copy despite not being a Hebrew speaker. (This is an an intern, though. Regular staffers needed to know Hebrew.)
I appears you haven't abandoned journalism altogether. Will you tell us a little about the op-ed column you write for Nink?

Nink is the monthly journal of Novelists, Inc. (http://ninc.com/), an organization of career novelists. I'm allowed a lot of latitude with my column, so I research and opine on a wide variety of topics related to writing professionally: the Amazon-Hachette negotiations of 2013, the ongoing problems writers are having with reversion clauses in publishing contracts, the HarperCollins lawsuit against Open Road Media, the flow of successful writers leaving traditional publishing to self-publish, the Authors United letter urging the Department of Justice to investigate Amazon.com, imposter syndrome, fan fiction,  ebook pricing, and the pressure on introverted writers to be social media extroverts.
Is there such a thing in your life as a typical day and, if so, how does it unfold?
Not really. I'm always striving for a life in which there is such a thing as a typical day, since I suspect that having more routine and structure would make me more productive.
Would you care to share anything else about your home life?
I volunteer for the Cat Adoption Team (C.A.T.) a small group that does big work—last year alone, we placed 350 cats in adoptive homes, after rescuing them from kill shelters or the street. So my home life includes the 3 madcap cats I adopted, which is how I first encountered C.A.T, as well as whatever kittens or cats I'm fostering at the time. If anyone would like to know more about us, here's out website (where we welcome donations): http://catadoptionteam.net/. And here's a link to the eBay site where we auction donated goods to raise funds for our fosters' medical bills: http://www.ebay.com/usr/catadoptionteam.
I wish more people would care for their neighbors, both human and animal. What you are doing speaks well for you.
I always finish my interviews with what I call a Lightning Round, because the answers often provide unexpected insights. In as few words as possible, please answer the following:
My best friend would tell you: I'm honest.
The one thing I cannot do without is: Sleep; if  I go more than 3 nights without enough sleep, I am barely functional.
The one thing I would change about my life: I'd write more prolifically, which would resolve a number of other things I'd like to change.
My biggest peeve is: People who are inconsiderately noisy—drivers who blare their stereos, neighbors who bellow right outside my window, people who talk in the cinema or theatre or opera, people yammering on cell phones in libraries, people thundering up and down hotel corridors at 2am, etc.
The thing I'm most satisfied with is: My friendships. I am very fortunate to have the friends I have.
Thank you, Laura, for agreeing to prticipate in my The Write Stuff interviews. Before we close, here is an excerpt from Abracadaver, after which, those of you who would enjoy learning more about Laura Resnick or would like to purchase her books will find the appropriate links.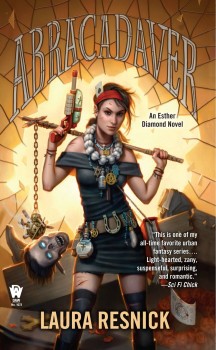 Excerpt from Abracadaver, the 7th Esther Diamond novel, by Laura Resnick
Actress Esther Diamond questions a colleague who's shadowing an NYPD cop whom Esther and her friend Max suspect is involved in mystical mayhem.
While Nolan had been talking, Max had been scribbling on a notepad in his elegant, archaic handwriting. Now he pushed his notes over to me. I saw he'd made a list of questions he wanted me to ask Nolan.
I read them, then gave Max an uncertain look. He nodded encouragingly. So I sighed and dived in.
"So," I said into my cell phone, "have you guys entered any churches or houses of worship today?"
"No," said the actor. "Well, not yet."
"Does Detective Quinn appear to avoid them?"
"Huh?" Nolan sounded puzzled. "No. We just haven't had any reason to—"
"Does he exhibit any ritual behaviors?"
"He chews on a pen sometimes. He says it became a habit when he quit smoking."
Probably not the sort of ritual Max meant.
"Have you observed him encountering any dogs or other animals?"
"No. Not many people are out walking their pets in this weather. Why?"
"Has he appeared violent or menacing at any point today?" I asked as casually as possible.
"Uh, no . . . but that's something I'd like to see. It could give me some background i—"
"Have you noticed any odd smells or odors in his presence?"
"What kind of odors?" Nolan sounded perplexed.
I made a gesture to Max indicating I needed more information, then I read what he quickly jotted down. "Excrement? Rotting flesh?"
"What?"
"Sulfur? Decay? Putrescence?"
"No." Nolan added, "Jesus, Esther, I'm eating."
I moved on to the next question. "Have you observed any peculiar changes in his eyes?"
"Whoa, does Quinn have a drug problem or something? Is that what you're getting at?"
"I'm just worried about him," I said, which was not entirely untrue. "He, um, doesn't look after himself."
"Yeah, that's obvious. Have you seen his posture? It's no wonder he talks about aches and pains. I should make him an appointment with my chiropractor."
"He talks about aches and pains?" I prodded, meeting Max's gaze.
"Yeah—in fact, about an hour ago, he kind of doubled over for a few seconds when he got this stabbing pain in his stomach. I think something's wrong with his appendix. But, you know, that could be referred pain from his heart. My cardiac doctor tells me—"
I held the phone away from my ear as Nolan prattled on, and I relayed this information to Max, who looked gratified.
"Recurrent, unexplained pain like that is another common sign of demonic presence," Max said, keeping his voice low. "The evidence is mounting to the inescapable conclusion that Detective Quinn is oppressed."
"Oppressed?" When Max started to explain, I said, "Wait, not now. Is there anything else you want me to ask Nolan?"
"Find out where they are now," Max instructed. "This could be an opportunity for us to confront Quinn."
When I held the phone to my ear again, Nolan was still talking about cardiac stuff. I interrupted him. "You said you're having dinner? Where are you righ—"
"Whoops, not any more," said Nolan. "Quinn is waving at me to get up and come to the register. I guess we're paying and leaving."
"Where are you going?" I asked.
"A funeral in Chinatown."
"What?" I blurted.
"It's for that tong boss who flew off a balcony last week."
"You're going to Joe Ning's wake?" I asked shrilly.
Max's eyes widened and our gazes met.
Chen's Funeral Home. Quinn. And a body in a casket.
The last time Quin had visited Chen's, a corpse suddenly climbed out of its coffin.
"This is gonna be great," Nolan enthused. "Loads of texture, a tong boss's wake, authentic underworld characters . . . Jackpot."
"Nolan, listen to me very carefully," I said. "You mustn't let—"
"Gotta go, Esther."
I sighed heavily and set down my phone in frustration when I realized he'd ended the call.
"So that's what it wants," Max said, rising to his feet.
I rose, too, and followed him to the coat hooks by the door. He started donning his heavy outerwear. I grabbed my coat, since I gathered we were going to Chen's Funeral Home now.
"Max, I still don't understand. What exactly does the entity want?"
"It wants a cadaver!"
"A corpse?" I said with a frown. "A dead body?"
"Yes," he confirmed. "That game is afoot!"
* * *
Website: http://lauraresnick.com/
Facebook: https://www.facebook.com/laura.resnick.3
Twitter: https://twitter.com/LaResnick
Amazon author page: http://www.amazon.com/Laura-Resnick/e/B000AP8KXO