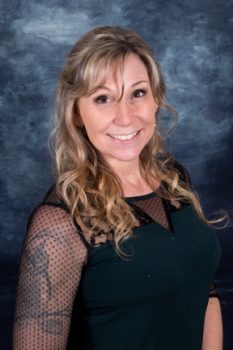 Marie Whittaker is an award-winning essayist and author of urban fantasy novels and horror stories. She has enjoyed working as a truck driver, bartender, and raft guide, and now works as assistant to Kevin J. Anderson. Writing under the pen name Amity Green, her debut novel, Scales: Book One of the Fate and Fire Series, was released in 2013, and her short stories have appeared in numerous anthologies. Marie is a proud member of the Horror Writers Association and keeps steady attendance at local writer's groups. A Colorado native, Marie resides in Manitou Springs, where she continues to produce works of urban fantasy and enjoys renovating her historical Victorian home. When not writing, she spends time hiking, gardening, and trying to quit wasting time on social media. A lover of animals, Marie is an advocate against animal abuse and assists with lost pets in her community. Petrichor Press released the hardcover edition of Scales on August 30 of this year.
The book can best be described this way:
How does Tessa, an orphan from Austin, Texas, cope with being transformed into a living, breathing gargoyle? By rolling with change, learning to control new abilities, and using super powers to help the less-fortunate and vanquish evil. A sickly childhood under the care of a rotten gaggle of nuns is all Tessa knows, until studying in London confirms the gut feeling that there is more to her beneath the skin, and ultimately, beneath the scales. A Celtic demigoddess has fused her existence with Tessa, and much to Fate's delight, mayhem ensues as Tessa struggles to embrace her new existence as a gargoyle with strong goddess tendencies. Ancient, magical creatures, Fate in human form, escaped fae, and fellow gargoyles of questionable motives keep Tessa on her toes as she does the unthinkable to protect and save lives. Tessa's inner conflict grows with the body count. Is killing still a sin if it's done in the name of greater good?
Book One of the Fate and Fire Series!
What do you want readers to know about your book?
I have always loved gargoyles and jumped at the chance to write about them when I got the idea to write a shapeshifter series.
Aside from the plot, is there a story behind it?
The story concept came to me while I was studying in London. That part made research easy. I fell for London the same way the protagonist did.
Why is your writing different from other authors in this genre?
Being a fan of shifter books, one can tire quickly of werewolves. I wanted to write something different, so gargoyles are my shifters.
What was your path to publication?
After the short story version was sold and added to an anthology, I finished up writing Scales in 2012 and pitched the book at a convention. I received 6 requests to read the full manuscript, which was the same amount of times I pitched it. The book was published for the first time in 2013. This is a rerelease, including a gorgeous hardcover.
What are you working on now?
I'm nearly finished editing the third book in the series, which is titled Soul Count.
What else have you written?
The Witcher Chime, which is a horror novel. A very scary one.
Are there any awards or honors you'd like to share?
I am an award winning essayist and The Witcher Chime was a finalist for an Indie Award in 2017.
Do you create an outline before you write?
I am a lop-sided mix of Pantser vs Plotter. I'm trying to outline more as I start new books and it is paying off.
Tell us about your thoughts on collaboration.
I am very near completion on my first ever collaboration with my writing partner, Ty Hadley. He is brilliant and a very good friend of mine. It has been a great experience, although the book has been stalled by life events here and there. We are ecstatic to be finishing this book and can't wait to start pitching it.
What life experiences inspire or enrich your work?
I write largely based on my own life experiences. Most of my short stories are dark psychological stories that deal with a social issue in Nowhere Town, USA. I've been through some rough times. For me, there's nothing that packs a bigger punch than writing from the wound. Taking a character down a dark path and then helping them triumph is something I can relate to, and greatly enjoy.
Do you have another job outside of writing?
I am personal assistant to Kevin J. Anderson and I am also Co-Director for Superstars Writing Seminars.
Describe a typical day.
I am a morning person so I'm up early, working out and drinking coffee, then taking care of my fur babies. After that, I do my work for Kevin and try to be freed up by around 1:00 each day for yard work or housework. After that, I write and edit my work-in-progress and do at least one type of book promotion. The rest of the time in the day is spent with my family. Hopefully I get to hike with my guy at least twice a week. I'm usually in bed by 10:00, if not earlier.
How do you pick yourself up in the face of adversity?
By thinking about the things I've already made it through. I consider adversity a way of building character.
What is your greatest life lesson?
Don't wait until you think you're good enough. Trust yourself and jump in!
What makes you laugh?
Watching baby goat videos.
Who are some of your favorite authors?
Jonathan Maberry, Anne Rice, Karen Marie Moning, Mercedes Lackey, Sherrilyn Kenyon, William Shakespeare, Jim Butcher, J.K. Rowling, Steven King, and Jack Ketchum.
Thank you, Marie, for taking the time to share with us. Before I provide my sites visitors with an excerpt from Scales, followed by your social and book buy links, I'm hoping to persuade you to participate in a Lightning Round. Please answer the following in as few words as possible:
My best friend would tell you I'm a: Sweet nerd girl.
The one thing I cannot do without is: Peanut butter.
The one thing I would change about my life: I'd trust myself more.
My biggest peeve is: Narcissism.
The person I'm most satisfied with is: My kids. They grew up to be amazing humans.
Do you have a parting thought you would like to leave us with? Scales is the first book in a series where a disadvantaged orphan comes of age and becomes a superheroine in the first three books. We need more superheroines, so I decided to create one. Her name is Tessa and she is my favorite of the characters I've written so far. I didn't want to leave her after just one book, so story has potential to become a long series of adventures.
Scales Excerpt:
There's no event in life that will deliver a paradigm shift faster than someone trying to kill you. I felt I'd aged a lot in the last couple of weeks. Fun teenage years playing volleyball by the lake and deciding what I wanted to be when I grow up, gone. Kaput. Replaced by days of thinking about keeping myself and my best friend safe and free, and having my heart broken for the first time, while juggling a new life between being a human and a gargoyle.
Who'd ever think a gargoyle could cry? Or breathe for the matter. At least it was without physical pain. My body healed when I transformed at dusk the night before and then I'd slept the entire next day, waking up a couple times for water and then going back to bed. When I woke again I'd changed and slept crooked on one wing, which was far worse than waking with a stiff neck. I lay in the huge, over-stuffed bed in my latest prison wishing I was back in Austin with Brea, chatting over Skype about boys and new clothes. I'd had enough of the UK. The email I received from Professor Douglas that day had turned from the biggest blessing in my life into the biggest curse.
And my best friend was involved, lost somewhere in the vast, confining unknown of an insane man's domain.
I remembered the day last summer when I felt my life was going to change. Substantially.
I laughed through my tears, causing bit of clear mucus to spray into the air from my snout. Guess it's safe to say it was a change for the worse. Crying was going to help nothing, but it made me feel better. I wiped my snout on a scaly forearm and rolled upright.
It was time for Plan B, which would hopefully go much smoother than Plan A. I was ready to escape my room to search for Brea, find her and fly her back to the bookstore. My tail twitched at my feet. I wasn't emotionally recovered from the outcome of Plan A yet. Someone had tried to kill me. That, or they wanted to hurt me really bad. Scenarios twisted through my mind. I could have broken my neck on those murderous stairs.
I rose from my bed, stretching my wings so far the span made the boney tips scrape along one wall, gouging into the plaster. A small, childish grin formed as I watched paint chips and dust fall to the plush carpet.
In the library, the tile floor was cold even through the thick skin of my clawed feet. Moonlight glittered outside. Dew-laden fog gave way to a crisp, clear night. I opened the window and inhaled fresh air, closing my eyes, just breathing, trying to steel myself for my first, solo flight. Moonglow reflected through the trees, iridescent and silver. I leaned out, feeling the sill against my chest plate. The second my snout crossed the plane into the night air, electricity blasted my face like a hammer.
I coughed blood into the air. The cold tile pressed up on my side, as if the floor had risen up to meet me. The room went red around me and faded.
To follow her on her social links:
Website:        www.amitygreen.ink
Twitter:         @amitygreenbooks
Tumblr:         AmityGreen
Pinterest :     AmityWrites
Instagram:   Amity_green
You may purchase Scales here: