Most readers assume that an author's world is steeped in literature. When that's not the case—an increasingly frequent phenomenon in today's self-pub world—the book often ends up poorer and the reader suffers. That's far from the case with today's guest author. Joshua Grasso, is an English professor at a small university in Oklahoma specializing in British Literature. His books, not surprisingly, are heavily inspired by the works that grace his classrooms—Beowulf, Sir Gawain and the Green Knight, Robinson Crusoe, Pride and Prejudice. He is also a life-long reader of fantasy, science fiction, and comics, and tries to work all these influences into his fiction, which are firmly in the classic fantasy literature tradition of Tolkein, Lord Dunsany, T.H. White, and many others. He has independently published two novels, The Count of the Living Death (2013) and The Astrologer's Portrait (2014).
When I asked Joshua to give us a sense of his most recent work, he described it this way:
Prince Harold has fallen in love with a portrait, which he much prefers to his real bride-to-be. However, the portrait may be a hundred years old, and only the greatest sorcerer in the land can verify her existence. Unfortunately, Turold the Magnificent is currently on trial for maliciously impersonating a person of quality and despoiling her family history. Harold gets him off on the condition that they locate his lady love before his wedding to Sonya, who vows to kill him on their wedding night. Along with his faithless Russian servant, Dimitri, the three steal off to locate the true identity of the sitter—only to confront a curse much older than the portrait. To dispel the curse the prince must lead a revolution, fall in love with his wife, and release the centuries-old hands of Einhard the Black, who are eagerly awaiting their latest victim.
That's an intriguing premise. Can you tell us a little more?
The Astrologer's Portrait poses the age-old question: do we fall in love with people or our own ideals? The protagonist, Prince Harold, falls madly in love with a painting that may be three hundred years old, yet is determined to find the sitter, and if possible, confess his undying love to her. A disgraced sorcerer, Turold, is conned into helping him locate his Muse, only to uncover something much larger than a family heirloom: the painting hides a curse which involves a pair of undying hands, a folio of forgotten plays, and the haunted dreams of an Italian noblewoman who bears an uncanny resemblance to the painting in question.
Writing a novel is seldom a straightforward process. What was the biggest challenge you faced writing this book and how did you overcome it?
I wrote the novel over four summers and winter breaks, since these are my "off time" from teaching at a university. As you can imagine, it's hard to pick up the thread after several months and remember who these characters are, what my ideas were for them, and why it all made sense. In fact, many times I would re-read the work and find it hopelessly inept and uninspiring. I spent days and weeks re-writing it each time I re-encountered it before I could start writing again. Luckily, this helped me gain perspective and challenge my instincts as a writer, since I would approach it after a year or so as a reader, and the reader was often bored or annoyed with the story.
What other novels have you written?
I've written four other novels, only two of which are published; the fourth is being completed. My fourth novel, which is 80% finished, is called The Winged Turban. This is the third summer I've spent writing it, and it's going along quite well—much easier than the previous one. Probably because I forced myself to keep reading it and editing it even during the semester so I didn't lose the thread of the story.
Do you find there are occupational hazards to being a novelist?
I was never interested in merely trying to write for a living. I always thought being a teacher/professor would be wiser, since I could then read books for a living, teach them to others, and become inspired from the interchange of ideas with my students. After a year in advertising, I decided to get my Master's in English and that led directly to my Ph.D. in British Literature and a position in a small university in Oklahoma. Once I got my bearings as a professor, I began to write in earnest again and have written three novels during my 8 years as a teacher. And as I suspected, teaching the books I love and listening to students talk about them, struggle with them, and more importantly, write about them, always inspires me to continue the conversation in my own writing. I honestly believe that reading, teaching, and writing is all part of the same process of thought, just viewed from different perspectives. I am the same "person" when I do each one.
Tell us about your path to publication.
I spent twenty-odd years from college to the present day trying to publish my novels. I pursued agents, publishers, entered contests, etc., all before deciding that my future lay in teaching, not in selling books. In a way this proved fortuitous, since I'm a better teacher than writer, and teaching fulfills me much more than any amount of fame as a writer would. Also, my early novels were pretty bad and I've destroyed them all. What I now consider my "first" novel was written only 9 years ago and has at least 5-6 "skeletons" behind it. However, even my most recent novels have met with indifference from agents and publishers, so I finally decided to self-publish the first two just to see how it went. And while I haven't been too successful, a good number of people discovered my books and enjoyed them, which justifies the point of writing them. For now, that's good enough.
That's more than good enough. Since you mentioned skeletons, let me ask if you've ever dispatched someone in a book and then regretted it?
No, because fiction isn't real life: you can resurrect anyone. Superman has died umpteen times and is still alive and kicking. Same with Sherlock Holmes. No one dies in fiction!
You've been on the path long enough to appreciate the difficulties it entails. What is the single most powerful challenge you've faced when it comes to writing a novel?
Having characters that are interesting enough to change your story. If your story stays the same from initial conception to final page, you've made a mistake. Good characters make the story go in new and unexpected directions. Indeed, you might say that good characters write the story for you. Until you have characters you can see in your mind and that seem to navigate the story without your direct input, the story isn't really a story worth telling. I've begun many a story without the characters, and you know deep in your gut that something is wrong. It's almost always the characters.
Tell us about your "other" job.
 As I mentioned above, I'm a professor of English literature and teach classes ranging from Freshman Composition, British Literature surveys (typically the earlier periods, from Beowulf to the 18th c.), World Literature, Humanities, Postcolonial Literature, and even comic books. Teaching inspires my writing and is also a release from the stresses of my career. I also write a lot of academic writing—articles, essays, biographical sketches—so that also influences my creative writing. Often, as in the case of The Astrologer's Portrait, an article on 18th century theatre spills over into the plot of a novel; indeed, I even buried a few lines of an obscure 18th century play in the dialogue of one of my novels. Almost no one would outside of my field would recognize it!
What motivates or inspires you, not necessarily as regards your writing?
Art, music, and books. All of my novels are inspired initially from a work of art: I love paintings and have spent hours in great museums trying to see what the great artists saw. My first job was across the street from the Art Institute of Chicago, so I would go there during my lunch and explore a gallery at a time, seeing the originals of paintings I had once admired in books. One or two of these paintings ended up in one of my books in a round-about way. Classical music, too, fuels my writing and many scenes are written with a specific composer or work in mind. Perhaps even more importantly, though, are the writers and books I admire, which inspire me to try new things or simply to emulate old masters. Nothing I do is "new": I merely compose variations on very old ideas, and in the process, try to make you forget the original tune.
What has been your greatest success in life?
 My greatest writing success has nothing to do with my novels, though it remains a great accomplishment: this year I won the CEA Critic's (a literary journal) Robert A. Miller Memorial Prize for Best Article published that year. However, my greatest success beyond writing would simply be earning my Ph.D. and being able to land a job in my field (increasingly hard for PhD's to do these days). I'm proud that my kids can see me teach and realize how important literature and culture is, and that their father spent his life trying to make "dead" words speak. I passionately believe in the power of art and literature, and am glad I can devote my professional career to defending and promoting it.
What a wonderful perspective. On the other side of the coin, what do you consider your biggest failure?
In a way, all of my novels are "failures." What I mean is that writing is such a transcendent experience, full of emotion and visions and delusions of grandeur. When you are in that moment, you feel like your work matters, that it will change the world—or at least your world. However, when you read a finished work a year later, it no longer has that magic. Something is lost, and you only see its shortcomings, its failings. In that sense, the work has failed…it rarely has the power to move me as it once did. The connection is lost, and you can only go back and try to create a few sparks in revisions. I doubt I will ever write a work that years later I can read with delight and feel that yes, this is exactly what I meant to say. I can be proud of it, naturally, but I find reading my own works difficult once I've gained some distance.
At this point, before I share an excerpt from The Astrologer's Portrait, I'd like to try a Lightning Round. In as few words as possible, answer the following:
My best friend would tell you I'm a… grump.
The one thing I cannot do without is… music.
The one thing I would change about my life is… try to get more sleep.
My biggest peeve is… willful ignorance.
Amen to that! The thing I'm most satisfied with is… my library.
As promised, here is an excerpt from The Astrologer's Portrait: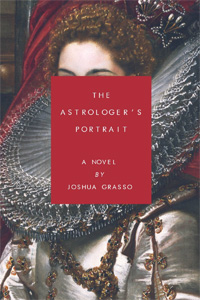 The Royal Astrologer was dead. Shortly after eight o'clock he tumbled to his death from the highest tower in the palace. According to the testimony of a handful of onlookers, there was a violent crash (the window), a pained cry (the Astrologer), a tremendous clatter (a series of coins which dropped onto the courtyard) and a resounding thump (the body). There wasn't much left to parade around the streets in the morning, so it was a very hushed-up, discreet affair, much like the man himself. No one quite knew what he did in the queen's employ. After all, the title "astrologer" is a rather ambiguous term. To some, he read the stars and charted their invisible trajectories. To others, he was a dabbler in witchcraft and the magical arts, bringing some unspeakable doom upon the kingdom. But if you asked the queen she would probably call him a "sponge" and insist that his room was fumigated as thoroughly as possible.
The only question was what to do with the late Astrologer's effects. In his room he had amassed a prodigious collection of artifacts, from paintings, sculptures, books, diagrams, maps, experiments, crystals, and other, less recognizable items that were promptly thrown in the trash. The queen had everything catalogued and put up for auction, which attracted a steady stream of collectors and connoisseurs. Apparently the Astrologer, who never contributed a single krouck to the court's coffers, was sitting on a fortune worth several hundred thousand fobs. Priceless weapons and faded maps changed hands and brought a girlish smile to the queen's lips. How nice to suddenly stumble into a neglected fortune and not have to dirty one's hands with the transaction! She called her chief attendant aside and commanded him to find out how many other octogenarians were in her employ; she was particularly interested if any of them might be willing to depart for their final journey before rather than after the upcoming ball season, the cost of which went up every year and promised to bankrupt her.
Thank you, Joshua, for taking the time to share your writing with us. For those of you who would like to read more of either this book or his earlier work, Count of the Living Death, or else connect with the author, you may do so at the following:
The Astrologer's Portrait: http://www.amazon.com/Astrologers-Portrait-Joshua-Grasso-ebook/dp/B00LKQ0DXC/
Count of the Living Death: http://www.amazon.com/Count-Living-Death-Joshua-Grasso-ebook/dp/B00FQ6711Y/
 Website: The Virtual Astrolabe: http://hblackbeard.blogspot.com
Facebook: https://www.facebook.com/joshua.grasso
Twitter: https://twitter.com/JoshuaGrasso