Quincy J. Allen catches your eye as quickly as his writing catches your inner ear. "I have a mohawk. Your argument is invalid," says his website. I encountered him at Sasquan in Spokane, Washington last August where he was working the WordFire Press booth around the corner from mine. He's an imposing man, but genial from the outset and I'm sorry I was as busy as I was or I might have taken time to sample his work while I was there. Fortunately, WFP asked me to feature him. Now that I've read some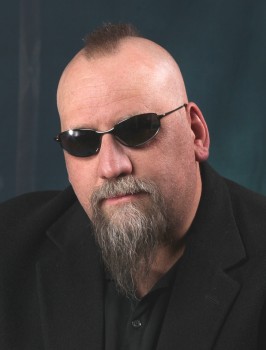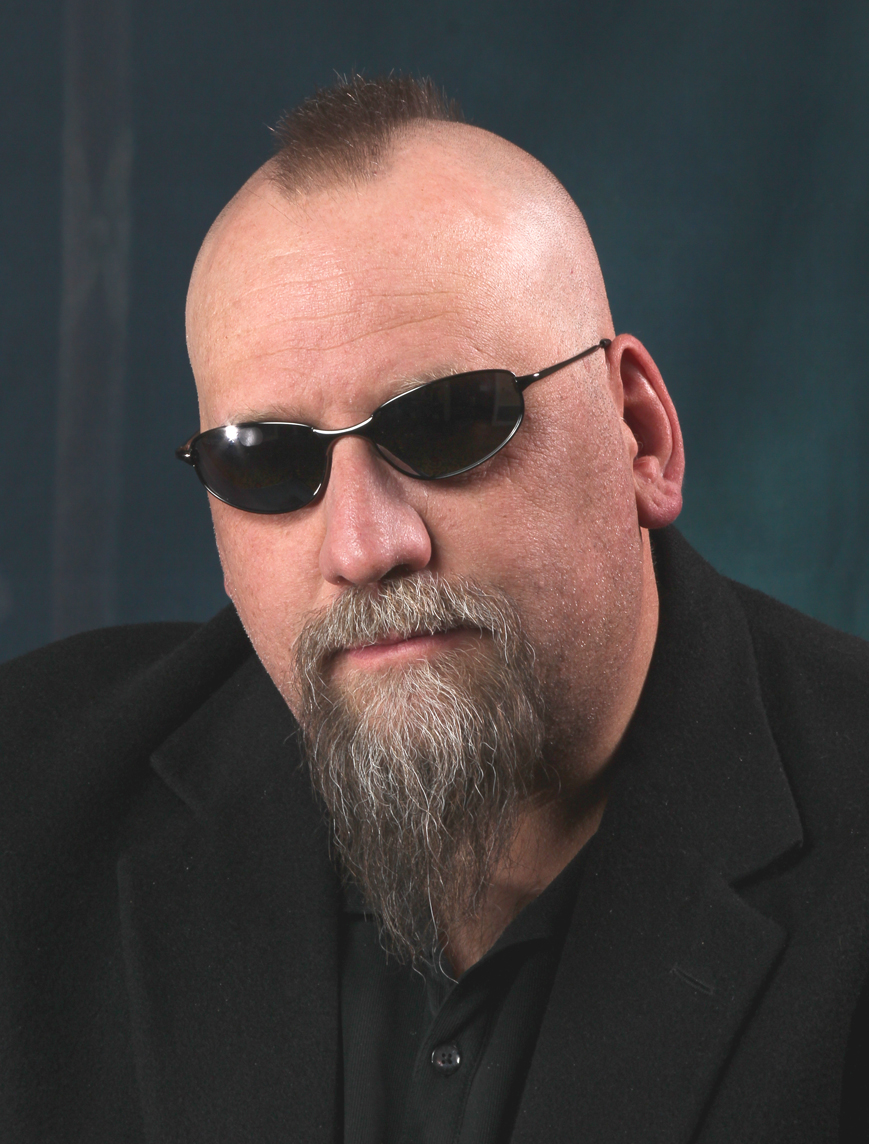 of his stuff—as you will have the opportunity to do at the bottom of this page—I intend to read more.
He's a cross-genre author, has been published in multiple anthologies, magazines, and one omnibus. His first novel Chemical Burn was a finalist in the RMFW Colorado Gold Contest. He made his first pro-sale in 2014 with the story "Jimmy Krinklepot and the White Rebs of Hayberry," included in WordFire's A Fantastic Holiday Season: The Gift of Stories. He's written for the Internet show RadioSteam, and his first short story collection Out Through the Attic, came out in 2014 from 7DS Books. His latest novel Blood Ties, Book 1 in The Blood War Chronicles, was made available in print on November 1st, 2015, with Book 2 due out early in 2016.
He works as a Warehouse and Booth Manager by day, does book design and eBook conversions by night, and lives in a cozy house in Colorado that he considers his very own sanctuary—think Bat Cave, but with fewer flying mammals and more sunlight.
I asked him to give us the gist of Blood Ties and he describes it this way:
Clockwork Gunslingers • Chinese Tongs • An Epic Quest
THE BLOOD WAR CHRONICLES When assassins jump half-clockwork gunslinger Jake Lasater, he knows the Chinese Tong wants to finally settle an old score. Unfortunately, Jake has no idea the Tong is just the first milepost on the road toward a destiny he refuses to believe in. With his riding partner Cole McJunkins in tow and his ward Skeeter secretly hidden away, Jake squares off against a deadly clockwork mercenary from his past and a troop of crazed European soldiers who want him dead. Add an insane Emperor with knowledge of Jake's past and a mysterious noblewoman who desperately needs his help—and Jake is faced with a whole mess of trouble, with no end in sight. Blood Ties launches an epic saga that spans worlds and threatens the human race itself.
Please give us an idea of the book's history and its future.
Blood Ties has been about 6 years in the making, from initial short story to committing to and writing the first book of six in the series. As I've written elsewhere, it starts off as Old West steampunk, but it turns sideways pretty quickly, and by the end, it'll be full-on epic fantasy with a clockwork gunslinger at the helm.
Who or what was the inspiration behind it?
Well, that's a longer answer. The Reader's Digest version is that this was a lifetime in the making, starting with westerns on Saturday morning television, and Rooster Cogburn, and James West, and Josey Wales. It grew with readings of H.G. Wells and Jules Verne. With the idea for a protagonist congealing in the aftermath of a MileHi Con in 2009 where I met the local steampunk organization.
What was the biggest challenge you faced writing this book and how did you overcome it?
Writing the first one was fairly straight-forward, and that got split into books one and two. The problem has been the crazy-busy convention season, driving the truck for WordFire Press doing the setup at convention as the booth manager this past year left little time for writing. That continues to be the greatest challenge I face from a writing productivity perspective.
What other novels have you written?
Chemical Burn was my first published novel, and the sequel to Blood Ties, entitled Blood Curse, is slated to be out in the spring of 2016. I have three other novels that are partially written. One is written in the same world as the Blood War Chronicles and follow a young Jesuit priest excommunicated for the murder of a bishop. He becomes a demon hunting witch. The second is about a young girl who discovers she has mental abilities that are taboo in her culture, and has to rely upon them in order to rescue her father from airship pirates. As the story progresses, she discovers a secret that will shatter the strictly theological society she was raised in and set the stage for returning to the stars. The third is military science fiction, combining powered armor and psionics. At the help is a tactical genius bent on avenging the murder of his parents. He then discovers ancient technology that will allow him to fight the society that created his parents killers.
So, I have a lot on my plate.
What is your work schedule like when you're writing?
Sporadic these days. I have the WFP book design stuff I do, Inventory Management for WFP, booth management, book design for my own clients, management for a small author marketing company with my girlfriend as partner and graphic artist, and a pretty strong Destiny video game addiction. It's hard to balance that all.
Tell us about your path to publication.
That's a long story tool but the framework is a straight line. It started with getting laid off from the IT industry. I then discovered I could produce anthologies myself, moved to writing and publishing my first novel, and then working the convention circuit here in Denver. I met the right people and it gets complicated from there.
Life is complicated, but sometimes adversity leads to opportunity. It seems to have done so in your case. How do you think you've evolved creatively?
I continue to improve my craft. I was just talking with a few folks recently about the differences in prose between Chemical Burn and Blood Ties. When I'm all growed up, I hope to be a really good writer.
Is there anything you want to make sure potential readers know?
Only that Blood Ties is worth taking a gamble on. I'm a newer author, but this series will be one hell of a ride by the time it's finished. And if you do read it, all I ask is that you leave one review on Amazon and then tell your friends. Readers are my greatest allies, and without you I won't be able to get where I need to go.
I'm sure the excerpt you've provided is compelling enough to convince our visitors to purchase a copy.
Now that we've talked about you, the writer, I'd like to provide a glimpse of another side of Quincy J. Allen. Will you describe a typical day?
Coffee (a must). Go through my to do list and prioritize what's left on it, including working for WFP, working for my own clients, trying to keep up with social media, market my books as much as I can, and get in a few runs on Destiny.
 Would you care to share something about your home life?
Like a lot of authors, I have a very supportive partner, Kathryn, who is also a working partner. We've got a rather pleasant and reclusive little existence in Denver, Colorado, and we're working towards snowbirding between this house and something in either Costa Rica or Roatan… tropical and humid with scuba diving and deep sea fishing.
Roatan sounds appealing, especially this time of year. That said, what motivates or inspires you?
Music. Hell, I make my own soundtracks (sort of) for my books, can point to specific scenes in novels that were inspired by certain songs, and use music to keep going throughout the day. You can check out my playlists at:
https://www.youtube.com/channel/UC6cN7Zoi63khjYtdemFMx9Q/playlists
What else?
That's an amalgam. I guess I'd have to say movies and music and Robert Heinlein and Julian May and Stephen Brust and Zelazny and Clarke and Laumer. My brother is in there, and certain characters I've been exposed to. I think I also have to say Firefly. That's a complex question, and the answer is all over the place.
Before I share some of your work, let's try a Lightning Round. In as few words as possible, please answer the following:
 My best friend would tell you I'm a … dick.
The one thing I cannot do without is: music.
The one thing I would change about my life: being able to write full-time.
My biggest peeve is: willful stupidity.
The thing I'm most satisfied with is: my home.
Thanks Quincy for taking time out of your difficult schedule for this interview. Since I've begun interfacing with WFP, I had several glimpses just how jam-packed that schedule can be.
For those visitors who've hung around to sample Quincy's writing, here is a sample from Blood Ties, Book 1 in The Blood War Chronicles. At the end, you'll find Quincy's social links as well as links to purchase his books.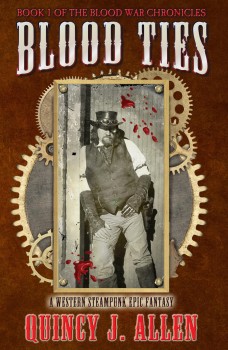 The trooper's chaingun spun up, but Jake picked up the whine of a second chaingun somewhere closer to the bridge. From behind a stack of crates at the water's edge, Cole stepped into view, chaingun in hand.
"Jake!" Cole screamed.
Jake was already diving away from Ghiss as he watched the chaos unfold. Most of Szilágyi's men had heard the second chaingun and, like amateurs, were turning to see what it was without bringing their guns around. Szilágyi had obviously heard the sound of the second chaingun, because he dove to the side. He seemed to be considerably better at math than his own man with the chaingun, or maybe the man didn't hear Cole's weapon over his own. He merely stood there like a Greek statue with a mean grin splitting his face.
A flash of gunfire erupted from the man's weapon, and although Ghiss was already moving, Jake saw sparks fly from those skeletal limbs as several rounds hit home. That's when Cole's burst took Szilágyi's man in the back and turned the poor bastard's chest into a crimson blossom. The chaingun flew from his arms as he went down. Cole swept left and right with the chaingun, chewing up the pistol-wielding assassins. Several managed to turn their pistols and get shots off, but they missed Cole.
Cole, however, didn't miss them, and they dropped in heaps with chunks torn out of their bodies.
That's when Jake spotted shadows moving towards them from further up along the channel near the second bridge.
"Cole!" Jake shouted. "On your left!" Jake heard a clank from his right and turned to see the nearest assault unit cutting into the upper cockpit of Qi's digger. A horrible scream filled the night. Blood poured out and ran down the top of the digger. Then the claw lifted and pressed into the plate covering of Qi's cockpit.
Jake heard Cole's chaingun cook off again in short bursts, followed by an occasional scream from the men approaching. Jake's eyes were riveted on the digger.
The hydraulics of the massive claw screamed as they bit slowly through the black cockpit cover. "Qi!" Jake shouted. He yanked his pistols and unloaded them at the Confederate unit, the rounds sparking harmlessly off the cylindrical hull. Both pistols clicked empty. "Qi!" he screamed again and charged forward just as the digger's arms pressed up against the assault unit.
"Jake, stay back," Qi yelled through the machine's speakers. The cockpit opened as she pushed. She peeked out the top to avoid getting cut in half. Jake saw her close her eyes, raise her hand, and begin making short, swift motions with her fingers, and he could see her muttering something.
The free claw rose up, ready to crash down up her. Her eyes shot open and her hand stretched forth. She pointed at the machine leaning over her and yelled a single, incomprehensible word. A ball of flame shot forth from her finger and grew impossibly large in the short distance it took to travel from her hand to the assault unit.
Both machines were caught in the ensuing explosion, blowing Jake back with the force of the blast. From his back he watched the assault unit rise up into the air, rotate slowly away from the digger, up and over, to crash heavily on its back. Jake could see a melted, slag-edged hole about a foot in diameter in the cylindrical cockpit.
"Qi!" he screamed.
Jake knew the smell of charred flesh, and it filled the air. Miraculously, Qi was still alive and seemed to be unharmed. He tore his gaze away from the ravaged assault unit to focus on four men in black running between several stacks of crates toward the digger with upraised swords. One of them was well ahead of the others and angling straight for Qi.
"God damn it," Jake muttered, realizing that he was out of options.
Website:                     http://www.quincyallen.com/
Facebook:                  https://www.facebook.com/Quincy.Allen.Author
Twitter:                      https://twitter.com/Quincy_J_Allen
Book purchase links:
Amazon:                    http://www.amazon.com/Blood-Ties-Book-War-Chronicles/dp/1614753350/
Kobo:                          https://store.kobobooks.com/en-us/ebook/blood-ties-68
Nook:                         http://www.barnesandnoble.com/w/blood-ties-quincy-j-allen/1122789262?ean=2940151072113
Smashwords:             http://www.smashwords.com/books/view/584817