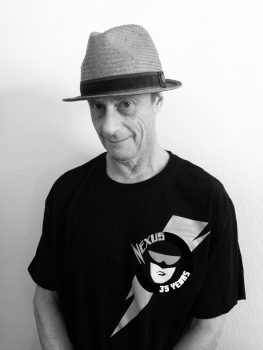 Solid reviews and a historic background are two elements that brought this week's guest to my attention. Reviewers have this to say about him:
"I am a HUGE fan of Mike Baron's work. The biggest influence on my Catman interpretation was the Badger, without question.This guy was scary/funny before that was even a thing. Get this book, dammit!"—Gail Simone
Baron's book is a rocket blast of suspense that moves at breakneck speed. Along the way it is crammed with hundreds of hilarious cultural bon mots and innuendos that set it leagues above other mundane horror tales. "Banshees" is a brilliant achievement by a creative force that is just getting warmed up.—PULP FICTION REVIEWS
Mike Baron is the creator of Nexus (with artist Steve Rude) and Badger two of the longest lasting independent superhero comics. Nexus is about a cosmic avenger 500 years in the future. Badger, about a multiple personality one of whom is a costumed crime fighter.
Baron has published five novels, Helmet Head, Banshees, Whack Job, Biker and Skorpio. Helmet Head is about Nazi biker zombies. Whack Job is about spontaneous human combustion. Biker is hard-boiled crime about a reformed motorcycle hoodlum turned private investigator. Skorpio is about a ghost who only appears under a blazing sun. Banshees is about a satanic rock band that returns from the dead.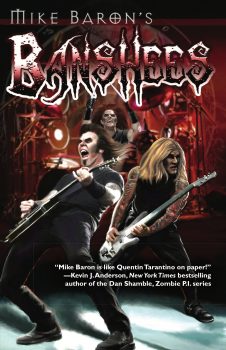 Mike describes Banshees as follows:
Notorious for their satanic lyrics, drunken excess and rumors of blood sacrifice, the Banshees shocked the world with their only album Beat the Manshees. Death stalked their concerts—lightning, stabbings, overdoses. The world heaved a sigh of relief when the Banshees all died in a plane crash. Or did they? Forty years later, with no fanfare, they appear in a seedy Prague nightclub. Ian St. James, son of original Banshees drummer Oaian St. James, can't believe his eyes. Ian's attempts to get backstage nearly kill him. In Crowd sends hot young reporter Connie Cosgrove to cover the Banshees along with that old burn-out Ian. Ian falls hard for the stunning Connie who regards him with a mixture of disgust and amusement. As if! The Banshees phenomenon goes viral—are they real or is it all a brilliant publicity stunt? Every time Banshees play someone dies. Is it bad luck or part of some diabolical plan? As Connie and Ian dig into the Banshees' past they find disturbing links to black magic, the Russian mob and an ancient Druidic sect. Death only adds to their mystique as the Banshees steamroll across North America toward a triumphant appearance at LA's Pacific Auditorium. Ian finally grasps the real reason they've returned—to tear a rift between our world and a monstrous evil—a rift created by an infernal machine built into Pacific Stadium and powered by human flesh.
Mike has much more to say about his work than about himself, as his interview will show.
Will you please tell us a little more about it?
I have written about music all my life. I have written for Creem, Fusion, The Phoenix, The Real Paper, Isthmus and many others. I have always been fascinated by rocks' dark legends. Banshees, about a satanic rock band that returns from the dead, is my stab at an epic horror novel encompassing the scope of The Stand or Swan Song.
Who or what was the inspiration behind it?
The existence of heavy metal, death metal, bands like Deep Purple, Motorhead, Mayhem, even Alice Cooper demand epic stories.
What was the biggest challenge you faced writing this book and how did you overcome it?
The biggest challenged was learning how to write novels. It only took me thirty years, but I learned. I learned good!
Have there been any awards, productions, videos or anything else of interest associated with your work?
I have won two Eisners and an Inkpot for Nexus.
What else are you working on?
A horror thriller called The Water Bug about a series of mysterious drownings. My goal is to evoke sheer terror. Supernatural terror. That frisson of fear you got the first time you watched The Exorcist or The Ring. H.P. Lovecraft and Stephen King are among a handful of authors who can evoke supernatural terror.
I have five Josh Pratt (Biker) novels in the can. I will begin a 7th when I have finished The Water Bug. Liberty Island will publish my coming-of-age book Disco sometime next year. I also have a horror novel called Domain, a haunted house story to end all haunted house stories.
What is your work schedule like when you're writing?
I get up, feed the dogs, fight the dogs, take the dogs to the park, hit the typer. I usually go to karate at noon, to break up my routine and work up a sweat. I will write sporadically throughout the afternoon, and make notes as I lie in supine splendor on my bed.
Tell us about your path to publication.
It is a long and winding road. I began writing as soon as I got out of college, working for alternative news weekly. Alas, most have gone the way of the buggy whip, but here in Colorado, thanks to legalized weed, they are fat and glossy.
Do you create an outline before you write?
Yes. I try to make it as entertaining as the finished product.
Why do you write?
I have stories to tell. I do not choose the stories. The stories choose me.
How do you think you've evolved creatively?
I believe I have successfully removed my presence from the narrative. My goal is to grab the reader by the throat and drag him through the narrative so that he, she, it, or xe is unaware of the passage of time.
What is the single most powerful challenge when it comes to writing a novel?
Figuring out what happens next.
Is there anything you want to make sure potential readers know?
There's a technique to everything, from breathing to building a nuclear power plant.
What is a typical day like in the Baron house?
I get up, feed the dogs, fight the dogs, take the dogs to the park, hit the typer. I usually go to karate at noon, to break up my routine and work up a sweat. I will write sporadically throughout the afternoon, and make notes as I lie in supine splendor on my bed.
Would you care to share something about your home life?
Our home is filthy. Filthy! Because of these damned dogs!
What motivates or inspires you?
My wife and these dogs. Sometimes it's just a phrase, or wordplay in my head. I will carry a title around with me for years before I find the right story. And vice versa.
How do you pick yourself up in the face of adversity?
Attitude is everything is my motto. I used to have a shitty attitude. Now I have a good one. It's a habit you can cultivate.
What has been your greatest success in life?
Being happy.
What do you consider your biggest failure?
Shoulda bought Apple back when.
Do you have any pet projects?
I'm working on a number of pitches with a number of my favorite artists.
Who has been your greatest inspiration?
My wife Ann.
Thanks, Mike, for dropping by. Visitors who would like to give Banshees a spin can do so here:
Amazon            http://a.co/aU3cBcw